Melody Nieves
مرحبا بكم في سلسلة الفوتوشوب في 60 ثانية، والتي يمكنك أن تتعلم فيها مهارة أو اداة او تقنية في دقيقة واحدة فقط!
الفوتوشوب في 60 ثانية: تخصيص الكارد الشخصي

من الطرق الرائعة لجذب عملاء محتملين اعطائهم كارد شخصي ينم عن الهوية. ويمكنك تعديل القالب البسيط بسهولة باستخدام الفوتوشوب لقوالب رائعه شاهد مجموعه "Business Card Templates" على منصة جرافيكريفير.

هل تريد أن تعرف من أين تبدأ؟ شاهد هذا الفيديو السريع بالاسفل لمعرفة المزيد.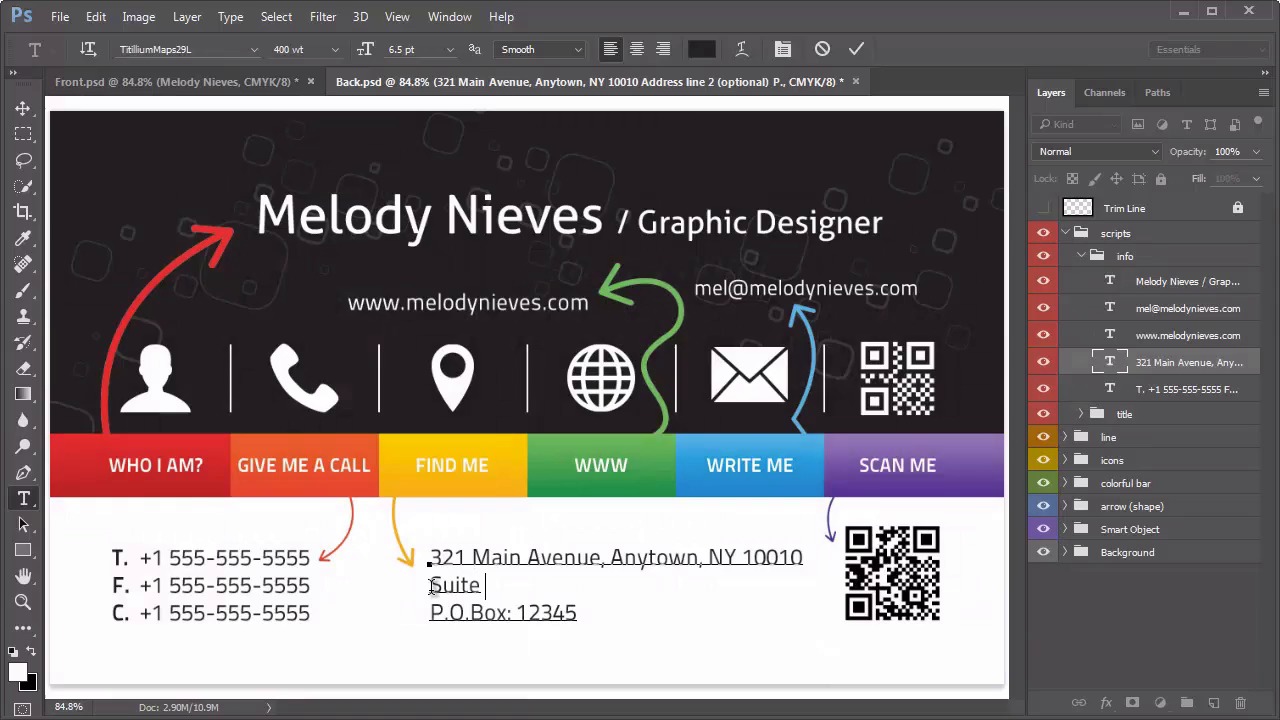 كيفية تخصيص قالب الكارد الشخصي
في هذا الدرس، سوف استخدم قالب "Creative Personal Business Card" بعد فتح القالب في الفوتوشوب، ابدأ بتحديث اسمك والمعلومات ذات صلة باستخدام أداة النصوص (T).

لتغيير ألوان قوس قزح أسفل الخطوط، ببساطة انقر نقراً مزدوجاً فوق خيار Fx للوصول إلى "استيل الطبقة" وغيير "Gradient Overlay" بالألوان التي تريدها.

أخيرا وليس آخراً، اضف صورة سريعة! اسحب وإسقط الصورة التي تختارها على "Smart Object" للصورة الرئيسية، وغيير حجمها باستخدام (Free Transform (Control-T، واضغط على save لحفظ التغييرات.

تريد ان ترى هذا في الواقع؟ شاهد الفيديو بالاعلى لرؤية الخطوات! أو اطلب الحصول على مساعدة من استوديو Envato للتعامل مع أي تغييرات للتصميم الخاص بك.

بعض التفاصيل الاضافية
هل تريد تعلم كيفية استخدام الفوتوشوب لعمل تصميمات مذهلة؟ راجع هذه المصادر:
60 ثانية؟!
هذا جزء من سلسلة دروس الفيديو السريعة على منصة Envato Tuts التي تقدم مجموعة من المواضيع، في خلال 60 ثانية – ما يكفي لشحذ مهارتك. اسمحوا لنا أن نعرف في التعليقات رايك في هذا الفيديو، وماذا كنت ترغب في رؤيةته أوضح في 60 ثانية!
Want a weekly email summary?
Subscribe below and we'll send you a weekly email summary of all new Business tutorials. Never miss out on learning about the next big thing.
Sign up
Digital Artist - CT, USA
I'm an Afro-Latina digital artist originally from Long Island, NY. I love to paint, design, and photo manipulate in Adobe Photoshop while helping others learn too. Follow me on
Instagram
or tweet me
@MelloNieves
and tell me what you'd like to see next!
One subscription. Unlimited Downloads.