Sean Hodge
If you run a business in 2022, visually-engaging unique business cards are a must-have. Check out these creative business card templates.
Maybe you've got a critical event coming up? A pivotal client meeting that's fast-approaching? Or, another important event that calls for new creative and unique business cards.
How do your current business card designs look? Is their design still current, or are they starting to look dated? Would you feel excited and proud handing them to a new lead?
Your cards need to come across as vibrant, modern, and fresh. They need to:
represent your brand and business 
carry the personality and message of your company
encourage prospects to connect with you.
A creative business card is memorable. It makes a positive impression when you hand it to a new contact or potential client. Your business card needs a unique design—one that carries a visual punch.
These are just a few reasons why it may be time for a new creative business card design. If you're working on your business card design, then scroll down for some visual inspiration.
Creative Card Designs on Envato Elements (With Unlimited Use)
A quality business card is a branding asset every business needs in 2022. Your creative agency, online business, or freelance operation needs one to stay competitive.
In this article, we feature creative business card templates from Envato Elements. They're all designed to stand out while representing your brand professionally.
Your creative unique business cards need to represent your business well. Highlight your contact info and messaging, while making an on-brand visual impact.
A graphic designer knows how to communicate visually. They know how to make the best use of the tiny canvas of a business card. These business card templates are made by experienced designers in Photoshop. They include the following professional features:
creative, visually-engaging design layouts
CMYK color mode with 300 DPI resolution
professional print-ready setup in Photoshop
set with legible, high-quality free fonts
fully editable and well-organized PSD files
All these creative business cards templates have the features you need. And they're creatively designed, without overdoing it (keeping to a professional modern aesthetic).
5 Creative Business Card Design Inspirations (New From Envato Elements - For 2022)
Here are a few interesting creative business card design inspirations.  These designs are trending on Envato Elements in 2022:
It's hard to find colorful business cards with this much natural style. This bundle features 12 different fruit-themed cards. Each template is double-sided. This allows you to show off the included creative illustrations. Personalize these creative business card designs quickly in Adobe Photoshop or Illustrator. They're perfect for farmer's markets or your creative business.
This well-organized creative card template makes it easy to customize the design. It's a nice choice if you've been looking for the most innovative colorful business cards for 2022.
Need a clean, modern, organic, or back to nature look? Here's a beautiful multipurpose business card with four design variations to choose from. This card immediately gives out a clean and pure feel. Both landscape and portrait options are available in this creative card template.
If you're looking for innovative business card ideas, you've got to check this one out. It takes a retro cassette and makes a unique business card template. This is a great example of how the simplest object can be used in a creative way to stand out from the crowd. It's one of the most innovative business cards for 2022. A sure conversation starter!
Have you got a part to play in many organizations and want to create unique business cards with more than one logo? A template for business cards with many logos is something you won't easily find, so it's time to get creative. Pick a simple design like this business card template. It comes with a clean single logo design on one side. Include all the logos in there and resize them accordingly. Include all your contact information on the other side. Just like that, you've got your very own innovative business cards with more than one logo!
There are 15 creative and innovative business cards in this bundle. Fresh, vibrant, and modern designs to choose from. Would it be the one that looks like an envelope or one of those that looks like it's printed on cardboard? Be spoiled for choice and try them all out to see which fits your personality or brand identity well. You can edit your unique business card template in Illustrator or Photoshop.
Envato Elements (Design Without Limits)
Envato Elements has a single compelling (all-inclusive) offer:
Sign up for Envato Elements and you get access to thousands of unlimited use graphics and templates (with unlimited use). Get great web themes, creative business card templates, and more—all for one low price. 
That's right! Download as many creative card designs and graphics as you want. Then, customize them to fit any of your project needs.
Envato Elements is a powerful option. But do you prefer to buy creative business cards one at a time? Then check out the selection from our GraphicRiver marketplace below.
Unique Business Card Ideas on Envato Market in 2022 (Buy It One At a Time)
Our GraphicRiver marketplace has loads of really cool and creative business cards. These templates have stylish new designs. Each one is created for a variety of professional needs. They're especially for those who seek modern, fresh, and visually striking designs. 
Here are our trending (best-selling) innovative business card ideas and designs:
Grab a professional business card design. Insert your logo, enter your contact info, and include your brand messaging. Then get them off to the printers. And you're ready to start handing them out and making important connections!
15 Creative Business Card Templates for 2022 
Here are 15 creative business cards with unique layouts. These Photoshop business card templates catch the eye. They also make a lasting first impression:
This professional business card template has a striking dark design. It can be used as a corporate business card and it comes with both front and back design. You can change colors, add your own logo, swap out fonts, and customize it to fit your brand.
If you want a simpler design with a sleek and polished look, this template is perfect. The modern creative business card design is sure to set you apart. You can easily customize this template thanks to well-organized layers.
Try this business card bundle if you want more than one design option. The templates feature a modern and professional design. You can choose between two different layouts and five color schemes. The template is easy to customize.
This creative business card is minimal and eye-catching. It features photography prominently on both sides of the card design. It also has fun splashes of color. The rounded corners are a nice touch that ties together the overall look. Its Photoshop business card template files are easy to use and fully editable. If you offer creative services, try this out. It's perfect for getting your most innovative business card ideas out.
With angled colorful squares in motion, this business card has a playful feel. Grab this colorful business cards template for your agency or freelance project. You can customize the design with your personal details. It's set up for professional printing and easy to work with in Photoshop.
This creative business card design makes great use of its canvas. It's got a colorful picture accentuated with a patterned design. This template has the right balance of minimalism and creativity. It's made for many types of businesses and set up for professional use.
This creative business card has a unique design with many avatars standing out. This design would be great for an agent, a creative team with a full-roster, or a startup.
It comes with a unique business card template PSD, Illustrator AI, and Vector EPS files. It's print-ready, set up with CMYK colors, and 3.5 by 2 inch and .125 bleeds for professional printing. It's also set with the free font Roboto. Grab this card now!
These professional business card design templates has a clean modern design and vivid colors. It includes two files, one front, and one back design. If you've got a modern logo for your company and want it to stand out on your business card, then this template is just the right design for you.
It's got the correct bleed, dimensions, and printing setup you'd expect in a professional template. It uses quality free fonts and is designed for your contact details to be easy to read.
If you're a graphic designer or a digital artist, then this colorful business card perfect. It features colorful abstract shapes that are in vibrant motion. The feel of the card is innovative and modern, so you can make a creative impression.
You don't want to hand a colleague a boring business card. Or, leave a new customer with the feeling that your work might be dull. Instead, grab this design and make a great impression with it!
This business card has a stylish poly-morphing shape design. It comes with many color options against a dark background. There are 12 innovative business card ideas in the download. They're set up professionally, with proper dimensions and printer bleeds. 
They come in CMYK color mode and are designed at 300 DPI resolution. You can add your logo, brand, and contact info to this card, as they're fully-customizable.
This is a modern business card design that's designed to feature your logo. It also has many icons and design elements that direct the eye to your contact details. 
This unique card template has three color versions. Your business name is featured prominently. Your details will read with clarity, with icons situated next to each contact line. So, new connections you make can quickly get to your website, shoot you an email, or find you on Twitter.
If you want a modern, colorful business cards template, then this geometric design is an awesome choice for a variety of businesses. These unique business cards would work well for any use.
This unique card template has three color versions of its eye-popping triangular mosaic design. Your business name is featured prominently, and your details will read with clarity, with icons situated next to each contact line. So, new connections you make can quickly get to your website, shoot you an email, or find you on Twitter.
These high energy colorful business cards are great for personal branding. Or, for your growing creative studio. They come in two color options, popping purple or bright blue. 
There's also a subtle design on the back of the card of polygonal elements. It's got a creative business card design vertical template with a modern and clean design. This Photoshop business card template is fully editable.
Here's another set of innovative business cards that would work well in a corporate setting. You can choose between four different color schemes. This business card template comes with both front and back design.
Lastly, we've got a creative but minimal and simple business card design. This business card can be used by anyone who wants to make their contact details easy to read. The template includes both front and back design and three color variations.
How to Make a Great Business Card In Photoshop Quickly
Once you've got the perfect business card template, it's time to customize it. For the purposes of this tutorial, I'll be using the Business Cards template from Envato Elements. The template has a modern design. It comes with a vertical and horizontal option. Plus, it also includes six backside variations. 
Let's get started:
1. Decide on Your Design Variation
As mentioned earlier, this template comes with several design variations. The first step is to decide which version of the business card you want to use. Simply open up the folder containing your business card template and pick a design you like. In this example, I've opted for the vertical version.
2. Customize the Design
Next, you'll want to open your business card in Photoshop and start customizing the design. You can change the dummy text and replace it with your own information.
Double-click the text and press CTRL+A to highlight all of it. Then, type in your name and social media handles. You can choose a different font from the font drop-down menu in the top bar. 
3. Disable Elements You Don't Need
If your template has some embellishments you don't want to use, you can easily disable them. All you've got to do is click the eye icon next to the layer that contains those elements. This makes them invisible. So, they won't show up when you print out your business card.
4. Customize the Back
When you're done customizing the front of your business card, don't forget to customize the back. Go back to the folder with your chosen business card template, choose a back design you like, and open it in Photoshop. Then, customize it in the same way you did the front. 
5. Export Your Business Card
Once you're done customizing the business card template, export it so you can print it out. You can do this by clicking on File > Save As. Choose Photoshop PDF and press Save. You can then send the PDF file to your printer. 
5 Creative Business Card Tips
You want your creative business cards to make an impression. They should have a creative design that makes your business stand out. Here are a handful of business card tips. They'll ensure your business card design is visually engaging and memorable:
1. Consider Creativity in Context
There are a few styles of creative business card designs. They range the gamut from expressive to more minimal design:
If your branding is calling out for a visually-striking card, then consider one from a set like the Creative Business Card Premium Bundle. These cards have a crafted design that's exploding with creativity.
If your branding fits better with a cleaner design, then consider these Colorful, Unique Business Cards Template. The creative energy in these cards is more restrained. So, it's maybe more fitting to a variety of business brands.

If you're looking for a set that's got really engaging color with a creative feel, then the Creative Modern Polygon Business Card is a great choice. 
Your business card should match the brand of your business. It should also be creatively aligned with your goals.
2. Work Within Your Business Card Layout
Your business card template is designed with a professional layout. An experienced designer has taken this tiny 2 inch by 3.5-inch printable canvas and transformed it into a lead magnet.  
Every contact detail should be on its own line, in some cases with icons next to them, or inside boxes. All the design elements are set up on a grid. This allows anyone to scan the design and find important information quickly. Here's an example of a business card grid:
You can fully-customize your business card template in Photoshop. But, it's a good idea to stick with the layout that it comes with. Those invisible lines are what holds your business card together visually.
There's a balance and flow that leads someone through the card design. You can make adjustments to colors, change your logo, swap out similar icons, or edit the text. But, take care not to break the layout design.
Random design choices don't make something more creative.
3. Place Custom Details on Your Card
Professional, aesthetic business cards need to fit the branding of your business. Display your logo prominently, and highlight your website and contact details. This way people you connect with can find you online, on social, or via email.
Read through our comprehensive guide on what information to include on your business card: 
4. Put the Back of Your Card to Work
Don't forget that the back of your business card is prime real estate to make use of. Add a business card background design that's meaningful to your brand or business. Showcase images of your work. You can also give a special offer or promote a high-value giveaway. Or, direct prospects to an engaging landing page.
Here are more tips on making the best use of the back of your business card:
5. Make a Visual Statement
There are a lots of ways to make a visual statement with your business card. Whether it's adding a dash of playful creativity, as with Cassette Business Card Template. Or introducing photos in an unexpected and creative style, as with Restaurant Business Card.
Icons and your logo are excellent ways to punch up your aesthetic business cards. Your design should make a visual statement that gives the innovative feel of your business to every prospect you hand your card to. For more creative business card design tips, read this Envato Tuts+ article:
With the right template, your business card is already set up for success. You can download a professional design and quickly customize it to your needs.
5 Top Creative Business Card Design Trends for 2022
You may not think the larger design world influences the look of a business card template, but you'd be surprised. There are lots of graphic design trends you should be aware of while deciding which look is right for you. Here are a few to keep in mind so you can have truly unique business cards:
1. Color Gradients
This trend is seen in many modern colorful business cards. Gradients are a way to smoothly blend two different colors. They've been popular recently. This popularity looks to continue in innovative business cards in 2022.
If you want this look for your creative unique business cards, don't grab random colors. Use colors from your brand, or find colors that work well together from this Color Wheel from Adobe.
2. Fun With Typography
Grabbing attention is key with aesthetic business cards. One of the trendiest ways to do so in 2022 is through typography. A well-chosen font elevates the look of creative, unique business cards. Big, bold fonts are especially popular this year. They're large and leave a great impression.
3. Abstract Decoration
While business cards are small, you'd be surprised how much space you've got to work with. That's why designers of the top unique card templates go abstract. These elements are popular additions this year. They tie your brand and the design of your aesthetic business cards together. 
4. Connect Digitally
Sharing your creative unique business cards is all about building a relationship. If your brand or business is online, then adding a QR code to your business cards is a trend worth following. These codes can be used to instantly open a website, share a contact or coupon, and a lot more. QR codes are an easy way to continue the conversation with potential clients online.
5. Rounded Edges
Round edged business cards still aren't very common. That's exactly what makes them such a unique design trend. While it's a small choice, it can make a difference in how you're brand is perceived. If you like this look, find a printable business card template with rounded edges in the design. It would save a lot of time from printing and cutting a traditional square corner card.
More Useful Business Card Design Templates
You can find more creative and unique business cards from Envato Tuts+. We've rounded up some of the most innovative and unique business cards available on Envato Elements and GraphicRiver. There's a template for just about every industry. Dive in and have a look at these articles below:
25+ Best Adobe Illustrator Business Card Templates (Free + Premium for 2022)

Nona Blackman

02 Jul 2022

20+ Best Photography Business Card Designs (2019 Creative Ideas & Examples)

Nona Blackman

20 Aug 2019
How to Choose Creative Unique Business Cards (Envato Elements vs. GraphicRiver)
I've shown you some of the best creative business card templates above.  If you found a few designs that you like, you might wonder: what's the difference between Envato Elements and GraphicRiver?
Don't worry, I'm here to help. We're going to take a look at the key benefits of each platform and help you choose the right service for your needs:
1. Key Benefits of Envato Elements
Envato Elements is like a massive warehouse of digital creative assets. Get unlimited access to these premium assets for a low monthly fee. That's an incredible offer.
A subscription gives you access to creative card templates, premium fonts, and presentation themes. There are no caps or limits. Download and create as much as you'd like. Here are all the creative business card templates available on Envato Elements today:
2. Key Benefits of GraphicRiver
GraphicRiver is part of the Envato Market suite of digital marketplaces. These markets let you make a single purchase of the creative asset that fits your current needs.
If all you need is to buy creative business cards, just buy it, download the file, and start editing. It's a quick process that lets you get your current project done. Browse the most innovative and unique business cards for 2022 available on GraphicRiver: 
3. Which Is Right for You?
The choice you should make depends on your long-term needs. If you're a freelancer or run a business and need marketing materials and presentation templates, choose Envato Elements. You can download unlimited creative unique business cards, pitch decks, music tracks, and more. Sign up for Envato Elements now and design without limits. 
If your needs are immediate and you know you won't need other assets, use GraphicRiver. The single purchase premium assets are perfect for completing the work you've got in front of you.
Common Business Card Questions Answered (FAQ)
If you're getting ready to design your business card, you probably have some questions. Here are top five business card questions we commonly hear from our readers along with answers:
1. How Do I Make My Own Business Card?
There are two ways to make your own business card. You can design one from scratch. Or, you can use a business card template as a starting point. The first option can be time consuming. Not to mention, you need to know the correct dimensions and account for printing and bleed settings. 
The second option already has all those elements accounted for. Therefore, using a premade template is not only faster, but it guarantees a professional design. Learn more about using templates to design your business card in our tutorial.
2. What Should a Business Card Have?
Your business card should have your basic contact information. But what exactly does that mean? Don't worry as we've got a detailed explanation of what information you should put on your business card.
3. What's The Best Size For A Business Card?
The standard size for a business card varies from one country to the next. But, if you're US-based, we've got a guide that shows you the standard U.S. business card size and the basic design components to keep in mind when designing your business card. And if you're not in the US, we've got a guide for standard business card sizes by countries that you can read here.
4. Can I Print Business Cards at Home?
While you can print business cards at home, it's not recommended to do so. For one thing, your printer probably doesn't have the same type of paper that a professional printing company does. As such, you risk your unique business cards looking cheap. 
Secondly, once you print your creative business cards, you still need to cut them to the correct size. Without proper equipment, this is hard to do. It's much better to take your finished business card design to a professional printing company.
5. Are Business Cards Still Relevant Today?
Despite the fact that we're living in a digital age where paper is fast being replaced by all things electronic, there are still some times when a traditional business card comes in handy. If you're wondering if you still need a business card today, this guide is for you:
Learn More About Business Cards From Envato Tuts+
You'd be surprised by how much there is to learn about making aesthetic business cards. The process is a lot easier when you've got the right resources.
That's where Envato Tuts+ steps in. Our team of instructors have created many helpful guides and courses to help you on your way. Here are just a few articles you can start reading to learn more about creative unique business cards: 
Quickly Design Your 2022 Business Card Online With Placeit
Another great option for making a business card quickly is to use Placeit. Check out Placeit's online business card maker for a bevy of business card templates you can use to create your own custom unique business cards in seconds. 
Placeit has thousands of business card templates that you can use as a starting point for a business card design. What's more, you don't have to download and learn any complicated programs to use it.
You can quickly and easily customize the text, font, colors, and even icons to get the perfect business card design for your brand.
Try a Free Course on Business Card Design in Photoshop
Want to learn the whole process of designing a business card in Adobe Photoshop? Join Melody Nieves for a free 45-minute video course, How to Design a Business Card. You'll learn every step involved in creating three separate business card designs.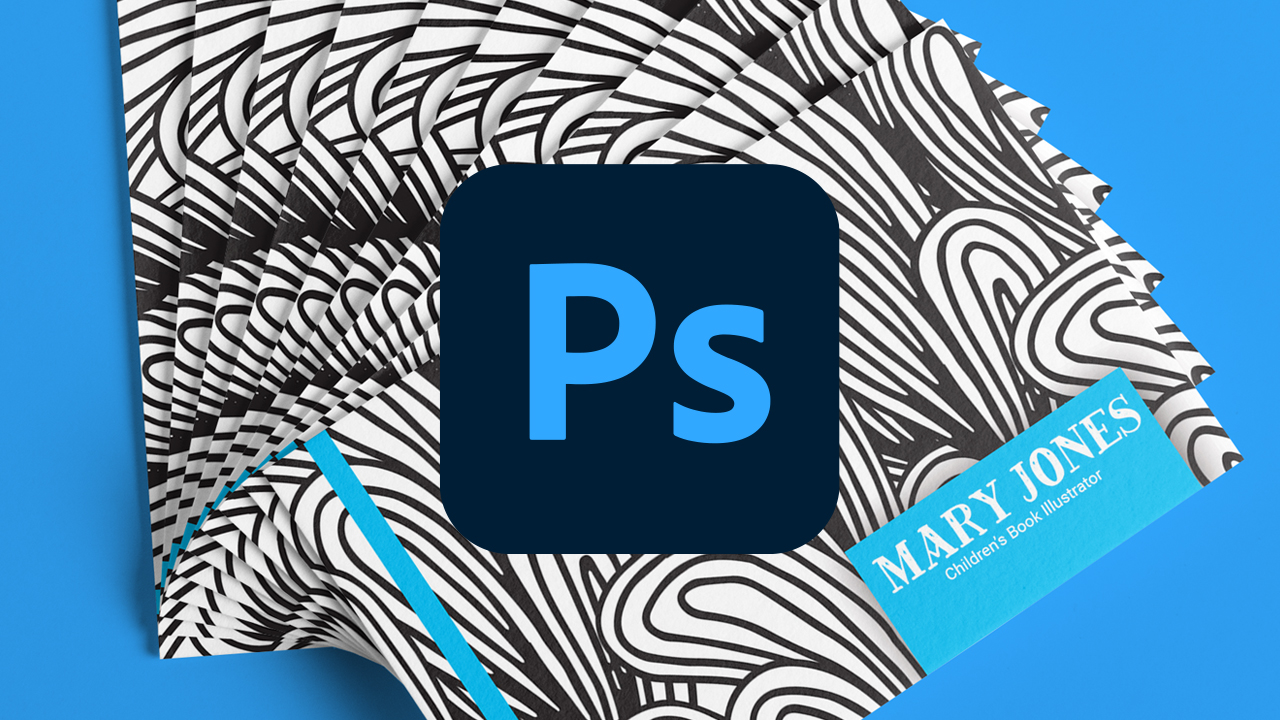 Get a Creative Business Card Design for 2022!
There are many creative business card templates on Envato Elements. Browse through the thousands of designs. Then, grab a unique business card template design today. You can also buy creative business cards from GraphicRiver.
We also carry extended branding materials. This includes logo templates, print identity sets, brochure designs, and more. That way, you can plan your branding material as a cohesive set.
Editorial Note: This post has been updated with contributions from Nathan Umoh and Brenda Barron. Nathan is a staff writer with Envato Tuts+. Brenda is a freelance instructor for Envato Tuts+.
Want a weekly email summary?
Subscribe below and we'll send you a weekly email summary of all new Business tutorials. Never miss out on learning about the next big thing.
Sign up
Tuts+ Business Editor (Orlando, FL)
Sean is the
Business
Editor at Tuts+. You can visit his site
Creatro
or follow him on Twitter
@seanHodge
where he chats about the business of creativity.
Start your 7-day free trial*
*All Individual plans include a 7-day free trial for new customers; then chosen plan price applies. Cancel any time.