Nona Blackman
Business cards are key to promoting awareness of brand identity and sharing contact information with potential clients and customers. If you're in the market for a new card and aren't sure where to begin, start with a business card design template. 
Templates speed up the work of designing a business card from scratch by providing you with beautiful layouts, typography and graphics that you can customize to reflect your brand. 
Today we take a look at the best business card templates—both free and pro—available for 2022. We'll start by taking a look at business card design templates on Envato Elements and GraphicRiver. Then, we'll provide you with a list of business card template free downloads.
Unlimited Premium Business Card Templates From Envato Elements
Whether you're a solopreneur, run a small business or are about to launch a startup, you need a business card. It provides prospects with an easy way to contact you, establish credibility and raise awareness of your brand in the marketplace.
If you're looking to create a new business card or update an old one, the good news is that you don't need to break the bank to do so. Envato Elements is the best source for alternatives to business card template free download options. These premium designs are truly your best bet.
All the templates come in 300 DPI resolution, CMYK color scheme and can be downloaded in either PSD, AI and/or EPS vector source files. These PSD and AI templates are highly customizable, making it easy to add your details. And the great news is, that you can download as many templates as you want for one low price.
Even the best business card templates free download options don't match Elements options. With a few clicks, you're on your way to your best business card design ever.
If you're just interested in making one-off purchases of PSD and AI business card templates, then GraphicRiver may be a better choice for you. You can download a single template for one-time use for a low fee. Read on to see our favorite business card design templates from GraphicRiver.
5 Top Premium Business Card Design Templates From Envato Elements - For 2022
Envato Elements offers so many templates that we've taken the time to round up our favorites. Here are five of the best premium business card templates, currently trending on Envato Elements:
The contrast in these business card design templates helps your details stand out. Choose from three color variations to choose to help you create a card that closely matches your brand. You typically won't find that type of variety in even the best business card templates free downloads.
Simplicity never goes out of style. That's because simple designs command attention. This business card template embodies simplicity so that your contact details aren't overshadowed by too many design elements.
Here's another outstanding option for a minimal business card template with
just enough 
color. In PSD format, this fully customizable template is far easier to use than business card design free download selections. You won't spend any extra thanks for the free fonts utilized.
This business card features an almost-mesmerizing geometric design. The great part is that it's flexible to your details with an easy-to-replace logo option. It's the type of business card that'll make the recipient curious about your details. That means more connections!
Clean and simple, these designs are perfect for a professional environment. With easy-to-customize layers, you'll finish your customizations in a single sitting. They're print-ready so that your local shop can help you bring them to life easily.
Premium Business Card Templates From GraphicRiver
Just as is the case with Envato Elements, GraphicRiver offers a wide array of the best business card templates. And just like the templates at Envato Elements, these are also easy to use. You can buy a single template and start today.
Download your chosen design, open the template in Photoshop or Illustrator, add your own information to the placeholder text, select your brand colors, upload your company logo if you use one. Just like that you're ready to send your design off to the printers.
This Photoshop template is a breeze to update. You'll love how nicely organized the design is, and it's totally customizable. This type of structure is a key advantage over business cards that are free.
Minimalism is the name of the game with this business card design. If you post on many social platforms, this design would be the perfect choice. There are easy background flags that you can add your social links with only a few clicks.
This template packs a lot of value thanks to the variety included. You can even tap into four color schemes to match your business card design to your brand. Check this template out to see the four designs included inside of one package. 
This business card design features a classiness you just won't find in business card template free downloads. It's the perfect business card template for a luxury or high class brand. It features everything you need and nothing that you don't to capture attention.
The corporate world sticks to traditional and simple designs. This business card template fits the bill perfectly with a straight-laced, easy-to-read design. Imagine using this template to roll out a standard business card design across your entire company. Provide it to your team so that everyone is consistently classy with their business card.
When you choose business card design templates, it's important to ensure they're print-ready. This template is built with the real world in mind and is the perfect choice. Premium designs like this pick up where the latest business card design free downloads leave off:
they're actually made to print.
There's a certain warmth and friendliness in this business card template, making it the perfect choice for charities. The QR code is ideal to link to a fundraising or campaign page. This design helps your efforts go much further than business card design free downloads.
The segmentation of this card into easy-to-read blocks is a major advantage. Readability is everything in business cards, and this one checks the box. It's another great option to include a QR code that links to a call-to-action.
Remember:
the best business card is one you can actually hand out.
That makes a print-focused design like this one a great choice over other business cards that are free. It's pixel-perfect and print-ready. Add your images, details, and take it to your local shop for a great result.
This is another great business card design that gives you flexibility. You can leverage three color schemes (blue, orange, and red) in the template to choose your favorite design. Best of all, it's still easy to customize the well-organized layers.
This template is built with a specific purpose in mind: furniture stores. Designs like this aren't for every purpose, but they're
perfect 
for a few specific purposes. Leverage this with your product images for a design that'll drive more traffic.
This beautiful business card has an almost brushed-metal feel. It's got just enough design elements to attract the eye, but doesn't distract from your key details. Customize it with your details easily.
Here's another outstanding business card for a specific purpose. If you're a barber, your work is already done for you. This template has all the illustrations you need built-in. Just add your contact details and you're ready to share.
Does your business focus on security? This business card design is perfect for you. Whether you're a locksmith, security expert, or professional secret keeper, this card is sure to inspire confidence. Use it as a fun and memorable business card design.
Rounding out our selections is yet another noteworthy option in our round-up. Clean, clear, and to-the-point: this business card design is a winner. With four colors, don't miss out on all the options inside this download. Easily adjust the layers to your liking and add your profile photo for a memorable impression.
Learn more about current business card design templates in this article:
10 Top Free Business Card Templates to Download for 2022
Before looking for latest business card design for free download on the web, check Envato's free offerings first. Try out various premium template files (not always business cards for free) at no cost to you.
Here's the deal:
Of course, there are also plenty of free business card design templates to help you get started. Let's look at the best available in 2022: 
This gorgeous business card template is free to download and appeals to those in any number of creative industries. It features a simple gradient effect—which you can swap to match your brand—and a bold geometric pattern on one side of the card. The other side of the card is where you add your contact details. A simple and stylish design. 
Another card that'll appeal to those in the creative industries, Creative Clean Business Card is a free printable business card design template that's created in Photoshop. On one side of the card, there's a beautiful chevron pattern with a break in the pattern where you can add your contact details. The other side of the card is reserved for your name and job title. 
With vintage themed designs on trend these days, this is a great choice for those looking for a bit of wow factor in their design. The professional business cards design template is free to download and features a beautiful retro background pattern with complementary vintage typography. 
Professional Business Card features a stylish and neatly organized design. It includes a full-colored front and a grid layout on the back. This makes this free business card design template with fully layered files and bleed marks easy to use.
A business card template that's free online for anyone to download, Vector Abstract Creative Business Cards is another clean design with a few stylish flourishes. The template is perfect for any freelance or small business owner and provides a design both in the front and the back of the card. 
Looking for a bold and eye-catching design? This graphic design business card template frees you up from trying to figure out your own design. The template features a solid-color design on both the front and back of the card, with an abstract overlay on one side for added effect. This terrific free business card design template is easy to customize and make your own.
This free business card design template isn't short on drama. It features a large abstract floral symbol in different positions on both sides of the card that you can custom color to match your brand. Text is clean and bold enough to share a space with the floral symbol without getting dwarfed or lost. 
If you're looking for a card that's professional but not staid, this free business card design template is one to consider. It uses line, color and shape expertly to create a card that's modern and exciting. The template is easy to customize and comes with bleed marks and well-organized layers for easy editing. 
This modern-looking business card with a vertical orientation features trendy geometric design in orange, white, and dark grey. Of course, as with the other PSD templates featured here, you can change the color scheme to match your own brand, add your own logo, change the text, and add other tweaks to make the template truly your own. 
Here's an attractive business card you can customize quickly and easily in Photoshop. This free business card design template is suitable for a wide variety of business types including freelancers and entrepreneurs. Choose from three different color schemes.
This isn't a card for shrinking violets. Rather it's for those who want to distinguish themselves from the pack. The template is made up of vector EPS, AI Illustrator, and PSD Photoshop files. They're well-structured and maintained and completely customizable.
How to Quickly Customize a Premium  Business Card Template
One of the best things about premium business card templates is that they're easy to customize to suit your personal style. For the purposes of this tutorial, I'll be using the premium Business Cards template from Envato Elements. 
This template has a modern and colorful design and can be customized in Photoshop. Let's get started:
1. Replace Content
The first step to customize your business card is to replace the content with your own. Start by opening your template in Photoshop and then select the text tool by pressing T on your keyboard. Click on any text, press CTRL+A to highlight and select all of it, and then enter your own information.
2. Customize Colors
Once you're done entering your own information, the next step is to customize the colors. The easiest way to do this is to click on a colored area and Photoshop will select the layer that contains the colored shape. Then, double-click the layer thumbnail and color picker will appear. You can then customize the color to match your preferences. 
3. Change Fonts
To customize the fonts, press the letter T and click on any text. Then choose your favorite font from the drop-down menu.
4. Customize the Back
Most business card templates come with a front and back design. Once you're done customizing the front of your business card, simply repeat the above steps to customize the colors and fonts. Then add your own information to the back of your business cards.
5. Export Your Business Card
The last step in the process is to export your business card. To do this, click on File > Save as and choose Photoshop PDF. Then send the PDF file to your printer to print it out.
5 Professional Business Card Design Tips for 2022
If you want your business card to stand out, simply customizing the design isn't enough. Here are some professional business card design tips that'll help you design an effective business card: 
1. Stand Out With Color
Who said your business cards have to be black and white? Nowadays, printing isn't as expensive as it used to be. So feel free to make use of color. By adding color to your business card, you'll be able to make your business card more memorable. 
2. Keep It Simple 
Don't clutter your business card with too much information or irrelevant details. Keep it simple and clutter-free and people will have an easier time remembering your contact information.
3. Add Your Own Photo
Create a unique design for your business card by adding your photo. A simple headshot is all it takes for people to connect a face to the name and remember you every time they pick up your business card.
4. Opt for a Special Finish
Adding a special finish to your business card is a great way to make an impact. Metallic inks, heavier paper, letterpress, and foil blocking are just some of the extra touches you can add to your business card to give it a more premium look and feel.
5. Experiment With Vertical Layout
Consider using a vertical layout instead of a horizontal one. This is a surefire way to make your business card stand out in a sea of horizontal layouts.
More Top Business Card Design Templates
You've seen options for business card design templates that help you create your own. But if you're still in search of the right business card templates, we've got plenty more options.
Check out more of our articles that share the best business card templates. Many of these links include even more of the latest business card design free downloads.
How to Make Professional Business Cards at Home Quickly (Online)
As you can see, there are many wonderful free business card design templates to choose from, but there's one other option for creating business cards that you should know about because it doesn't require knowledge of Photoshop or Illustrator. That option is the online business card maker at Placeit.
The online business card maker offers tons of business card design templates and is a cost-effective way to design your own business cards quickly and easily, straight from your internet browser.  
Common Business Card Questions Answered (FAQ)
It's okay if you still have questions! If you chose that latest business card design free downloads, it's more likely you'll have questions.
On Envato Tuts+, we feature resources for business card templates. Each tutorial teaches our readers how to customize business card design templates. Check out our readers' most common questions below:
1. What Should a Business Card Include?
Every business card design - free download or premium - should contain a few essentials. Business card design templates don't always include the placeholders you need.
So, it's important to review what you should add to your business card template. Learn the essentials in this article:
2. Are Business Cards Always Printed?
Business card templates are often printed, but there are alternatives. If you didn't find your best business card templates with free downloads, it's time to consider your options.
The tutorial below will teach you more about digital business cards. These interactive business card templates don't require a printer to share your contact details.
3. What Is the Best Business Card Size?
There's a standard size for business cards that you should know. After all, your business card should fit in a wallet comfortably.
It's worth noting that many of the latest business card design free download options aren't properly sized. Learn to set your business card template size with the help of our tutorial:
4. Does Microsoft Word Support Business Cards?
The tutorial section of this post focused on Adobe Photoshop and how to use it to customize your business card. What if you're more comfortable in an app like Microsoft Word?
Here's the good news: you can customize business card design templates in Word as well. We've created a round-up of the best business card templates free download options for Word, too. Check out the link below for the latest business card design free downloads in .DOCX files.
5. How Do I Give Out My Business Card?
The best business card is one you hand out. Maybe you're feeling a bit anxious about sharing your business card design free download once it's printed.
In that case, it helps to know how to start a conversation. Learn tips in this article to break the ice so that you feel confident sharing your business card.
Learn More About Business Cards
If your interest is piqued by this article and you want to learn more about business card design, try our free course, How to Design a Business Card. Learn the step-by-step process of designing your own business cards in Adobe Photoshop.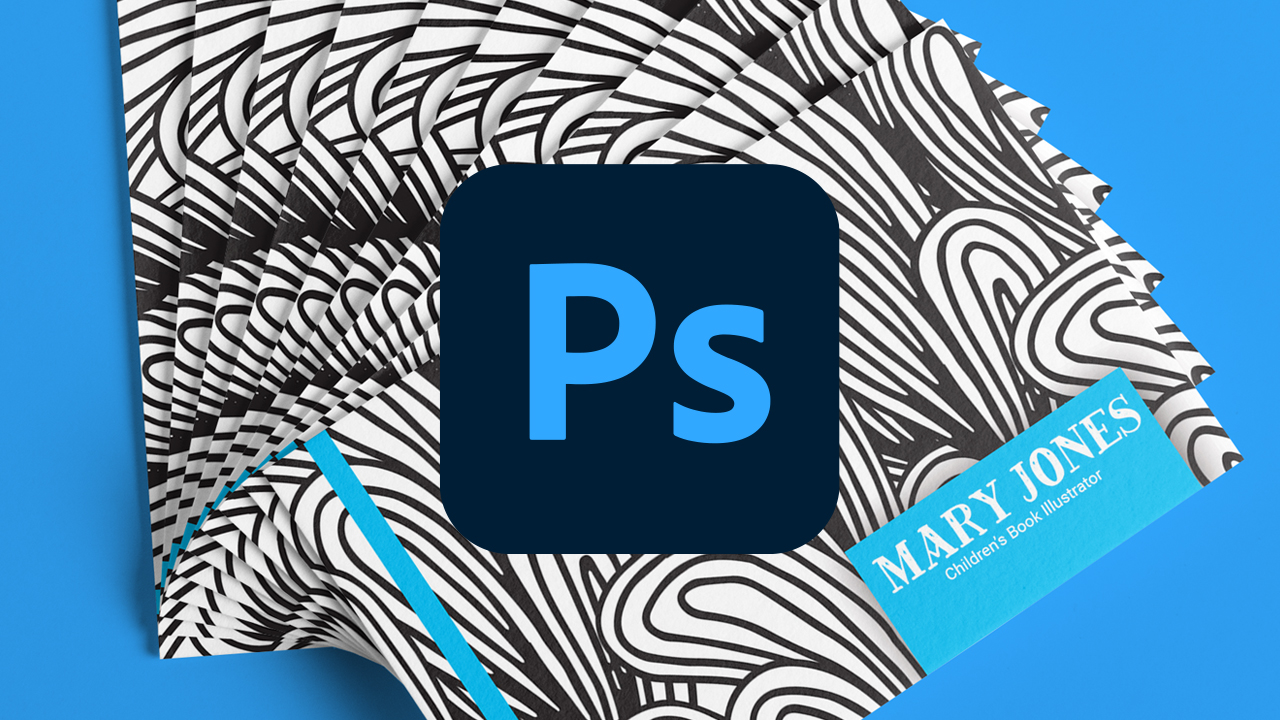 Or check out these very helpful articles: 
Create Your Own Business Card Today
I hope this compilation of the best business card templates for 2022 helps you find a card that's right for you.  
If you're proficient in Photoshop or Illustrator, there are thousands of professionally designed business card templates available at Envato Elements or you can buy individual business card design templates from GraphicRiver. Or, if you're looking for simpler and more intuitive business card design ideas, why not try the Placeit Business Card Maker? 
Editorial Note: This post has been updated with contributions from Brenda Barron and Andrew Childress. Brenda and Andrew are freelance instructors for Envato Tuts+.
Want a weekly email summary?
Subscribe below and we'll send you a weekly email summary of all new Business tutorials. Never miss out on learning about the next big thing.
Sign up
Copywriter
Nona Blackman began her freelance copywriting career with Envato in 2017. Since then she has written over 600 articles for the Envato Tuts+ Design & Illustration, Photography & Video, Web Design, Code, Music & Audio, 3D & Motion Graphics, Business and Computer Skills sections, as well as the Envato Blog and the Envato Medium account. Blackman holds a Bachelor's degree in English from the University of the West Indies, a Master's of Fine Arts in Photography, Video and Digital Design from the School of Visual Arts in New York City, and a Postgraduate Certificate in Education from the University of Westminster in London.
Start your 7-day free trial*
*All Individual plans include a 7-day free trial for new customers; then chosen plan price applies. Cancel any time.