Brenda Barron
Starting an online store has never been easier. There are quite a few feature-rich eCommerce platforms available, each with their own set of strengths. But the two most popular solutions are Shopify and WooCommerce. Deciding which one you should choose for your small business largely depends on your individual needs.
Both platforms offer attractive design, product variations, different shipping rates, payment gateways, SEO and marketing features; as well as different extensions and add-ons to further extend and improve your online store.
In this post, we'll take a look at WooCommerce vs Shopify, compare their features, and help you determine which one is the best eCommerce platform choice for your online business early on.
WooCommerce Versus Shopify: A Brief Overview
Using both Shopify and WooCommerce is very easy, even for a complete beginner.
Both platforms have an intuitive user interface for simple tasks like creating a site's basic pages (contact, privacy policy, etc), listing products, checking/fulfilling orders, and more. These setup processes are relatively hassle-free.
Both platforms have thorough documentation and a large user base, which means finding answers to potential issues that may arise is fairly effortless in both systems.
The biggest difference between the two is in the setup. WooCommerce is a plugin for WordPress which means you need a WordPress website for which you have to pay a hosting fee, install the WooCommerce plugin, and then setup the store. However, if you already have an existing WordPress website, setting up WooCommerce is an easy process.

Shopify, on the other hand, is a self-hosted solution which means you don't have to worry about finding a web host, installing a separate content management system, and then adding Shopify. If you have no technical skills or if you are starting from scratch, Shopify is probably the easier choice. On top of that, Shopify comes with integrated blogging capabilities meaning you won't lose out just because you haven't gone the WordPress route.
With that said, let's take a closer look at each of these eCommerce software platforms and see what they have to offer. So you can choose the best eCommerce software for your new online store.
WooCommerce: An In-Depth Look
As mentioned before, WooCommerce is a WordPress plugin. The plugin operates on the freemium model, which basically means the core plugin is free, with various add-ons available that can add extra features to your online store. Some of those add-ons are free, some are paid.
At its core, WooCommerce offers the following features:
Different payment gateways which include PayPal, BACS, and Cash on Delivery.

Free or flat rate shipping and tax settings which include different tax classes and local tax rates.

Reports include incoming sales, reviews, inventory levels and general store performance.

Integrated user reviews, discount options, usage limits.

The ability to cross-promote and upsell products.

Product variations and the ability to sell both downloadable and physical goods.
Setting Up the Store
If you're familiar with WordPress, then installing and setting up WooCommerce should be very easy for you. However, even if you are a novice, the process is pretty straightforward. Learn how to install a WooCommerce theme, set it up, and customize it.
We even have a free course on Beginner's Guide to WooCommerce that will help you set up your online store. Here is a quick intro to WooCommerce from the course: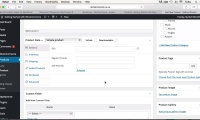 Design Options
The developers behind WooCommerce, WooThemes, know the importance of design when it comes to eCommerce. That's why they offer WordPress themes which have been optimized for WooCommerce. But, the beauty of WooCommerce is that it can be integrated into any WordPress theme and the theme selection is certainly rich when it comes to WooCommerce compatibility. 
WooCommerce themes offered on Envato Market have been optimized specifically for the plugin itself and offer plenty of useful features such as: zoom in options, integration with MailChimp, eye-catching sliders, bold imagery, responsive design, and overall top-notch aesthetics. The popular Porto WooCommerce theme demonstrates these design features:
Discover more popular WooCommerce themes: 
SEO

Considering WooCommerce is a WordPress plugin, there are immediate SEO benefits to take into consideration. WordPress is primarily a content creation platform and it's well-known for its SEO capabilities. When you pair WooCommerce with it, you can readily edit body content and add meta information which improves your chances of higher search engine rankings. On top of that, WordPress handles blogging in a logical and organized way with its categories and archives.  
How WooCommerce Helps You Sell
WooCommerce offers the most basic features for free in the core plugin. And they are perfectly fine to get you started with. But if you want to maximize your store's potential, you will inevitably wind up looking for WooCommerce extensions. 
The add-on store offers plenty of interesting choices which allow you to scale up, such as selling on Facebook, integrating your store with MailChimp, automatically record sales in QuickBooks, creating recurring subscriptions, and much more. The add-ons range from free to paid, with paid add-ons ranging in price from $29 to upwards of $200.
Support
WooCommerce offers thorough documentation and has a vibrant community of users as well as developers whose focus is to improve and extend WooCommerce by developing themes and add-ons for it. All of this means help is easy to find and chances are there is already a solution out there for any problem you might run into along the way. 
Browse through a number of helpful WooCommerce add-ons:
Cost
While WooCommerce is free, there are costs associated with it. As mentioned before, you will need a WordPress website, meaning you have to purchase your own domain name and set up a hosting plan before anything else. The cost will vary depending on your hosting plan and the add-ons you chose to improve your store.
Shopify: An In-Depth Look
Shopify is a self-hosted solution which means your store can be ready in a matter of minutes as there is no additional software to install. Unlike WooCommerce, there is no free plan but the pricing is still affordable. Like with WooCommerce, there is a range of themes offered by Shopify as well add-ons which give you extra features for your store. 

The main features include:
Plenty of professional themes available from Shopify and plenty more available on our Envato Marketplace.

Responsive, mobile-friendly design.

The ability to use your own domain name.

Usable website builder to customize the look of your store.

Full blogging platform available.

Detailed reports and site analytics.

Integration with social media and email marketing.

Product variations, review, discounts etc.
Setting Up the Store
Setting up the store on Shopify is as easy as signing up for your desired plan, choosing the theme, and adding the products. It's a complete WYSIWYG solution giving you complete control over your navigation, pages, and design. Learn more about how to set up Shopify: 
Design Options
While Shopify offers a nice selection of themes to get you started, they are not as feature rich as some of the third-party themes. Shopify theme selection offers free and paid themes with paid themes ranging from $100 to $180. If you need more features or if your industry is not included, Envato Market has an impressive selection of affordable, popular Shopify themes. 
Our Shopify themes include features such as newsletter integration, lookbooks, quick-view options for products, zoom in capabilities and 360- degree view, complete customization control, mega-menus, social sharing, and much more. What's more, you can choose from a wide variety of niches, or opt for a multi-purpose theme. The Boutique Shopify theme is one of many quality designs to consider using for your online store:

Discover more professional Shopify themes in this design showcase: 

SEO

Since Shopify has dedicated servers catering exclusively to Shopify stores, the page loading times and overall performance is slightly better than that of WordPress. Shopify has integrated SEO features such as: image optimization, defining title, alt, and meta tags, as well as product descriptions. Another point in favor of Shopify is the fact that SSL certification comes with all the stores in every plan, free of charge.
How Shopify Helps You Sell
Shopify offers a nice selection of free features, unlike WooCommerce which requires paid add-ons. Those features include discount codes, the ability to offer gift cards, a cart recovery system, Facebook selling, product import via CSV files, and more.
Like WooCommerce, Shopify offers different add-ons which give you extra capabilities like cross-selling, tracking deliveries, QuickBooks integration, and more.
Support
Similarly to WooCommerce, Shopify has detailed documentation and a very vibrant community. But unlike WooCommerce where support comes mainly from the community, Shopify has a dedicated support team available 24/7 as well.
Costs
Shopify offers three pricing tiers, with the lowest plan being $29 and the most expensive one being $299. They also have a medium plan for $79 and a very basic plan for $9 strictly for selling on Facebook. Having said that, Shopify offers a 14-day free trial so you can test the platform before deciding if it's the right choice for you. 
All of the plans include unlimited products and bandwidth, fraud analysis, a blog, and a free SSL certificate. The domain name can be purchased directly from Shopify or you can connect your existing domain name to it. Your final cost will be determined by the amount of paid add-ons which you add to your online store.
Which Platform Should You Choose?
As you can see, both platforms have their own set of advantages and disadvantages. This will help you narrow down which is the best eCommerce software for your new store. Let's briefly summarize them to make your decision a bit easier:
WooCommerce - Pros
It has user reviews and ratings.

Nicely organized reports which are categorized by date, product, category, coupons, etc.

WooCommerce is a free plugin which means there is no extra cost if you need basic store functionality and you already have a WordPress website.
WooCommerce - Cons
If you're starting from scratch, you need to sign up for hosting separately and then download, install, and set up WooCommerce.

If you want an SSL certificate which proves your website is secure, you will need to purchase it separately.
WooCommerce is the most logical choice for those of you who are already set up on the WordPress platform, have your hosting taken care of, and you don't mind paying extra for an SSL security certificate. Integrating WooCommerce is as easy as installing any other plugin and the most basic setup of the store can be completed in just five steps.
With that in mind, WooCommerce is easy to use, and it allows you to set up a testing environment to make sure everything works before you start accepting payments on your site. As long as you're familiar with WordPress, it shouldn't be a problem.
Shopify - Pros
Free hosting which means your store can be up and running as soon as you sign up for Shopify and start adding your products.

Slightly better SEO capabilities than WooCommerce, most notable being page loading times and the fact that it comes with a free SSL certificate.

Includes social media promotion and sharing which helps with both product and website promotion.

The admin area is modern-looking, easy to use, and very intuitive—even for a novice user.
Shopify - Cons 
On the con side of things, Shopify doesn't offer more than their three default product attributes whereas WooCommerce offers unlimited product variations. The products in Shopify are defined by size, color, and material which can have additional options but you cannot create new product variations.
With that in mind, Shopify is a great choice for those new to the world of eCommerce, and those who don't have a website already. It features a friendly design and walks you through the process of setting up your store which makes it beginner-friendly, while some of the more advanced features will meet the needs of more demanding users.
Shopify offers an effortless way of getting your store up and running as quickly as possible. To minimize the costs upfront all you have to do is sign up for Shopify, pick one of their free themes, customize the design to match with your brand, add the products, and you're good to go. 
Shopify even walks you through the entire process and offers helpful documentation. And if that's not enough, you can always turn to their support team for extra help no matter the time of day or night.
Get Started With an eCommerce Platform Today
WooCommerce versus Shopify is a close eCommerce platform comparison. Both are viable options for setting up your online store in a quick and efficient way. On top of being easy to use and feature rich, both platforms offer plenty of options when it comes to the visual appearance of your store. Our best selling WooCommerce and Shopify themes are suitable for a wide variety of industries, come with six-month support, and are guaranteed to get your store noticed no matter which platform you choose.
Want a weekly email summary?
Subscribe below and we'll send you a weekly email summary of all new Business tutorials. Never miss out on learning about the next big thing.
Sign up
Freelance Writer
Brenda Barron is an instructor for Tuts+ specializing in business and web design topics. She also writes and edits for a variety of other businesses across many subjects including small business, WordPress, and marketing. She holds a BA in English and has over a decade of experience crafting blog posts, articles, white papers, and more for clients across many industries. When not writing, you can find her spending time with family, singing, playing piano, and painting. You can learn more about her at
The Digital Inkwell
.
Start your 7-day free trial*
*All Individual plans include a 7-day free trial for new customers; then chosen plan price applies. Cancel any time.