Read Time:
6 mins
Languages:
Stiskl jste Odeslat v Gmailu, dříve než jste opravdu chtěli. Nyní má váš šéf zprávu s chybami. Jste potopený, že?

Ne nutně. Ne, pokud jednáte rychle. S Gmailem je velmi malé časové období, během kterého můžete odvolat odeslanou e-mailovou zprávu.
V této příručce se dozvíte, jak odvolat zprávu Gmailu, kterou jste právě odeslali.
Proč vrátit e-mail?
Pokud jste si někdy přáli vzít e-mail zpět, nejste sami. Pravděpodobně každý, kdo má účet v Gmailu, si jednou nebo vícekrát přál, aby mohl vzít zpět odeslanou zprávu.
Zde jsou jen některé scénáře, ve kterých byste chtěli nechat zprávu Gmail zrušit:
Byla to neúplná zpráva, kterou jste poslali náhodně.
Je to zpráva s překlepem nebo chybou.
Zpráva byla odeslána během výbuchu emocí a okamžitě jste toho litovali.
Zkopírovali jste nesprávné lidi do zprávy.
Informace, které obsahujete v e-mailu, se mění stejně, jakmile stisknete tlačítko Odeslat.
Klepnutím na tlačítko Odpovědět všem namísto Odpovědět při odpovědi na zprávu.
Jsem si jistý, že si můžete vymyslet i své vlastní příklady, kdy si přejete, abyste mohli vynechat e-mailovou zprávu.
Přestože Gmail má funkci Unsend, je důležité si uvědomit, že existují určité limity:
Přísné omezení času - Definujete dobu, po kterou můžete zprávu vyřadit (až 30 sekund). Co to znamená, že nemůžete čekat den a pak se pokusít vzít zpět zprávu, kterou jste poslali včera.
Funkce musí být aktivována - Chcete-li použít funkci Unsend, musíte přejít do nabídky Nastavení a povolit ji. Pokud tuto funkci nepovolíte, nelze ji použít.

Přesto, i přes limity, funkce Unsend je hezká možnost kterou můžete mít. Doporučuji to povolit. Nikdy nevíte, kdy budete chtít vzít zpět zprávu Gmailu.
Jak odvolat zprávu Gmailu (Quick Video Screencast)
Podívejte se na tento rychlý tutorial, kde se dozvíte základní informace o rychlém vyvolání zprávy Gmailu: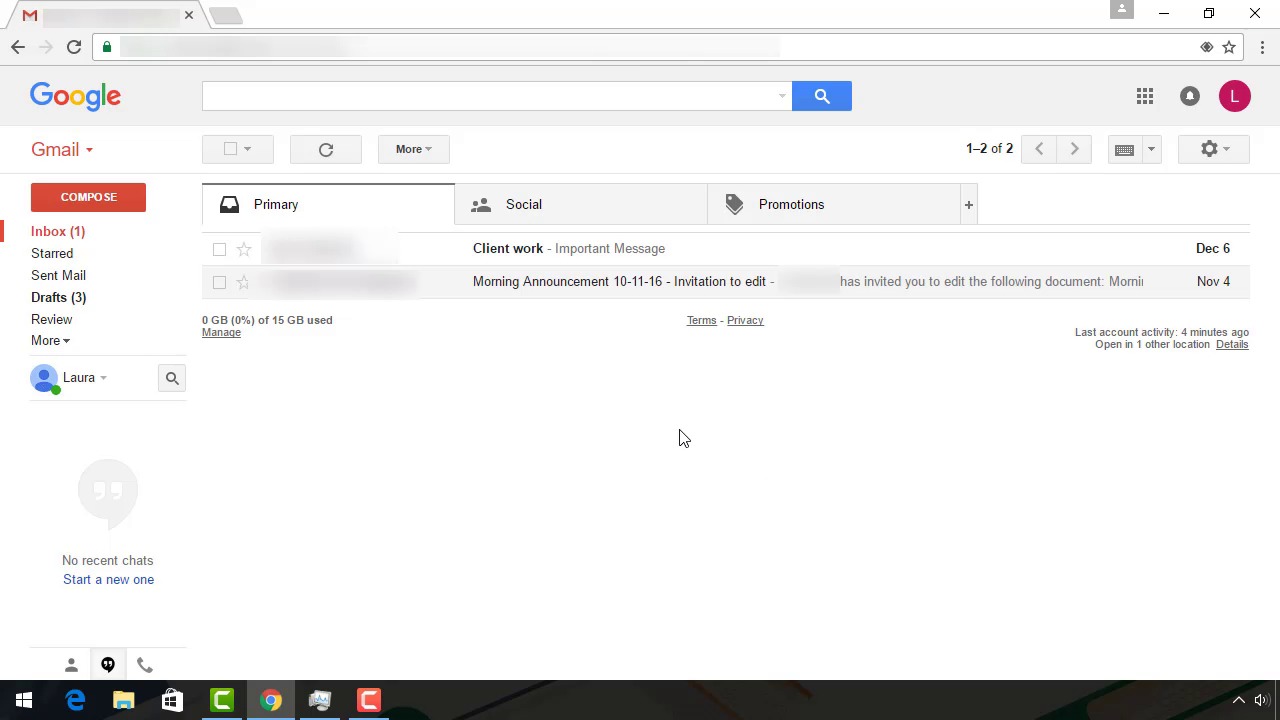 Nebo si projděte podrobné písemné kroky níže, kde naleznete další informace o tom, jak v Gmailu vzít zpět e-mailovou zprávu.
Jak rychle vrátit odeslaný email v Gmailu
Není složité vzít zpět odeslanou Gmail zprávu, pokud víte jak. Zde jsou kroky, které potřebujete vědět:
Krok 1. Nejprve otevřete nastavení služby Gmail
Začněte otevřením hlavního okna Gmailu.

Přejděte do rozbalovací nabídky Nastavení kliknutím na ikonu Nastavení (vypadá to jako ozubená kola) v pravém horním rohu okna.

V rozevírací nabídce, která se zobrazí, klikněte na možnost Nastavení. Zobrazí se okno Nastavení.
Krok 2. Nastavte možnost Odvolat odesílání a časový rámec pro odvolání
Chcete-li odvolat e-mail v Gmailu, musíte zapnout funkci Vrátit odeslání a nastavit, jak funguje. To uděláme teď.
V okně Nastavení pomocí posuvníku vpravo můžete posunout dolů, dokud se nezobrazí možnost Vrátit zpět odeslaní.
Klepnutím na zaškrtávací políčko vedle volby Vrátit odeslání ji povolíte. Klepnutím na šipku dolů vyberte dobu pro zrušení z drop-down nabídky.
Vyberte si mezi pěti, deseti, dvaceti nebo třiceti sekundami. Volba, kterou zde zvolíte, udává, kolik sekund po kliknutí na tlačítko Odeslat můžete vrátit zprávu.
Přejděte do dolní části okna Nastavení a klikněte na tlačítko Uložit změny.
Krok 3. Napište e-mail
Nyní, když jste aktivovali funkci Vrátit odeslaní, jste připraveni vrátit zprávu.

Začněte vytvořením nové zprávy. Klepnutím na tlačítko Vytvořit v levé horní části hlavního okna služby Gmail otevřete novou zprávu služby Gmail.

Zadejte svou e-mailovou zprávu. Když jste připraveni, klepněte na tlačítko Odeslat v levém dolním rohu pole Nová zpráva.
Krok 4. Klepněte na tlačítko Vrátit zpět odeslání v nabídce
Během odeslání zprávy se v horní části okna objeví žlutá výzva, která obsahuje hypertextový odkaz Zpět.
Kliknutím na odkaz Vrátit zpět můžete odvolat zprávu služby Gmail v časovém rámci definovaném v okně Nastavení.
Zpráva je odvolána. Otevře se okno s novou zprávou uvnitř.

Zpráva kterou jste vrátili zpět se neobjeví v záložce Odeslaná pošta. Nicméně se objeví v záložce Koncepty.
Upozornění: pokud překročíte časový úsek, který jste definovalo, odkaz pro Vrácení zpět zmizí. A nebudete moci vzít zpět vaši zprávu.
Krok 5. Opravte chyby
A nyní po vrácení zprávy ji můžete upravit v okně Nová zprává.
Krok 6. Znovu odeslat e-mailovou zprávu
Po opravě vaší zprávy použijte tlačítko Odeslat ve spodní části pole Nová zpráva, abyste zprávu odeslali.
Po odeslání zprávy a uplynutí doby pro její obnovení zmizí zpráva ze štítku Koncepty a zobrazí se v štítku Odeslaná pošta.
Shrnutí a další kroky
Pokud jednáte rychle, můžete vrátit zpět odeslanou zprávu Gmailu. Funkce není obtížné používat, jakmile to pochopíte. Ujistěte se, že nyní tuto užitečnou funkci zapnete, takže je váš Gmail nastaven, pro případ, že budete někdy potřebovat vzít zpět e-mail.
Další informace o používání služby Gmail naleznete v příručce Envato Tuts + na téma Jak používat Gmail (Ultimate Guide for Beginners) nebo se podívat na některý z těchto tutorialů:
Naučit se lépe pracovat v Gmailu vám pomůže být mnohem efektivnější. Ta chvíle stojí za to, že použijete trochu času, abyste ušetřili později víc.
Weekly email summary
Subscribe below and we'll send you a weekly email summary of all new Business tutorials. Never miss out on learning about the next big thing.
Update me weekly
Translations
Envato Tuts+ tutorials are translated into other languages by our community members—you can be involved too!
Translate this post
Powered by
Looking for something to help kick start your next project?
Envato Market
has a range of items for sale to help get you started.