Read Time:
2 mins
Languages:
نظرات ابزاری عالی برای همکاری کردن در پاورپوینت است. زمانی که برای آن پرزنتیشن بزرگ اماده می‌شوید، استفاده از نظرات و گذاشتن آنها برای همکارانتان، گزینه‌ای عالی برای تبادل بازخورد است.
من اینجا در حال کار کردن در یک پرزنتیشن پاورپوینت هستم و می‌خواهم یک نظر را به این طرح اسلاید اضافه کنم. چگونگی انجام این کار را در این آموزش کوتاه یاد بگیرید.

چطور نظرات را به پرزنتیشن پاورپوینت خود اضافه کنیم (ویدیوی کوتاه)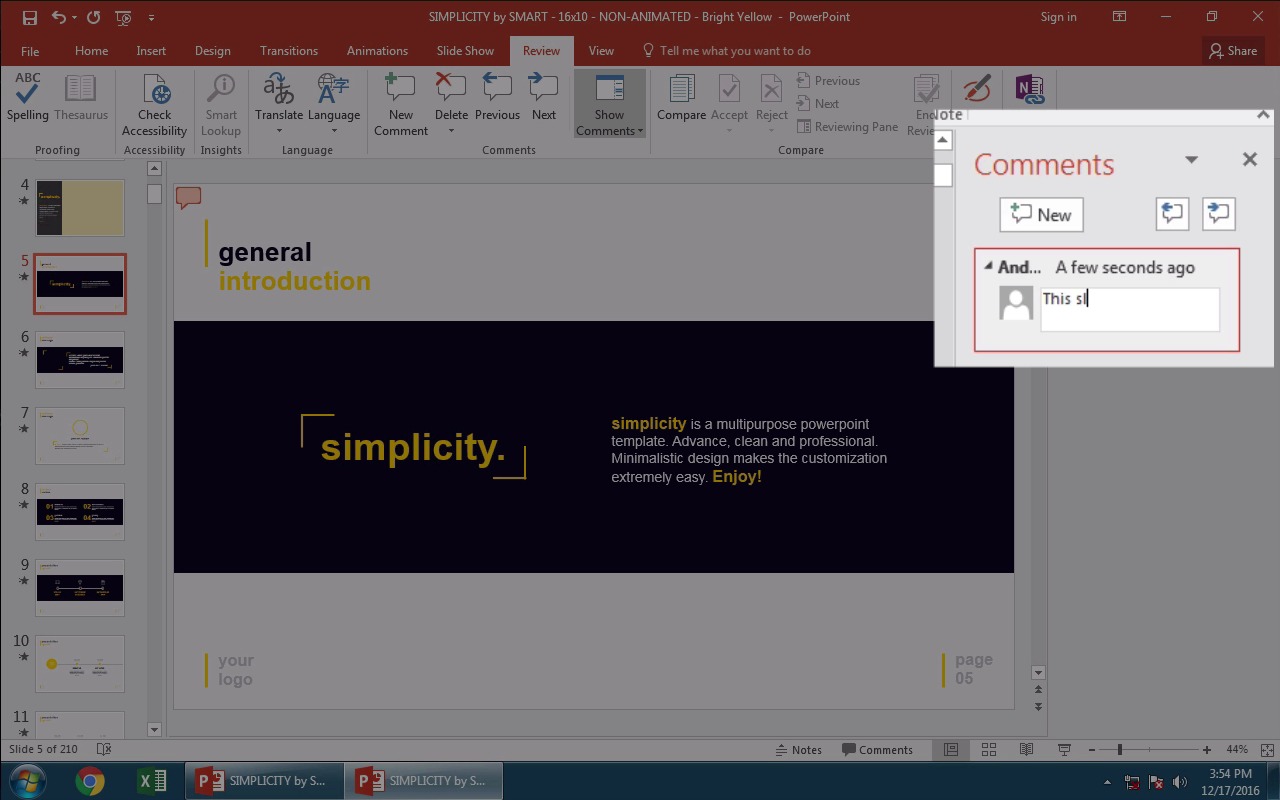 1. یک حباب دیدگاه در پاورپوینت اضافه کنید
ابتدا شروع می‌کنم و روی سربرگ Review کلیک می‌کنم. برای اضافه کردن اولین نظر خود، روی New Comment کلیک می‌کنم. این حباب قرمز کوچک بالا می‌آید و می‌توانیم آن را به محلی بکشیم که می‌خواهیم قرار دهیم.
2. نظر خود را در پاورپوینت در سمت راست تایپ کنید
حالا می‌توانم به راحتی نظر خود را اینجا در سمت راست تایپ کنم. می‌توانم این پرزنتیشن را برای یک همکار بفرستم و آنها می‌توانند نظرات من را ببینند و آنها را بررسی کنند و تطبیق دهند.
3. نظرات بیشتری در پاورپوینت اضافه کنید و با آنها کار کنید
می‌توانم نظرات بیشتری را با کلیک دوباره روی New Comment به عنوان مثال اضافه کنم. با کلیک روی دکمه‌های Next و Previous می‌توانید بین نظرات بچرخید و آنها را مرور کنید.
می‌توانم نظر را با کلیک روی دکمه Delete اینجا در بالا پاک کنم.
اگر می‌خواهید به محلی که نظر قرار دارد بروید، می‌توانید به راحتی برگردید و با کلیک کردن و کشیدن، آن را هر جایی که می‌خواهید قرار دهید.
اتمام کار!
کار با نظرات سریع است و برای همکاری روی پرزنتیشن با همکاران در پاورپوینت قدرتمند است. می‌توانید بازخوردها را  با هم تیمی‌ها تبادل کنید و از روند طراحی تا تکمیل با همدیگر کار کنید.
توجه: ما از قالب پاورپوینت Simplicity پرطرفدار در این آموزش کوتاه استفاده کردیم.

با ویدیوهای پاورپوینت 60 ثانیه‌ای، بیشتر یاد بگیرید:
آموزش‌های پاورپوینت کوتاه بیشتری را اینجا در +Tuts بررسی  کنید تا به یادگیری بیشتر شما کمک کند:
همینطور میتوانید هزاران قالب پاورپوینت حرفه‌ای را در وبسایت GraphicRiver ببینید یا طراحی‌های حرفه‌ای بیشتری را در راهنمای جامع قالب پاورپوینت بیابید.
I enjoy writing about productivity software that helps people do what they love, faster. Get in touch at andrewchildress.com .
Weekly email summary
Subscribe below and we'll send you a weekly email summary of all new Business tutorials. Never miss out on learning about the next big thing.
Update me weekly
Translations
Envato Tuts+ tutorials are translated into other languages by our community members—you can be involved too!
Translate this post
Powered by
Looking for something to help kick start your next project?
Envato Market
has a range of items for sale to help get you started.