بیایید یاد بگیریم که چطور یک شماره اسلاید را به اسلایدهای پاورپوینت اضافه کنیم. این یک نکته کوتاه ساده است که به شما کمک می‌کند بدانید در چه جایی از پرزنتیشن خود هستید.

توجه: در این آموزش، ما از قالب پاورپوینت Simplicity پرطرفدار استفاده می‌کنیم. می‌توانید قالب‌های پاورپوینت عالی بیشتری را در گرافیک‌ریور و یا در راهنمای جامع بهترین قالب‌های پاورپوینت ما بیابید.
چطور شماره اسلایدها را به پاورپوینت اضافه کنیم (بطور سریع)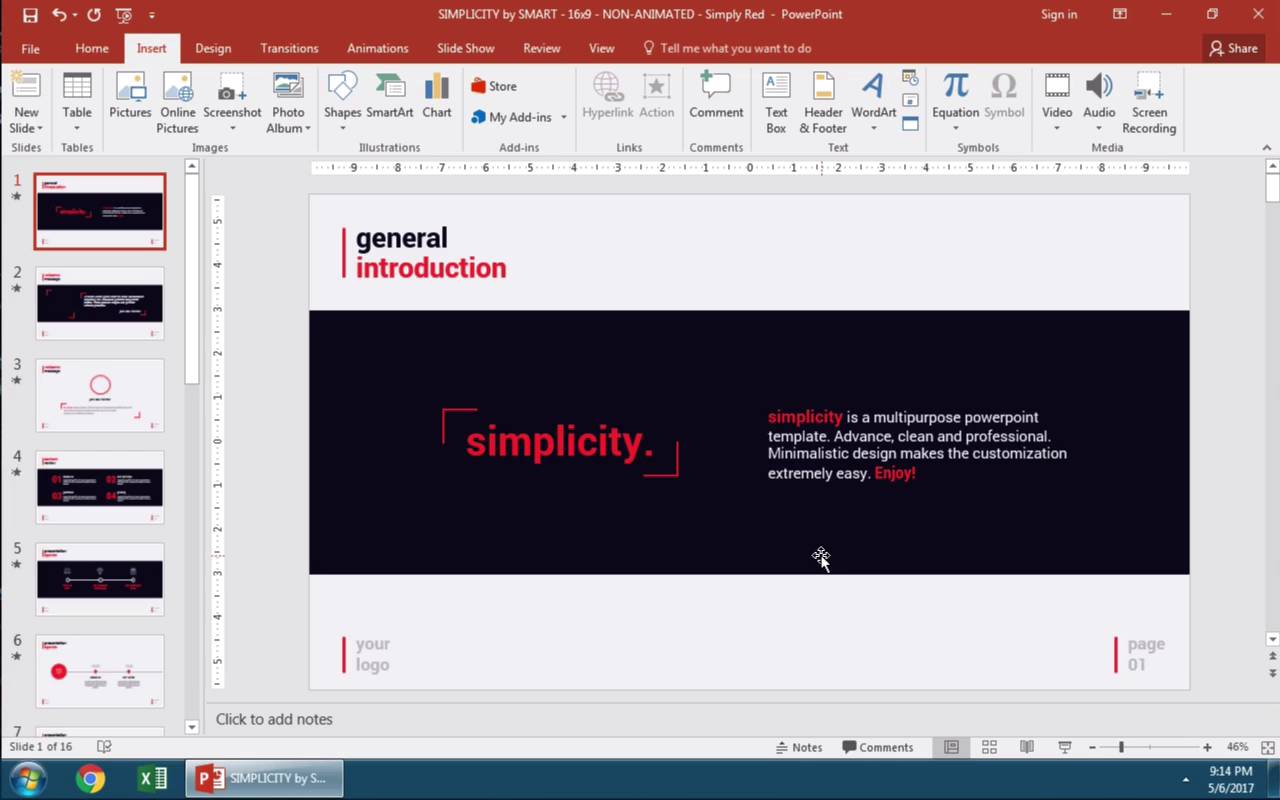 توجه: این ویدیوی آموزشی کوتاه را تماشا کنید یا مراحل کوتاه مرتبط با ویدیو را دنبال کنید.

1. روی سربرگ درج Insert کلیک کنید تا بخش اسلاید را باز کنید
اضافه کردن شماره اسلاید را میتوان تنها با چند کلیک انجام داد. بیایید یک شماره اسلاید را با کلیک بروی سربرگ Insert روی نوار پاورپوینت درج کنیم، و این آیکون # را درست کنار Word Art بیابید.
2. باکس شماره اسلاید پاورپوینت را به تمام صفحه ها اعمال کنید
در این پنجره می‌خواهم باکس شماره اسلاید را بگیرم و دکمه اعمال به همه را بزنم تا شماره اسلاید را به تمام اسلایدها در پاورپوینت اضافه کنم. یا می‌توانید دکمه Apply را بزنید تا شماره را فقط به اسلاید انتخابی اضافه کنید.
3. پاورپوینت بطور خودکار صفحات شما را شماره‌گذاری خواهد کرد
می‌توانید شماره اسلاید را در اینجا گوشه راست پایین هر اسلاید ببینید، حالا ، پاورپوینت اسلایدها را بطور متوالی شماره‌گذاری می‌کند، بنابراین نیازی به بروزرسانی این تنظیم برای هر اسلاید نیست.
جمع‌بندی!
یک نکته دیگر، اگر می‌خواهید شماره اسلاید را از یک اسلاید انتخابی بردارید، می‌توانید روی باکسی که شماره های اسلاید قرار دارد کلیک کنید، و کلید شماره‌گذاری صفحه اختصاص داده شده به پاورپوینت را روی کیبورد فشار دهید. این کار شماره اسلاید را از اسلاید انتخابی حذف می‌کند.
آموزش‌های مفید بیشتر اسلاید پاورپوینت
آموزش‌های اسلاید پاورپوینت بیشتری را اینجا می‌توانید استفاده کنید تا دانش پرزنتیشن خود را بیشتر کنید:
آموزش‌های پاورپوینت بیشتری را اینجا در انواتو Tuts+ ببینید یا اینکه سراغ آموزش اسلاید پاورپوینت دیگری در بالا بروید و یا آموزش‌های ویدیویی پاورپوینت 60 ثانیه‌ای بیشتری را جستجو کنید.
Want a weekly email summary?
Subscribe below and we'll send you a weekly email summary of all new Business tutorials. Never miss out on learning about the next big thing.
Sign up
I believe that life is too short to do just one thing. In college, I studied Accounting and Finance but continue to scratch my creative itch with my work for Envato Tuts+ and other clients. By day, I enjoy my career in corporate finance, using data and analysis to make decisions. I cover a variety of topics for Tuts+, including photo editing software like Adobe Lightroom, PowerPoint, Keynote, and more. What I enjoy most is teaching people to use software to solve everyday problems, excel in their career, and complete work efficiently. Feel free to reach out to me on my website.
One subscription. Unlimited Downloads.