Read Time:
3 mins
Languages:
پاورپوینت به شما اجازه می‌دهد که هر نوع محتوایی را به اسلایدهای خود اضافه کنید، که این شامل لینک‌ها هم می‌شود تا به شما کمک کند جابجا شوید. امروز، یاد می‌گیریم که چطور بطور سریع لینک‌ها را در پاورپوینت به اسلایدها، فایل‌ها، و هایپرلینک‌های وبسایت اضافه کنیم. این یک مهارت ضروری برای ساخت یک پرزنتیشن تعاملی در پاورپوینت است.

توجه: در این آموزش، ما از قالب پاورپوینت Marketofy پرطرفدار استفاده می‌کنیم. می‌توانید قالب‌های پاورپوینت عالی بیشتری را در گرافیک‌ریور و یا در راهنمای جامع بهترین قالب‌های پاورپوینت ما بیابید.

چطور لینک‌ها را در اسلایدهای پاورپوینت درج کنیم (بطور سریع)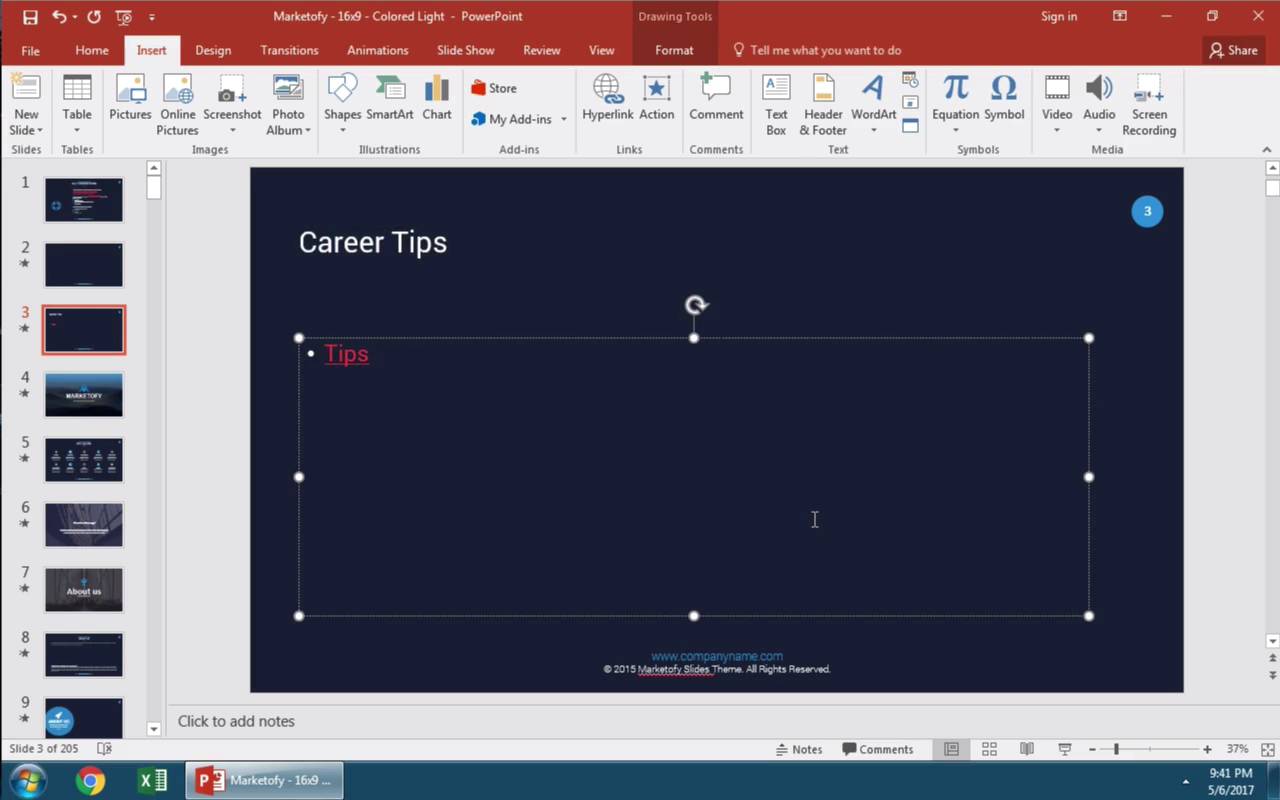 توجه: این ویدیوی آموزشی کوتاه را تماشا کنید یا مراحل کوتاه مرتبط با ویدیو را دنبال کنید.

1. پنل درج هایپرلینک‌ پاورپوینت را باز کنید
بیایید ادامه بدیم و روی سربرگ درج Insert در اینجا کلیک کنیم، و با انتخاب باکس روی اسلاید، من روی Hyperlinks کلیک می‌کنم. اولین گزینه انتخاب یک هایپرلینک برای فایلی روی کامپیترتان است، که با استفاده از این پنل میانی می‌توانید آن را مرور کنید.

2. یک لینک را در پنل درج هایپرلینک پاورپوینت وارد کنید
یا می‌توانیم به یک وبسایت آنلاین لینک کنیم. یک لینک را اینجا روی کلیپ بوردم paste می‌کنم، سپس در بالا، متنی را تایپ می‌کنم که می‌خواهم لینک آن را نمایش دهد. حالا OK را فشار می‌دهم.
3. اکنون روی لینک در اسلاید پاورپوینت خود کلیک کنید
می‌توانید لینک را در اسلاید من ببینید، و زمانی که روی آن کلیک می‌کنم، لینک را در یک مرورگر وب باز می‌کند.
4. یک لینک وارد کنید تا به اسلاید پاورپوینت بخصوصی بروید
با استفاده از همان مسیر درج هایپرلینک، این بار، قراردهی در این سند Place in This Document را از نوار کناری sidebar انتخاب می‌کنم. می‌توانم ادامه دهم و روی یکی از این لینک‌ها در کنار کلیک کنم تا به یک اسلاید خاص در این پرزنتیشن بروم. و سپس، یک عنوان برای لینک در این بالا تایپ می‌کنم و Ok را فشار می‌دهم.
جمع‌بندی!
زمانی که در پرزنتیشن درج شد، می‌توانم روی لینکی که ایجاد کردم کلیک کنم، تا به من کمک کند که به بخش دیگری از پرزنتیشن خود بروم.
آموزش‌های عالی بیشتر اسلاید پاورپوینت
آموزش‌های اسلاید پاورپوینت بیشتری را اینجا می‌توانید استفاده کنید تا دانش پرزنتیشن خود را بیشتر کنید:
آموزش‌های پاورپوینت بیشتری را اینجا در انواتو Tuts+ ببینید یا اینکه سراغ آموزش اسلاید پاورپوینت دیگری در بالا بروید و یا آموزش‌های کوتاه ویدیویی پاورپوینت بیشتری را جستجو کنید.
Weekly email summary
Subscribe below and we'll send you a weekly email summary of all new Business tutorials. Never miss out on learning about the next big thing.
Update me weekly
Translations
Envato Tuts+ tutorials are translated into other languages by our community members—you can be involved too!
Translate this post
Powered by
Looking for something to help kick start your next project?
Envato Market
has a range of items for sale to help get you started.