Andrew Childress
Stvaranje prezentacije je vježba u ograničenom vremenu. Ja se obično nađem u situaciji da se požurujem kako bi ugladio slajdove prije nego ih pošaljem na provjeru ili da im obnavljam sadržaj u zadnji moment. 
Zadnja stvar za koju imam vremena je crtanje vlastitih ilustracija . To je trenutak u kojem SmartArt ulazi u igru. 
Možda se pitate: Što je SmartArt u PowerPointu?
Shvatite SmartArt kao grafički alat za uštedu vremena, ugrađen u PowerPoint - koji vam dozvoljava da birate između raznih unaprijed pripremljenih layouta/rasporeda i prethodno uređenih stilova kako bi vam pomogli u vizualiziranju vaših ideja. SmartArt dolazi uz grafikone već spremne za korištenje, dijagrame, procesne mape i još mnogo više. 
U snimci zaslona ispod možete vidjeti jednostavan primjer SmartArta, gdje sam dodao grafičku ilustraciju kako bi pokazao nekoliko koraka u procesu. 
U ovom tutorialu vas želim naučiti kako koristiti SmartArt u PowerPointu. Koristeći ga, možemo brzo dodati fleksibilne i lijepe ilustracije našem slideshowu. 
Kako Koristiti SmartArt u Powerpointu (Video za Brzi Početak) 
Ukoliko želite naučiti više o tome kako koristiti SmartArt u Microsoft PowerPointu, provjerite kratku snimku zaslona ispod. Provesti ću vas kroz primjere o tome kako to koristiti kako bi poboljšali vaše prezentacije.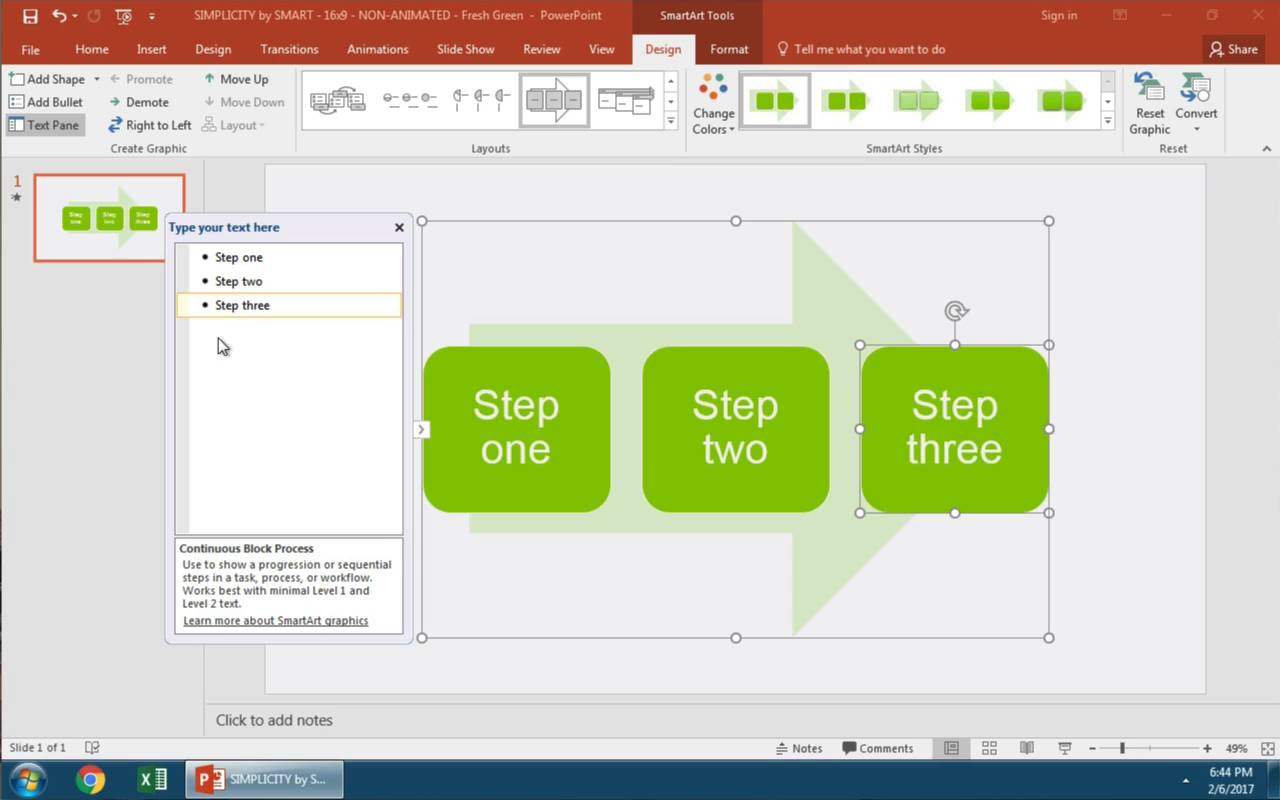 Nastavite čitati korak-po-korak tutorial o tome kako koristiti SmartArt u PowerPointu, i još više ideja o tome kako to iskoristiti kako bi brzo vizualizirali informacije u vašoj prezentaciji. 
Kako Napraviti Vašu Prvu SmartArt Grafiku u Powerpointu
Kako bi dodali vaš prvi SmartArt uradak,  idite na Insert meni na PowerPoint vrpci. Nađite opciju SmartArt menija i kliknite na nju kako bi otvorili meni SmartArta. 
Slijedeći meni koji se pojavi dozvoljava vam da izaberete koji tip SmartArta ćete dodati vašoj prezentaciji. PowerPoint ima veliku raznovrsnost SmartArt grafičkih stilova sa kojima možete raditi. 
Primijetit ćete da PowerPoint ima raznovrsne kategorije za SmartArt. Na lijevoj strani možete izabrati stilove kao što su "Lista", "Proces" , "Ciklus" . Izaberite jedno od kategorija ovisno o sadržaju sa kojim radite (više o tome kasnije). 
Sličice u centru prozora su različiti tipovi SmartArta. Kliknite na jedan kako bi ga pregledali na desnoj strani prozora. Postoje i korisni opisi koji objašnjavaju za kakvu prezentaciju SmartArt može biti korišten. 
Jednom kada ste izabrali tip SmartArta, klknite na OK kako bi ga umetnuli u vašu prezentaciju. 
Kako Dodati Značajan Sadržaj Vašem SmartArtu 
Dodali ste SmartArt vašoj prezentaciji. Što sad? Vrijeme je da se doda sadržaj i učini značajnim za vašu publiku. 
Kada je SmartArt dodan, otvara se kontekstualni meni lijevo od vaših podataka. 
Ovaj meni se koristi za populaciju SmartArta. Možete tipkati u bullet points/označene navode kako bi dodali tekst SmartArtu. Kako dodajete takav tekst, SmartArt se automatski obnavlja koristeći taj tekst koji vi unosite. 
Drugi način za modificiranje SmartArta je da jednostavno dva puta kliknete na individualni objekt i utipkate tekst u njega. 
Spremni za podešavanje SmartArt objekta? Krenimo dalje!
Kako Modificirati Elemente SmartArta
U primjeru iznad, SmartArt objekt ima tri bullet points / označena navoda koji populiraju SmartArt strelicu. Ali, što ako želimo četiri, pet ili više objekata?
Kako bi dodali još jedan objekt SmartArtu, možete to napraviti na jedan od dva načina: prvi je da pronađete Add Shape/Dodaj Oblik opciju, koja je na najdalje ljevoj strani trake kada izaberete Dizajn. Kliknite na Add Shape/Dodaj Oblik, ili kliknite strelicu za padajući izbornik i izaberite dodavanje novog objekta After/Iza ili Before/Ispred. 
Dodatno, ako radite u kontekstualnom meniju ("Utipkajte vaš tekst ovdje" na lijevoj strani) možete jednostavno pritisnuti za povratak na vašu tipkovnicu kako bi dodali novi bullet point / označeni navod u listu, i novi objekt će biti smješten u vašu prezentaciju. 
Ako imate previše objekata u vašem slajdu, jednostavno kliknite na jedan i pritisnite tipku za brisanje na vašoj tipkovnici. PowerPoint će je odstraniti iz vaše prezentacije. 
Također možete manualno premjestiti individualne elemente u slideshowu. Click-and-drag / Označite-i-povucite kako biste pomakli objekte unutar SmartArta. U screenshotu/snimci zaslona ispod, možete vidjeti kako sam pomicao kvadrate kako bi prikazao korake kao silazne. 

Kako Promijeniti SmartArt Layouts/Rasporede
Što ako ste počeli raditi na vašem SmartArtu i shvatite kako ste izabrali pogrešan layout/raspored? Možete jednostavno promijeniti layout/raspored i sačuvati vaš sadržaj. 
Sa selektiranim SmartArt objektom, nađite Layout/Raspored sekciju na Dizajn kartici. Jednostavno kliknite na novi layout/raspored, i PowerPoint će konvertirati vaš sadržaj na novi objekt. 
U screenshotu/snimci zaslona iznad, radim sa istim SmartArtom koji koristim kroz ovaj cijeli tutorial. Jedina stvar koja je izmijenjena je layout/raspored koji sam primijenio na njega. 
Kako Stilizirati Vaš SmartArt
Ne sviđa vam se zadani stil vašeg SmartArt objekta? Nema problema. Budite sigurni da ste selektirali vaš SmartArt i kliknite na Dizajn karticu na traci. 
Postoji SmartArt Stilovi sekcija na meniju gdje možete izabrati neki od unaprijed pripremljenih SmartArt stilova. Kliknite na strelicu za padajući izbornik kako bi vidjeli sve stilove koji su na raspolaganju za vaš selektirani SmartArt. 
Kliknite na strelicu za padajući meni i izaberite novi stil u koji želite promijeniti vaš SmartArt. 
Iako će originalni SmartArt layout/raspored biti sačuvan, možete izmijeniti grafički stil sa jednim klikom. 
Konačno, možete također izmijeniti i boje korištene u SmartArt prezentaciji. Kliknite na Change Colors/Izmijeni Boje u padajućem meniju i izaberite novu shemu boja za vaš SmartArt objekt. 
Ukoliko želite promijeniti stil pojedinih elemenata, kliknite na Format karticu. Možete izmijeniti unutrašnju boju  i boju ocrtavanja individualnih objekata u vašem SmartArt grafikonu. 
8 Važnih Tipova SmartArta (I Kada Ih Je Najbolje Koristiti)
Kao što možete vidjeti na prozoru SmartArta, PowerPoint ima dugu listu opcija za prezentaciju podataka uz pomoć SmartArta. Sa tako mnogo opcija, možete se zapitati koji je pravi tip SmartArta za korištenje. 
Ovisno o tipu podataka koji prezentirate, neki tipovi grafikona su bolji od ostalih. Imajte na umu ipak,  ne postoje stoga pravila kako koristiti SmartArt - samo sugestije. 
Pogledajmo najvažnije tipove SmartArta i situacije u kojima ćemo ih iskoristiti na najbolji način: 
1. Lista
Ako imate jednostavnu bulleted list / listu sa označenim navodima u PowerPointu, lista stilizirana u SmartArtu je jednostavno unaprjeđenje koje će načiniti podatke vizualno privlačnijima. 
Liste su prilično svestrane. Postoji široka raznolikost SmartArt stilova u PowerPointu, od jednostavnih "Osnovni Blokovi" do "Vertikalnih Lista" koje prikazuju stvari u poredanom, padajućem slijedu.  Ako niste sigurni koji stil koristiti, počnite sa stilom liste i od tog stila mijenjajte dalje. 
2. Proces
Tijek procesa je jedan od mojih najdražih načina korištenja SmartArta. Kada radim sa timovima, kako bi dokumentirao kako bi proces trebao djelovati, SmartArt služi kao odlična vizualna mapa koja snima proces. 
Procesni SmartArt stilovi vam mogu pomoći u snimanju kako bi se stvari trebale odvijati, korak po korak. Na primjer, ako stvarate proizvod, koristite Proces da bi prikazali kako proizvod ide kroz svaki korak proizvodnog procesa. 
3. Ciklus
Ciklusi su isti kao procesne karte ali ideja je da su kontinuirani. Koristite grafikon Ciklusnog tipa kada opisujete proces koji stalno traje i traje. 
Ciklusi su kontinuirani procesi koji su u tijeku. Ukoliko vodite kompaniju u kojoj se procesi odvijaju jednako svaki mjesec, koristite cikluse kako bi snimili takve procese. 
4. Hijerarhija
Hijerarhije su dizajnirane da prikažu kako se stvari spuštaju u organizaciji ili procesu. Jedan prirodan način korištenja takvog tipa grafikona je stvaranje organizacijskog grafikona za kompanije ili grupu pojedinaca. 
Još jedna primjena hijerarhije je za prikaz individualnih dijelova veće cjeline. Zamislite da koristite hijerarhiju kako bi prikazali sirove materijale unutar završenog proizvoda. 
5. Odnos
SmartArt odnosa je dizajniran za prikaz kako se individualni dijelovi odnose jedan prema drugome. U primjerima ispod, možete vidjeti raznolike odnosne grafikone: grafikone ravnoteže, funele i heksagone. 
Zajednička nit je da ovi grafikoni pokazuju kakav odnos  dijelovi imaju jedan prema drugome. 
6. Matrica
Grafikon matrice je jednak kao grafikon odnosa ali je više o uzimanju jednog objekta i dijeljenju na jednake dijelove koji zajedno sačinjavaju cjelinu. 
7. Piramida 
Piramide su otprilike kao hibridi između procesnog grafikona i hijerarhije. Svaka je piramida jedinstvena i pokazuje kako dijelovi piramide pašu zajedno. 
8. Slika
Kategorija Slike u PowerPointu je pomalo svestrana; sadrži stilove iz različitih kategorija ali je jednostavno dodati slike sa vašeg kompjutera. 
Iskoristite SmartArt u PowerPointu
SmartArt je jedan od prečaca prema prelijepoj prezentaciji u Mocrosoft PowerPointu.  Prestanite crtati vaše vlastite ilustracije i potražite mogućnosti korištenja SmartArta kako bi načinili brzu vizualizaciju umjesto toga. To je odličan način za uštedu u vremenu koji rezultira grafičkim rezultatima vrlo dobre kvalitete. 
Više Resursa za PowerPoint Prezentacije
Prezentiranje nije dobiveno genetski; to je vještina koju možete naučiti kao bilo koju drugu. Ovdje je više odličnih tutoriala za izgradnju vaših prezentacijskih vještina: 
Provjerite naš Ultimativni Vodič Za Najbolje PowerPoint Predloške ili preskočite prema najnovijim i najprodavanijim PPT predlošcima na Graphic Riveru. Također, ako trebate više vizualnih stilova u PowerPointu, onda provjerite: 
Jeste li koristili SmartArt? Podijelite slobodno savjet ili pitajte kakvo pitanje u prostoru za komentare ispod. 
Want a weekly email summary?
Subscribe below and we'll send you a weekly email summary of all new Business tutorials. Never miss out on learning about the next big thing.
Sign up
I believe that life is too short to do just one thing. In college, I studied Accounting and Finance but continue to scratch my creative itch with my work for Envato Tuts+ and other clients. By day, I enjoy my career in corporate finance, using data and analysis to make decisions. I cover a variety of topics for Tuts+, including photo editing software like Adobe Lightroom, PowerPoint, Keynote, and more. What I enjoy most is teaching people to use software to solve everyday problems, excel in their career, and complete work efficiently. Feel free to reach out to me on my website.
Start your 7-day free trial*
*All Individual plans include a 7-day free trial for new customers; then chosen plan price applies. Cancel any time.