Szóval van egy nagy prezentációd és azt akarod, hogy a PowerPoint diáid jól nézzenek ki. A csak témákra építés nem fogja megvágni. A jó hír, hogy gyors és könnyű egyedi témákat hozzáadni a PowerPointhoz egy egyedi kinézetért.
Hogyan töltsd le és telepítsd fel a PowerPoint Sablonodat gyorsan
Nézd meg ezt a rövid bemutató screencastot vagy kövesd a videó rövid lépéseit.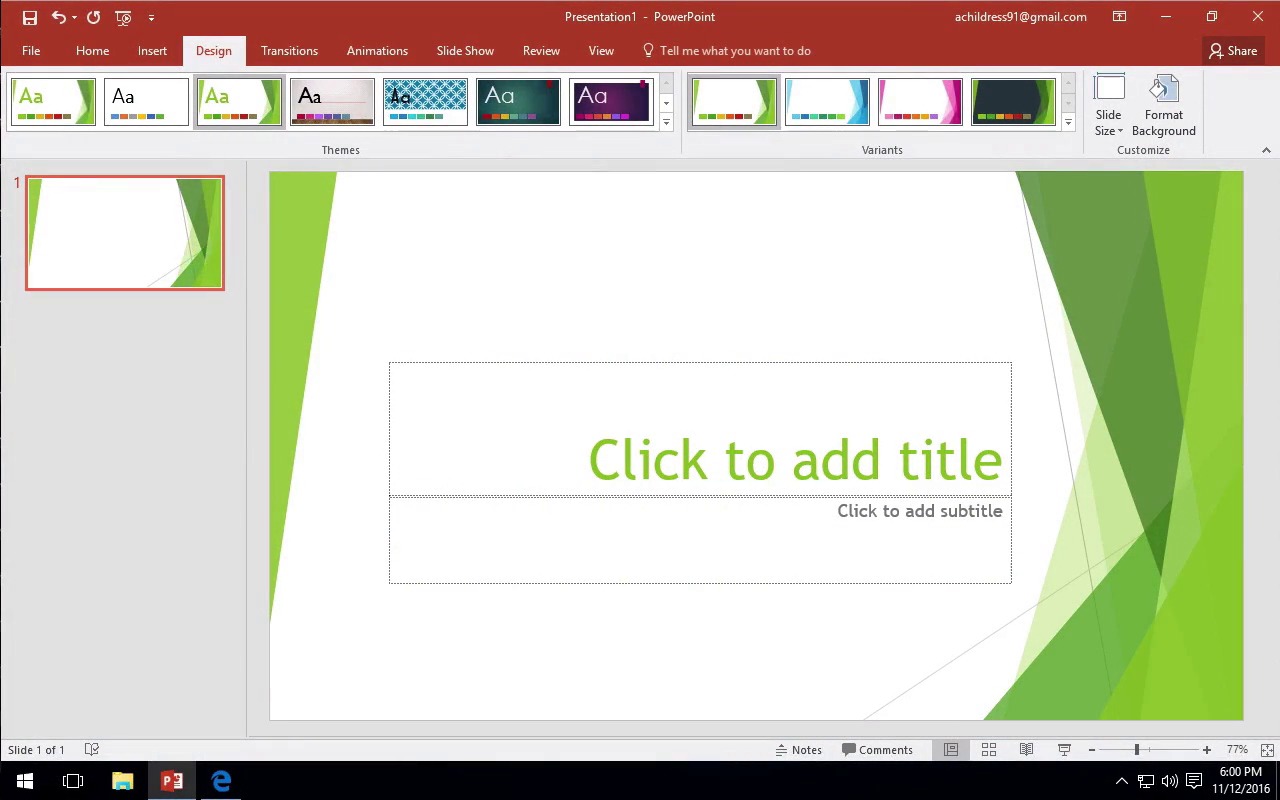 1. Tölts le egy Premium PowerPoint Sablont

Én az Egyszerűség témát használom, ami az egyik professzionális PowerPoint sablon, ami elérhető megvételre GraphicRiverről.

2.

Vond ki a letöltött PowerPoint sablonodat

Miután letöltötted a prémium PowerPoint sablont, van egy zip fájlod. A kicsomagolása után, meg kell találnod a .THMX vagy THMX fájlokat.

Ezen a ponton, készíts egy mappát ahol tárolni fogod az összes PowerPoint témádat amit alapból bárhova rakhatsz.
Átmenetileg készíts egy sablonok nevű mappát az asztalodon és mozgasd a .THMX fájlokat bele. Kattints az Explorer ablakra fent és másold a pályát a mappába ahol a sablonaid vannak.
3.

Telepítsd a Premium PowerPoint sablonodat

Ugorjunk vissza a PowerPointhoz.

Menj a Fájl opciók menüre és a Mentés panelen, keresd meg az Alapértelmezett Személyes Sablonok doboz helyét. Ez a mappa ahol a PowerPoint a sablonaid után fog nézni.

Másold be a pályát ahol az egyedi sablonaid tartalmazva vannak aztán nyomj OK-t.
Mikor egy új prezentációt készítesz, kattints a Személyesre és így az egyedi sablonaid láthatóak. Kattints az egyik új témára, hogy elkezdd és ez készít egy új prezentációt.
4.

Ellenőrizd, hogy jól működik!

Ha a Home lapra mész és kiválasztod az Elrendezést, láthatod, hogy az egyedi PowerPoint sablonaid telepítve vannak és használatra készek.
Még több PowerPoint bemutató és sablon erőforrások

Ha több PowerPoint bemutatóra és hasznos erőforrásra van szükséged, kövesd ezeket a linkeket:
Találj több professzionális prezentáció opciót a Végső útmutató a legjobb Microsoft PowerPoint sablonokhozunkban vagy böngéssz Premium PowerPoint tervezések ezrei között GraphicRiveren.
Want a weekly email summary?
Subscribe below and we'll send you a weekly email summary of all new Business tutorials. Never miss out on learning about the next big thing.
Sign up
I believe that life is too short to do just one thing. In college, I studied Accounting and Finance but continue to scratch my creative itch with my work for Envato Tuts+ and other clients. By day, I enjoy my career in corporate finance, using data and analysis to make decisions. I cover a variety of topics for Tuts+, including photo editing software like Adobe Lightroom, PowerPoint, Keynote, and more. What I enjoy most is teaching people to use software to solve everyday problems, excel in their career, and complete work efficiently. Feel free to reach out to me on my website.
One subscription. Unlimited Downloads.