Laura Spencer
Kamu menekan tombol kirim di Gmail sebelum kamu benar-benar menginginkannya. Sekarang bosmu memiliki pesan yang berisi typo. Kamu tenggelam kan?

Tidak perlu. Tidak jika kamu bertindak dengan cepat. Dengan Gmail ada sebuah jendela kecil yang bisa memanggil pesan terkirim.
Di dalam tutorial ini, kamu akan mempelajari bagaimana menarik kembali pastikan Gmail yang baru saja kamu kirimkan.
Kenapa Mengambil Email Kembali?
Jika kamu pernah berharap kamu bisa memanggil ulang sebuah email, kamu tidak sendirian. Mungkin semua yang punya akun Gmail pernah berharap, pada satu waktu, jika mereka bisa memanggil pesan kembali.
Berikut adalah beberpa skenario di mana kamu ingin untuk batal mengirim sebuah pesan Gmail:
Pesannya belum lengkap dan terkirim secara tak sengaja.
Pesannya mengandung error atau typo.
Pesannya dikirim dalam emosi yang besar lalu kamu menyesalinya.
Kamu mengkopi orang yang salah di pesan.
Informasi yang ada di email berubah beberapa saat sebelum menekan tombol Send
Kamu menekan Reply All daripada Reply saat menjawab sebuah pesan.
Saya yakin kamu bisa memikirkan contohmu sendiri dan berharap kamu bisa batal mengirim sebuah pesan.
Meskipun Gmail memiliki fitur Unsend, penting untuk ingat bahwa ada beberapa batasan:
Strict Time Limitation - Kamu menentukan berapa lama sebuah pesan dapat batal dikirim ( hingga 30 detik ) Maksudnya, kamu tidak bisa menunggu sehari dan mencoba untuk memanggil ulang sebuah pesan yang kami kirim kemarin.
Fiturnya Harus Diaktifkan - untuk menggunakan Unsend kamu harus menju ke Pengaturan dan mengaktifkannya. Jika kamu tidak mengaktifkan fiturnya, maka tidak bisa dipakai.

Walaupun begitu, Fitur Unsend tetap plihan yang baik. Saya merekomendasikan untuk mengaktifkan itu. Kamu tidak pernah tahu saat kamu ingin memanggil sebuah pesan Gmail.
Cara memanggil sebuah pesan Gmail (Screencast Video Singkat
Tonton screencast singkat ini untuk mempelajari dasar dari memanggil kembali pesan secara cepat.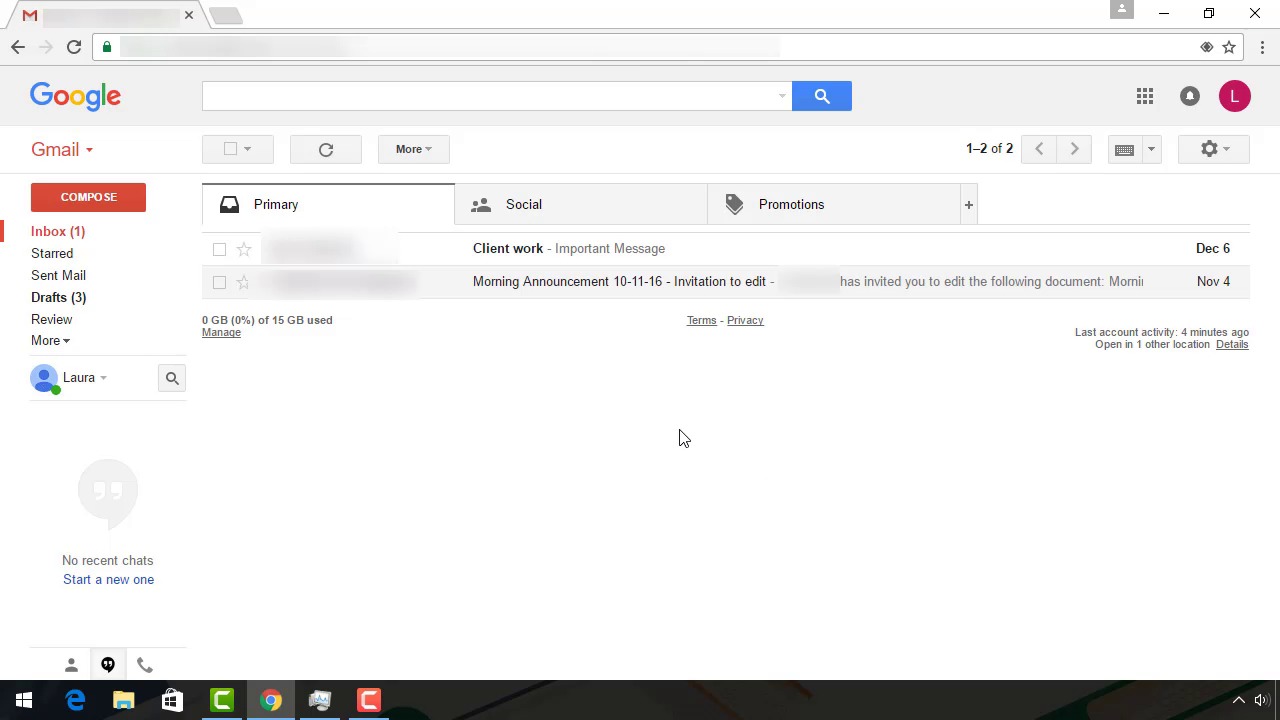 Atau baca panduan detil untuk informasi mengenai cara meanggil pesan terkirim di Gmail.
Cara Memanggil Pesan yang telah terkirim
Ini tidak susah untuk memanggil pesan Gmail yang telah terkirim jika kamu tahu cara nya. Berikut adalah beberapa yang harus kamu tahu:
Langkah 1 Buka pengaturan Gmailmu
Mulai dengan membuka jendela utama Gmail.

Akses bagian Settings di menu drop down dengan menekan ikon Settings ( kelihatan seperti sebuah gerigi ) di samping kanan layar.

Klik bagian Settings dari menu drop down di layar. Layar Settings akan tampil.
Langkah 2. Siapkan waktu pemanggilan kembali.
Untuk memanggil kembali pesan kamu harus mengaktifkan fitur Undo Send dan melihat cara kerjanya. Mari lakukan itu sekarang.
Dari bagian Settings, gunakan scroll bar ke kanan bawah hingga kamu dapat melihat bagian Undo Send.
Klik kotak dekat Undo Send untuk mengaktifkannya. Klik panah bawah untuk memilih periode pembatalan dari menu drop down.
Pilih antara 5, 10, 20, atau 30 detik. Pilihan yang kamu buat menentukan berapa detik yang kamu miliki setelah menekan Send untuk memanggil pesannya kembali.
Gulung ke bagian bawah Settings dan klik tombol Save Changes.
Langkah 3. Tulis sebuah Email
Sekarang kamu telah mengaktifkan fitur Undo Send, sekarang kamu siap untuk memanggil kembali sebuah pesan.

Mulai dengan membuat sebuah pesan baru. Tekan tombol Compose di pojok kiri atas untuk menulis sebuah pesan baru.

Ketik pesanmu seperti biasa. Ketika kamu siap, tekan tombol Send di kiri bawah kotak Pesan Baru.
Langkah 4. Klik Undo di perintah.
Sementara pesanmu dikirim, kamu akan menyadari ada kotak kuning di atas yang menyertakan alamat Undo.
Klik Undo untuk memanggil pesan Gmail kembali dalam waktu yang telah kamu tentukan di layar Settings.
Pesan telah dipanggil kembali. Kotak New Message terbuka kembali dengan pesanmu di dalamnya.

Pesan yang kamu panggil tidak tampil di bagian Sent Mail. Namun, akan muncul di Draft.
Peringatan: Jika kamu melebihi batas waktu link Undo akan menghilang. Kamu tidak akan bisa memanggil kembali pesanmu.
Langkah 5: Memperbaiki Errormu.
Sekarang kamu telah memanggil kembali pesanmu dan kamu bisa mengedit di kotak New Message.
Langkah 6. Kirim Kembali Pesanmu
Ketika kamu telah memperbaiki pesannya, gunakan tombol Send di bawah kotak New Message untuk mengirim pesanmu.
Setelah pesan terkirim. Pesanmu akan hilang dari Draft dan muncul di bagian Sent Mail.
Rangkuman dan Langkah Berikutnya
Jika kamu bertindak cepat, kamu bisa memanggil kembali pesan Gmailmu. Fiturnya tidak susah untuk digunakan ketika kamu telah memahaminya. Pastikan gunakan fitur ini sekiarang, sehingga Gmail-mu telah siap, jaga-jaga ketika kamu butuh memanggil kembali sebuah pesan.
Untuk informasi lebih lanjut tentang penggunaan Gmail, aculah Envato Tuts+ series di Cara Menggunakan Gmail (Panduan Lengkap Pemula) atau loncat ke salah satu tutorial berguna ini:
Belajar untuk bekerja lebih baik di Gmail dengan melakukan hal-hal secara efisien. Tidak masalah menghabiskan sedikit waktu sekarang, untuk menghemat lebih banyak kedepannnya.
Want a weekly email summary?
Subscribe below and we'll send you a weekly email summary of all new Business tutorials. Never miss out on learning about the next big thing.
Sign up
Envato Tuts+ Senior Associate Editor Business, North Texas, USA
Laura Spencer is our Senior Associate Business Editor here on Tuts+. She uses her business knowledge to help a wide variety of audiences. By sharing her knowledge in well-researched articles, she hopes to help others do well. Laura graduated with a degree in business. Besides Tuts+, Laura's work has been published on many sites including Vandelay Design Blog, FreelanceM.ag, Freelance Folder, Lubbock Avalanche Journal, Woman's Day, LifeHacker, and more. She's also written over 40 business study guides for continuing education companies. Laura has also managed her own writing business since 2002. Before that, she worked in corporate America as a technical writer and also as a marketing writer. As a lifelong learner, Laura continues to seek out better information to help her readers. Check out her latest ideas on her blog.
Start your 7-day free trial*
*All Individual plans include a 7-day free trial for new customers; then chosen plan price applies. Cancel any time.