Melody Nieves
Witamy w naszej serii poradników Photoshop w 60 sekund, dzięki której nauczysz się techniki, poznasz funkcję lub zyskasz umiejętność w programie Photoshop w ciągu zaledwie jednej minuty!
Photoshop w 60 sekund: dostosowywanie szablonu wizytówki

Świetnym sposobem na zaimponowanie potencjalnemu klientowi jest podarowanie mu niesamowitej wizytówki. Możesz z łatwością dostosować prosty szablon bezpośrednio w Adobe Photoshop. Skorzystaj z najlepszych i wybierz jeden z naszych wspaniałych szablonów wizytówek z GraphicRiver.

Nie wiesz, gdzie zacząć? Obejrzyj to krótkie wideo, aby dowiedzieć się więcej.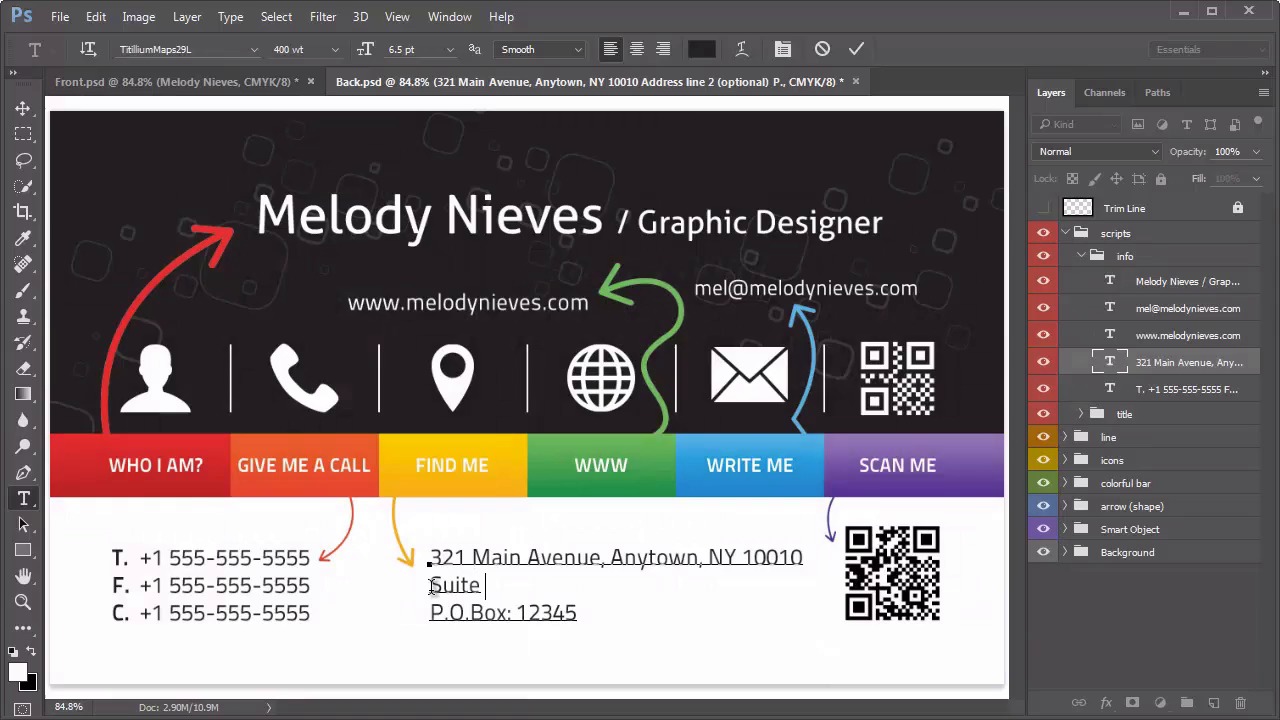 Jak dostosować szablon wizytówki
W tym poradniku, będę używała niesamowitego szablonu Creative Personal Business Card. Po otwarciu szablonu w programie Photoshop, zmień imię, nazwisko i inne istotne informacje za pomocą narzędzia Tekst (T).

Aby zmienić kolory znajdujące się w dolnym pasku, kliknij dwukrotnie opcję Fx, aby uzyskać dostęp do stylów warstwy i zmień kolory gradientu w stylu Nałożenie gradientu.

Następnie dodaj swoje zdjęcie! Przeciągnij i upuść wybrane zdjęcie na Inteligentny obiekt przeznaczony dla głównego zdjęcia, zmień rozmiar za pomocą przekształcania swobodnego (CTRL-T), a następnie Zapisz, aby zastosować zmiany.

Chcesz zobaczyć to w innej formie? Przewiń na początek strony i obejrzyj wideo z lektorem! Lub skorzystaj z pomocy życzliwych ludzi z Envato Studio, którzy potrafią rozwiązać każdy problem.

Trochę więcej szczegółów
Chcesz dowiedzieć się więcej o Adobe Photoshop i tworzyć zachwycające projekty? Zapoznaj się z poniższymi poradnikami:
60 sekund?!
To część serii krótkich wideo poradników na Envato Tuts+, w których przedstawiamy wiele tematów, wszystkie w 60 sekund—tyle wystarczy, aby pobudzić twoją ciekawość. Daj nam znać w komentarzu, co myślisz o tym materiale wideo i co jeszcze chciałbyś zobaczyć w ciągu 60 sekund!
Want a weekly email summary?
Subscribe below and we'll send you a weekly email summary of all new Business tutorials. Never miss out on learning about the next big thing.
Sign up
Digital Artist - CT, USA
I'm an Afro-Latina digital artist originally from Long Island, NY. I love to paint, design, and photo manipulate in Adobe Photoshop while helping others learn too. Follow me on
Instagram
or tweet me
@MelloNieves
and tell me what you'd like to see next!
One subscription. Unlimited Downloads.