Andrew Childress
Everyone needs a go-to app they can use to prepare a presentation deck. While your presentation should always focus on your content and delivery, the slides that you share on-screen are critical to reinforcing your message.
So, what tool should you use to build those slides? You might choose the app that you know from your day job like Microsoft PowerPoint, but Apple's Keynote is also a great tool for making supporting slides. 
Keynote might appeal to you if you've recently converted to macOS, or if you find yourself working on iOS devices most of the time. You'll see that Keynote features outstanding usability, a full set of features, and plenty of power to build slides rapidly. 
In this round-up, I'll share a selection of Keynote tutorials that can take you from beginner to pro. Plus, I'll identify those lessons that include Keynote training videos so you can learn even more quickly. Best of all, these Apple Keynote tutorials are free for you to study!
If you're looking for ways to learn about making presentations, you won't want to miss our eBook on how to build a great presentation. The Complete Guide to Making Great Presentations complements these tutorials I've shared with you perfectly--and it's yours free when you sign up for our Tuts+ Envato newsletter. 
Five Reasons to Learn Apple Keynote
You might already be comfortable in a popular presentation app like Microsoft PowerPoint or Google Slides. So, why think about tackling all of these Keynote tutorials and learning yet another app?
Here are some of the reasons why Keynote might be worth a look as another app that's worth learning:
If you're a Mac user, Keynote is by far the best user experience on the platform. Sure, Microsoft makes PowerPoint for Mac, but it's not the same as using PowerPoint on a PC.
Similarly, the iOS versions of Keynote are top-notch. If you're giving presentations on the go or want to put it on display on a mobile device, the iPad app is reason enough to use Keynote.
Animations are a breeze. Sure, all presentation apps feature tools to animate objects like text and images, but Keynote users agree that it handles animation more easily.
Keynote is so flexible that it can be used as more than a mere presentation tool. Many graphic designers use mockup templates like this one as a lightweight layout and visual design tool.
Finally, Keynote is pretty easy to learn, so you won't have to invest a ton of time to add yet another valuable tool to your belt. 
I genuinely believe that there's no reason that you can't balance multiple presentation apps. As simple as Keynote is, it takes minimal time to gain competence with the app. PowerPoint and Keynote work similarly enough that the learning curve is more navigable than you might think.
If you're on the fence, a few of the Keynote tutorials I'll share in this round-up can help you get up and running. Let's learn more!
15 Best Apple Keynote Tutorials
The Keynote tutorials that I've collected below are a complete collection that can be used to learn the app from scratch. It covers everything from the basics to more advanced features that are sure to really wow an audience. 
Check out these Keynote tutorials (perhaps in sequential order) to build your competence as a user:
Still not sure why you might want to use Keynote? This article is a great jumping off point to help you understand what role Keynote plays in building a presentation. You'll see that there's not only a desktop app, but also mobile and web-based apps that help you keep using Keynote on-the-go. 
If you're hesitant to jump from PowerPoint to Keynote, I can see why. Most of us have been using PowerPoint as the presentation software of choice at our day job or in school for some years. But if you've not given Keynote a try, you're certainly missing out on the features that set it apart. Make sure to check out this tutorial to see the two presentation apps compared head-to-head, and learn why you might choose Keynote instead.
A few animations in your presentation can draw attention to the right elements of a presentation. In this Keynote tutorial, you'll learn a complete set of skills that help you set objects on a slide in motion. Not only does this tutorial cover animating images and text, but you'll also learn how to use Keynote templates for more advanced animation effects. Plus, this written tutorial includes a short Apple Keynote training video. 
Magic Move is one of my favorite features in Keynote, and this tutorial will help you see why. This feature is a hybrid between a slide transition and object animation. Choose a single object that'll transcend multiple slides and create the perfect segue between two slides. Make sure to play the preview below to see Magic Move in action, then jump to the tutorial above to learn more. For a short visual lesson, don't miss the Apple Keynote training video included with this tutorial.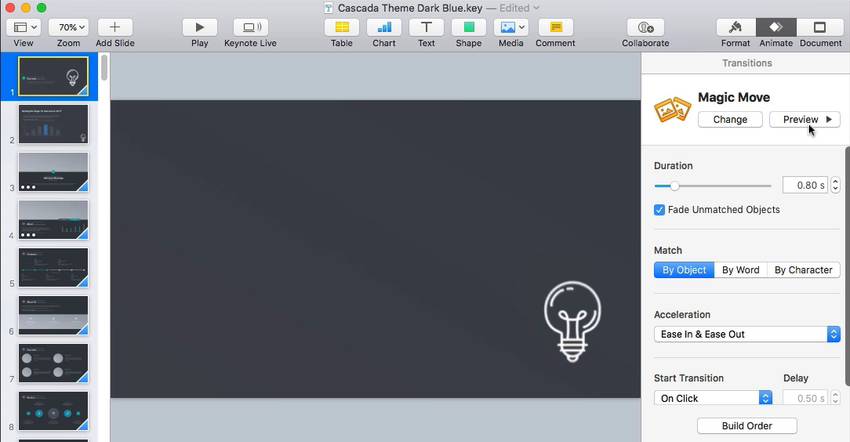 Every presentation benefits from a bit of multimedia. This Keynote tutorial is a complete rundown that helps you work with images There's even a short Apple Keynote training video to help you get started quickly. Keynote features a rich set of options to modify and work with images, no extra editing tools required. With a few tweaks, you'll learn how to modify an image to work perfectly as a slide background. Also, you'll learn about a unique feature in Keynote, image galleries, that allows you to add several images in a single bounding box. 
One of the most important parts of setting up your presentation is ensuring that you've got the right slide dimensions and settings. Maybe you've given a presentation where the slides don't fill the screen, for example. This written tutorial and short training video will help you set up the slides or modify existing presentations to ensure that you make the most of your screen real estate when presenting. Also, learn how to change your slide design easily in this Keynote tutorial.
Getting images ready for a presentation takes extra time, and sometimes even a separate app. This Keynote tutorial can help you save time when it comes to removing backgrounds and borders from an image. Thanks to Keynote's Instant Alpha feature, you can select parts of a graphic to remove, such as removing the white background from a logo image. Check out the 60-second Apple Keynote training video tutorial included here to learn how to use the feature rapidly.
One of my favorite Keynote features gives you the ability to link up live with an audience. With no extra apps or services required, Keynote Live lets you take your presentation online and present it to an audience. Simply move it to iCloud, set up a link, and invite your audience to join you online. Check out the Keynote tutorial ideas to learn more about the features so that everyone can jump in and work with you. Start using this feature with the written tutorial and short, included video.
When it comes down to it, a presentation is a storytelling tool. You use slides to craft a message that hopefully resonates with your audience. One of the best tools I know to do this is a timeline, which links up events and sequences them in order. Thanks to custom templates and this Keynote tutorial and short video, you can take your key events and link them together in an illustrative timeline. More importantly, you'll learn why custom templates are a great starting point to develop advanced presentations with less work.
Charts and graphs can help you illustrate ideas in your presentation. It can quickly overwhelm your audience if you focus on text-heavy, bulleted slides. Instead, turn to graphics like flowcharts and Gantt charts to present ideas. Both of these charts are perfect for adding a process illustration to a project or program that you're running, and they're easy to add using Keynote. Learn all about these Keynote features with this written tutorial and brief Apple Keynote training video.
Need even more multimedia to tell a story? Consider adding video clips and music to your presentation. Follow this tutorial and screencast video to learn how to master both and get the most from the feature. Specific features covered include adding clips, adjusting their volume, and trimming them with no apps other than Apple Keynote required. 
So far, the tutorials in this round-up have showcased features and tools that help you build slides. Now, let's turn our attention to preparing to present with this quick Apple Keynote training video tutorial that'll teach you to add presenter notes. These built-in presentation notes are perfect to add to your slide to quickly reference while presenting. Instead of scribbling note cards or aids, follow the tutorial and use this feature built into Keynote.
After you follow the previous Keynote tutorial and add presenter notes, you might want to learn more about putting the app in "Presenter Display View." Most of the time, you'll have two screens to use while presenting: a screen for your presentation, and another that you can watch while presenting. It helps if you use that personal display to show your notes and the next slide, and you can learn to use that feature in this tutorial and video screencast. Learn how to keep the most important information in easy view thanks to this tutorial. 
One of the reasons that might hold you back from using Keynote doesn't have to be a showstopper. If you're concerned about importing your existing PowerPoint files, this Keynote tutorial is right up your alley. It's pretty easy to jump back-and-forth between the two apps thanks to Keynote's conversion features. Learn how to convert your existing PPTX presentations and open them up in Keynote quickly in this lesson. (Don't miss the included Apple Keynote training video.)
Rounding out our selection, this is another way to ensure that you aren't too locked in while using Apple Keynote. In this 60 second screencast and written tutorial, you'll learn that it's easy to open up a Keynote presentation on a PC even though the app isn't natively available for Windows.
More Presentation Skill Tutorials
While this round-up focused on the technical skills involved in building a presence in Apple Keynote, it also helps to develop your skills in delivering presentations and webinars, the Keynote online version of a presentation. Check out these follow-up resources to keep learning:
What are your favorite resources to learn Apple Keynote? What skills are you still building after checking out the tutorials in this round-up? Let me know if you've got any suggestions or ideas in the comments section below.
Want a weekly email summary?
Subscribe below and we'll send you a weekly email summary of all new Business tutorials. Never miss out on learning about the next big thing.
Sign up
I believe that life is too short to do just one thing. In college, I studied Accounting and Finance but continue to scratch my creative itch with my work for Envato Tuts+ and other clients. By day, I enjoy my career in corporate finance, using data and analysis to make decisions. I cover a variety of topics for Tuts+, including photo editing software like Adobe Lightroom, PowerPoint, Keynote, and more. What I enjoy most is teaching people to use software to solve everyday problems, excel in their career, and complete work efficiently. Feel free to reach out to me on my website.
One subscription. Unlimited Downloads.