Andrew Childress
Spreadsheets are not just a tool for financiers and accountants. In fact, many creatives love a structured tool like a spreadsheet to bring organization to projects. You can use spreadsheets for financial tasks like tracking your client billings, logging project data, and building budgets.
You might already know that Excel is the king of the castle for spreadsheets, but Google's free alternative called Sheets has become very popular as a lightweight alternative. Not only is it free, it's easily accessible inside a web browser. Here's an example of a Sheets spreadsheet showing some Tuts+ tutorials I've published in the past:
You don't have to choose between using Excel and Sheets for working with spreadsheets. This is thanks to Sheets' ability to upload your own Excel spreadsheets and convert them for use inside the browser.
In this tutorial, I'm going to show you how to take an Excel spreadsheet and upload it to Google Drive, converting it to a Sheets-friendly file. 
Watch & Learn
Let's walk through converting spreadsheets in the screencast below. I'll show you how to upload a spreadsheet from Excel to Google Drive and convert it to a Sheets file. You'll also see how to export it back to a native Excel spreadsheet format.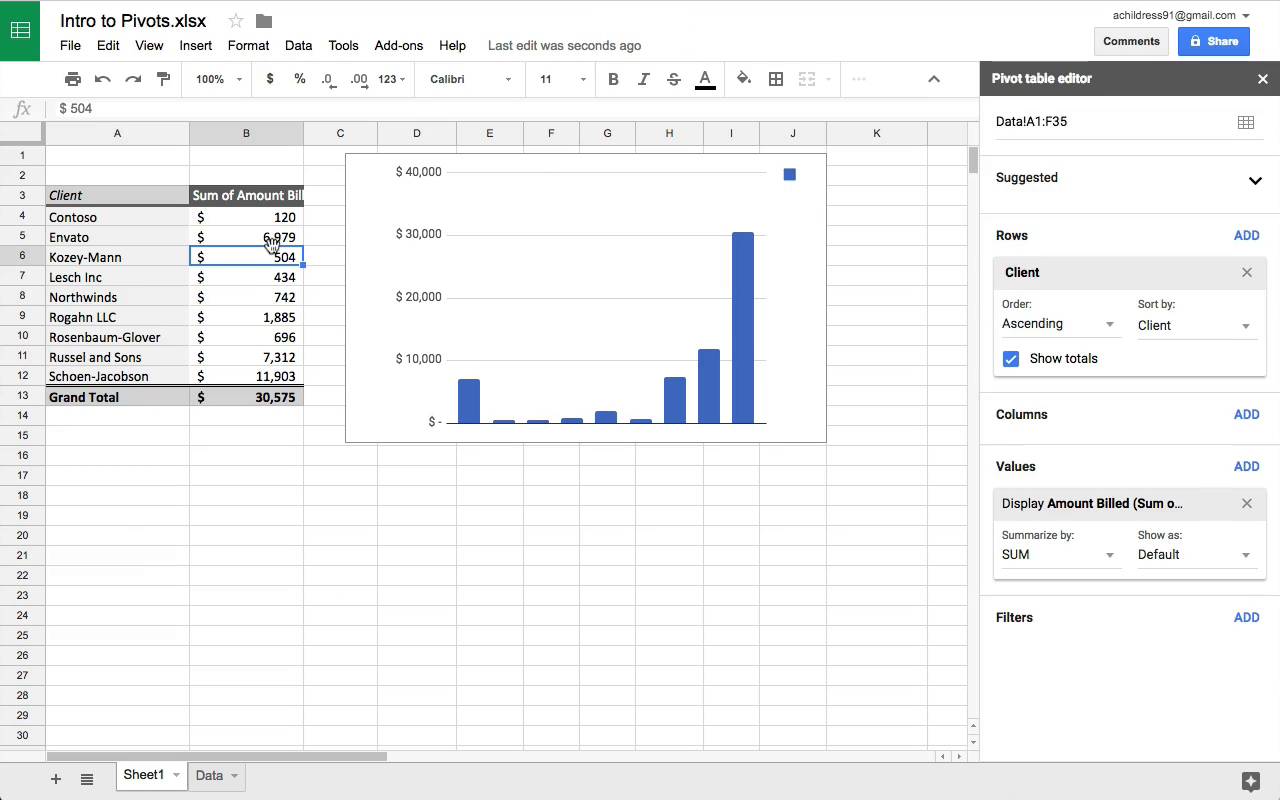 Want to know more? Read on to find out. You'll see examples of how you can import Excel files into Sheets, and export finished files in a variety of formats.
Why Google Sheets?
Excel is certainly at the top of the mountain when it comes to spreadsheet apps. Excel spreadsheets drive decisions for global, multibillion-dollar companies who use formulas and analysis tools in Excel.
So why then would you leave Microsoft's fine-tuned spreadsheet platform for Google's browser-based alternative? Even though Excel is still the go-to app for many spreadsheet users, there are a number of reasons that Sheets might find a home in your toolbelt:
It's free (and that's hard to compete with).
It's easy-to-use, including tips on how to use formulas right inside of the web app.
Your files are automatically stored and backed up into the cloud thanks to Google Drive.
Sheets has great collaboration options, and even allows users to be inside the same sheet, working together in real time.
Sure, Microsoft now has Excel Online, which has many of these same features that work in the cloud. But because Sheets started as a web app, these features are simply more mature and better implemented than Microsoft, who has been playing catch-up. Here's an example of an Excel Online spreadsheet:
Best of all: Sheets is more open than Excel. It accepts spreadsheets from a variety of apps, and you can export out finished files into a variety of formats as well. Let's learn more about that.
1.

How to Import an Excel File to Google Sheets

Let's start off by jumping over to Google Drive. If you don't already have a Google account, it's free to create one and unlocks using all of the web-based Google apps like Docs, Sheets, and Slides.

Once you're inside of drive, click on the New button and choose File Upload. Browse to your Excel spreadsheet and choose it from the file dialog box:
Once you upload your Excel file, you can see it in the list of files inside of Google Drive. Double-click on a file to open a preview in a popover window on top of Drive:
At this point, you can only preview the Excel file because it's not been converted from an XLSX file (Excel's default file format) to a .sheets file (Google Sheets file format).
To start editing and working with the workbook, click on the Open with Google Sheets button above the preview. Sheets will automatically create a copy of the file and convert it to the more native Sheets format:
Voila! You can see the Excel file, ready to edit and work with in Sheets. Now, start making changes right inside of your web browser to the spreadsheet. Remember that you're working from a copy, so don't worry about making irreversible changes to the original Excel workbook.
At this point, consider taking advantage of Sheets functionality by trying out some of the other features:
2.

How to Export a Sheets File Back to Excel

Let's say that you've made some changes to your spreadsheet in Sheets and need to send it back over to Excel for further work. You can do that with just a few clicks by downloading the spreadsheet.

To send a spreadsheet back to Excel, right click on the file inside of Google Drive and choose Download:
Notice in the screenshot below that you see two of the same file names. Make sure that you right click on the one that has the Sheets icon (top row in the example above) and choose Download. Sheets automatically generates an Excel-ready file that you can re-open inside of Excel.

3.

Be Careful of These Features

Sheets has come a long way in supporting data from Excel, but there are still limitations about what will work well when you push an Excel file into Google Drive. Let's review a few features that work differently when you import the file into Sheets
Feature 1. PivotTables
If you're an Excel power user, you likely work in PivotTables frequently to review and analyze data. However, don't count on them to work exactly the same way when you upload your Excel spreadsheet.
Google has done a nice job implementing basic support for bringing Excel PivotTables into Sheets. However, I've had mixed success with other features like calculated fields or advanced formatting features. Here's a PivotTable in a converted Sheets spreadsheet:
If this is the first time you've heard of PivotTables, make sure to check out the brief intro to using them in Excel below:
Feature 2. Macros

For advanced Excel users, macros are one of the most popular ways to automate repetitive tasks. Using code written in VBA (Visual Basic) provides a way to do a set of steps with a single click or command. Here's an example of an Excel macro:
As you might expect, these don't work at all in Google Sheets. It doesn't seem as if Google has any plans to support this feature in the browser, although the JavaScript implementation inside of Sheets offers opportunities.
Here are a few other Excel features that I've found that won't import into Sheets:
Password protection. Password protected workbooks won't import into Sheets at all, and there's no way to account for the password protection.
Power Query / PowerPivot. Much like PivotTables, Sheets has no way to manage advanced data manipulation tools that include Excel's Data Model feature.
Connections to other workbooks. If you link up multiple workbooks in Excel, Sheets has no way of handling these references when you import the spreadsheet online.

Recap & Keep Learning
There's no reason that you can't mix Sheets with other spreadsheet apps like Excel, thanks to the ability to import Excel workbooks and convert them to the Sheets format. 
You might not be using Google Sheets on your own projects. If that's the case, check out the tutorials below to see more about how you can use Sheets to manage projects and create data visualizations without ever leaving a web browser.
You've just learned the basics of how to convert Excel spreadsheets to Google Sheets. Do you use only one spreadsheet app, or do you find yourself switching between them? Let me know in the comments section below.
Want a weekly email summary?
Subscribe below and we'll send you a weekly email summary of all new Business tutorials. Never miss out on learning about the next big thing.
Sign up
I believe that life is too short to do just one thing. In college, I studied Accounting and Finance but continue to scratch my creative itch with my work for Envato Tuts+ and other clients. By day, I enjoy my career in corporate finance, using data and analysis to make decisions. I cover a variety of topics for Tuts+, including photo editing software like Adobe Lightroom, PowerPoint, Keynote, and more. What I enjoy most is teaching people to use software to solve everyday problems, excel in their career, and complete work efficiently. Feel free to reach out to me on my website.
One subscription. Unlimited Downloads.