Andrew Childress
"Visual learners" use graphics to understand the world.
It makes perfect sense that it's easier to look at PowerPoint charts or graphs and draw conclusions than work through an oversized spreadsheet. I think of PowerPoint charts as the alternative to messy lists of data.
With presentations, don't forget about visual learners. If our audience is full of visual learners, you need PowerPoint graphs to drive the key points of a presentation. A few well-placed PPT charts and graphics will ensure your audience understands your important points.
PowerPoint makes it easy to create charts. Build and customize PowerPoint charts and graphs right inside of the app.
In this tutorial, learn how to make a chart in Microsoft PowerPoint. Instead of overwhelming your audience with a spreadsheet, show them PowerPoint graphs that summarize your findings. 
How to Quickly Make a Chart in PowerPoint (Watch & Learn - Video)
Are you ready to start learning about PowerPoint charts and PowerPoint graphs? Watch this quick screencast to find out what you need to know to get started with charts in PPT:
To learn even more about using charts and graphs in PowerPoint, study the complete written tutorial below.
5 Effective PowerPoint Chart & Graph Templates from Envato Elements
PowerPoint has built-in charting tools that make it easy to tell stories with your data. But what's even better is when you use advanced PowerPoint chart and graph presentation templates. 
That's where Envato Elements comes into play. It's an all-you-can-download service for creatives that unlocks more than 4,000 templates for PowerPoint presentations, including advanced templates for PPT charts and graphs.
It's not that PowerPoint can't do charts and graphs on its own. But these PowerPoint chart templates are better and more eye-catching than the built-in options. Let's learn more:
This PowerPoint charts template has advanced options that bring your data to life. Best of all, it matches the many color schemes that are included in the download package. Use this to bring some life to your chart and graphs in PowerPoint.
Finance and economics rule the world, but they can be difficult to understand. So, make sure that you use a template like this to condense challenging concepts down into easy-to-understand visuals.
Companies periodically issue reports that update the public and investors on the progress. use a template like this one to showcase your company's progress with data and visuals that help drive understanding of your trends.
Infographics are particularly useful for describing the steps in a process with visuals. You can take basically any set of simple steps and dress them up with an informative infographic. Use this template to choose from many infographics and charts in PPT to show your data and systems off.
For more excellent infographics slides, make sure to check out the round-up below:
Rounding out our selections, this PowerPoint charts template has both graphs and infographics that can help you drive stories with data. Whether you use it to show numeric figures or the steps in a sequence, this template has over 2,000 unique slides to do it all.
How to Make a Chart in PowerPoint (Watch & Learn)
The screencast below is a step-by-step guide to building your first chart in PowerPoint. I'll walk you through how to make a chart in PowerPoint.
Here's what I'll cover:
How to insert your first chart on a PowerPoint slide.
How to add and modify data using Excel inside of PowerPoint.
How to tweak the look and feel of your chart to help it stand out.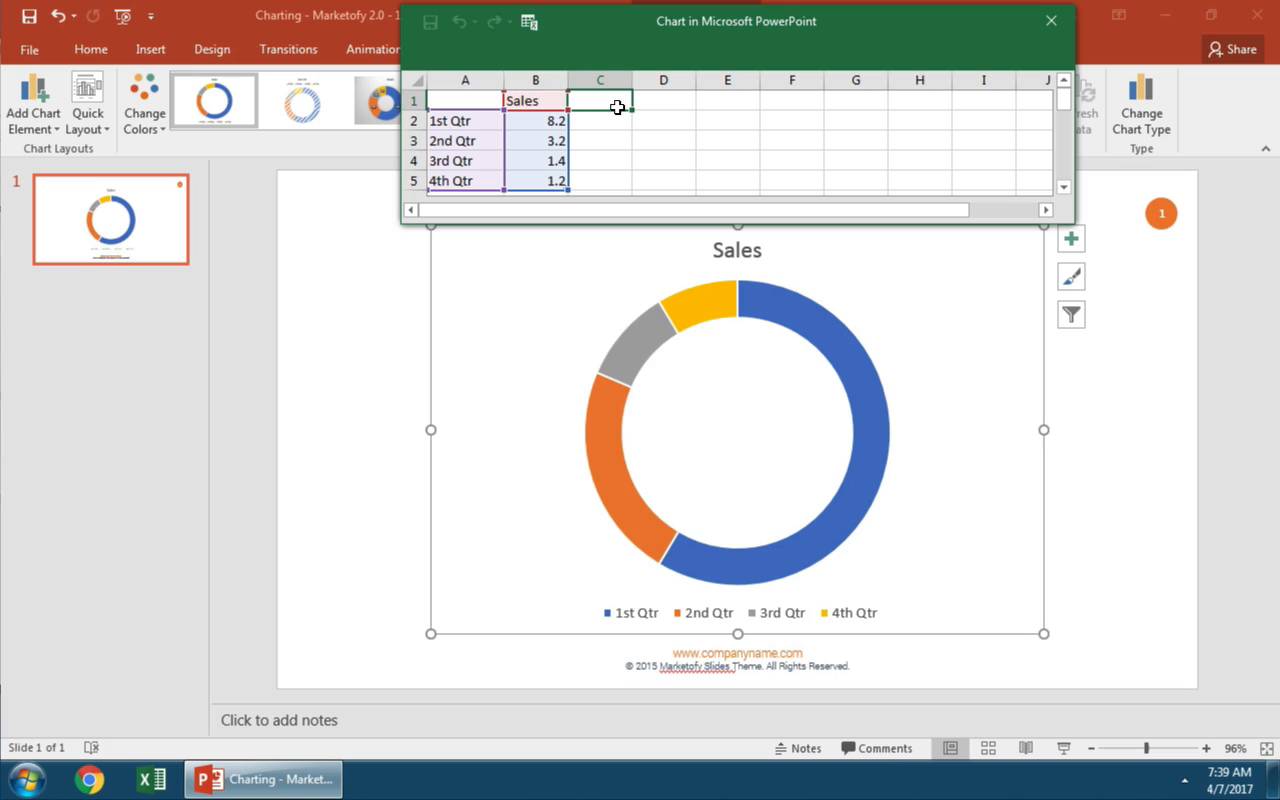 After you watch the video, keep reading the tutorial below to find out more. I'll cover more types of PPT charts and explain how to customize their style as well. 
Quick Tip: Use a PowerPoint Template With Great Charts
To save time, you can also work with already made charts, infographics, and pre-made styles with a professional PowerPoint template. For one with dozens of professional PPT charts and graphs built in, check out the popular Infographic PowerPoint template:
Now let's dig into the written part of this tutorial to learn more about working with PowerPoint charts. Download the template above to follow along. 
How to Make Your First Chart in PowerPoint
To insert your first PowerPoint chart, create a blank slide. Then, find the Insert tab on PowerPoint's ribbon menu. Click on the Chart icon to launch the Insert Chart menu.
The Insert Chart menu will open with a variety of chart templates. On the left side, you'll see a variety of PowerPoint chart types, such as Column, Line, Pie, Bar and more.
Start off by clicking on a chart type on the left side. You'll want to consider the type of data you're showcasing when choosing a chart type. Here are a few common PowerPoint chart types, and the type of data they're used to show:
Column. Column charts are a classic way to show values, with vertical lines showing values based upon their height.
Line. Line charts are used to show data over a series of time, and how the value fluctuates over a time series.
Pie. Pie charts show parts of the whole as slices, and help you relate the individual pieces to the total.
Bar. Bar charts are the horizontal counterpart to column charts, showing values as bars running from left to right.
Area. Area charts are like line charts but highlight the area underneath the line as a sum.
There are several other advanced charts (like Histograms and Waterfalls) inside of PowerPoint, so try them out for more advanced charting.
After you've selected a chart category, there are several variants of those PPT charts available at the top. Click on one of the thumbnails above to select a more specific chart style.
Input Data into PowerPoint
No matter which chart style you choose, you'll need to input data into PowerPoint to bring a chart to life.
These days, you really can't only install just one app from the Microsoft Office suite. They work too well together. You can easily see why after inserting a chart, as an Excel spreadsheet window opens inside of PowerPoint to add your data. That's useful.
For my example, I'm going to create a pie chart. After inserting the chart, you'll see an Excel spreadsheet window open to add your data in.
Depending on the type of chart you chose, your spreadsheet may look different than my example. A stacked bar chart, for example, might have multiple columns with numeric values inside of the spreadsheet.
Here's the reason I love using PowerPoint to build charts: as I input the data, the chart will update in real time. Each time that I change the values in the spreadsheet, the chart will change to align with my data.
What if we wanted to add another slice to our PowerPoint pie chart? In this case, we'll need to add another row to our data. Grab the handles of the box around your data and pull it down to include other rows. 
In the screenshot below, you can see what I mean. I clicked on the purple box (first column) and pulled it down two rows to add more months to my data. Then, I pulled down the values column (in blue) to include other amounts in the pie chart.
These are the basics of adding data to your PPT charts. PowerPoint starts with basic data populated in a spreadsheet. Change it to include your own data.
To reopen this spreadsheet view and edit your data, simply right click on the chart and choose Edit Data. The embedded spreadsheet view will reopen so that you can update the data.
After you've finished updating your data, we can think about styling it and changing the look and feel of the PowerPoint chart. 
Customize Chart Styles in PowerPoint
I always master the data in a chart before I begin styling it. But when I'm finished with building out my charts, PowerPoint has plenty of options to change the look and feel of a chart. 
You can work quickly with PowerPoint chart tools. Here are a few of my favorite ways to style PowerPoint charts with just a few clicks:
1. Work With PowerPoint Chart Styles
With your chart selected, find the Design button on the PowerPoint ribbon, just under the Chart Tools tab. No matter which type of chart you're working with, there are many preset styles to change the look of your chart in PowerPoint.
Click on one of these styles to apply it to your chart. Many of these will add some shadow or depth to the chart, which can really help your chart stand out. Try out some of these styles for different ways to view the same data.
2. Change Chart Colors in PowerPoint 
Besides styles that add depth or contours to your charts, you can also easily change the color scheme with a couple of clicks within PowerPoint chart tools.
While you're still on the Chart Tools > Design menu, find the Change Colors button near the left side of the ribbon.
The built-in color schemes will pair with your presentation. You can also typically select monochromatic styles for something less flashy.
3. Format Chart Area in PowerPoint
To really get under the hood with your PowerPoint presentations, right click on the chart and choose Format Data Point.
In Excel, a panel will open on the right side. This menu has every imaginable feature to customize your charts.
The good news is that this menu is easy to use and has every feature you could possibly need. Try out some of the self-explanatory options to add Fill (background color of a chart) or a Border around the edge of a chart.
As you can see, it's easy to change up the style of your presentation with just a few clicks. Try the built-in styles and color schemes as a way to make your charts in PPT stand out from the rest of your presentation
What Is a Chart Versus Graph (in PowerPoint)?
The terms charts and graphs are used interchangeably, but in fact—they serve different purposes.
Charts in PPT don't have to include numeric values. They can be solely based around showing information in a structured format, like the periodic table of elements for example. A chart is a general term for many types of data, organized in a structured format.
A great example of a chart includes a Gantt chart, a special type of visual that shows a process:
Graphs are typically numeric-driven or based around number data. For example, a line graph will show data over time or numeric comparison. In short: graphs are charts, but not all charts in PPT are graphs.
Remember: premium templates for PowerPoint can help you create PowerPoint charts and PowerPoint graphs. Spend some time thinking about how your data is best shown in a visual and if a chart of graph is more fitting.
Keep Learning More About PowerPoint
In this tutorial, you built your first chart in Microsoft PowerPoint. Use well-placed charts in your presentations to break up thick sections of data or bullet points.
Check out our Ultimate Guide to the Best PowerPoint Templates or jump over to trending PowerPoint graphs and  best-selling PPT templates on Envato Elements or GraphicRiver. Also, if you need more PowerPoint designs to work with that have plenty of great charts and infographics built into them, then browse through: 
Don't stop learning here. Check out these tutorials to learn more about improving your PowerPoint presentations:
To learn more about PowerPoint and how you can build great presentations, the tutorials below can help you continue to grow your skills:
How to Create Organizational Charts in PowerPoint With PPT Templates (+Video)

Andrew Childress

18 Oct 2021
Make Great Presentations (Free eBook Download)
We've got the perfect complement to this tutorial, which will walk you through the complete presentation process. Learn how to write your presentation, design it like a pro, and prepare it to present powerfully. 
Download our eBook: The Complete Guide to Making Great Presentations. It's available for free with a subscription to the Tuts+ Business Newsletter. 
Design Charts and Graphs in PowerPoint Today
A chart or graph can help you tell stories about data or processes easily in PowerPoint. Don't forget that you can use advanced PowerPoint charts or PowerPoint graphs from Envato Elements or GraphicRiver to add even better visuals to your next presentation.
How do you use charts in PowerPoint? Let me know if you've got any questions about this tutorial in the comments.
Editor Note: This tutorial was originally published in April of 2017. It's been comprehensively revised to make it current, accurate, and up to date by our staff--with special assistance from Andrew Childress and Brenda Barron. A video has been added by Andrew Childress.
Want a weekly email summary?
Subscribe below and we'll send you a weekly email summary of all new Business tutorials. Never miss out on learning about the next big thing.
Sign up
I believe that life is too short to do just one thing. In college, I studied Accounting and Finance but continue to scratch my creative itch with my work for Envato Tuts+ and other clients. By day, I enjoy my career in corporate finance, using data and analysis to make decisions. I cover a variety of topics for Tuts+, including photo editing software like Adobe Lightroom, PowerPoint, Keynote, and more. What I enjoy most is teaching people to use software to solve everyday problems, excel in their career, and complete work efficiently. Feel free to reach out to me on my website.
One subscription. Unlimited Downloads.