Laura Spencer
If you have clients or team members located in various time zones, you may need to keep unusual work hours. You've probably sent or received email messages during non-business hours. 
Have you ever accidentally interrupted an important client on the weekend? Or disturbed your boss in the middle of the night with a poorly timed email? It's an easy mistake to make.
Since many people forward their email messages to their personal phones, a badly timed message can be truly invasive. Worse, it leaves a bad impression. 
Yet, you don't want to get up in the middle of the night to send an email message at a time when you know your client or colleague will be working in their time zone. Instead, you can use Boomerang's Gmail Send Later feature to solve this problem.
The handy Boomerang plugin also helps you schedule recurring messages. For example, if you have a recurring team meeting on the first of every month, schedule a message to go out to your team at the end of each month to remind them of the upcoming meeting.
You can also use Boomerang for Gmail to schedule a message follow up reminder. For example, if you send a message and you don't hear back from the recipient then you can use Boomerang to return the unanswered message back into your inbox as a reminder.
In this tutorial, learn how to start using Boomerang for Gmail. We cover how to send messages later, define email reminders, set recurring email messages, and how to put a few of Boomerang's most helpful features to work to improve your email workflow.
1.

How to Use Boomerang for Gmail

Get a quick start with the Boomerang Gmail Send Later feature in the screencast below, or learn even more about Boomerang by following the step-by-step instructions that follow.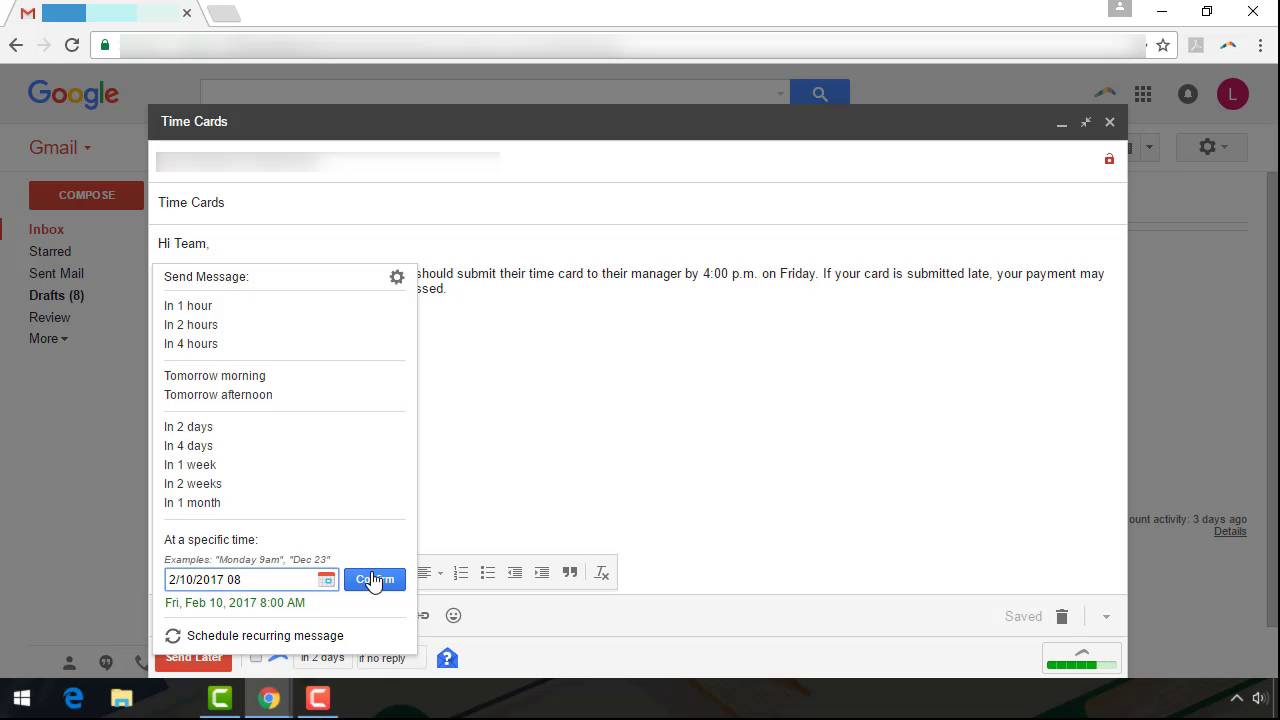 Step 1. Check Your System Requirements
To use Boomerang for Gmail, you must have one of the following web browsers:
Google Chrome
Firefox
Opera
Safari
Boomerang for Gmail works with both Gmail and G Suite Mail. There's also a version of Boomerang available for Microsoft Outlook and Microsoft Office 365. This tutorial focuses on Boomerang for Gmail.
Note: For some Internet browsers, you may need to enable third-party cookies or disable a popup blocker.
Step 2. Install Boomerang for Gmail

To install the Boomerang plugin, go to the Boomerang site and click the Add this to your Gmail! button. A pop-up displays asking whether you want to Add "Boomerang for Gmail"?
Click the Add extension button. You'll see a brief popup showing that Boomerang has been installed.
The Thank you screen displays with an invitation to tour Boomerang's features:
Step 3. Take a Tour of Boomerang's Features
For an introduction to Boomerang, click the Start button. Otherwise, click the Skip button. When you open your Gmail inbox, you will see a Boomerang icon in the upper right corner of the screen:
You're now ready to begin using Boomerang.
Note: The Boomerang plugin is an Internet browser extension. If you have more than one Gmail account, Boomerang will be available for all of them if you use the same browser. It is specific to your browser. If you use more than one Internet browser, install Boomerang on each browser.
2.

 How to Send an Email at a Specific Time

To schedule a message with Boomerang, first compose the message as usual. If you are unfamiliar with how to create a new message in Gmail, refer to this helpful tutorial:

Note: Once you have composed the message, you want to schedule it using Gmail and the Boomerang plugin, do not click the Send button. Instead, following the steps below.
Step 1. Schedule Your Email Message
Here is a message for a fictitious remote worker located across the world. This is the example message we will schedule to be sent at a specific time:
Notice the Boomerang options below the regular Gmail Send button. To schedule this message to be sent later, Click the Send Later button in the lower left corner. A drop-down menu appears:
If you see the time listed when you want to send the message, click it. Otherwise, type the specific time when you want to send the message into the prompt at the bottom of the list and click the Confirm button.
Step 2. Grant Permissions to Boomerang
If this is your first time using Boomerang, you'll see the following screen:
Click the Allow button to allow Boomerang to schedule your message. (This screen only appears the first time you schedule a message.)
After you schedule the message, a prompt appears in Gmail notifying you that the message was successfully scheduled.
Note: If you need a chart comparing various time zones across the world, timeanddate.com has a listing of current local times around the world, a time zone search engine, and other helpful time zone related features. Time zone information is useful if you are unsure of how many hours difference there is between your time zone and the time zone of your message recipient. This will help you to choose the best time to send your email.
Step 3. View Your Scheduled Message
To view your scheduled messages, click the Boomerang icon in the upper right corner of the screen. A drop-down menu displays:
Click the Manage scheduled message option. A window opens showing scheduled messages:
Click the Messages to Send Later tab to see your scheduled messages:
If you change your mind about sending one of the displayed messages, click on it. You'll see the following icons above the scheduled messages:
Edit - Use this icon to rewrite your message. Click the Save message button when you are done.
Reschedule - Use this icon to reschedule when your message will be sent. Click the Confirm button after you have chosen a new date and time.
Send Now - Use this icon to send the message now.
Don't Send - Use this icon to cancel the message. Your cancelled message is returned to Drafts.
3.

How to Set Up a Reminder Using Boomerang

Once you've sent a message, it's easy to forget about it. As a small business owner or busy professional, you need some way to follow up with messages you've sent.

With Boomerang, you can set up a time frame within which you want certain conditions to apply. If the conditions do not occur within your defined time period, Boomerang returns the message to the top of your Gmail inbox as a reminder that you need to follow up with the recipient.

You can also use Boomerang to send received messages back to the top of your inbox as a reminder to act upon them. Bills, task assignments, and even meetings are good examples of messages you receive that you might want to set up as a reminder.
Step 1. Define the Reminder Time Frame
In the following example, we use Boomerang to create a reminder to follow up with a message as we send that message.
To set up the reminder, first create your message. Click the check box next to the Send Later button to choose a time range for your reminder. Click on the words in 2 days to define your time frame. A menu displays showing the various time frames available:
As you can see, the available time frames vary from 1 hour to 1 month. You can also use the dialog box at the bottom to select a specific time and date. To select a time range, click on it. If you used the dialog box, click the Confirm button.
Step 2. Define a Reminder Trigger

Next, click if no reply to define the condition that triggers the reminder. A menu displays showing the various conditions that can trigger a reminder:
Select one of the following as your reminder trigger:
If no reply - Use this option to receive a reminder if you receive no reply within the period of time that you defined.
If not clicked - Use this option to receive a reminder if the message link is not clicked on within the defined time frame.
If not opened - Use this option to receive a reminder if the message is not opened within the specified period. This adds a return receipt to the email message.
Regardless - Use this option to receive a reminder to follow up after the amount of time that you specified no matter what the recipient does with the message.
You are now ready to send your message. Click the Send button to send the message immediately. Or click the Send Later button to schedule when you want to send the message.
If the trigger conditions are met, the message appears at the top of your Gmail inbox as a reminder.
4.

How to Set Up a Recurring Message (Premium Feature)

Do you have messages you send out regularly? Perhaps you have a monthly team meeting and you'd like to send out a message to remind your team members. Or perhaps all expense reports are due at the end of the month and you need to remind your staff to turn them in.

Boomerang for Gmail can help. The ability to send recurring messages is a Boomerang premium feature.
Step 1. Create Your Email Message
Start by creating your message. In this example, I'll schedule a reminder that the monthly team meeting is on the first Monday of the month.
Here's the message we'll be sending:
To set it up as a recurring message, click the Send Later button.
The Gmail Send Later time frames appear:
Beneath the available time frames, you'll see a link that allows you to schedule recurring messages. Click the Schedule recurring message link. (It appears immediately above the Gmail Send Later button.)
Step 2. Define When Your Message Will Be Sent
The Schedule Recurring Message dialog box displays:
First, choose when the message Starts and define the Send Time.  
Next, define the how often the message will go out. Click the down arrow next to the Repeats field. The Frequency drop-down menu displays:
To select a desired recurring message frequency, click it. Frequency options range from Daily to Yearly.
The Every field varies, depending on the message frequency you selected. Use the Every field to further define how often your message is sent. In this example, we choose to send the message on the last Friday of every month since the meeting that the message refers to is on the first Monday.
Define an end date for your recurring messages by clicking the toggle button next to the Ends options. You can end the recurring message after a specified number of messages are sent, on a specific date, or select the No end date option to send the recurring messages out indefinitely.
After you have defined the parameters for your recurring message, click the Schedule button. The system prompts you that the recurring message is scheduled.
Step 3. Cancel a Recurring Email Message
You can cancel a recurring message if you need to.
Start from your open Gmail inbox window. Click the Boomerang icon in the upper left to show the Boomerang drop-down menu. Click the Manage scheduled messages option. A window opens showing the scheduled messages:
Click the Recurring Messages tab to view all your scheduled recurring messages. Click on the message you want to delete. You'll see icon options above the selected message:
To delete the selected recurring message, click the Cancel icon on the right.
Note: You can also revise the recurring message or change when the message is sent from this screen. To change the body of your recurring message, select the Edit icon. To redefine when the recurring message is sent, click the Reschedule icon. The Reschedule this Recurring Message dialog box displays.

Use Boomerang for Gmail to Improve Your Email Worfklow
Does your small business or team need more control over when your messages are sent? Maybe you have clients or coworkers located in another time zone. Or, maybe you want make sure that you follow up on certain types of messages.
You can quickly improve your email message management when you use Gmail with Boomerang.

In this tutorial, we've discussed how to send an email at a specific time.The Gmail timed send feature from Boomerang helps you make sure that your email arrives when your recipient is likely to read it. You can also use Boomerang for Gmail to send out reminders or define recurring messages.
We've just touched on some of the basic features available with the Boomerang for Gmail plugin. But Gmail can do much more.

Discover even more useful Gmail Plugins or get additional information about productive Gmail features:
What do you find most useful about working with Gmail? Is there a gmail plugin or feature that's improved your workflow?

Want a weekly email summary?
Subscribe below and we'll send you a weekly email summary of all new Business tutorials. Never miss out on learning about the next big thing.
Sign up
Envato Tuts+ Business Editor, North Texas, USA
Laura Spencer is our Business Editor here on Tuts+. She uses her business knowledge to help a wide variety of audiences. By sharing her knowledge in well-researched articles, she hopes to help others do well. Laura graduated with a degree in business. Besides Tuts+, Laura's work has been published on many sites including Vandelay Design Blog, FreelanceM.ag, Freelance Folder, Lubbock Avalanche Journal, Woman's Day, LifeHacker, and more. She's also written over 40 business study guides for continuing education companies. Laura has also managed her own writing business since 2002. Before that, she worked in corporate America as a technical writer and also as a marketing writer. As a lifelong learner, Laura continues to seek out better information to help her readers. Check out her latest ideas on her blog.
One subscription. Unlimited Downloads.