Andrew Childress
What do you do when you see a great job, but don't have your resume ready and up-to-date? InDesign resume templates can help.
Every job posting has an end date attached to it. So, time is always of the essence! Start with InDesign resume templates to jump ahead in the design process and prepare to apply. If you're looking for a resume template 2022 style, look no further. 
In this article, we're going to review InDesign templates for resumes. We'll view some premium InDesign CV template files by Envato Elements. Then we'll check out GraphicRiver for the best possible designs, as well as free InDesign CV templates. There are some really nice Adobe InDesign resume template designs for free out there. Let's take a look!
Best InDesign Resume Templates on Envato Elements Now and For 2022
If you want the broadest variety of InDesign resume templates for a single flat price, you just can't beat the value of Envato Elements. This is an all-you-can-download service that I wish existed years ago when I started as a freelancer. 
Envato Elements includes a ton of premium InDesign CV templates. It also has other premium creative assets like stock photos, WordPress templates, and so much more.
Premium InDesign CV templates are generally better than a free InDesign resume download. A premium resume or CV template uses the best InDesign features and can save you tons of work as you make your resume. Free may be free of cost. But it doesn't necessarily mean free of extra time investment. It also isn't free of licensing concerns when you're looking for Adobe InDesign resume templates.
Use any of these Elements templates to create a CV InDesign. Add your details and submit your resume. Before you know it, you'll be getting a call back on your next big break.
5 Top Premium InDesign Resume Templates for 2022
Here are a handful of our best and most popular premium InDesign resume templates from Envato Elements. Remember that they're all included when you try out Envato Elements! That means you can download unlimited InDesign resume templates, without any extra cost.
Arieta is the perfect type of InDesign CV template for acquainting the hiring manager with who you are. The profile photo placeholder and brief bio section give you a chance to put your best foot forward and share your background. The InDesign resume template includes:
a cover letter for a chance to introduce yourself personally
icon sets to easily signal key details
CMYK color and 300-dpi for easy printing
It's not hard to see why this option is preferable to an InDesign CV template that's free.
Bold and eye-catching, this is the type of resume that's sure to get a second look from a hiring manager. I love the balance of the center column's light-colored design and the bold and dark rightmost column for your details. The InDesign resume template package includes:
InDesign CV template, along with Microsoft Word and Photoshop templates
two color designs for alternate views on your credentials
cover letter for a matching design style for your personalized introduction
Some resumes are neutral and work well for every possible job opportunity. This InDesign CV template isn't one of them, thanks to its bold visual approach.
The CV Resume Portfolio makes some bold design choices. I could see it working nicely for a job in the creative space. This Adobe InDesign resume template is more like a full design portfolio book with space for your best work.
I can't say enough about including a cover letter when you apply for an important job. It gives you a chance to set yourself apart by writing a personalized introduction. This Adobe InDesign CV template delivers on both.
It's even better if your cover letter matches your resume. That's why this is one of the InDesign CV templates that's worth checking out. 
Less is more is one of my favorite ideas in all of design. This resume fits the bill perfectly. Sometimes, designers forget about white space, but this one doesn't. This minimalist approach ensures that the application reviewer will get to know you quickly. It also has features that few Adobe InDesign CV templates that are free have, like:
print-ready thanks to A4 sizing and CMYK palette
easy-to-update graphics to show your top skills
cover letter template included complementing the resume
Envato Elements (Design Without Limits)
Envato Elements has a single compelling (all-inclusive) offer:
Sign up for Envato Elements. You'll get access to thousands of premium creative graphics and Adobe InDesign resume templates. All with unlimited use. That's everything from InDesign resume templates to royalty-free music and more—all for one low price.
That's right! Download as many creative templates, graphics, and royalty-free audio as you want. Then customize them to fit any of your project needs.
Envato Elements is a powerful option. But do you prefer to buy an InDesign template one at a time? Then check out the selection from our Envato Market below.
Premium Templates to Download Now From GraphicRiver Now and For 2022
We got you covered if you need to buy professional InDesign resume templates one at a time. Just check out our InDesign resume templates from GraphicRiver. It's part of Envato Market. Buy, download, and update a resume rapidly when you need to apply for your next role.
12+ Top Professional InDesign Resume CV Templates from GraphicRiver for 2022
There are also plenty of Adobe InDesign resume templates to check out on GraphicRiver. It's a perfect choice if you prefer your premium downloads to be a la carte. Here are over a dozen of my favorite InDesign resume choices from GraphicRiver:
With this colorful InDesign resume template, you get an attention-grabbing layout for your career. It features abstract shapes throughout and is surrounded by a modern border. The InDesign CV template is two pages long, and also has a cover letter and reference page. It's not hard to see why this is a top choice instead of a free InDesign resume template.
This Adobe InDesign resume template has a professional look that's paired with bold colors. The result is something that's sure to catch the attention of hiring managers. It includes bar graphs for your skills and abilities for an easy-to-read visual. This InDesign CV template has options for a one or two-page resume. You'll also get a cover letter.  
This is a resume template that you can use to get ahead in your application process. It comes with a placeholder for your profile picture and several color schemes. As is the case with many choices in this article, just drop in your details, and you'll be ready to submit in no time.
This minimalist resume template for InDesign has a simple and classic look. This resume comes with a skills section. So, you can show how much of an expert you are. You also get an awards section to show off that other people have noticed your skills and hard work. You can easily edit this Adobe InDesign resume template and change the color to fit your needs.
This resume template comes with a business card too. So, you can connect with people everywhere you go. This Adobe InDesign resume template comes with both a color and black and white version.
This CV InDesign template has a strengths, skills, and hobby section. There's also a place to put links to your social media or your website.
This minimalist resume template for InDesign is ideal for creatives who need to showcase their work in a portfolio. This InDesign resume template has a portfolio page, an image page, and a matching cover letter. Let your past work speak for itself and help present better opportunities for you. It's a great fit if you're in graphic design and need a resume template for InDesign.
If you've got a lengthy list of skills you want to showcase, this option might be right up your alley. I like the skills sections in this Adobe resume template as a way to quantify where your core strengths lie.
includes free fonts for low "total cost of use"
A4 print size and CMYK color scheme has it print-ready as soon as you download it
easy-to-customize skills section puts your top strengths in front of a reviewer
It's a cool choice if you want a graphic design resume template for InDesign.
The bold, sans-serif typography in this resume is enough to make an impact without overwhelming a reviewer. A clean design like this helps the reviewer focus on the details at hand instead of the design itself.
Word and InDesign templates included
free fonts used
CMYK color scheme and 300-dpi ready for printing
If you think a CV InDesign template that's free doesn't have the look you need, try this download instead.
This minimalist resume template InDesign bundle comes packed with six different templates to fit all your needs. It's a perfect bundle if you're looking to create a single page resume and have a matching cover letter as well. With these appropriate infographics, turn a lengthy resume into an easy to digest and appealing document. You'll be proud to hand out this InDesign CV to potential employers.
This Adobe resume template comes with four different color schemes. So, you can choose which color fits with your needs. There's a language section so if you're bilingual you can show that off with this resume. This resume has a modern design that's still professional. The color scheme adds a pop of color. Easily edit this template.
This minimalist resume template for InDesign is professional. There's a knowledge and skills section. So, you can show your future employer that you're right for the job. 
Everything in this resume is in column that looks nice and organized. It's also easier to read so that the hiring manager can easily read your resume.
This graphic design resume template for InDesign grabs the reader's eye thanks to its colors and typography. The colors and fonts come with the download, but both can be edited to suit your image. You can also tweak the icons used thanks to the included icon pack. If you're looking for a clean, type focused CV InDesign template, this is a great fit.
We're going to wrap up our list of premium Adobe InDesign resume templates with this professional option. It features two clean pages and a matching cover letter. Its simplistic design makes this InDesign CV template easy to read. This minimalist resume template InDesign download also has easy color changes to fit your style.
27 Free Adobe InDesign Resume CV Template (Download Files for 2022)
Premium templates have a lot going for them, sure. The support, documentation, and quality are all top notch. It makes sense to get an Elements subscription or buy something from Envato Market.
But maybe you're between jobs and are tight on your budget. In this case, InDesign CV template free download files might be a great choice. We've got some resume CV templates available for free download in these articles:
Are you still looking for free InDesign resume templates? I've spent some time scouring the web for the free InDesign CV templates that you can use to design a resume on a non-existent budget.
Note: The free InDesign CV templates linked to here are hosted by their respective sites. Their availability depends on the hosting site. Also, some of these free InDesign CV templates have special terms. For example, they may only be available for non-commercial use. It's important to understand that InDesign CV templates free download files may still have licensing terms. Read the terms of use carefully before you download a template.
1. High END CV InDesign Free. A minimalist, free InDesign resume template like this one works well in InDesign. It focuses on your details and not on the design itself.
2. Clean Styled Free InDesign Resume Template. This free InDesign resume template has simple looks that you can make use of. It's versatile and can be customized. This is a nice choice if you need free InDesign resume templates.
3. Vita CV InDesign Template Free. This timeline-like resume includes an opportunity for a CV page to introduce yourself. This InDesign CV template free download is worth a look.
4. Colorblock InDesign CV Template Free. Straight from Adobe, this is one of the best free InDesign resume templates in our selection. This InDesign CV template is free and professional and refined to make an impact on a hiring manager.
5. Infographic Free Resume/Curriculum Vitae InDesign Template. Infographics help you tell visual stories with your data. This CV InDesign free template is a great way to marry your career experiences with a personalized history.
6. Personal CV InDesign Free Template. Notice that this CV InDesign template is free and has a text-only approach. It has organized sections for content. Free InDesign resume templates with a text only approach can prove to be adaptable.
7. Personal InDesign Resume Template Free Download. This resume uses icons and graphics to showcase your credentials. It's simple and versatile like other Adobe InDesign CV templates that are free.
8. Clean Interactive InDesign CV Template Free. A robust two column approach is an excellent way to contrast your personal and professional details. Check out this Adobe InDesign resume CV template free download.
9. Black And White - Free InDesign Resume Templates. A black and white, contrasting resume like this one will draw the reviewer's eye to your accolades. The geometric inspiration in these free InDesign resume CV templates is really eye-catching.
10. Free Creative Resume CV Template. Love splashes of color? This free CV template InDesign might be the perfect choice for a design job.
11. Free Minimalist InDesign (INDD) Format Resume Template. Get a bit of extra value with this free CV template InDesign. The matching business card will pair nicely with your resume at a job fair.
12. Bright InDesign Resume Template Free Download. A touch of bright color and placeholders for your details makes this an easy template to update. It's a minimal option if you want a CV InDesign template that's free.
13. Mockup InDesign CV Template Free. I like the numbered sections on this Adobe InDesign CV template free download. It's a way to walk the reviewer through the sequential steps in your career. It's a really lovely InDesign resume template.
14. Mockup II - InDesign Resume Template Free Download. Here's yet another example of the timeline approach. I love the brief but bold splashes of color on this free CV template InDesign.
15. Pro InDesign CV Template Free. This CV InDesign template is free and comes with a minimal design. The look is clean and can be edited.
16. Colorful Resume Template InDesign Free. Here's a free InDesign resume template you can use if you like color. There are few colors included with the same layout.
17. Free Modern Graphic Designer Resume CV Template. This InDesign resume template is free and has a simple two column design. It's a readable way to present your information.
18. Free Clean CV Resume Template with Cover Letter. This CV InDesign template free download is simple and straightforward. Use the image placeholder to introduce yourself to a hiring manager. A profile image can be a great addition to your CV template InDesign file.
19. FREE CV Template InDesign. Nice and minimal, this free CV template InDesign is ideal if your focus is on readability.
20. Free Hipster Style Resume CV Template with Cover Letter. Including a cover letter that matches the style of a resume makes this choice worth checking out.
21. Creative Resume InDesign Template Free. The complement of blue and orange in this free resume template InDesign free makes this job application eye-catching. But it doesn't sacrifice readability in the process.
22. Simple CV InDesign Free. Rounding out our selection, here's another simple choice with some graphic flair to help your resume stand out. Give this curriculum vitae InDesign template a try.
23. Free CV Template. This free CV resume has a simple and clean layout that's perfect for someone fresh out of college. It's a great CV template InDesign free file to check out.
24. Free Designer Resume. If you're a designer looking for a new job, look at this resume. It's got a well-structured layout and includes a cover letter.
25. Free Computer Teacher Resume CV Template. This free resume template in InDesign has a nice two-column layout. Put your contact information and headshot in the header area.
26. Free Resume Template 01 For InDesign. Consider this free resume template in InDesign if you want a more bold and edgy design.
27. Multipurpose Resume InDesign Free. Rounding out our selection, here's another modern resume that can be used for any type of job hunting. If you're looking for InDesign CV templates free download files, this one has a lot of potential.
5 Quick InDesign Resume Tips for Better Results
You've already got a head start if you're using an Adobe InDesign resume template to create your resume. But you'll want to follow the tips below to make sure that your resume is as professional as it can be: 
1. Don't Overcrowd
If you add too much to a resume it could cause people not to want to read it. Keep it simple when deciding on what to put on your resume. When you do decide what to put on your resume, tailor the information to fit the job you're applying to. This lets the hiring manager know that you really want the job. 
When using a template, stick to the sections they've got. Don't add new sections unless absolutely necessary.
2. Remain Professional
When putting together a resume using Adobe InDesign, make sure to use an easy to read font. You don't want a hiring manager to pick up your resume and not be able to read it. It also looks unprofessional if you use a font that's not easy to read. When choosing a font size, stick to a size that's not too small and not too big.
3. Highlight Your Achievements
List three or four of your most recent achievements. This shows the hiring manager that not only do you work hard, but that other people have recognized your hard work. Highlighting your achievements sets yourself apart from the crowd by showing off your experience. Achievements can also include official recognition for your skills.
4. Proofread Your Resume
Proofread your resume and try to find any errors. Once you've proofread your resume, get someone else to proofread your resume as well. This ensures that there's no embarrassing spelling or grammar errors that you've overlooked. 
A resume with no spelling or grammar errors looks professional and less distracting. If a hiring manager gets a resume that's full of errors, they may assume you're sloppy and not even read it.
5. Tailor Your Resume to the Job
Cater everything on your resume/curriculum vitae InDesign template to the job you're applying to. When adding job experience only include job experience on your resume that's relevant to the job you're applying to. 
If the company that you're applying to is a creative company, then use a creative template. If the company you're applying to isn't creative, then use a clean and simple template. 
You can also research what the company colors are and match your resume color scheme to the company's color scheme. This shows the hiring manager that you'll fit in with the company. It also shows the hiring manager that you're excited about the job.
How to Quickly Customize an InDesign Resume Template
So, you've found the perfect InDesign resume template. What's next? Let's take a look at some quick tips to help you jump in and get your InDesign resume template finished in a flash.
We'll use the premium Adobe InDesign CV template in this demonstration, pictured below. 
This InDesign curriculum template is a great one because of its many format options. It includes files for Adobe Photoshop and Adobe Illustrator as well, so you can edit in the software of your choice. We'll focus on the CV template INDD file, for Adobe InDesign, in this walk through.
1. Know Your File Types
When you download Adobe InDesign resume templates you may end up with several different file types. In fact, this particular example includes INDD, IDML, INDT, AI, and PSD files. That's a lot of different file types to choose from. So, which is the one you need?
INDD files are an InDesign Document File. It's the standard InDesign format. This is likely the one you'll want to use if you're using the most up to date version of Adobe InDesign. Think of it like your "back end" file. It's where you make edits, but not necessarily a file you'll want to share publicly.
IDML files are an InDesign Mockup Language File. If you're using an older version of Adobe InDesign, this is likely the file you'll want to try. It's also Affinity Publisher friendly (as of the version 1.8 update). Consider this file type more compatibility friendly.
INDT files are an InDesign Template File. In this case, we can use an INDT file to open a new, untitled document based on the template design. This way, we don't run the risk of overwriting the original template design. This could accidentally happen with an INDD file. 
Choose the file most appropriate for your software and situation. For example, you might want to start a new, untitled document from an INDT. Or open up your INDD file, and save a copy, after you've made edits.
Note that AI files are generally native to Adobe Illustrator. Likewise, PSD files are generally native to Adobe Photoshop. These two file types can be opened in other software, but that's typically their normal associations.
2. Guides and Your Work Space
When we open up an curriculum vitae InDesign file, things might not look how you expected. Often, you'll see a bunch of lines all over your work. 
Guides are visual cues that help line up parts of your design. Hide them by going to View > Grids & Guides > Hide Guides. This would include visual cues to show you your margins. To make them visible again, go to View > Grids & Guides > Show Guides.
But you'll also notice that your content is being held in visual "boxes." Rectangular frames are a big part of InDesign. Think of them like containers that hold content. We can move these containers around.
If you'd like to preview your work without these boxes having visible boundaries, go to View > Overprint Preview. Make this visible again by going to View > Overprint Preview once again, to toggle them back on.
3. Looking at Your InDesign Pages
Many InDesign resume template may feature more than one page. In the case of this design, one page is dedicated to the resume and the other is the cover letter. 
Check out our pages on the Pages panel. If you don't see them, go to Window > Pages to open it up. Check out a preview of what the Pages panel looks like in the example below.
Right click on a PC or Command Click on Mac on any page to check out options like moving, duplicating, or deleting your pages. 
4. Editing Text in Adobe InDesign
Next, let's edit some text. Remember the boxes we talked about earlier? All the existing text in our InDesign resume template is set in text boxes. 
Let's begin by selecting the Type tool from our Tools panel. It's highlighted in the example below. 
Then, click on any text in your template. This makes the particular text box active. We can edit as we would in standard, word processing software now.
But what if you want to add text that isn't in a pre-existing box? That's simple too. With the Type tool selected, click and drag to create a new text box. Then, proceed like before. Just click inside of your newly created text box and begin to type and edit your text.
5. Adding Images in Adobe InDesign
Let's also add an image to our template. In this particular curriculum vitae InDesign template, the designer featured a profile photo in the top left corner. Let's add an image to that placeholder.
First, select the Selection tool from your Tools panel. With this tool selected, select the placeholder rectangular frame within the template.
Then, go to File > Place. InDesign will prompt us to select an image from our computer. For this demonstration, we'll use this stock photograph from Envato Elements. Select your image, and then InDesign will place it into the selected frame for you.
To resize the image within the rectangular frame, double click on the image. Then, use the resize handles to scale the image as you wish.
5 Awesome Resume Design Trends to Get Great Jobs in 2022
Working on your CV template InDesign concept and you're looking for inspiration? Maybe you're looking to push your newly downloaded InDesign resume template further. Check out this collection of design tips for some creative ideas:
1. Create a Cohesive Presentation
Including a cover letter and a portfolio with your resume? It's a great idea to make every piece of your professional presentation match. The cohesion there makes for a well-crafted, impressive presentation. This is a tip that's always on trend.
Think of it like wearing appropriate attire for an interview. If your resume and all the included materials are visually cohesive, it's like looking sharp when you walk in to speak with the interviewer. You want to look well put together, responsible, and professional in every aspect of how you present yourself.
This premium InDesign resume collection includes many files that illustrate this idea.
2. Make an Impact With Bold Use of Color
Saturated colors and high contrast are pretty popular InDesign resume template 2022 trends. In the example below, a premium design template, we see a really saturated, energetic green. Then, we also have a bold use of black. It's got really high contrast against the lighter part of the composition.
Saturation and contrast can create interest and to command attention in a composition. Notice how, for example, the last name in the layout particularly stands out. If it were black, like the first name, it wouldn't have the same emphasis.
3. Use Infographics to Communicate Your Skill Set
Infographics are another popular InDesign resume template 2022 trend. They're a fun and visually interesting way to communicate things like your skill set. 
Many times, we can reinforce ideas with visuals. If you wanted to show your skill in a language or software, an infographic could help. Not only that, it can visually give a bigger picture of your skill set. 
This premium InDesign resume template, below, is a great example.
4. Visually Divide Your Work With Color and Value
Check out this stylish, split design. This can be a visually interesting way of separating and organizing your content. Notice that the background color change corresponds to the margins and divisions created in the layout. It's harmonious because it works with the way the text and other elements have been composed. 
Notice that this premium design template also draws upon other trends! You can combine these trends in many different ways.
5. Simplicity Can Be Timeless
Design trends are fun to keep track of and draw inspiration from. But some design approaches are timeless. A clean, well composed layout is always going to be the best choice. Keep in mind that your resume design should also be a reflection of you. What colors, what visual approach best represents you?
This premium design template, below, still draws upon some popular trends, but it's also more minimalist. Find a balance that works best for your professional brand.
5 Benefits of Using the Best InDesign Templates With Pro Designs (In 2022)
Here are five good reasons for you to use a great InDesign template for your next resume in 2022:
You save time. When you use one of our premium InDesign CV templates, you start with much of the work and content already built. Drop your own details into the sections and that's it. 
Focus on the content. Using a premium InDesign resume template allows you to focus on the most important aspect: the content of your resume. Don't invest time in designing. Invest time in writing powerful content for your CV.
You don't give up customization. Just because you start with a good InDesign resume template doesn't mean that you can't totally customize it. Even the best templates can still be modified to include your personalized details.
Professionally tested layouts. In Envato Elements and GraphicRiver, we only offer you the resume templates that have passed our quality standards. 
Your resume stands out. Employers and recruiters receive hundreds of similar resumes every day. With our templates from Envato Elements and GraphicRiver, your resume is guaranteed to stand out. It's unlikely that your peers will use custom resume designs.
Benefits of Envato Elements (The Power of Unlimited Use)
Want to sample a whole bunch of InDesign CV templates? Envato Elements is an awesome service for this because you can download to your heart's content without worrying about fees. It's all included. One flat rate means access to a whole collection of InDesign resume template designs.
When you sign up for Envato Elements, you get access to a huge library of InDesign resume templates. You also get graphics, stock photos, fonts, and so much more—all for one fee. Enjoy unlimited downloads today.
Find More Great Premium Resume Template Designs for 2022
Adobe InDesign is a great program to create your resume with. But if you're not used to working with it, it can be a little intimidating. Not to mention, learning a whole new software when time is of the essence in your job search isn't exactly ideal. 
Luckily, InDesign isn't the only program that you can use to create a great-looking resume. You can use programs like Photoshop, Word, and PowerPoint. There's no shortage of beautiful resume templates on Envato Elements. You can also find a variety of great premium resume templates on GraphicRiver. 
Take a look at some of the other premium resume templates we've got available on these marketplaces:
40 Pro MS Word Resume Templates, Simple CV Design Formats for 2022 (+ Video)

Marc Schenker

13 Jan 2022

30 Creative PowerPoint Resume Templates (Best PPT CV Layout Examples 2022)

Brenda Barron

01 Jan 2022
Common InDesign Resume Questions Answered (FAQ)
Here, I've gathered up some of the most common questions people ask about resumes and InDesign to provide you with some answers:
1. How Do I Use a Template to Make a Professional Resume?
Working with templates can be confusing if you're just starting to use them. The first thing you need to know is that your resume template comes with sections. These sections enable you to fill out your resume quickly and accurately. When filling out these sections, you'll need to tailor what you write for the job you're applying to. 
Learn more in this tutorial:
2. How Can I Create My Own Template in InDesign?
We've shown you how to edit our templates to create a stunning resume. But what if you wish to create your very own template or your own resume from scratch in InDesign? We've got you covered as well. The first thing you'll need is to download some fonts and then, follow this step-by-step guide:
3. How Can I Pick the Right Color Scheme for My Resume?
If you want your resume to stand out, a good idea is to make it colorful. Even though all our premium templates already come with pre-made color schemes, you can still customize them to match your own style. And that's where picking the right colors comes into play.
A good tool to use is the Adobe Color website. There, select the colors that best complement each other across the color wheel. This way, you can be sure you've picked the right colors for your resume.
4. What Software Can I Use Besides InDesign to Create a Resume?
If you don't have InDesign installed in your computer, don't worry. It isn't the only software you can use to make a resume. Other two very popular software tools are Photoshop and Illustrator. You can also use MS Word to do a resume. Take a look at these guides:
How to Make a Creative Resume in Photoshop Quickly (With PSD Templates)

Tomas Laurinavicius

21 Jun 2019
5. What Can I Do if I Don't Have a Design Software? 
Don't worry. We understand not everyone has specialized software installed. If you don't have the Adobe Creative Suite or Microsoft Office, not everything is lost. You can get resume templates to use in Google Docs, which are free to use if you've got a Gmail account. Take a look at this alternative:
Inspiration: Learn Adobe InDesign for Beginners: Tuts+ Video Course
Or if you want to learn InDesign in more depth, try our free InDesign tutorial with Daniel Walter Scott. You'll learn everything you need to know to create stunning resumes, reports, and more!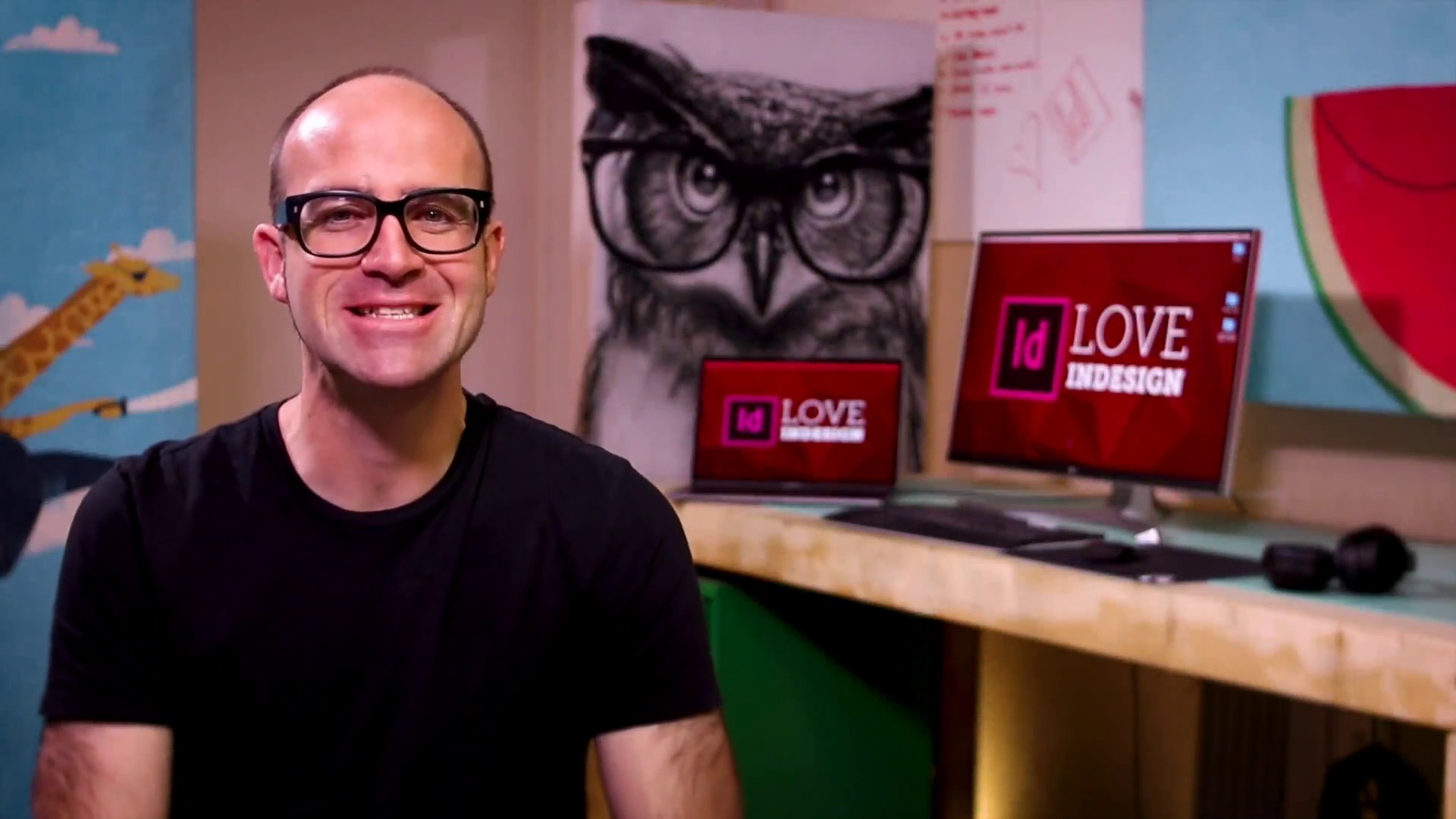 Learn More About Making a Great Resume
If you want to get hired, your resume needs to stand out to HR recruiters. There's a lot that goes into making a great resume and we've got plenty of tutorials to help you out.
Use the Right InDesign CV Templates to Create a Powerful Resume
In this article, I shared some of my favorite free and premium InDesign resume templates. Using an Adobe resume template makes perfect sense to fill out your job application more quickly and professionally. Browse our wide-selection of InDesign CV templates for 2022 from Envato Elements. Or go to GraphicRiver to check more premium InDesign resume templates and grab the one that's right for you. Now, go fill out one of these and land that dream job! There's plenty of resources out there to help you make your InDesign resume template 2022 ready.
Editorial Note: This post has been updated with contributions from Brenda Barron, Maria Villanueva, Daisy Ein, and Nathan Umoh. Brenda and Daisy are freelance instructors for Envato Tuts+. Maria is an Associate Editor for Envato Tuts+ Design & Illustration. Nathan is a staff writer with Envato Tuts+.
Want a weekly email summary?
Subscribe below and we'll send you a weekly email summary of all new Business tutorials. Never miss out on learning about the next big thing.
Sign up
I believe that life is too short to do just one thing. In college, I studied Accounting and Finance but continue to scratch my creative itch with my work for Envato Tuts+ and other clients. By day, I enjoy my career in corporate finance, using data and analysis to make decisions. I cover a variety of topics for Tuts+, including photo editing software like Adobe Lightroom, PowerPoint, Keynote, and more. What I enjoy most is teaching people to use software to solve everyday problems, excel in their career, and complete work efficiently. Feel free to reach out to me on my website.
Start your 7-day free trial*
*All Individual plans include a 7-day free trial for new customers; then chosen plan price applies. Cancel any time.