PowerPoint presentations are often shared on a projector or display, but sometimes you might need to create a printed copy for your audience. It's great to have a physical copy of your presentation for reference.
When it comes to printing slides in PowerPoint, there are three key formats that you can print your slides:
Full Page Slides - This is basically the same view as the standard view in PowerPoint, simply printing each slide on its own page.
Notes Pages - If you use the important Speaker Notes feature to add reminders on what to say, you can print Notes Pages to keep them nearby. Imagine keeping these on the podium while speaking.
Handouts - You can save paper and ink by printing Handouts, which include multiple slides on the same page with space to write notes.
Note: you can also print an outline version of your slides, it includes no visual content from the PowerPoint presentation.
In this tutorial, I'll teach you how to print a PowerPoint. When it's crunch-time and you need to create a physical copy of your presentation, use this complete guide.
Why Print Your PowerPoint Slides?
Because PowerPoint often lives in digital format, you might be wondering why you might want to print the slides. Here are some situations that you should consider printing your PowerPoint slides:
Printing your presentation can help you spot errors or typos in your presentation; I always find something in a printed copy that I miss on-screen.
Hand out copies of your presentation for the audience to retain after the meeting, or to review beforehand.
Maybe you don't use PowerPoint for sharing presentations on screen at all, and instead use it as a simple tool to design handouts or posters.
Need Help? Download Our New eBook on Making Great Presentations (Free)
We also have a useful compliment to this tutorial. Before reading on, download our FREE eBook: The Complete Guide to Making Great Presentations. It will help you write, design, and deliver the perfect presentation.
Now, we'll look step-by-step at how to print your PowerPoint slides in a variety of formats and styles, first in a quick tutorial video, then in written format.
How to Quickly Print PowerPoint Slides (Watch & Learn)
Let's jump straight into these tips in the screencast below. I'll walk you through how to print your slides in a variety of styles. I'll show you how to print a presentation in each of the formats discussed above and create PDF versions.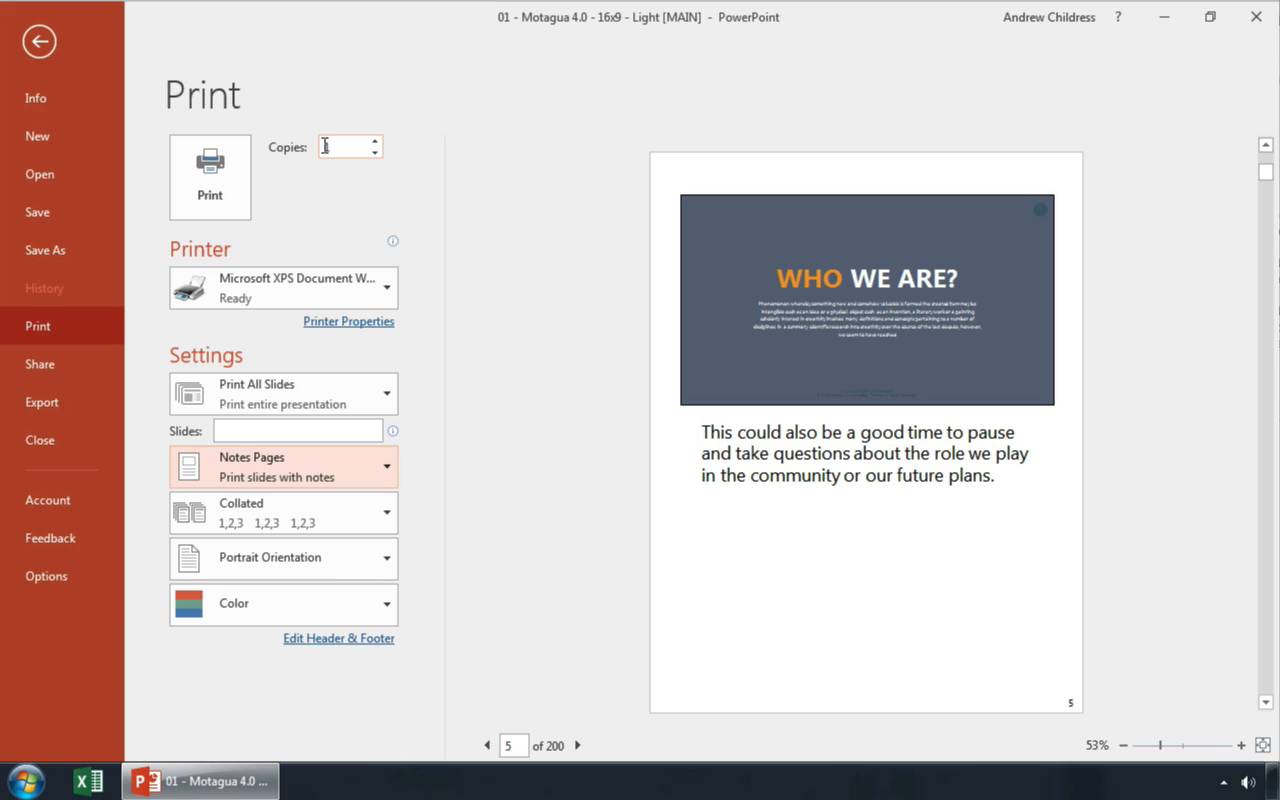 Now, let's dive into a written walkthrough of how to print slides.
The Basics of Printing
Before we tackle working with multiple print formats, let's learn the basic choices you should make before you print any presentation. To get started, go to the File > Print menu option.
1. Choose Your Printer
Above all, you should choose the printer that you want to send your presentation to. If you work in an office environment with many network printers, always double check this setting to ensure that the file won't land on a co-worker's desk!
This is simple: click on the dropdown option under Printer to select a printer you've installed to send your slides to.
The default printer that shows is controlled by your system's default printer, so you'll need to go to the Control Panel on Windows or System Preferences on Mac to lock in those changes.
My virtual machine currently doesn't have a printer connected, so I'll choose the virtual printer that sends a simulated document to Microsoft OneNote.
2. Choose the Pages to Print
You may not want to print every slide in your presentation. The good news is that PowerPoint makes it easy to choose a selection of pages to print.
To make a selection for the slides to print, click on the dropdown just under Settings. This defaults to Print All Slides, but there are several options.
If you choose custom range, you'll see a box where you can enter the selection of slides to print. Simply put in the first slide you want to print and the last slide you want to print with a dash in between, such as "6-12" to print slides from 6 to 12.
Use Print Current Slide to print only the slide you selected before jumping to the print options.
3. Choose Orientation and Color Settings
Orientation describes the direction that your content is printed on. You can choose between Portrait and Landscape orientation. Portrait orientation means paper is taller than it is wide, while landscape orientation is wide.
Finally, make sure to double check your color settings. Printer ink is more expensive than oil, especially color link! This setting is just below the orientation dropdown.
You may want to learn more about working with PowerPoint multimedia before continuing on:
Once you've setup those choices, you can move on to other settings for how your printed slides will appear. Let's move on from the basics to learn how to print in many different formats.
Full Page Slides
Full page slides are simply printed copies of your slides, one per page. This is a great choice when you need to review the slide before presenting. 
As I mentioned earlier, sometimes seeing the slide away from your computer can help you catch errors or rethink the content. However, this option uses the most paper and ink, so think carefully before choosing it.
Print PowerPoint Slide Handouts
What are handouts in PowerPoint? Slide handouts are an ideal choice for printed copies. It's a great way to fit many slides on the same page and conserve paper in the process. 
Use PowerPoint slide handouts for reference copies to keep your place int he presentation, or to review your PowerPoint for typo's and misspellings.
Click on the dropdown option for print style (it defaults to "Full Page Slides") and you'll see a variety of options for presentation Handouts. You can choose how many slides you want to fit on each page before you send it to the printer.
Print Presentation Notes Slides
PowerPoint Notes slides show the Speaker Notes that you've added to your slides. Because of this, they are ideal to print PowerPoint slides with notes and keep on your podium or lectern when presenting.
Change the PowerPoint dropdown option to Notes Pages to print slides with the speaker notes showing below them.
How to Print as a PDF
One of the most popular questions for exporting and "virtually printing" a presentation is to print a presentation as a PDF. 
This is a crucial tip when someone else is helping you print and they don't have PowerPoint installed. If you're taking your presentation to a print shop for example, a PDF on a thumb drive is more likely to work and print properly.
To create a PDF of your presentation, go to the File > Export option in Microsoft PowerPoint. Then, click on Create PDF/XPS Document and choose Create PDF/XPS.
Now, you might be wondering how to create one of the views we've shown (full page slides, notes pages, and handouts) in PDF format. On the pop-up menu, click on Options to open up other settings.
On the new Options menu, you'll have access to change the print settings. You can change from Slides to Notes Pages using the Publish What dropdown option, shown in the screenshot below:
A PDF is a commonly accepted file format, so this is a great way to ensure compatibility for other readers.
Download Our New eBook on Making Great Presentations (Free PDF)
We have the perfect compliment to this tutorial, which will walk you through the complete presentation process. Learn how to write your presentation, design it like a pro, and prepare it to present powerfully. 
Download our new eBook: The Complete Guide to Making Great Presentations. It's available for FREE with a subscription to the Tuts+ Business Newsletter. 
Recap and Learn More PowerPoint Skills
This tutorial can serve as your reference guide when it's time to take your presentation from screen to hard copy. Whether it's notes pages, handouts, or another view, printing your slides is a necessary skill for many presentations.
If you were interested in this tutorial, don't miss out on these other tutorials to help you build your PowerPoint skills:
Or, download one of our professional PowerPoint templates, to help you design a great presentation quickly: 
What challenges have you had when printing your own presentations? Let me know in the comments below if you need a specific solution.
Want a weekly email summary?
Subscribe below and we'll send you a weekly email summary of all new Business tutorials. Never miss out on learning about the next big thing.
Sign up
I believe that life is too short to do just one thing. In college, I studied Accounting and Finance but continue to scratch my creative itch with my work for Envato Tuts+ and other clients. By day, I enjoy my career in corporate finance, using data and analysis to make decisions. I cover a variety of topics for Tuts+, including photo editing software like Adobe Lightroom, PowerPoint, Keynote, and more. What I enjoy most is teaching people to use software to solve everyday problems, excel in their career, and complete work efficiently. Feel free to reach out to me on my website.
Start your 7-day free trial*
*All Individual plans include a 7-day free trial for new customers; then chosen plan price applies. Cancel any time.