Melody Nieves
60 সেকেন্ডের ফটোশপ সিরিজে স্বাগতম, যেখানে আপনি শিখতে পারেন ফটোশপ এর একটি স্কিল, ফিচার বা কৌশল মাত্র এক মিনিটে!
৬০ সেকেন্ডে ফটোশপঃ বিজনেজ কার্ড কাস্টমাইজ করা

একজন সম্ভাব্য ক্লায়েন্টকে আকৃষ্ট করার অন্যতম একটি উপায় হিচ্ছে তাদের কে চমৎকার একটি বিজনেস কার্ড দেওয়া।  আর ফটোশপ এর মাধ্যমেই আপনি সহজে একটি সিম্পল টেম্পলেট কাস্টমাইজ করতে পারেন।  আর বেস্ট টেম্পলেট এর জন্য ব্যবহার করতে পারেন আমাদের গ্রাফিক রিভার এর চমৎকার সব  বিজনেস কার্ড টেম্পলেট। 

কিভাবে শুরু করবেন টা জানতে চান?  আরও জানার জন্য নিচের এই কুইক ভিডিওটি একবার দেখে নিন।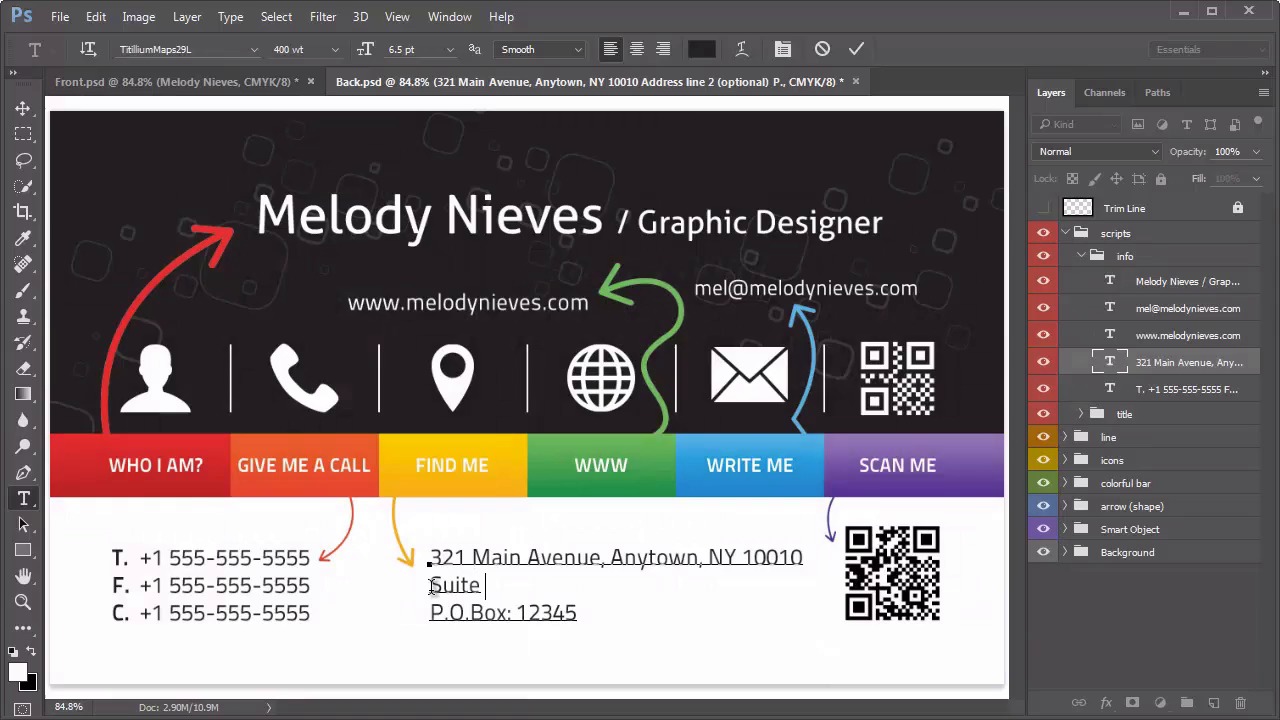 কিভাবে বিজনেস কার্ড টেম্পলেট কাস্টমাইজ করবেন 
এই টিউটোরিয়ালের জন্য, আমি এই অসাধারণ ক্রিয়েটিভ পার্সোনাল বিজনেস কার্ড টেমপ্লেট ব্যবহার করব। ফটোশপে টেমপ্লেট খোলার পর Type Tool(T) ব্যবহার করে আপনার নাম এবং প্রাসঙ্গিক তথ্যের সাথে এটি আপডেট করে শুরু করুন।

নিচের রংধনু বারের কালার পরিবর্তন করতে, শুধু ডাবল ক্লিক করুন Fx অপশন এ। তাহলে আপনি দেখতে পাবেন Layer Styles। তারপর আপনার পছন্দের কালারে পরিবর্তন করুন Gradient Overlay। 

পরিশেষে, একটি ছবি এড করুন!  মূল ছবির জন্য মনোনীত Smart Object এ আপনার পছন্দের ছবিটি টেনে আনুন এবং ড্রপ করুন, Free Transform Tool (Control-T) ব্যবহার করে রিসাইজ করুন, এবং তারপর আপনার পরিবর্তনগুলিকে স্থানান্তরিত করতে সেভ করুন।

কিভাবে করে তা দেখতে চান?  তাহলে দেখে নিন উপরের ভিডিওটি  অথবা আপনার যেকোনো ডিজাইনের প্রয়োজনে এনভাটো স্টুডিওর সাহায্য নিতে পারেন। 

কিছুটা বিস্তারিত 
Adobe Photoshop ব্যবহার করে মারাত্মক সব ডিজাইন করা শিখতে চান?  নিচের লিঙ্ক গুলো দেখে নিনঃ 
৬০ সেকেন্ড?! 
এটা হচ্ছে কুইক এনভাটো টাটস+ এর কুইক ভিডিও টিউটোরিয়াল সিরিজ এর একটি অংশ, যেখানে আমরা বিভিন্ন বিষয় তুলে ধরি মাত্র ৬০ সেকেন্ডে- আপনার ক্ষুধা কমাতে যথেষ্ট!  আমাদেরকে জানান আপনি এই ভিডিও থেকে কি শিখেছেন এবং আর কি ব্যাখ্যা করলে আপনি আরও বেশি উপকৃত হবেন! 
Want a weekly email summary?
Subscribe below and we'll send you a weekly email summary of all new Business tutorials. Never miss out on learning about the next big thing.
Sign up
Digital Artist - CT, USA
I'm an Afro-Latina digital artist originally from Long Island, NY. I love to paint, design, and photo manipulate in Adobe Photoshop while helping others learn too. Follow me on
Instagram
or tweet me
@MelloNieves
and tell me what you'd like to see next!
One subscription. Unlimited Downloads.