Read Time:
9 mins
Languages:
Getting good with a new app like PowerPoint is easy when you learn it one tool at a time. Even though PowerPoint is painless to get started with, there's plenty of features underneath the hood.
It's easy to start working with text in PowerPoint, but there's plenty more power behind the scenes. Your PowerPoint presentation doesn't have to be set in the standard fonts like Calibri or Times New Roman! 
Browse through time-saving PowerPoint presentation templates before you read on: 
Need Help? Download Our New eBook on Making Great Presentations (Free)
We also have a useful compliment to this tutorial. Download our FREE eBook: The Complete Guide to Making Great Presentations, which will help you write, design, and deliver the perfect presentation.
Now let's begin today's tutorial, which is the complete guide to working with text effects in PowerPoint. We'll review the basics of adding text to a slide, and then graduate to modifying how that text appears. 
How to Quickly Use Text Effects in PowerPoint (Watch & Learn)
Check out the video below for a walkthrough of how to work with text in PowerPoint. I'll show you how to get started with adding and changing text and then apply text effects.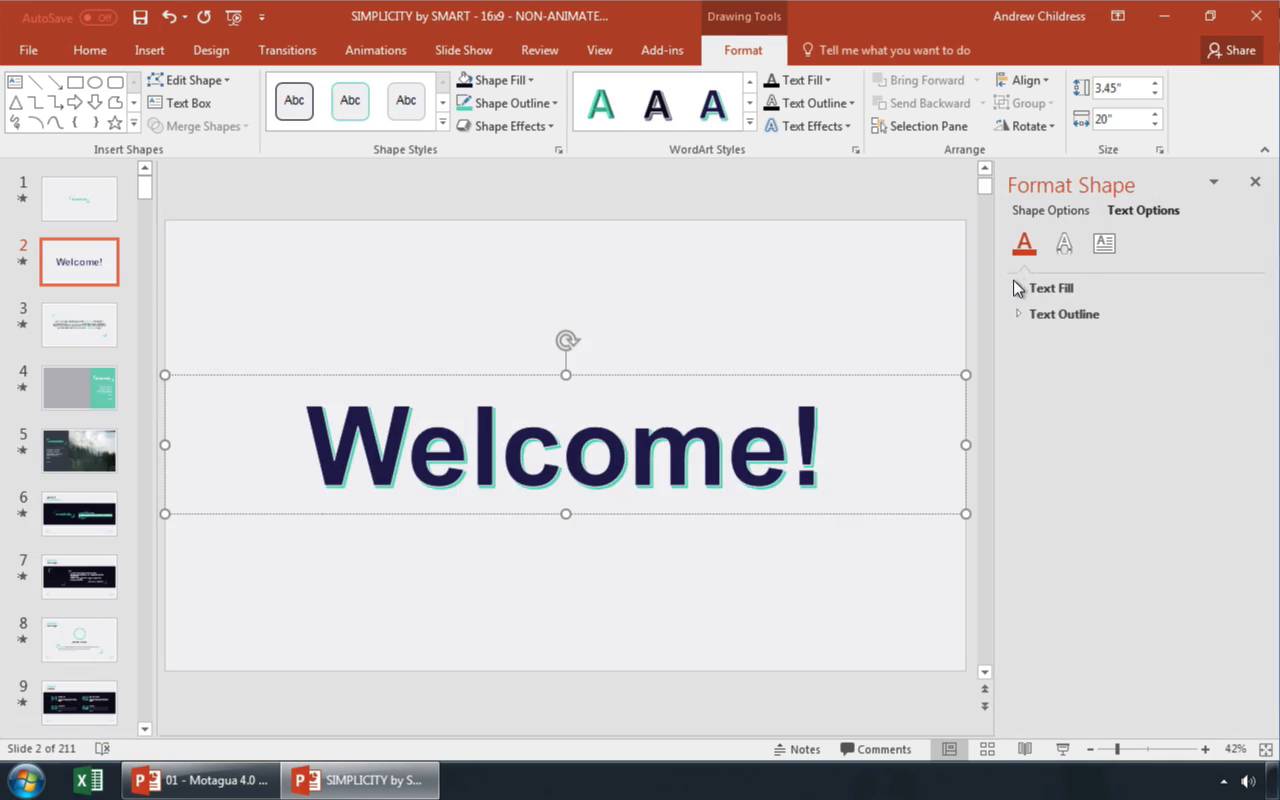 Read on for an illustrated guide on how to use font options in Microsoft PowerPoint, choose text styles, and apply text effects. Discover how to highlight text in PowerPoint, create WordArt effects in PowerPoint, apply text animations, and more.
How to Add Text in PowerPoint
On most slide layouts, you'll start off with text placeholders, which are PowerPoint text boxes that you can add your own text to. 
These might appear as empty text boxes with cues like "Click to add title", or on pre-made PowerPoint presentations as starter text that you can replace with your own content. In either case, click in these boxes and add your own text to the slide.
Add a Text Box in PowerPoint
If you want to add more text outside of the built-in placeholders, you can add an entirely new text box to your PowerPoint slide.
To add a new text box to your slide, choose the Insert > Text Box option.
Now, click and drag on the slide to draw in your text box. I like to make my text box slightly larger than the text I expect to fill it. Once your box is on the slide, type in it to add text to the slide.
We've covered the basics of adding text to a slide. Now, it's time to start modifying how that text appears.
How to Change Font Appearance
Once you've added your text to the slide, you might want to change how it appears. Whether that's the color or font of the text, simply select the text in PowerPoint and choose one of these options to modify it:
Here's a helpful guide to each of the 13 standard font tools in PowerPoint:
Bold - Use this option to make your font heavier and thicker.
Italic - An italic effect gives your text a bit of "lean" and is great for captions or annotations.
Underline - An underline is a popular tool for text headings and adds a horizontal line below your text.
Shadow - When your text needs contrast to stand out from the slide, add a shadow to make it more readable.
Strikethrough - A strikethrough is a horizontal line through the center of your text, making it appear crossed out.
Character Spacing - This is also sometimes called kerning, and it describes how much space is between each character in your text.
Change Case - This tool is a major timesaver for converting text between "cases", such as uppercase, lowercase, and sentence case. If you have all uppercase text for example, you can change it to appear more natural.
Text Color - Choose from any color swatch to change the color of your text.
Font - Choose from different typefaces like Arial, Times New Roman, or a custom font.
Font Size - A higher number would show your text larger, while a smaller number decreases the text size.
Increase Text Size - Make your text size larger. 
Decrease Text Size - Make your text size smaller. 
Clear Formatting - Remove all of the text options you've applied to reset it.
I think of these text tools as the "standard" text effects. You can create unique text styles by using multiple combinations, but let's take a look at making true text effects in PowerPoint next:
Use Built-In PowerPoint Text Effects
PowerPoint has plenty of built-in text effects that you can apply with just a couple of clicks. With your text selected, click on the Drawing Tools > Format option on the menu.
The first option that I usually use is the WordArt Styles menu option, which has a selection of one click options that you can choose from. Click on any of these to apply it to your text.
In addition to the pre-built styles, you can completely customize the text effects. To the right of the WordArt presets, there are dropdowns for other text styles. You can choose from effects like Shadow, Reflection, Glow, Bevel, and more to really modify your text.
Think of these options as the one click preset styles for your text. If you want to completely customize your text though, keep reading:
Create Custom Text Effects in PowerPoint
What if you have your own idea for how to style your text in PowerPoint? Let's look at how to use one of my favorite options, the Format Text Effects option. This hidden menu has every feature imaginable to create text effects in PowerPoint.
With your text selected, right click on it and choose Format Text Effects. On the right side, you'll see a new window with many advanced options for text effects:
There are three key options for how to work with your text from this Text Options menu. Let's take a look at how to use them:
1. Text Fill & Outline
The first option on the format menu are settings for text fill and outline. In the screenshot above, you can see that I've used a spotted pattern fill to my text, but you could also use a gradient or picture to fill your text as well.
The outline allows you to add borders to your image. Again, you can add either a solid or gradient outline for text, so there are plenty of options.
2. Text Effects
The text effects PowerPoint menu has many of the same options that are built-in above, but it allows you to completely customize how they are applied.
In the screenshot below, you can see the reflection text effect I've applied. This is just one of the effects you can choose from, and you can totally customize the way the effect is applied. Try out each of the options to customize your text completely.
3. Textbox
These options change the way that the container for PowerPoint text behaves, and it's the third box in the list. You can choose from options like how the text is aligned vertically and adjust the margins in this window.
How to Highlight Text in PowerPoint
Highlighting text in PowerPoint draws attention to specific words or phrases. Unfortunately, Microsoft reserves this tool for PowerPoint 2016 with an Office 365 subscription.
I was surprised that this tool was missing from my Office 2016 installation, but you can create a highlight effect with a workaround.
First, start off by working on a PowerPoint slide with some text you want to highlight. Now choose Insert > Shapes and choose a rectangle shape. Click and draw the rectangle over the text you want to highlight.
Then, right click the shape and choose Send to Back. With the shape still selected, change the color of the Shape Fill to the color highlight that you want to show. 
Also, change the Shape Outline to No Outline to remove the border from your highlight. This removes the outline around your text highlight. 
One other option is to create your highlighted text in Microsoft Word and paste it into PowerPoint. The highlight option will carry over, even when you paste text between these Microsoft apps.
How to Add Text Animation
Animation in PowerPoint is an entirely new dimension for modifying text. You can use a text animation to send text on or off the slide.
With a text element selected, click on the Animations slide on PowerPoint's ribbon. You can choose from one of the animation styles like Fade in the screenshot below to add the animation to the text box.
You can change the animation by selecting another in the PowerPoint Animation box, or press Preview to see your animation in action.
Download Our New eBook on Making Great Presentations (Free PDF)
We have the perfect compliment to this tutorial, which will walk you through the complete presentation process. Learn how to write your presentation, design it like a pro, and prepare it to present powerfully. 
Download our new eBook: The Complete Guide to Making Great Presentations. It's available for FREE with a subscription to the Tuts+ Business Newsletter. 
Recap and Keep Learning More PowerPoint Presentation Skills
Mastering text is an essential skill for PowerPoint proficiency. In this tutorial, I shared a variety of tips and tricks for working with text. From inserting basic text to creating text effects in PowerPoint, these are the skills you need to master your presentation text.
If you found this tutorial while trying to learn PowerPoint, these tutorials are a great way to keep learning more:
Do you have a favorite PowerPoint text effect tip to share with other Tuts+ readers? If so, let me know in the comments section below.
I believe that life is too short to do just one thing. In college, I studied Accounting and Finance but continue to scratch my creative itch with my work for Envato Tuts+ and other clients. By day, I enjoy my career in corporate finance, using data and analysis to make decisions. I cover a variety of topics for Tuts+, including photo editing software like Adobe Lightroom, PowerPoint, Keynote, and more. What I enjoy most is teaching people to use software to solve everyday problems, excel in their career, and complete work efficiently. Feel free to reach out to me on my website.
Weekly email summary
Subscribe below and we'll send you a weekly email summary of all new Business tutorials. Never miss out on learning about the next big thing.
Update me weekly
Looking for something to help kick start your next project?
Envato Market
has a range of items for sale to help get you started.