Andrew Childress
El problema que enfrentamos no es escasez de datos; al contrario es encontrar significado en las cantidades grandes de datos. Por eso, he avocado por el uso de las Tablas Dinámicas, una característica en Excel para resumir y analizar tus datos.
Como un profesional financiero, genéticamente estoy inclinado a amar las hojas de cálculo. Pero también encuentro que uso las hojas de cálculo para organizar mi trabajo creativo e independiente. Sin importar para que uses las hojas de cálculo, una Tabla Dinámica puede ayudarte a encontrar un gran significado en los datos.
En este tutorial, estaremos siempre hablando de tutoriales para comenzar a usar Tablas Dinámicas para trabajar mejor con tus datos. Te mostraré cinco de mis técnicas favoritas y avanzadas de Tabla Dinámica.
A través de este tutorial, usaré una plantilla de datos provista por Microsoft en esta página. Usa estos datos para recrear los ejemplos o probar las características que te mostraré.

¿Cómo Usar Técnicas Avanzadas de Tablas Dinámicas en Excel? (Video Corto)
Me encanta enseñar con videos, lo cual me da una posibilidad de mirarme usar las características paso a paso. Chequea el video rápido abajo que cubre cinco de mis características favoritas y avanzadas de Tablas Dinámicas: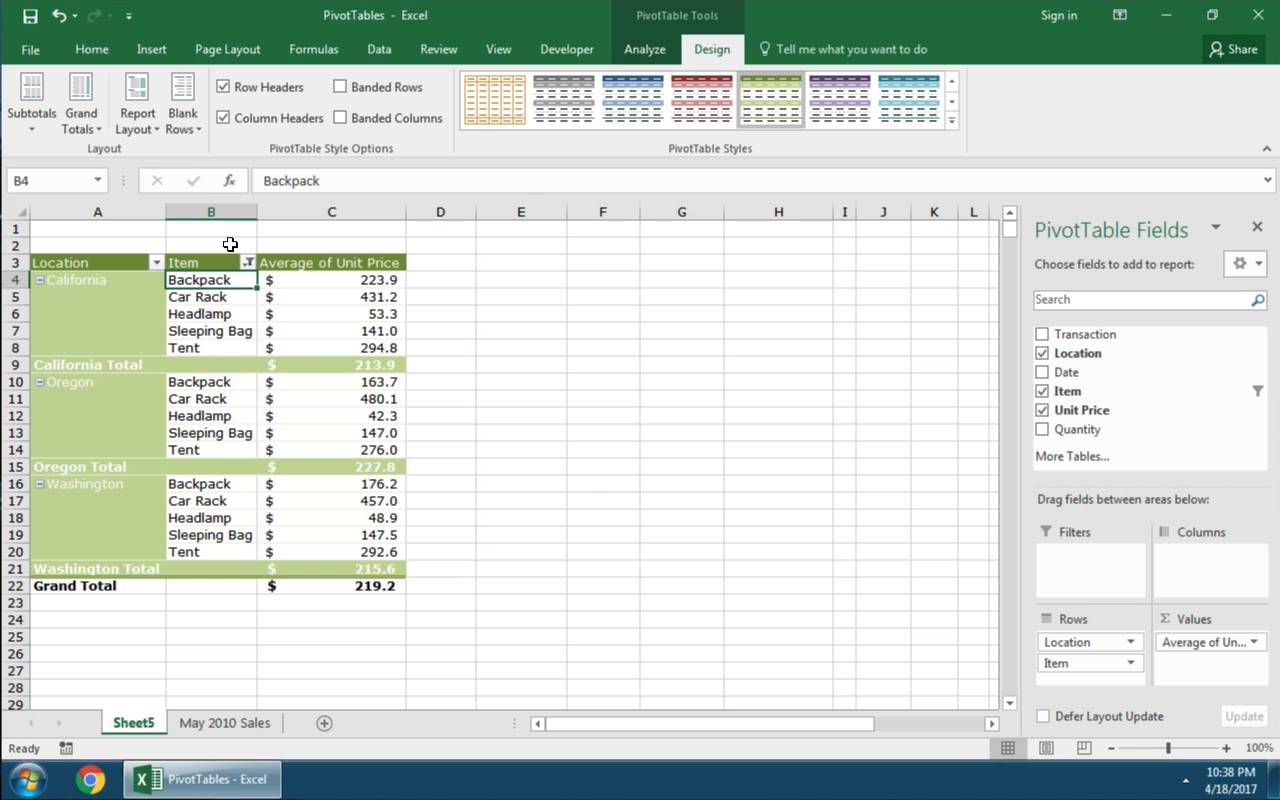 5 Técnicas Avanzadas de Tablas Dinámicas de Excel
Sigue leyendo para un paso a paso de cómo usar cada una de estas cinco características en el tutorial escrito abajo; Segmentación de Datos, Escala de Tiempo, Formato Tabular, Campo Calculado y Tablas Dinámicas Recomendadas. ¡Comencemos!

1.

Segmentación de Datos

Segmentación de Datos son herramientas de punto y clicks para refinar los datos incluidos en la Tabla Dinámica de Excel. Inserta una segmentación y puedes cambiar fácilmente los datos que están incluidos en tu Tabla Dinámica.
Muchas veces, estoy desarrollando reportes de Tablas Dinámicas que serán usados por otros. Añadiendo segmentación puede ayudar mi usuario final personalizar el reporte a su gusto.
Para añadir una segmentación, da click dentro de tu Tabla Dinámica y encuentra la pestaña Analizar en la cinta de Excel.
Mantén presionado Control en tu teclado para seleccionar items multiples dentro de la segmentación, lo que incluirá selecciones multiples de una columna como parte de tus datos de Tabla Dinámica.
2.

Escala de Tiempo

Las Escalas de Tiempo con un tipo especial de segmentación, usadas para retocar los datos incluidos como parte de tus datos de Tabla Dinámica. Si tus datos incluyen fechas, necesitas probar Escalas de Tiempo como una manera de seleccionar datos de un período de tiempo.
Consejo: Si esta característica to funciona para ti, asegúrate de que tus datos originales tengan las fechas con formato de fecha en la hoja de cálculo.

Para añadir una escala de tiempo, asegúrate de que has seleccionado una Tabla Dinámica (dando click dentro de ella) y luego da click en la opción Insertar > Escala de Tiempo en la cinta de Excel. En la ventana emergente, marca las casillas de las columnas de fecha (o multiples columnas) y presiona OK para crear una escala de tiempo.
Una vez que la escala de tiempo ha sido insertada, puedes dar click y arrastrar los selectores en la escala de tiempo para cambiar lo que es incluido como una parte de la Tabla Dinámica.
Puedes cambiar la manera de que tu escala de tiempo funciona dando click en el recuadro en la esquina inferior derecha. En vez de que la escala muestre fechas específicas, puedes cambiar la escala para mostrar fechas basados en el trimestre del año, por ejemplo.
3.

Formato Tabular

La vista por defeco de la Tabla Dinámica de Excel parece una clase de cascada; a medida que arrastras más niveles de campos en las filas, Excel crea más "capas" en los datos.

El problema es que las Tablas Dinámicas en vista estándar son difíciles para escribir formulas. Si tienes tus datos en una Tabla Dinámica, pero quieres verla más como una hoja de cálculo tradicional, debes usar un formato tabular para tu Tabla Dinámica.
¿Porqué debes usar Formato Tabular? Poniendo tu Tabla Dinámica en un estilo clásico te permitirá escribir formulas en los datos más fácilmente o pegarlos en un reporte separado.
Para mi, es más fácil de usar un formato tabular en Excel la mayoría de tiempo. Se mira más como una vista de hoja de cálculo estándar y se siente más fácil escribir formulas y  trabajar con los datos dentro de la misma. Podría tomar esta vista y pegarla en una nueva pestaña más fácilmente.
4.

Campo Calculado

El Campo Calculado es una manera de añadir una columna a tu Tabla Dinámica que no está en tus datos originales. Puedes usar un operación matemática estándar para crear un campo enteramente nuevo con el cual trabajar. Toma dos columnas existentes y usa matemática para crear nuevas.

Digamos que tenemos datos de venta en una hoja de cálculo. Tenemos el número de items vendidos, y el precio de venta para cada item. Este es el momento perfecto par usar un campo calculado para calcular el total de la orden.

Para comenzar, da click dentro de una Tabla Dinámica y da click en Analizar en la cinta. Da click en el menú de Campos, Elementos y Conjuntos, y luego escoge Campo Calculado.
En la nueva ventana, comienza dando a tu campo calculado un nombre. En mi caso, la nombraré Total Order (Orden Total). Un precio total de orden es la cantidad por el precio de cada unidad. Luego, doy doble click en el primer campo (cantidad) en la lista de campos en esta ventana.
Luego de haber añadido el nombre del campo, añadiré la señal de multiplicación, *, y luego doy doble click en la cantidad total. Luego presionemos OK.
Ahora, Excel ha actualizado mi Tabla Dinámica con el nuevo campo calculado. Verás también la lista de Tablas Dinámicas en la lista de campos para que puedas arrastrar y soltarlas donde sea en el reporte, como lo necesites.
Si no quieres usar matemática en dos columnas, puedes también digitar tus propios valores aritméticos en el campo calculado. Por ejemplo, si quiero simplemente añadir 5% de impuesto de venta para cada orden, podría escribir el siguiente campo calculado:
Básicamente, los campos calculados pueden contener cualquiera de los operadores matemáticos estándar , como adición, sustracción, multiplicación y división. Usa estos campos calculados cuando no quieras actualizar el dato original.
5.

Tablas Dinámicas Recomendadas

La característica de Tablas Dinámicas Recomendadas es tan buena que se siente como hacer trampa. En vez de gastar tiempo arrastrando y soltando tus campo, me encuentro a mi mismo comenzando con una de las configuraciones Recomendadas.
Esta característica es tan fácil de usar que no hay mucho que decir. Puedes usarla para hacer Tablas Dinámicas avanzadas en Excel rápidamente. Simplemente resalta tus datos, busca la pestaña Insertar en la cinta de Excel, y escoge Tablas Dinámicas Recomendadas.
La ventana emergente incluye una variedad de opciones para crear una Tabla Dinámica en tus datos originales. Da click a través de los miniaturas en el lado izquierdo de la ventana para ver las opciones de Tabla Dinámica Recomendada que Excel generó.
Aunque esta es una característica avanzada en la que no muchos usuarios piensan, es también una herramienta genial para comenzar a usar Tablas Dinámicas. No hay nada que te detenga de modificar una Tabla Dinámica cambiando los campos por tu propia cuenta, pero esto es cuestión de ahorrar tiempo.
También me gusta esta característica como una manera de explorar datos. Si no se lo que estoy buscando para cuando estoy comenzando a explorar datos, las Tablas Dinámicas Recomendadas de Excel son a veces más perspicaces de lo que soy yo.
Recapitulación y Seguir Aprendiendo (Con Más Tutoriales de Excel)
Este tutorial avanzado de Excel te ayudó a profundizar más en las Tablas Dinámicas, una de mis características favorita para analizar y revisar un hoja de cálculo de Excel. Uso las Tablas Dinámicas para encontrar significado en set grandes de datos, con las cuales puedo tomar buenas decisiones.
Estos tutoriales te ayudarán a avanzar más en tus habilidades de Tablas Dinámicas al siguiente nivel. Míralas:
¿Qué quieres seguir aprendiendo acerca de Tablas Dinámicas? Hazme saber de tus ideas o preguntas en la sección de comentarios abajo.
Want a weekly email summary?
Subscribe below and we'll send you a weekly email summary of all new Business tutorials. Never miss out on learning about the next big thing.
Sign up
I believe that life is too short to do just one thing. In college, I studied Accounting and Finance but continue to scratch my creative itch with my work for Envato Tuts+ and other clients. By day, I enjoy my career in corporate finance, using data and analysis to make decisions. I cover a variety of topics for Tuts+, including photo editing software like Adobe Lightroom, PowerPoint, Keynote, and more. What I enjoy most is teaching people to use software to solve everyday problems, excel in their career, and complete work efficiently. Feel free to reach out to me on my website.
One subscription. Unlimited Downloads.