Andrew Childress
En este tutorial te mostraré cómo crear formularios web que registrar las respuestas en una hoja de cálculo en Google. No tienes que ser programador o saber cómo construir sitios web para seguir.
Aquí hay tres ideas de cómo puede utilizar un formulario web sencillo para obtener datos importantes y guardarlo directamente en una hoja de cálculo:
Utilizar una encuesta para recopilar comentarios y sugerencias en su proyecto web.
Tomar pedidos de comida de compañeros de trabajo.
Captura de notas y detalles importantes de sus clientes, tales como detalles de boda día desde un cliente de la fotografía.
Al final de este tutorial, podrá crear sus propios formularios de entrada y comentarios gratis utilizando Google Sheets. Vamos a empezar.
Crear formularios Web de Google Sheets de forma rápida (ver y aprender)
¿Quieres aprender cómo hacer formularios web, o cómo puede obtener la mayoría de ellos? Ver el screencast que grabé por debajo lo guiará a través del proceso. Te voy a mostrar cómo crear un formulario, compartir el enlace y revise sus respuestas.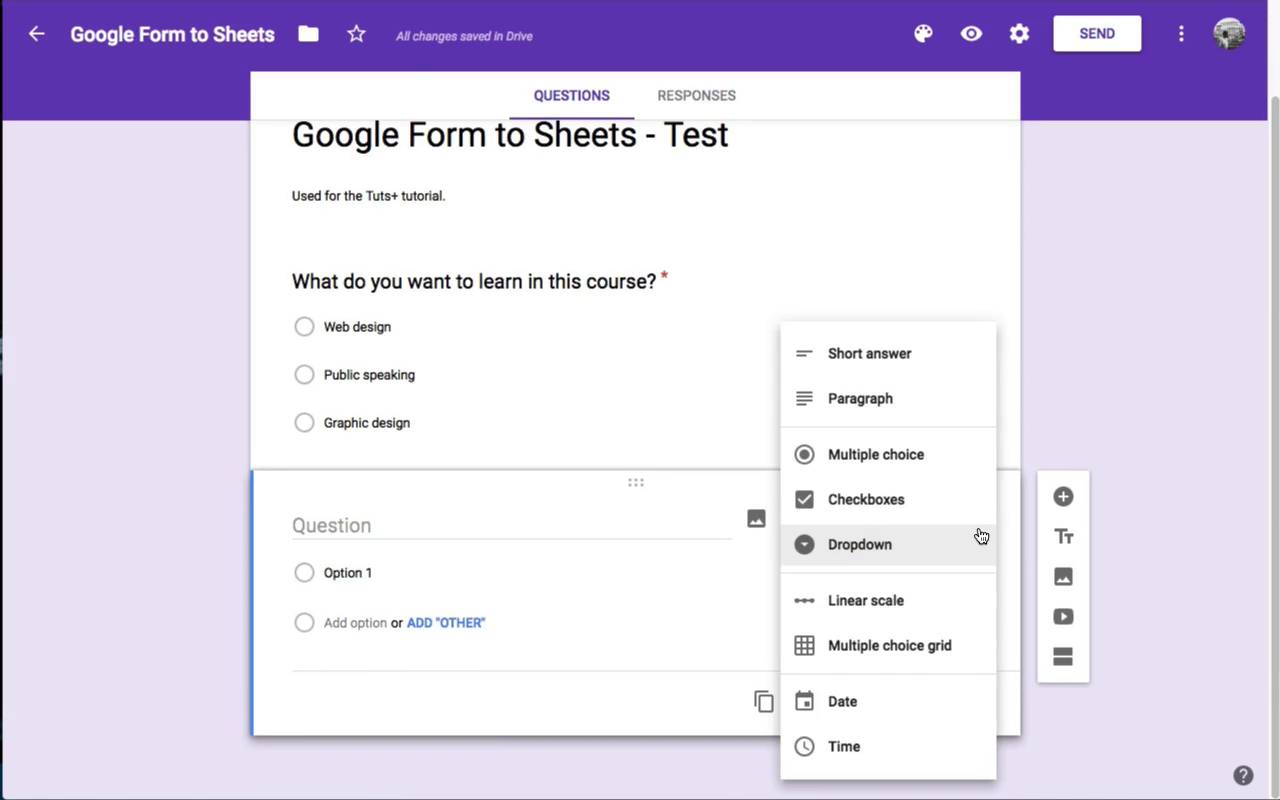 Sigue leyendo para ver una guía paso a paso a construir formas y obteniendo el máximo de ellas a continuación.
Crear el primer formulario Web en Google Sheets
Comencemos por crear nuestro primer formulario. Para seguir con este tutorial, necesitarás una cuenta de Google. Si no has creado tu cuenta de Google, comenzar saltando por encima a la Página principal de Google Drive. Puede iniciar sesión con tu cuenta de Google existente, o crear una cuenta gratuita de Google para empezar.
Paso 1. Crear una Hoja
A continuación, seguir adelante y crear una nueva hoja dentro de tu cuenta de Google Drive haciendo click en Nuevo > Google Sheets > Hoja de Cálculo en Blanco.
Es mejor empezar por crear una nueva hoja de respuestas forma. Esto automáticamente configura una hoja de cálculo para capturar la respuesta del formulario directamente dentro de la hoja se crea.
Paso 2. Agregar un Formulario
Para agregar un formulario vinculado a tu hoja, ir a la pieza de Insertar > Formulario de opción de menú Agregar su primera forma.
Una guía completa a la construcción de sus preguntas de forma correcta
Ahora, hojas se abrirán el generador de forma que le permite añadir sus preguntas en el formulario. Por defecto se trata de un marcador de posición para una pregunta de opción múltiple.
En la captura de pantalla a continuación, puede ver una caja de "Descripción de la Forma". Me gustaría seguir adelante y completar esto para recordar a mí y a los visitantes el propósito de la forma.
¿Recuerde que como mencioné al inicio de este tutorial que conocimientos de programación no son necesarios? El constructor de la forma es extremadamente potente. Se pueden crear combinaciones de preguntas con infinidad de opciones para saber exactamente lo que quieres saber.
Vamos a bucear en las opciones, que se muestra a continuación:
Hay varias características claves en el generador de forma que son poderosas. Caminemos a través de ellos.

Agregar Pregunta - el botón más a la derecha del constructor del formulario le permite agregar preguntas adicionales al formulario.
Duplicar / Eliminar - Los botones de duplicar y eliminar permite clonar o eliminar una pregunta.

Necesaria - Mover el botón en la esquina inferior derecha hacia la derecha para marcar una pregunta como se requiere en el formulario.
Otras Herramientas - La miniatura de la imagen y el vídeo le permiten agregar imágenes y vídeos en tu encuesta; Imagina incrustar un video en medio de un formulario y pide retroalimentación.
Asegúrese y ver el screencast corto por encima de si quiere verme crear varias preguntas en el formulario.
El constructor del formulario acomoda una amplia variedad de tipos de preguntas. Para cambiar el tipo de pregunta, haga clic en el área que se muestra como "Opción Múltiple" en la imagen superior.
Como se puede ver, las formas pueden incluir muchos tipos de preguntas. Esto incluye respuestas sencillas como las fechas o tiempos o respuestas abiertas párrafo terminado. ¡Sumérgete en los tipos de preguntas más útiles que puede utilizar en su formato de Google Sheets:

1. Respuesta Corta y Párrafo
Los tipos de pregunta con Respuesta Corta y Párrafo se utilizan para agarrar las respuestas abiertas a sus preguntas.
Cuando se utiliza este tipo de pregunta, está permitiendo que su público escribir algo que no está integrada en la forma. En la captura de pantalla abajo, has planteado una pregunta y dejar en manos de la audiencia a responder.
Estas dos preguntas a tipos son iguales; la única diferencia es la longitud máxima de la respuesta.
2. Opción Múltiple 
La opción de elección múltiple se utiliza para crear una lista de opciones predefinidas y permiten al usuario elegir entre ellos.
Como se puede ver a continuación, todavía estás preguntando a su audiencia una pregunta; sólo estás limitando las respuestas que son posibles.
También puede Agregar una opción de "Otra" y que el visitante escriba su propia respuesta si lo desea.
3. Casillas de Verificación
Respuestas con casilla de verificación son particularmente útiles cuando desea permitir que un usuario seleccionar múltiples opciones en la respuesta.
Especifique las opciones múltiples, y el usuario puede indicar que las opciones son aplicables a sus respuestas.
4. Menú Desplegable
Una opción del menú desplegable es muy similar a la opción de elección múltiple, estás dando al visitante una lista de opciones para elegir, y puede seleccionar exactamente uno.
5. Escala Lineal
Me gusta mucho la opción de la escala lineal, que es como un control deslizante que permite definir valores para indicar interés o satisfacción.
Se puede imaginar usando esto para captar el interés de alguien. En la diapositiva a continuación, he dado al usuario la opción de respuesta de 1-5 con su interés en futuros cursos. Dependiendo de donde establece su slider, podemos medir interés o satisfacción.
6. Fecha y Hora
Opciones de fecha y hora son simples; permiten al usuario especificar una fecha o tiempo al responder. Imagine utilizar esto para reservar un lugar o registro cuando se produjo un evento.
Recuerde que usted puede combinar todos estos tipos de pregunta en una forma única a una variedad de comentarios de su audiencia.
Envíe su Formulario
Por lo tanto, usted ha terminado el formulario, y listo compartir con una audiencia. Haga clic en el botón Enviar en la parte superior de la página del constructor del formulario.
Puede enviar el formulario de entrada de hoja de cálculo de Google a otros mediante un enlace de correo electrónico, o haga clic en un vínculo a una dirección URL que puede publicar y compartir en línea para que cualquier persona completar el formulario.
Revisar las Respuestas en Google Sheets
Después de que su formulario ha sido publicado por algún tiempo y los visitantes que llenan, es hora de pasar a revisar los datos que has recopilado. Las respuestas son revisables fácilmente gracias al vínculo entre formularios web y Google Sheets.
Para ver las respuestas a un formulario, haga clic en las Respuestas en el constructor del formulario. La forma tiene una herramienta integrada para revisar las respuestas, o puede hacer clic en el icono verde de Hojas para saltar a las respuestas capturadas dentro de una hoja de cálculo.
Mi forma favorita para ver las respuestas está en la vista de hoja de cálculo, dentro de Google las hojas. Es fácil desplazarse por incluso una larga lista de respuestas en para averiguar los pensamientos de su audiencia.
Si necesitas saltar hacia el editor de formularios, volver a la hoja que creó y haga clic en Formulario > Editar Formulario.
Eso es todo, ya sabes cómo crear formularios de entrada de web que recogen las respuestas en hojas de cálculo Google Sheets. Esto le permite capturar fácilmente las respuestas y revisar rápidamente la información.
Volver y seguir aprendiendo más sobre Google Sheets
Este tutorial fue una fácil introducción a introducción a los formularios web y Google Sheets. Cualquier momento que usted tiene una necesidad de recopilar comentarios, creo que de esta técnica que es fácil e instalación gratuito.
Me encanta Google Sheets porque combina la potencia de una hoja de cálculo con la flexibilidad de una aplicación web. Puede enlazar a las fuentes de datos o hacer cosas que no son posibles con otras aplicaciones de hoja de cálculo.
Para ver lo que quiero decir, revisa algunos de nuestros otros populares tutoriales de Google Sheets a continuación:
¿Cómo obtengo la respuesta de una audiencia o un equipo? Déjeme saber si está usando una forma enganchada a las hojas en los comentarios o alguna otra herramienta.
Want a weekly email summary?
Subscribe below and we'll send you a weekly email summary of all new Business tutorials. Never miss out on learning about the next big thing.
Sign up
I believe that life is too short to do just one thing. In college, I studied Accounting and Finance but continue to scratch my creative itch with my work for Envato Tuts+ and other clients. By day, I enjoy my career in corporate finance, using data and analysis to make decisions. I cover a variety of topics for Tuts+, including photo editing software like Adobe Lightroom, PowerPoint, Keynote, and more. What I enjoy most is teaching people to use software to solve everyday problems, excel in their career, and complete work efficiently. Feel free to reach out to me on my website.
One subscription. Unlimited Downloads.