Andrew Childress
PivotTables dapat mengubah karir anda. Jika anda bekerja di lingkungan kantor dan tahu cara menggunakan Excel, anda dapat membuat laporan dan file untuk membantu setiap orang memahami data mereka.

Slicer adalah fitur PivotTable yang membuat laporan menjadi interaktif. Daripada menggunakan tombol filter di dalam PivotTable, slicer menambahkan opsi point dan klik untuk memfilter data anda.
Bayangkan menggunakan slicer untuk memfilter data anda untuk tahun tertentu. Anda memiliki kotak slicer dengan setiap tahun yang ada dalam data, seperti "2016" dan "2017." Untuk melihat data 2016 saja, anda dapat mengkliknya di kotak slicer untuk memfilter data di PivotTable.

Hal ini membuat laporan menjadi interaktif dan user-friendly. Serahkan PivotTable dengan slicers ke rekan kerja dan mereka tidak perlu kembali kepada anda setiap kali mereka memerlukan laporan yang berbeda.
Dalam tutorial ini, anda akan belajar cara memasukkan slicers di Excel dan meng-customize-nya agar mudah bekerja dengan PivotTables.
Latar Belakang: Apa itu PivotTable?
Pada dasarnya, PivotTable adalah tool drag and drop untuk membuat laporan di Excel. Anda dapat mengambil spreadsheet data yang besar dan mengubahnya menjadi ringkasan yang berarti hanya dalam beberapa menit PivotTable dapat dibuat dengan baik.
Apa itu Slicer di Excel?

Slicers membuat bekerja dengan PivotTables menjadi lebih mudah. Anda dapat membuat tombol sederhana yang dapat diklik pengguna untuk memfilter data. Slicers membuatnya lebih user-friendly untuk bekerja dengan PivotTables.

Jika anda ingin memulai PivotTables, lihat beberapa tutorial di bawah ini sebelum anda lebih jauh ke bagian lain dari tutorial ini.
Sekarang, mari cari tau dara membuat dan customizing slicers di Excel.

Cara Cepat Insert Slicers ke Excel PivotTable (Tonton & Pelajari)
Dalam screencast sigkat ini, saya akan menunjukkan cara menambahkan banyak slicer ke PivotTable anda dan kemudian meng-customize-nya. Slicer- slicer ini akan membantu anda memfilter dan memperbaiki data yang ditampilkan di PivotTable anda.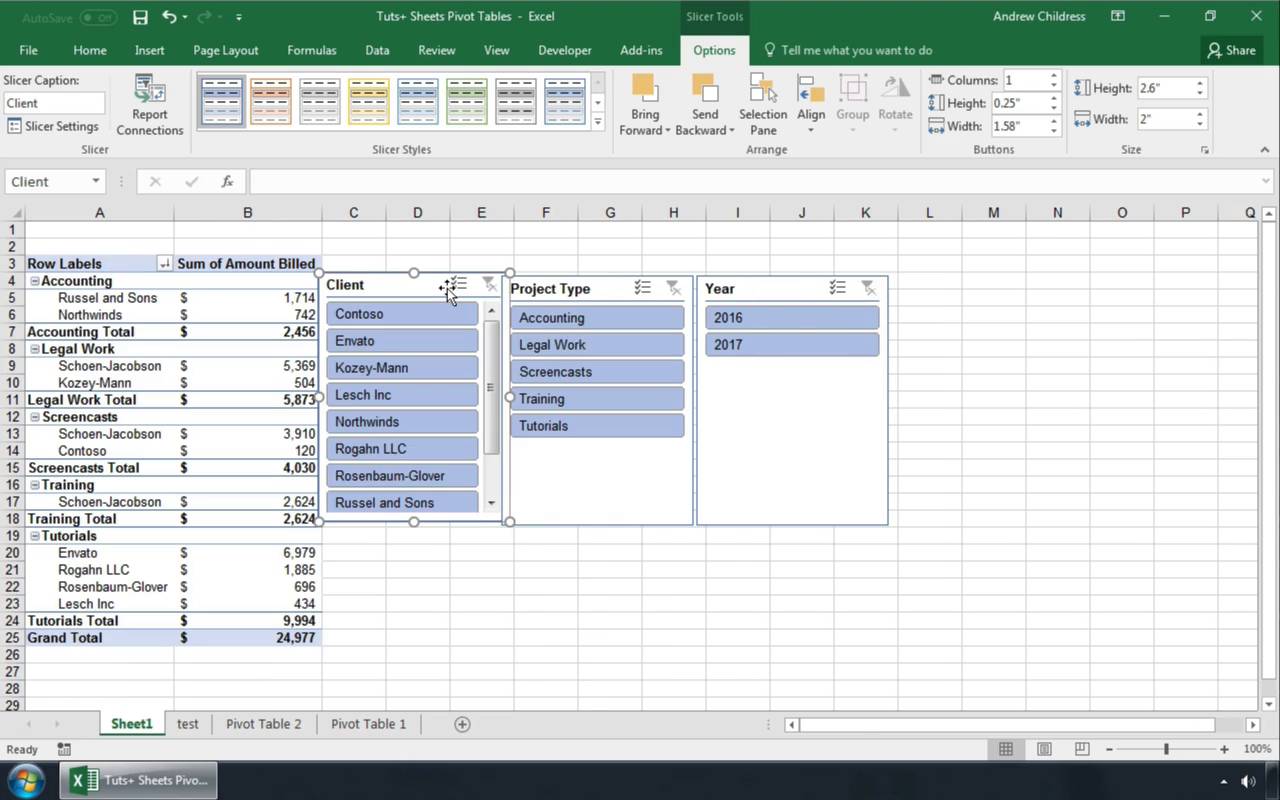 Teruslah membaca untuk mengetahui lebih lanjut tentang cara menggunakan slicera di Excel untuk keuntungan anda:
Menambahkan Sciler di Excel untuk Pertama Kalinya
Untuk memulai dengan slicer, mulailah dengan mengklik bagian dalam PivotTable. Pada ribbon Excel, cari bagian PivotTable Tools dan klik Analyze.
Sekarang, cari opsi menu berlabel Insert Slicer. Klik label tersebut  untuk membuka menu baru untuk memilih slicera anda.
Pada menu baru yang muncul, Anda akan memiliki kotak centang untuk masing-masing bidang yang ada di PivotTable Anda. Centang kotak untuk slicers yang ingin anda tambahkan.
Setelah anda menekan OK, anda akan melihat kotak untuk setiap filternya. Anda dapat drag and drop jendela slicer ini ke area lain di spreadsheet tersebut.
Itu dia! anda telah memasukkan slicer untuk ditampilkan. Sekarang anda dan mengeklik pada poin-poin dalam slicer tersebut untuk memfilter data anda. Mari pelajari lebih lanjut tentang cara menggunakan dan meng-customize filter.
Cara Menggunakan Slicer di Excel
Bagian tutorial ini akan berfokus pada bagaimana menggunakan slicer untuk menganalisa data. Ingat: slicer adalah tombol filter yang mudah digunakan.
Setelah anda memiliki slicer di dalam spreadsheet anda, anda cukup mengklik salah satu kotak di dalam slicer untuk memfilter data. Anda akan melihat data di PivotTable berubah saat anda mengklik slicer.
Ketika Anda mengklik pada tombol alat pengiris, PivotTable update untuk hanya menampilkan data yang sesuai dengan pengaturan filter Anda.

Anda dapat menggunakan slicer untuk data filter yang tidak menampilkan dalam tabel. Pada dasarnya, apa itu berarti bahwa bahkan jika Anda tidak melihat "tahun" sebagai baris atau kolom di PivotTable, Anda masih dapat memiliki alat pengiris "Tahun" bahwa perubahan data yang menunjukkan di Pivot.
Katakanlah bahwa Anda ingin untuk memilih beberapa item di alat pengiris. Anda dapat terus tombol Control pada keyboard Anda dan klik pada beberapa item dalam alat pengiris sehingga Pivot filter untuk semua item yang telah Anda pilih.
Akhirnya, slicers tumpukan. Setelah Anda klik pada tombol dalam alat pengiris, Anda akan melihat pilihan alat pengiris lainnya abu-abu keluar. Ini berarti bahwa filter pertama Anda menerapkan telah "mengetuk keluar" pilihan lain, membuat mereka tidak tersedia untuk mengklik.
Untuk menghapus setelan slicer, Anda selalu dapat mengklik ikon kecil di sudut kanan atas, yang merupakan tombol filter dengan X merah kecil. Ini akan membatalkan semua filter yang telah Anda Terapkan dengan alat pengiris tersebut.
Pilihan Slicer Excel lanjutan
Mari kita belajar beberapa teknik lain untuk benar-benar meningkatkan bagaimana Anda dapat bekerja dengan slicers. Untuk bekerja dengan sebagian besar dari pilihan ini, pastikan bahwa Anda memiliki alat pengiris dipilih dan klik pada menu Slicer Tools > Options pada pita untuk membuat pengaturan ini terlihat.
Styling Slicers di Excel
Anda dapat dengan mudah mengubah warna slicers untuk membuat mereka menonjol. Di bagian alat pengiris gaya dari ribbon, Anda dapat klik pada salah satu thumbnail warna lain untuk mengubah gaya alat pengiris tersebut.
Pilih multi
Ingat bagaimana Anda belajar untuk memegang kontrol pada keyboard untuk multi-pilih item dalam alat pengiris? Ada cara lain untuk membuat pilihan ini bekerja.
Dekat kanan atas alat pengiris masing-masing, ada sebuah tombol kotak centang yang Anda dapat klik pada. Bila pilihan ini diaktifkan, Anda dapat memilih multi dan beralih pilihan atau dengan mengklik pada mereka.
Ini adalah pilihan terbaik jika Anda mengirim PivotTable ke pengguna lain untuk bekerja dengan.
Beberapa Kolom dalam alat pengiris
Jika Anda memiliki banyak pilihan di dalam alat pengiris, mereka yang mungkin tidak semua cocok dalam jendela. Excel akan menambahkan scrollbar. Namun, dapat menjadi rumit untuk menggeser atas dan bawah dalam jendela itu.
Solusinya adalah untuk memiliki beberapa kolom tombol dalam alat pengiris tersebut. Dengan alat pengiris dipilih, menemukan bagian tombol pilihan pada alat Pengiris > Option. Dalam kolom menu, mengubah nomor sehingga lebih banyak kolom menunjukkan dalam alat pengiris tersebut.
Excel Slicers terhubung ke beberapa tabel
Di sini adalah salah satu favorit saya trik untuk menggunakan slicers melintasi beberapa PivotTables Excel. Jika Anda memiliki beberapa PivotTables tersambung ke data yang sama, hal ini membantu untuk menghubungkan slicer untuk mengontrol beberapa tabel. Klik pada sebuah filter slicer dan semua PivotTables akan memperbarui di berbaris.
Untuk menghubungkan alat pengiris ke beberapa Pivots, klik pada kotak alat pengiris dan pilih Slicer Tools > Options di Excel pita. Kemudian, klik pada Report Connections untuk membuka pengaturan.
Jendela ini mengontrol PivotTables yang mengendalikan alat pengiris tersebut. Cukup centang kotak untuk Pivots slicer untuk terhubung ke yang Anda inginkan, dan tekan OK.
Sekarang, alat pengiris akan mengontrol beberapa PivotTables. Anda tidak perlu klik pada beberapa slicers tetap PivotTables mereka sinkron. Bayangkan menggunakan lembar pertama buku-kerja Excel Anda dengan semua slicers untuk setup laporan berikutnya, dengan semua tabel memperbarui bersama-sama.
Rekap dan belajar lebih banyak alat Data Excel
Saya tidak bisa mengatakan cukup tentang kekuatan slicers. PivotTables adalah awal yang baik untuk menganalisis data Anda lebih baik, dan slicers membuat mereka mudah untuk menyerahkan kepada pengguna lain untuk menyaring mudah. Bukan menghasilkan beberapa laporan, membiarkan pemirsa menciptakan pandangan yang berbeda menggunakan slicers.
Berikut adalah beberapa sumber daya tambahan untuk membantu Anda bekerja dengan slicers dan PivotTables di Microsoft Excel:
Ada pertanyaan? Jangan ragu untuk membiarkan saya tahu di bagian komentar di bawah ini jika Anda membutuhkan ide-ide tentang cara menggunakan slicers di Excel PivotTables.
Want a weekly email summary?
Subscribe below and we'll send you a weekly email summary of all new Business tutorials. Never miss out on learning about the next big thing.
Sign up
I believe that life is too short to do just one thing. In college, I studied Accounting and Finance but continue to scratch my creative itch with my work for Envato Tuts+ and other clients. By day, I enjoy my career in corporate finance, using data and analysis to make decisions. I cover a variety of topics for Tuts+, including photo editing software like Adobe Lightroom, PowerPoint, Keynote, and more. What I enjoy most is teaching people to use software to solve everyday problems, excel in their career, and complete work efficiently. Feel free to reach out to me on my website.
One subscription. Unlimited Downloads.