Laura Spencer
If you own a business, you already know how important your Microsoft Outlook emails are. They're how you communicate with clients and they may also be how you get orders. You want to make sure and back up the information in your MS Outlook account so you don't lose any vital business information. If you use Microsoft Outlook for your personal needs, such as to communicate with friends and family members or for school, those emails are important too.
Many email users, even business professionals, don't think about how much information they actually store in their email system. They don't think about how to save Outlook emails until it's too late and they've already lost some information.
It doesn't have to be like that for you. If you need to learn how to backup Outlook emails, this tutorial is for you. You'll learn different Outlook backup methods ranging from how to export emails from Outlook to how to save an email in Outlook PST format and more. We'll also discuss how to back up other MS Outlook data such as contact information and more. Finally, you'll learn about a few MS Outlook add-ins that can help you backup Outlook emails.
Guide to Inbox Zero Mastery (Free eBook Download)

Before going further in learning how to use Microsoft Outlook, be sure to grab our Free eBook: The Ultimate Guide to Inbox Zero Mastery. It's packed with inbox organization strategies and killer tips for managing all your incoming email more efficiently.
1. Why You Need Outlook Backups

You may not think about backing up your MS Outlook email messages, but you should. What if you lost access to your email account? All the email information stored in your account would be gone. If you use your Outlook email account for business, you don't want that to happen
Most commonly, people lose access to their email accounts when they forget the password. Of course, there are usually steps you can take to regain access to your email, but those can be time-consuming.
The other reason people lose access to their email accounts is because their account has been hacked. If your Outlook email account was hacked, it may be difficult for you to gain access again. If this happens and you've got a current Outlook backup file, at least you'll have your email data that you backed up.
Don't forget to back up your most important emails separately. Some emails contain information that's vital your business: a contract, a proposal, or even an invoice. You'll want to take extra measures to make sure that you've got an extra backup of any emails with crucial business documents or discussions. We'll show you exactly how to do that in the steps that follow.
2. How to Back Up Outlook Emails Quickly (Video)

Learn how to back up Outlook Emails quickly using PST Files in this short video: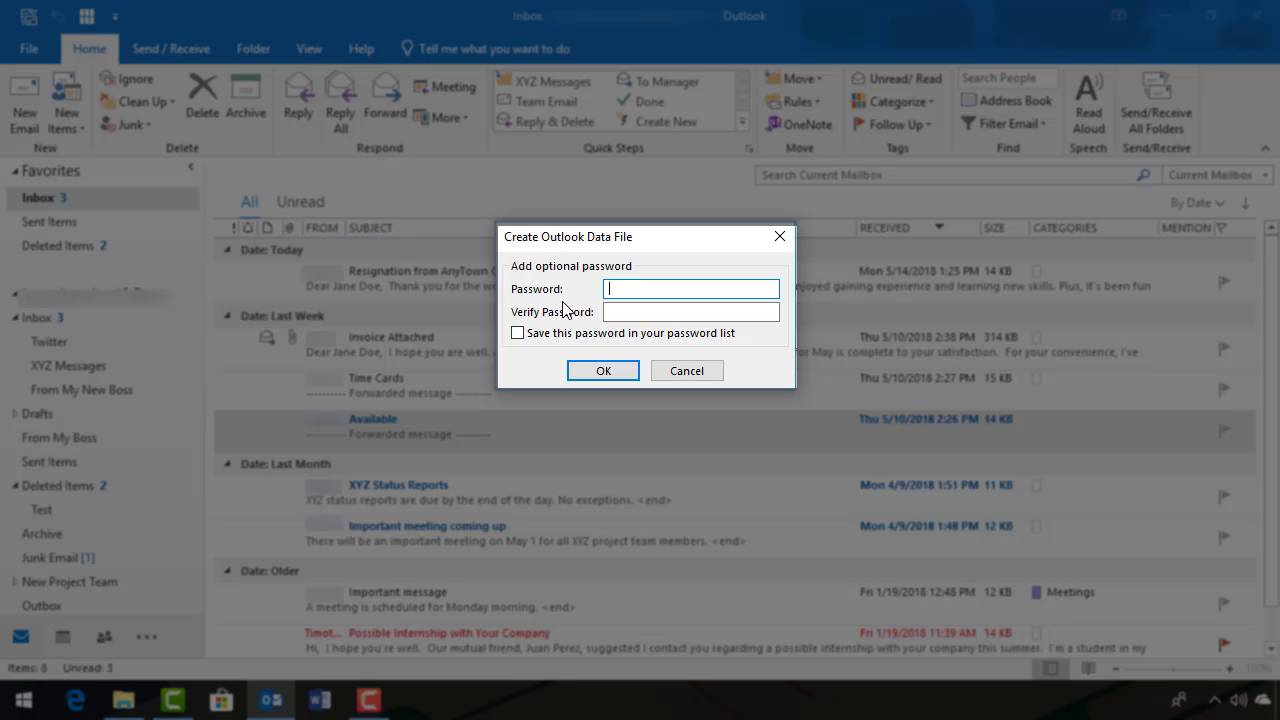 3. How to Back Up Outlook Email: Six Methods

Now that you've learned the importance of backing up your Outlook email information, it's time to start learning how to do it. In this section I'll show you six methods to back up your Microsoft Outlook email:
Method 1. How to Export Emails from Outlook to PST format

The first way of backing up your MS Outlook email is by exporting email messages to Outlook PST format. Before we learn how to export Outlook information to this format, you may wonder: what is the Outlook PST file format and how is it different from an Outlook OST file format?
A file with a .pst extension (PST format file) is an information file used by Microsoft Outlook and Microsoft Exchange. Examples of the types Outlook email data you can save to a PST format file include: 
Email folders
Contact information
Address information
Outlook Calendar information

You can access an Outlook PST file from the computer or server where the file is saved. You can also copy a PST format file to another location.

A PST file is different from an .ost extension file (OST file). The Outlook OST file format allows you to work offline with a copy of a file stored on your Microsoft Exchange account. The file is synched up when you go back online.

Step 1. Access the Import and Export Wizard

Now let's learn how to create a backup Outlook PST files manually. Start in your Outlook inbox, and click the File tab. The Account Information screen appears:

Click the Open & Export option:

Next, click the Import/Export button. The system returns to your inbox and the Import and Export Wizard displays:

Step. 2. Use the Wizard to Export Emails From Outlook to PST File Format

Select the Export to a file option and then click the Next> button at the bottom of the wizard. The Wizard prompts you to select a file type:

Choose the Outlook Data File (.pst) option. Click the Next> button. Next, you're prompted to select an Outlook folder that you want to export data from:

Use the scrollbar to move up and down to see all your current Outlook folders. When you've selected a folder, click the Next> button.
Note: You can also choose to backup Outlook contacts, calendar information, notes, and tasks from this prompt.
Step 3. Select the Path Where You Wish to Store Your PST Backup
On the next prompt, browse to find a path to export the Outlook data file to. Or, you can save the file in the default path. If you save the file in the default path, you'll need to specify whether you want to allow duplicate items. You can also change the file name on this prompt, which is a good idea, because the file name default is: backup.pst. Remember the file name and Outlook PST file location you selected so that you can find your Outlook PST file later.
When you've made your selections, click the Finish button at the bottom of the prompt. You're prompted to create a password. This is an optional step, but it could be important if the data you're backing up is sensitive and needs to be protected.

After you've exported your selected folder to a PST file, you can check to see whether the file is there by opening the folder in File Explorer.

Step 4. Find the Outlook PST File and Copy or Move It to a New Location

After you've created your backup email file, you can open File Explorer and find the Outlook backup file you just made. You'll recognize it because the file Type will be Outlook Data File:
To move a file, simply click on it and drag it into the folder where you want it to be.
To copy a file, click on the file you wish to copy and press CTRL + C. Open the folder where you wish the file to be and press CTRL + V.
In this case, let's move some files to a new folder I just created called Testing. After you've moved the file to a new Outlook PST file location, open File Explorer to see your Outlook backup file:
Step. 6. Access Your Backup Email File From Outlook

It's great to be able to create backup files, but they won't truly helpful to you until you can open them again in your email account. For this exercise, I've created a backup email file called XYZProject.pst using my other Outlook email account. I'm going to open that file from my work Outlook email account.

To access your Outlook backup file, start from the Outlook Account Information screen. Click Open & Export > Open Outlook Data File.

File Explorer opens to the default location. If you've saved your outlook backup file elsewhere, you'll need to navigate to the location where your backup PST file is stored. For this example, I need to navigate to the Testing folder I created earlier:

Click on the file, then click Open. The system returns to your inbox.
In the navigation panel on the left, you'll see a new category at the bottom of the panel, below the archives: Outlook Data. This category contains the information from the backup folder you just opened. To open the file and access your data, click on the arrow to the left of it. Since the folder I archived was a subfolder of my Inbox folder when I archived it, that structure was preserved. I also have to click the arrow to the left of the word Inbox.

You can now open the folder to see the emails inside. You can also drag-and-drop the messages to other email folders.

Method 2. How to Drop and Drag Emails to File Explorer Folders

A fast and easy way back up a single email message is to drag it from your Outlook inbox into a File Explorer folder.

Start by opening your Outlook folder that contains the message you want to back up. Then open File Explorer to the folder where you want to store the backup email message:

Click on the email message and drag it into File Explorer to create a backup email copy:
As you can see, the email we copied into File Explorer is now in my folder as an Outlook Item (not a PST File). If you double-click the item from within File Explorer, the message opens in Outlook. 
Method 3.  How to Save Outlook Emails as HTML or TXT Files
Another method of backing up an Outlook message is to save the email as an HTML or TXT file. This file can then be stored in the cloud. You can even attach the file to an email message, if you want to.

Start by opening your Outlook inbox, click on the email message you want to back up to open it. In the example below, I'm backing up an email about an invoice:

Note: The invoice attachment won't be backed up using this method. To back up the attachment, download it, make a copy, and rename the copy.

Click on the File tab at the top of the screen. The following screen displays:
On the left, click the Save As option. File Explorer appears. Select the path where you want to store your back up email message. At the bottom of the screen, click the arrow to the right of Save as type. You'll see the following drop-down menu with file type options:

Select the file type you want to save the email in.
Method 4. How to Forward Email to Another Email Account

If you've got another email account, a quick and convenient way to create a backup copy of an email is to forward it to your other email address. One advantage of this method is that the attachment will also be forwarded.

Start by opening the Outlook email you want to back up.

Click the Forward icon in the Ribbon.

Type one or several email addresses where you want to send the backup email copy.
Method 5. Back Up Outlook Email by Screen Capture

If you've got screen capture software loaded on your computer, you can take a screenshot as backup to show that you received a particular email (and what that email said).

This method of email back up can be particularly helpful when dealing with technical support if you want to reference an email you received from them.

Method 6. Use an Email Backup Add-In
We've given you a lot of Outlook email backup methods. But, there are also a lot of software tools that can help you with Outlook email backups. Here's a description of just a few of them:
Learn More About How to Use Outlook Email Effectively
Whether you're a business owner or a business professional, email is an important communications tool. It's important to make sure your emails are as professional as possible. These tutorials can help:

If you need to become better at using MS Outlook, check out the rest of our handy Outlook Tutorials in the series: What Is MS Outlook? (Pro Email Software Tool).

To better manage your email inbox and keep your incoming emails organized, don't forget to sign up to the Tuts+ Business newsletter and grab our free eBook: The Ultimate Guide to Inbox Zero Mastery. It's packed with inbox organization strategies and killer tips for managing all your incoming email more efficiently.
Why Not Back Up Your Important Outlook Emails Today?
Now that you've learned how to create MS Outlook backup files, you're ready to set up your system to back up your Outlook emails. You'll be able to access your data even if you lose access to your Outlook account. So, what's keeping you from protecting your Outlook business information? Why not set up your Outlook backup today?
Want a weekly email summary?
Subscribe below and we'll send you a weekly email summary of all new Business tutorials. Never miss out on learning about the next big thing.
Sign up
Envato Tuts+ Senior Associate Editor Business, North Texas, USA
Laura Spencer is our Senior Associate Business Editor here on Tuts+. She uses her business knowledge to help a wide variety of audiences. By sharing her knowledge in well-researched articles, she hopes to help others do well. Laura graduated with a degree in business. Besides Tuts+, Laura's work has been published on many sites including Vandelay Design Blog, FreelanceM.ag, Freelance Folder, Lubbock Avalanche Journal, Woman's Day, LifeHacker, and more. She's also written over 40 business study guides for continuing education companies. Laura has also managed her own writing business since 2002. Before that, she worked in corporate America as a technical writer and also as a marketing writer. As a lifelong learner, Laura continues to seek out better information to help her readers. Check out her latest ideas on her blog.
Start your 7-day free trial*
*All Individual plans include a 7-day free trial for new customers; then chosen plan price applies. Cancel any time.