Laura Spencer
You pressed Send on that Gmail message before you really wanted to. Now your boss has a message filled with typos. You're sunk, right?

Not necessarily. Not if you act quickly. With Gmail there's a very small window of time during which you can recall a sent email message.
In this tutorial, you'll learn how to recall a Gmail message you just sent. 
Why Take Back an Email?
If you've ever wished you could recall an email, you're not alone. Probably everyone who has a Gmail account has wished, at one time or another, that they could recall a message.
Here are just some of the scenarios where you might want to unsend a Gmail message:
It was an incomplete message you sent accidentally.
It's a message with a typo or an error.
The message was sent during a burst of emotion and you immediately regretted it.
You copied the wrong people on the message.
The information you are including in the email changes just as you press Send.
You clicked Reply All instead of Reply when answering a message.
I'm sure you can think of your own examples when you wished you could unsend an email message.
Although Gmail does have an Unsend feature, it's important to remember that there are some limits:
Strict Time Limitation - You define the period of time during which you can unsend a message (up to 30 seconds). What this means is that you can't wait a day and then try to recall a message you sent yesterday.
The Feature Must Be Enabled - To use the Unsend feature you will need to go into the Settings menu and enable it. If you do not enable the feature, it cannot be used.

Still, despite the limits, the Unsend feature is a nice option to have. I recommend enabling it. You never know when you want to recall a Gmail message.
How to Recall a Gmail Message (Quick Video Screencast)
Watch this quick screencast tutorial to learn the basics of how to recall a Gmail message quickly: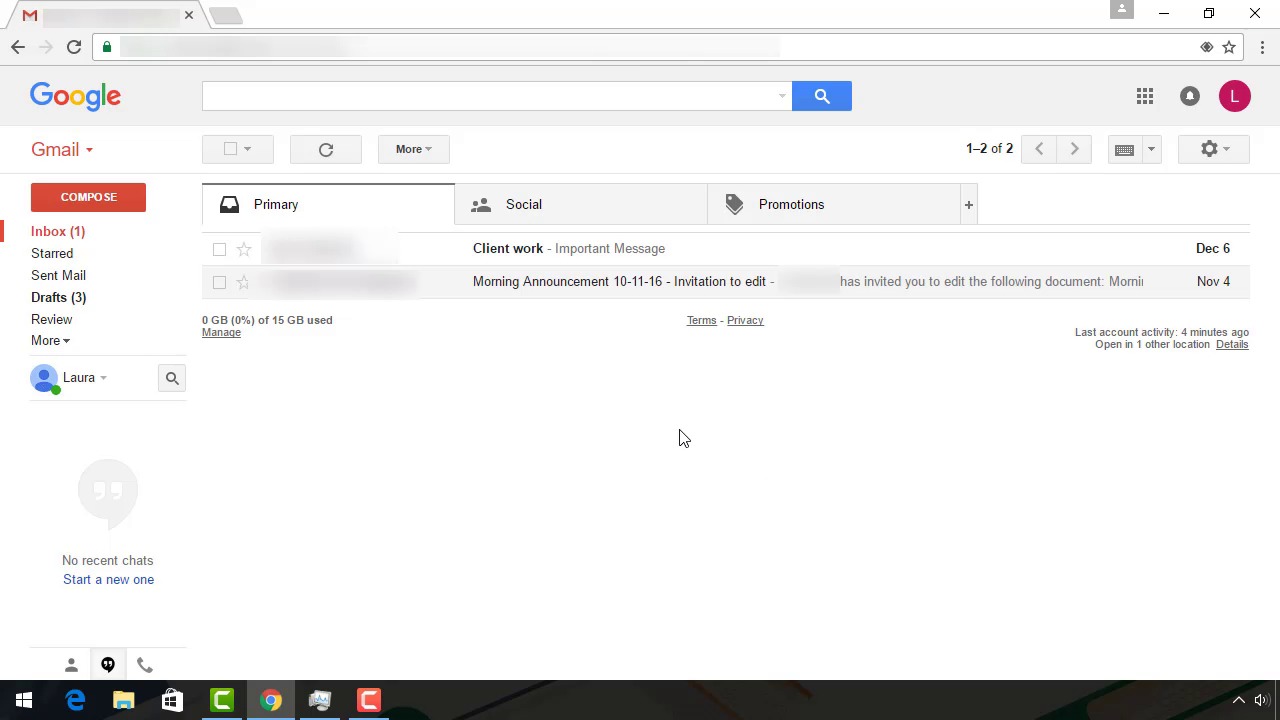 Or walk-through the detailed written steps below for more information on how to unsend an email message in Gmail.
How to Quickly Recall a Sent Email Message
It's not difficult to recall a sent Gmail message if you know how. Here are the steps you need to know:
Step 1. First Open Your Gmail Settings
Start with your main Gmail window open.

Access the Settings drop-down menu by clicking the Settings icon (it looks like a gear) on the upper right of the window.

Click the Settings option from the drop-down menu that displays. The Settings window appears.
Step 2. Set Undo Send and Time Frame for Recall
In order to recall an email in Gmail you need to turn on the Undo Send feature and set how it functions. Let's do that now. 
From the Settings window, use the scroll bar on the right to scroll down until you can see the Undo Send option.
Click the check box next to the Undo Send option to enable it. Click the down arrow to select the cancellation period from the drop-down menu.
Choose between 5, 10, 20, or 30 seconds. The choice you make here indicates how many seconds you have after clicking the Send button to recall the message.
Scroll to the bottom of the Settings window and click the Save Changes button. 
Step 3. Write an Email
Now that you've enabled the Undo Send feature, you're ready to recall a message.

Start by composing a new message. Click the Compose button in the upper left of the main Gmail window to open a new Gmail message.

Type your message as usual. When you are ready, click the Send button in the lower left of the New Message box.
Step 4. Click Undo in the Prompt
While the message is sending, you'll notice a yellow prompt at the top of the window that includes an Undo hyperlink.
Click the Undo link to recall the Gmail message within the time frame you defined in the Settings window.
The message is recalled. The New Message box reopens with your message inside.

The message you recalled does not appear in the Sent Mail label. However, it does appear in the Drafts label.
Caution: If you exceed the time frame you defined the Undo link will disappear. You will not be able to recall your message.
Step 5. Correct Your Errors
Now that you've recalled the message you are able to edit it in the New Message box.
Step 6. Resend Your Email Message
When you've corrected your message, use the Send button at the bottom of the New Message box to send your message.
After your message is sent and the time to recall it elapses, your message disappears from the Drafts label and appears in the Sent Mail label.
Wrap Up and Next Steps
If you act quickly, you can recall a sent Gmail message. The feature is not difficult to use once you understand it. Make sure you turn this handy feature on now, so your Gmail is set up, just in case you ever need to unsend an email. 
For more information on how to use Gmail, refer to the Envato Tuts+ series on How to Use Gmail (Ultimate Beginner Guide), or jump into one of these helpful tutorials: 
Learning to work better in Gmail will help you be a whole lot more efficient. It's worth spending a little bit of time now, to save even more going forward.
Want a weekly email summary?
Subscribe below and we'll send you a weekly email summary of all new Business tutorials. Never miss out on learning about the next big thing.
Sign up
Envato Tuts+ Senior Associate Editor Business, North Texas, USA
Laura Spencer is our Senior Associate Business Editor here on Tuts+. She uses her business knowledge to help a wide variety of audiences. By sharing her knowledge in well-researched articles, she hopes to help others do well. Laura graduated with a degree in business. Besides Tuts+, Laura's work has been published on many sites including Vandelay Design Blog, FreelanceM.ag, Freelance Folder, Lubbock Avalanche Journal, Woman's Day, LifeHacker, and more. She's also written over 40 business study guides for continuing education companies. Laura has also managed her own writing business since 2002. Before that, she worked in corporate America as a technical writer and also as a marketing writer. As a lifelong learner, Laura continues to seek out better information to help her readers. Check out her latest ideas on her blog.
Start your 7-day free trial*
*All Individual plans include a 7-day free trial for new customers; then chosen plan price applies. Cancel any time.