Read Time:
9 mins
Languages:
Apple's Keynote presentation software offers ease-of-use and powerful features. It has quickly gained popularity as a way to build powerful visual aids that support your presentation.
Images are found in many presentations as a way to add visual interest or support your speaking points. In this tutorial, you'll learn how to work with images in a Keynote presentation.
You can use this tutorial as the complete guide to working with images in Apple Keynote. You might be surprised at how much you can do with images right inside of Keynote. We'll also cover how to create Keynote backgrounds using images. Let's get started.
Guide to Making Great Presentations (Free eBook Download)
Also, be sure to grab our free eBook: The Complete Guide to Making Great Presentations. It'll help you master the presentation process, from: initial idea, through to writing, design, and delivering with impact.
Now let's get started with this tutorial, to learn all about how to add pictures to Keynote and use images for backgrounds.
Watch & Learn
In this screencast, you can watch me work with images in a Keynote presentation. I'll show you a variety of skills that you can use to add, edit, and customize images in Keynote. You'll also learn how to create Keynote backgrounds with image files.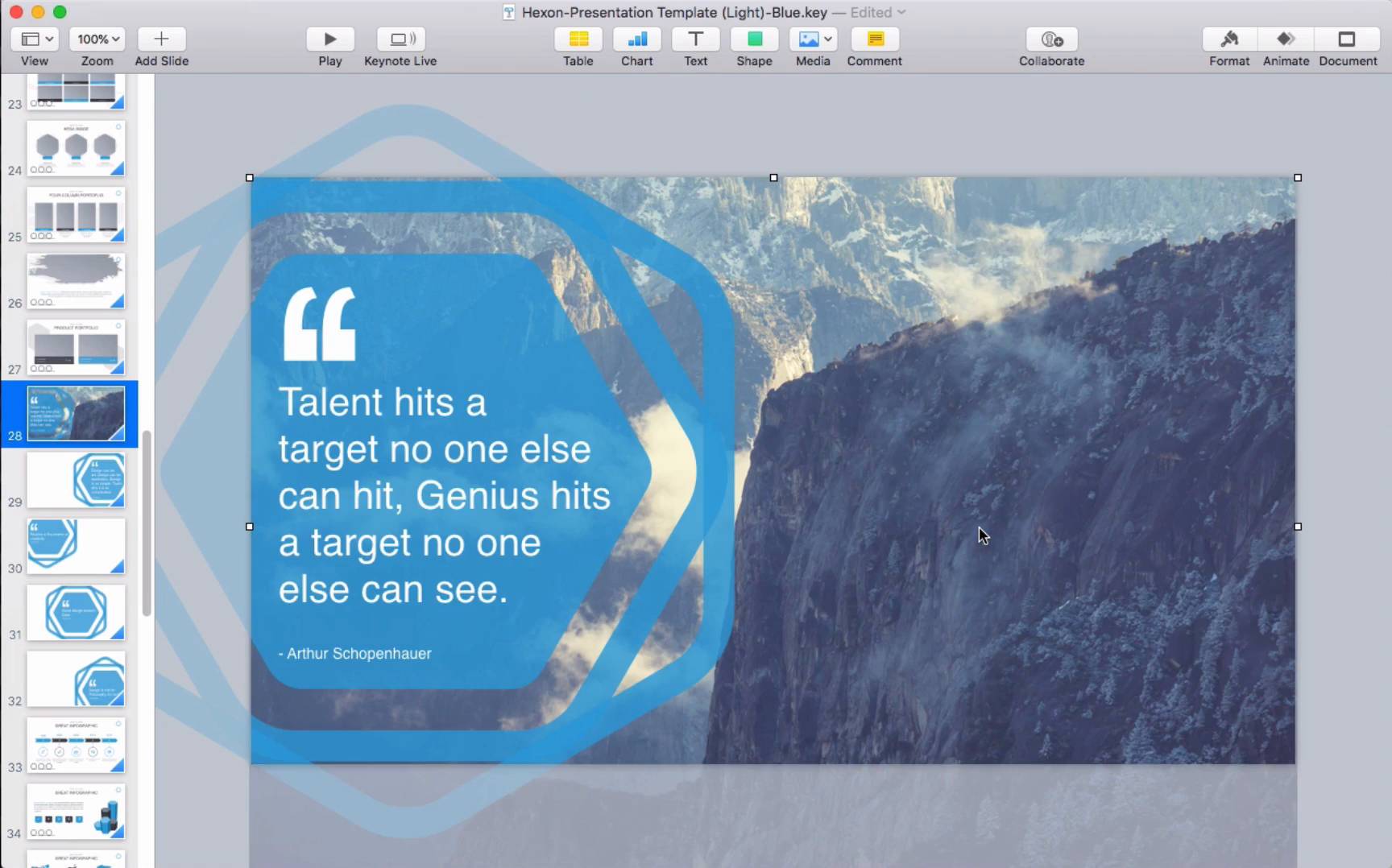 Want to see more? Keep reading the tutorial to see screenshots and a step-by-step guide to help you get the most of images in Keynote.
How to Add Pictures to Keynote
It's easy to add images to Keynote presentations. Let's start off with a simple example of taking an image file that's already saved on your computer and dropping it into a Keynote presentation.
To add a new image, click on the Media button on the menu at the top, and click on Choose. (You can choose the Photos option, but it'll only browse through your Photos that are stored in your Apple Photos library.)
Now, you'll see a standard file browser window. Just select your photo and click Insert to add it to your Keynote slide. That's all you need to do in Keynote to insert an image!!
Another way that you can add images to Keynote is to simply use the clipboard. If you don't want to save an image before adding it, you can simply copy it to your clipboard and choose Edit > Paste, or use the keyboard Cmd + V to paste an image from the clipboard. This eliminates the step of saving the image.
Where to Find Images
It's important to be careful about rights usage when you add images to your presentations. You can't just Google for images to use—you've got to ensure that they're licensed properly and you've got the right to use them.
Using unlicensed images can run afoul of copyright law and lead to a lawsuit from the rights holder. Sure, it's unlikely that this would ever create an issue. But the risk simply isn't worth taking. 
If you know your Keynote presentation needs images, you might be wondering where to source great looking stock images. Typically, I use Envato Elements for unlimited access to ultra-high-resolution stock photos. As an Elements subscriber, you'll get access to over 500,000 stock photos that are easy to browse, source, and license.
Elements makes it easy to browse, download, and license images that you can use for your Keynote presentations (or any other purpose!)
Thanks to the high-resolution and high-quality images, Elements is the perfect place to source images you can use for Keynote backgrounds. And even if you stop subscribing, you'll still have access to the images you licensed while subscribed. 
How to Use Image Galleries
You don't have to use a single image on each slide. Instead, use an Image Gallery to add multiple images in the same box in Keynote. 
To add a new image gallery, go to the Insert > Image Gallery option on the Keynote menu. Then, you'll see a placeholder box that serves as the Image Gallery. My favorite way to add images is to simply drag and drop them from somewhere on your computer on top of the image 
As you can see in the screenshot below, an Image Gallery will have arrows to switch between images. You can also resequence the images in the format option on the right side of Keynote while you've got it selected.
An Image Gallery is perfect if you're going to send your presentation to others and let them view it at their own pace. You don't have to include a single slide for each and very image you want to include—drop them all in a single gallery instead.
How to Apply Image Effects
You don't have to use a separate image editing app like Photoshop or Pixelmator to adjust images. Keynote's built-in options are often adequate enough to make simple adjustments and skip the step of opening up the image in an editor.
With an image selected, click on the Format option in the upper right corner. You'll see a new window open up that allows you to adjust and work with images. There are plenty of tools that you can use to apply to an image, so let's take a look at a couple of my favorites.
The first of these is cropping, which you may need to use to refine the section of the image in a presentation. Make sure that you're on the Image tab, then click on Edit Mask. 
Then, just grab the handles on the edge of the image and adjust it to only show the part of the image that you want remaining. Click on Done, and you'll lock in the new crop. The Keynote crop image tool is handy for selecting only the part of an image you want to use.
Now, let's switch to the Style tab. Try out options like Borders and Shadows to refine the look of an image, or adjust the Opacity to make the image more transparent.
Set an Image as a Keynote Background
Let's look at how to create Keynote backgrounds using image files. A well-placed image background can set the stage beautifully for key points on a slide.
The simplest way to add an image as a background is to start by following the same steps as shown above to add the image to the Keynote file.
Now, right click on the image and choose Send to Back to put the image file underneath all of your content.
Now, you can see all objects on the slide on top of the image background. But, you can't really see the content clearly because of the lack of contrast as you can see in the screenshot below.
Click on the Format button to open up the settings to adjust the image. Make sure that you're working on the Style tab and reduce the opacity to a lower number so that the image is somewhat faded.
That's all there is to it. Just drop in an image, then adjust the opacity so that the content is still visible. A well-placed image sets the stage perfectly.
Add Images to Slide Masters
So, let's say that you want to add the same image to the background of each and every slide design. Instead of adding it to slides one-by-one, you can add it to the slide master, which is like the slide template that controls the overall design of the slide.
Think of a Keynote slide as being assembled in layers. At the bottom, you've got the slide master. The slides sit on top of the master. You add objects like text, shapes, and other content to the slide itself. But, if you want to add something to multiple slides, you can add it to the master instead.
To adjust the master, click on the view button in the upper left corner and choose Edit Master Slides.  
Now, you're working on the master. I'm going to simply add an image to it with the same steps we learned earlier. 
Then, I'll apply some basic adjustments to it that'll make it perfect for a background, pulling the opacity and saturation down so that it blends in perfectly with the slide. Check out the screenshot below for an example of toning an image down:
When you finish editing the slide master, click on Done. You'll switch back to the regular slide view, and the adjustment has been applied to all slides that use the same slide master.
Again, the purpose of adjusting the slide master is to tweak multiple slides at the same time. Adjust the master for consistency and batch updates.
Learn All About How to Make Great Presentations (Free eBook)
Take the knowledge you gained in this tutorial further with our new eBook: The Complete Guide to Making Great Presentations. Grab this PDF Download now for Free with your subscription to the Tuts+ Business Newsletter. 
Recap & Keep Learning
Images are a must when it comes to building engaging presentations in Keynote. This guide contains all of the information needed to master images in Apple's Keynote presentation app.
Check out these Keynote tutorials to learn more about Apple's easy-to-use presentation aid app: 
How do you work with images in Keynote presentations? If you've got a follow-up question or a tip to share, make sure to check in with a comment below.
I believe that life is too short to do just one thing. In college, I studied Accounting and Finance but continue to scratch my creative itch with my work for Envato Tuts+ and other clients. By day, I enjoy my career in corporate finance, using data and analysis to make decisions. I cover a variety of topics for Tuts+, including photo editing software like Adobe Lightroom, PowerPoint, Keynote, and more. What I enjoy most is teaching people to use software to solve everyday problems, excel in their career, and complete work efficiently. Feel free to reach out to me on my website.
Weekly email summary
Subscribe below and we'll send you a weekly email summary of all new Business tutorials. Never miss out on learning about the next big thing.
Update me weekly
Looking for something to help kick start your next project?
Envato Market
has a range of items for sale to help get you started.