Andrew Childress
Darle Formato a una hoja de cálculo es realmente añadir estilo para que tus datos sean fáciles de leer e interpretar. Cuando a una hoja de cálculo se le ha dado formato, puedes echar un vistazo a los datos y entender más rápidamente que con un archivo sencillo.
Usar formato en Google Sheets facilita la lectura y la colaboración en las hojas cálculo. Aquí hay algunas herramientas de formato que cubriremos en este tutorial:
Negrita: Las celdas en negritas llaman la atención del lector y les deja saber que los datos en una celda seleccionada son más importantes que las celdas que están alrededor.
Alienado: Esto te permite poner el contenido a la izquierda, derecha, o centrado , lo que crea un espacio en blanco natural que hace a la hoja de cálculo más fácil de leer.

Ajustar el Texto: te ayuda que grandes bloques de texto se adecuen en una celda si tener que extenderse a otras celdas adicionales.
En este tutorial, voy a mostrarte todas las habilidades esenciales que necesitas en cuanto a darle formato a las hojas de cálculo. Aprenderás a editar en Google Sheets con el formato esencial para lectura fácil.
¿Cómo Editar en Google Sheets? (Mira y Aprende)
En el video de abajo, echaremos un vistazo sobre cómo lidié con el formato en una hoja de cálculo simple en Google Sheets. Tendrás la oportunidad de ver cómo pienso acerca de añadir estilos y formato para enfatizar las celdas.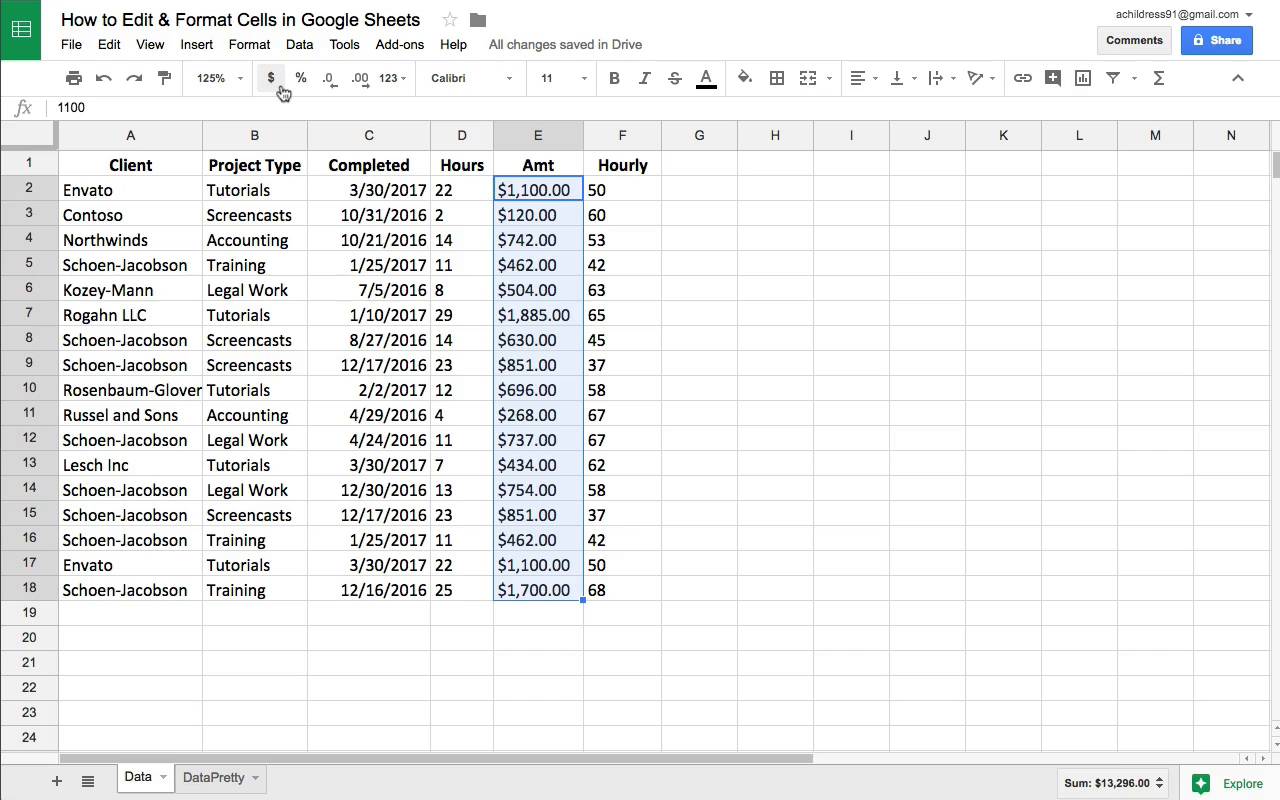 Sigue leyendo para ver una guía ilustrada para crear Hojas geniales.
¿Cómo Darle Formato a los Datos?
Una de las partes más importantes del formato de las celdas de Google es asegurarse de que tus datos tengan el formato correcto para el tipo de data que tendrá. Aunque sean valores numéricos, supongamos cantidades en dolar, y el número de elementos comprados, los quieres en formato diferentes.
Esta es la razón por la cual el formato importa. Cuando veo a los números, debo al menos tener una idea básica de qué tipo de datos podemos estar hablando. Vamos a ver a algunos retoques que puedes aplicar a los datos para hacerlos más legibles.
1. Formato de Moenda
La hoja de cálculo a veces contiene información financiera, para que tenga sentido que el formato muestre eso. Mientras "$504.53" se refiere claramente a la cantidad de moneda, "504" en una celda no es de igual manera intuitivo. Eso es porque el número de formato de la moneda es tan útil.
Para darle formato a los datos, comienza dando clic y resaltando los datos a los cuales quieres aplicar al formato. En el ejemplo de la captura abajo, ambas columnas de "Amt" y "Hora" se pueden beneficiar del formato de moneda. Luego, da clic en el signo del dolar arriba de los datos para aplicar el formato de moneda a toda la selección.
Este es un ejemplo perfecto de cómo el formato hace una hoja de cálculo más significativa. El símbolo de moneda le da pistas al usuario que esas cantidades son más que números simples.
Para nuestros lectores en otras regiones, no olvides el hecho que puedes cambiar el símbolo de moneda que es presentado. Con tus datos seleccionados, da clic en el icono 123, y luego escoge Más Formatos > Más Monedas como puedes ver en la captura de abajo.
Escoge otro símbolo de moneda para localizar tus hojas de cálculo de Google. Solo recuerda que esto no convierte las cantidades, simplemente cambia el símbolo.
Para nuestros lectores en otras regiones, no olvides el hecho que puedes cambiar el símbolo de la moneda que es presentada.
2. Puntos Decimales
Puedes también querer retocar el número de puntos decimales que se muestran en tu hoja de cálculo. Hay dos escenarios claves que vienen a ser útiles:
Tus datos tienen cantidades decimales en ellos, pero no quieres mostrarlos en la celdas solo por simplicidad. (Por ejemplo, ¿a quién le importa 24 centavos al final de $1,000,000 en una celda?)
Los puntos decimales se muestran en tus datos, pero estás trabajando con datos que no deben ser en fracciones. (0.4 personas no pueden terminar con un proyecto, pero alguien puede tener 40% terminado)
En cualquiera de los casos, puedes retocar el número de decimales que estás mostrando en la hoja de cálculo.
Esto ilustra un concepto importante acerca de las hojas de cálculos: los dato detrás de las escenas pueden diferir de cómo los ves. Puedes siempre dar clic en una celda y revisar la barra de formula, como puedes ver en la captura debajo, para revisar el valor real de una celda.
Para cambiar el número de decimales que ves mostrados en una celda, encuentra los iconos resaltados en el captura de abajo, solo derriba de la hoja de cálculo. Resalta las celdas que quieres retocar; luego da clic en la celda apropiada para incrementar o disminuir el número de puntos mostrados.
No olvides que puedes también usar uno de los estilos de comienzo del número desplegable, para saltar el estilo de las celdas una por una.

3. Formato de Fecha
Digamos que tienes fechas en un formato como "2/10/2018". ¿Qué si quieres mostrarlo como "10 de febrero de 2018"?
No tienes que volver a poner la fecha como texto en el formato deseado. Puedes simplemente cambiar el formato y cómo tus datos se presentan. Resalta tus datos de fecha, y luego accede a Formato > Número > Más Formatos > Más Fechas y formatos de tiempo... como puedes ver en la captura de abajo.
Esto abrirá el menú que te permite personalizar la manera en que aplicarás formato a tus datos de fecha. Hay muchas opciones pre-diseñadas entre las cuales puedes escoger de la lista como se muestra en la captura de abajo.
Usa una de los formatos de fecha como un punto de comienzo; luego retoca usando un menú desplegable para el estilo exacto que estás buscando.
¿Cómo Alinear Datos en Google Sheets?
La alineación de texto describe qué borde con el cual el contenido de la celda se alinea. Para aplicar alineación, simplemente resalta el texto, y usa la barra de alineación que muestro en la captura de abajo.
Valores numéricos son a veces fáciles de leer cuando se alinea a la derecha, mientras que el texto es más fácil de leer cuando está alineado a la izquierda.
¿Cómo Darle Formato a las Hojas de Cálculos con Bordes?
Los bordes, las líneas aplicadas a los bordes de las celdas de Google pueden ayudarte realmente a separar tus datos y hacerlos destacar de los demás.
En el ejemplo de abajo, me verás aplicando bordes, resaltando los datos y escogiendo un borde desde la barra de opción. Los iconos representan una opción de borde en el cual puedes aplicar los datos, ya sea que quieras dibujar líneas entre cada una y entre cada celda, o simplemente poniendo alrededor tus datos en los bordes exteriores.
Pienso que los bordes tienen una gran manera de separar los datos y hacerlos legibles. También me gusta usar bordes cuando tengo una caja de datos separados de otros datos, tales como casillas de "aportes" donde en los datos claves se ha usado formulas.
Consejo: ¿Cómo Usar el Formato de Pintura?
Hasta este momento, has aplicado formatos uno por uno, celda por celda. Una solución que te ahorrará muchas horas de aplicar formatos es el formato de pintura. Gracias a esta característica, puedes tomar un formato y aplicarlo a otras celdas.
Para comenzar a usar el formato de pintura, comienza dando clic en una celda de la cual quieres copiar el formato. Luego, encuentra el icono de una brocha en el menú, y da clic en él.
Ahora, simplemente da clic y arrastra sobre cualquier celda que quieras que tenga el mismo estilo. Esas celdas tomarán el mismo estilo de celda.
Recapitulación & Sigue Aprendiendo
Google Sheets prueba una vez más que es más capaz de ser el reemplazo de las aplicaciones de hojas de cálculos, con muchas opciones de formato. Hemos aprendido cómo editar en Google Sheets y darle formato a las celdas. Recuerda que mientras estás aplicando formato, eso es todo acerca del contenido. Darle formato es solo la punta del iceberg que llama la atención en los lugares correctos.

Si este tutorial te interesó, sigue leyendo otros tutoriales:
¿Cuáles son tus retoques de formato favoritos? Déjame saber en la sección de comentarios debajo si tienes cualquier consejo sobre cómo aplicar formato de Google Sheets.
Want a weekly email summary?
Subscribe below and we'll send you a weekly email summary of all new Business tutorials. Never miss out on learning about the next big thing.
Sign up
I believe that life is too short to do just one thing. In college, I studied Accounting and Finance but continue to scratch my creative itch with my work for Envato Tuts+ and other clients. By day, I enjoy my career in corporate finance, using data and analysis to make decisions. I cover a variety of topics for Tuts+, including photo editing software like Adobe Lightroom, PowerPoint, Keynote, and more. What I enjoy most is teaching people to use software to solve everyday problems, excel in their career, and complete work efficiently. Feel free to reach out to me on my website.
One subscription. Unlimited Downloads.