Andrew Childress
Cuando apropiadamente, animación en una presentación puede agarrar y sostener la atención del público. En la Keynote de Apple, hay una variedad de características de animación que mantendrá su presentación con energía.
Magic Move es una característica clave específicos que puede utilizarse para crear animaciones Slicks que saltan entre las diapositivas. Con Magic Move, un objeto puede animar suavemente entre dos portaobjetos. Cuando avanzas entre las diapositivas, ese objeto será animar suavemente, saltando a un diferente tamaño y posición en la siguiente diapositiva.
Echemos un vistazo a los distintos tipos de animaciones:
Las transiciones entre diapositivas de Keynote son las animaciones que jugar cuando saltas de una diapositiva a la siguiente.
Animaciones de objeto permiten objetos moverse en una sola diapositiva.
Magic Move es lo mejor de ambos mundos, como objetos pueden saltar entre las diferentes diapositivas animaciones suaves.
Agregar animación a una presentación de Keynote no tiene que ser difícil. Vamos a aprender a usar magia mover en Keynote en este tutorial.
También, asegúrese de agarrar nuestro eBook gratis: La Guía Completa para Hacer Grandes Presentations. Esto le ayudaremos a maestro el proceso de presentación, de: inicial idea, a través de la escritura, diseño y entrega con impacto.
Ahora entremos en este tutorial, para aprender todo sobre cómo utilizar la Magic Mover en Keynote.
Ver y Aprender
¿Quieres aprender a usar Keynote Magic Move  Si deseas el screencast para ver esta función en acción. Si usted no está seguro de por qué desea utilizar esta característica, asegúrese de jugar el screencast para visualizar cómo magia mover diferencia de efectos de animación diapositiva.
Asegúrese de comprobar el resto del tutorial para ver a una guía paso a paso para usar Keynote Magic Move.
¿Qué Es Magic Move de Apple Keynote?
Función de Magic Move de Keynote crea unos slick transiciones entre diapositivas Keynote para los objetos en las diapositivas. Con una transición Magic mover, puede crear animaciones a través de diapositivas.
Usted podría han trabajado con animaciones en el pasado. Animaciones sencillas pueden mover lo que está en una diapositiva de un lugar a otro, por ejemplo. Usted podría también han trabajado con transiciones entre diapositivas de Keynote, los efectos que al cambiar entre diapositivas en una presentación.
Discurso de apertura ofrece un híbrido entre estas dos animaciones con Keynote Magic Move. Como moverse entre diapositivas, objetos pueden crear una hermosa segue que realiza la consistencia a las diapositivas posteriores.
Cómo Utilizar Magic Move Para las Transiciones Entre Diapositivas de Keynote
Aunque Keynote Magic Move crea un efecto fresco, no es difícil de usar si usted sabe qué hacer. Siga los pasos siguientes para agregar la magia mover para su presentación:
1. Duplicar una Diapositiva Existente
Para utilizar Keynote Magic Move, primero tendremos que duplicar una diapositiva existente. Empezar por seleccionar la miniatura de la diapositiva en la barra lateral de la aplicación. En el lado izquierdo de la aplicación, verás una miniatura de cada diapositiva en la cubierta y la creación de un duplicado es el primer paso para generar una animación Magic Move.
Luego, pulsa Cmd + D en tu teclado, o haga clic derecho sobre la miniatura de la diapositiva y elija Duplicar. Usted verá una diapositiva idéntica a la activa en una barra lateral.
2. Animar un Objeto
Ahora que has duplicado el tobogán, saltar a la primera diapositiva (la original). Haga clic en el objeto que desea animar entre dos diapositivas y luego asegúrese de que la opción Animar está abierta en la esquina superior derecha.
En mi ejemplo, voy a animar un logo con Magic Move. En la primera diapositiva, la insignia será a la derecha de la diapositiva, un lugar destacada. Entonces, quiero magia mover a la esquina inferior derecha de la siguiente diapositiva, cambiar el tamaño a una escala menor. Se trata de un efecto de deslizamiento suave que es fácil de crear.
Haga clic en el logo de la diapositiva original. A continuación, haga clic en Añadir un Efecto y escoge la Magic Move.
Ahora, pasar a la segunda diapositiva. Coge el mismo objeto en esa diapositiva y luego trabajar con él para hacer cambios y cambiar a su nueva posición en la segunda diapositiva.
En Magic mover, algunos de los ajustes puede intentar hacer incluyen:
Tamaño del objeto. Mágico movimiento puede achicar una imagen o un gráfico, así que cambiar el tamaño de la segunda diapositiva de verla animar el tamaño.
Posicionamiento. Como se ilustra en el ejemplo de logo puede mover el objeto en cualquier lugar de la diapositiva para animarlo sin problemas.
Estilo. Hacer trucos como cambiar la opacidad para ver el objeto se descolora o entrar en una visión más clara, por ejemplo.
En mi ejemplo, voy a mover a la esquina inferior derecha de la diapositiva. Yo voy también la escala un poco la esquina de la imagen y tamaño hacia abajo. Estos dos cambios se gestionan automáticamente mediante la función de magia mover.
3. Previsualice la Animación
Jugar ahora, una vista previa de la diapositiva haciendo clic en el botón de Play en la parte superior de Keynote. Aun cuando usted se desplaza entre diapositivas, se animará el único objeto que las diapositivas tienen en común entre ellos. Es una gran idea para utilizar magia mover algo clave como un logotipo, por ejemplo, como va a ser el foco de la transición. Mantenga esa consistencia entre diapositivas gracias a efectos de deslizamiento suave de magia mover.
En el clip video rápido a continuación, puede ver un ejemplo de magia mover en acción. El logo cambia de ser prominente en el lado derecho de la diapositiva, a ser subestimado en la esquina inferior derecha. Pero llevar ese logo entre diapositivas puede crear una imagen de marca fuerte y consistencia entre las diapositivas.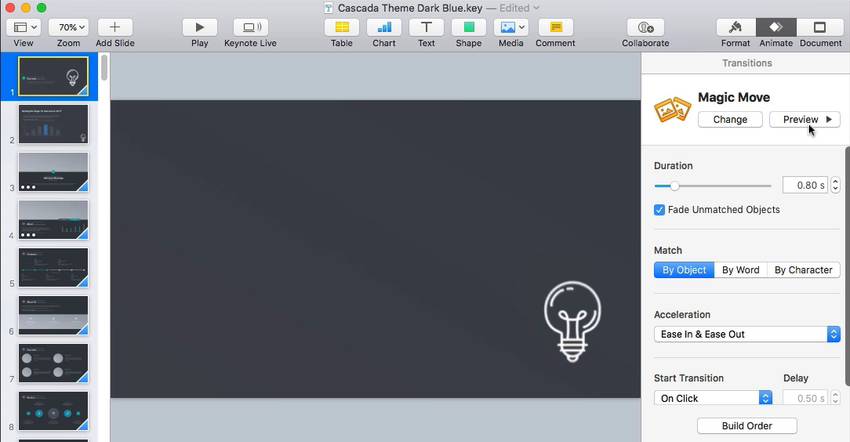 Básicamente, Magic Move hace todo el trabajo de animación para transformar el objeto de una diapositiva a la siguiente. Sin embargo usted ajusta el objeto en la diapositiva duplicada, Keynote hace el trabajo duro para animarlo suavemente como saltar a la diapositiva posterior.
¡Eso es todo! Puede proceder a construir el resto del diseño de la diapositiva como normalmente lo haría en la Keynote de Apple. Los únicos objetos que van animar entre diapositivas son las que ha aplicado la que hacia Magic Move.
4. Ajustes Opcionales de Keynote Magic Move
Mágico movimiento ciertamente simplifica cómo crear animaciones, pero también se puede modificar desde el panel de Animación. Control de cómo la magia mover juegos con dos parámetros claves: Duración y Desvanecer. Revisa la imagen de abajo para ver la colocación de esas opciones en el panel Animación.
En esta ventana, puede ajustar la duración de la animación. Controla cómo rápidamente se reproducirá la animación. Tirando a la izquierda mostrará una animación más rápida, mientras que tira de la barra a la derecha va a crear un tiempo de transición.
También, considere marcando los "Desvanecer objetos inigualables". Puesto que no llevan sobre la diapositiva entera como usted transición, esto es una manera elegante de descolorarse hacia fuera todo excepto un objeto específico.
5. Usar Magic Move en Texto
Caminemos a través de un ejemplo más del uso de Magic mover, esta vez para el ajuste de texto que se desplaza entre diapositivas. A comience con una diapositiva con el texto en él y luego duplicar la diapositiva en la barra lateral.
Ahora, volver a la diapositiva original y elija el cuadro de texto. Añadir la animación magia mover en el mismo menú animar y haga clic en Añadir un Efecto. Elegir la Magic Mover de la lista desplegable.
A continuación, volver a la segunda diapositiva y aplicar la transformación al cuadro de texto. En este ejemplo basado en texto, voy a modificar el tamaño de la fuente, así como la cara de fuente sí mismo.
Mucho igual que el logo original, la animación de magia mover encargará de todo lo demás. Verá el texto animado entre las dos diapositivas.
Siga Aprendiendo
Este tutorial se centra en Keynote Magic mover, una función de animación que enlaza fácilmente objetos entre dos portaobjetos. Esta función realmente crea un sentido de continuidad entre las diapositivas de la presentación por animar objetos entre ellos.
¿Cuáles son tus formas favoritas para crear animaciones en Keynote? ¿Usas  Magic Move o animaciones más simples para mover objetos entre diapositivas? Me avisan en los comentarios.
Ahora que has estudiado los pasos para la creación de animaciones de Keynote  Magic Move, ¿por qué no coge una plantilla de Envato Elements o GraphicRiver hoy y empezar a crear tus propias presentaciones Keynote con animaciones Magic Mover?
Want a weekly email summary?
Subscribe below and we'll send you a weekly email summary of all new Business tutorials. Never miss out on learning about the next big thing.
Sign up
I believe that life is too short to do just one thing. In college, I studied Accounting and Finance but continue to scratch my creative itch with my work for Envato Tuts+ and other clients. By day, I enjoy my career in corporate finance, using data and analysis to make decisions. I cover a variety of topics for Tuts+, including photo editing software like Adobe Lightroom, PowerPoint, Keynote, and more. What I enjoy most is teaching people to use software to solve everyday problems, excel in their career, and complete work efficiently. Feel free to reach out to me on my website.
One subscription. Unlimited Downloads.