Andrew Childress
Puedes pensar en PowerPoint como la aplicación que usas cuando hablas con una audiencia. Pero, ¿y si esa audiencia no puede estar en la misma habitación que tú?
Por eso es tan útil agregar narraciones en PowerPoint. Puedes grabar audio directamente dentro de PowerPoint y reproducirlo mientras el espectador mira la presentación de diapositivas.  Lo mejor de todo es que el audio permanece sincronizado con los tiempos de diapositiva que estableciste mientras grababas el audio.
Si envías una presentación por tí solo, tu audiencia puede hojear las diapositivas y perder el punto. Pero si puedes agregar narración a tu presentación, tienes la oportunidad de reforzar tus puntos clave.
En este tutorial, aprenderás a grabar narraciones en PowerPoint. Con un micrófono asequible (o la opción incorporada de tu computadora), puedes agregar el comentario que tu audiencia debería escuchar e incluirlo en el archivo final de la presentación de PowerPoint.
¿Necesitas ayuda? Descarga nuestro nuevo libro electrónico sobre cómo hacer excelentes presentaciones (gratis)
También tenemos un complemento útil para este tutorial. Descarga nuestro libro electrónico GRATUITO: La guía completa para hacer excelentes presentaciones, que te ayudará a escribir, diseñar y entregar la presentación perfecta. Agárrelo rápidamente antes de seguir leyendo.
Nota: es posible que también desees utilizar plantillas profesionales de PowerPoint para hacer que el diseño de tu presentación sea excelente. Aquí está nuestra selección de características de las mejores:
Ahora aprendamos todo sobre cómo grabar una narración de audio de PowerPoint de calidad:
Cómo grabar narraciones rápidamente en PowerPoint (Ver y aprender)
Mira este breve screencast de dos minutos a continuación para una visita guiada sobre la grabación de narraciones en PowerPoint. En él, aprenderás cómo agregar narración a tu presentación o en diapositivas seleccionadas: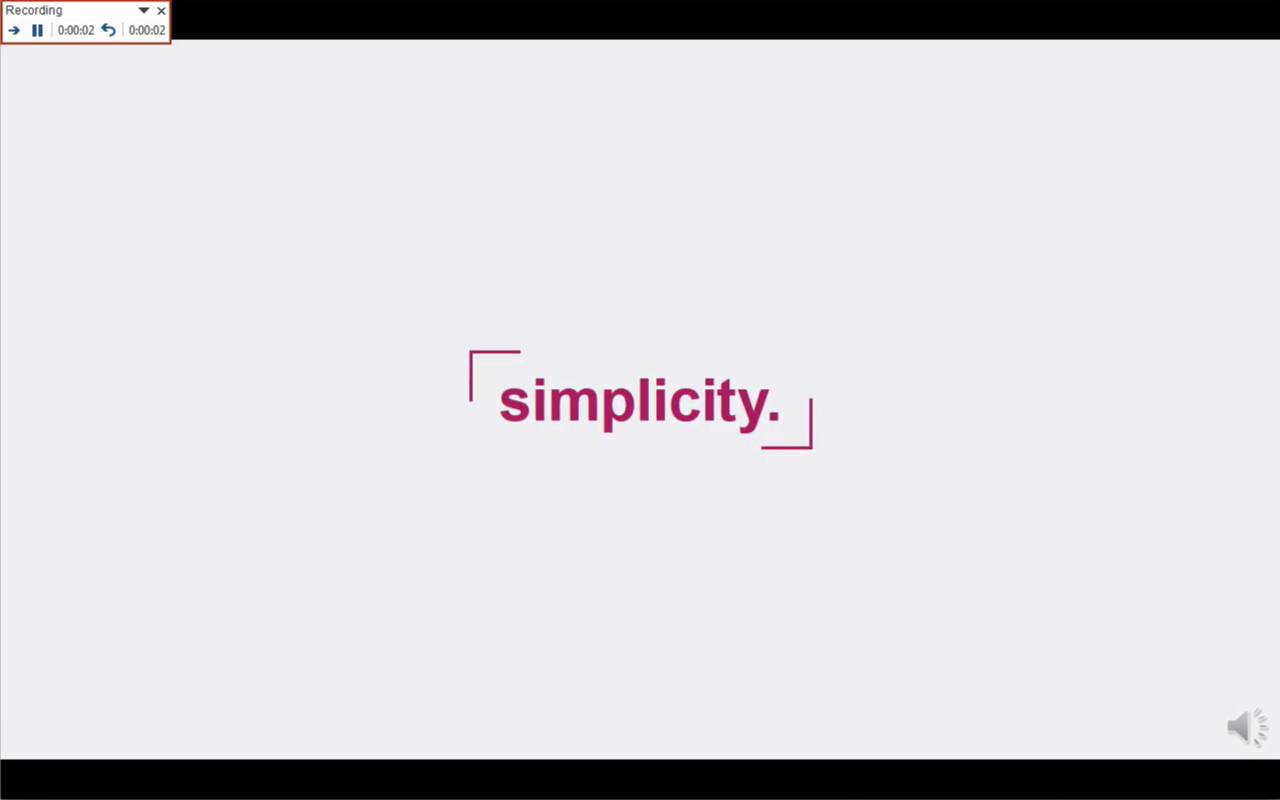 ¿Prefieres un conjunto de instrucciones escritas? Sigue leyendo para seguir los pasos para agregar narración a tu presentación de PowerPoint.
3 mejores prácticas de grabación de audio para una narración adecuada en PowerPoint
Es posible que no tengas acceso a un estudio de grabación profesional, pero eso no significa que no puedas mejorar la calidad de audio de tu voz en off.
Hay ganancias rápidas para mejorar la calidad de la narración de tu presentación. Estos son mis consejos favoritos sobre cómo narrar mejor una presentación de PowerPoint:
Como presentador, siempre me gusta escribir un esquema o script para mi audio grabado. Usa la sección de notas del orador en PowerPoint o imprima tus notas para mantener tu audio en la pista.
Compra un micrófono USB económico como una mejora importante sobre el micrófono integrado de tu computadora portátil. Me gusta este Samson Go Mic que se engancha en la parte superior de mi computadora portátil.
Como siempre, elimina el ruido de fondo cuando sea posible. Apaga ventiladores, dispositivos y cierra la puerta para evitar distracciones.
Grabar narración para PowerPoint (pasos del tutorial)
Ahora veamos (paso a paso) cómo configurar una grabación de audio adecuada, grabar profesionalmente tu narración y agregarla a tus diapositivas de PowerPoint:
Paso 1. Configura tu micrófono
Antes de comenzar a grabar audio dentro de PowerPoint, comienca asegurándote de que tu micrófono esté enchufado y listo para grabar. Ya sea que estés en Windows o macOS, querrás acceder a la configuración del dispositivo de audio y configurar tu micrófono predeterminado.
No puedes cambiar desde qué dispositivo grabar o establecer niveles de volumen para el micrófono dentro de PowerPoint, así que asegúrate de que estés listo para grabar antes de sumergirse en PowerPoint.
Paso 2. Presiona Grabar en PowerPoint
Para grabar narraciones en PowerPoint, comienca buscando la pestaña Presentación de diapositivas en la cinta de PowerPoint. Haz clic en la pestaña Presentación de diapositivas para cambiar las opciones disponibles.
Asegúrese de comenzar con la primera diapositiva en PowerPoint para grabar el audio y los tiempos de toda la presentación.
Ahora, busca el botón Grabar presentación de diapositivas y haz clic en él. Aparecerá una nueva ventana con dos opciones para configurar antes de comenzar a grabar:
Tiempos de diapositivas y animación. Deja esta opción marcada si deseas configurar los tiempos para tus diapositivas. Básicamente, esta opción te permite sincronizar tu narración con diapositivas. Recomiendo dejarlo encendido.
Narraciones, tinta y puntero láser. Definitivamente deja esta opción marcada para grabar narraciones de audio, incluso si no plantas para usar tinta o el puntero para agregar ilustraciones.
Asegúrate de estar listo antes de presionar Iniciar grabación. Tan pronto como hagas clic en él, PowerPoint comenzará a grabar tu pantalla y audio.
Paso 3. Comienca a grabar tu narración
Una vez que comiences a grabar, PowerPoint pasará a una vista de presentación de pantalla completa. También comienza a grabar audio desde tu micrófono.
En la esquina superior izquierda de la ventana, verás una ventana de grabación con un contador de tiempo de ejecución y otros botones. Usa esto para realizar un seguimiento de la duración de tu presentación.
Puedes usar las teclas de flecha en tu teclado para cambiar entre diapositivas mientras graba. Utiliza la flecha hacia la derecha para pasar a la siguiente diapositiva o la flecha hacia la izquierda para pasar a la diapositiva anterior de PowerPoint.
Nota: Estamos usando la popular plantilla de PowerPoint Simplicy de GraphicRiver. Encuentra plantillas de PowerPoint más profesionales con diseños geniales.
Básicamente, PowerPoint está grabando exactamente lo que está en tu pantalla junto con el audio que habla en tu micrófono.
Cuando hayas terminado, haz clic en el botón X en la esquina superior derecha de la ventana de grabación para completar la grabación de audio.
Es ideal si tienes una configuración de monitor dual y puedes usar la Vista de presentador, que muestra una vista previa de tu próxima diapositiva con tus notas de conversación en una segunda pantalla. Activa la Vista de presentador en la pestaña Presentación de diapositivas marcando Usar vista de presentador.
Paso 4. Utiliza anotaciones (opcional)
Mientras grabas tu presentación, también puedes agregar anotaciones a tu PowerPoint. Puedes usar un bolígrafo digital, un resaltador o un puntero láser para agregar marcas.
Me encanta esta función cuando hago un gesto hacia algo específico en la diapositiva de mi narración.
Para usar anotaciones, coloca el cursor en la esquina inferior izquierda de tu presentación mientras grabas la presentación. Hay herramientas adicionales entre las que puedes elegir. Para una anotación, haz clic en el tercer icono de la izquierda para elegir una de las herramientas.
Después de seleccionar una herramienta, puedes dibujar en la diapositiva para agregar la anotación. No cambia la diapositiva original, pero la agrega a la versión grabada de tu presentación.  Los espectadores verán estas anotaciones dibujadas mientras miran la versión grabada de tu presentación.
Paso 5. Restablece los tiempos de presentación según sea necesario
Digamos que tienes la toma de audio perfecta, pero los tiempos de los cambios de diapositiva se desviaron un poco. Eso no es un problema; podemos reiniciar fácilmente el proceso de configuración de los tiempos de las diapositivas.
Para hacerlo, asegúrate de estar en la pestaña Presentación de diapositivas y haz clic en Ensayar tiempos. Tu presentación pasará al modo de pantalla completa y puedes usar las teclas de flecha para cambiar las diapositivas y establecer nuevos tiempos.
Ahora que has terminado, puedes enviar tu presentación a un visor con tu narración incrustada. Cuando reproduzcan la presentación, la narración de tu disco jugará con ella, en los tiempos que hayas configurado mientras ensayaba.
Nota: Para obtener más instrucciones relacionadas, obtén más información sobre Cómo convertir tu presentación de PowerPoint (PPT) en video en nuestro útil tutorial sobre el tema.
Cómo agregar audio (narración) para diapositivas de PowerPoint seleccionadas
Si no deseas grabar audio con tiempos para una presentación completa, otra opción es agregar audio a una diapositiva seleccionada.
Para hacer esto, haz clic en la pestaña Insertar en la cinta de PowerPoint. En el lado derecho de la cinta, busca el botón Audio y haz clic en él.  Nuevamente, querrás asegurarte de que tu micrófono esté seleccionado en la configuración de tu sistema antes de elegir esta opción.
En este menú desplegable, puedes agregar clips de audio que hayas grabado en otras aplicaciones usando la opción Audio en mi PC..., o grabar audio directamente dentro de PowerPoint haciendo clic en Grabar audio.
Si eliges Grabar audio, verás una nueva ventana donde puedes presionar el botón rojo de grabación para capturar audio dentro de PowerPoint y colocarlo en una diapositiva directamente.
Recapitular y seguir aprendiendo más sobre el uso de PowerPoint
Me encantan las voces en off como una forma de compartir tus comentarios con los espectadores, incluso cuando no estás en la misma sala. Agrega tu audio mientras ensaya la presentación para crear versiones profesionales y habladas de tu presentación.
Descarga nuestro nuevo libro electrónico sobre cómo hacer excelentes presentaciones (PDF gratuito)
Tenemos el complemento perfecto para este tutorial, que te guiará a través del proceso completo de presentación. Aprende a escribir tu presentación, diséñela como un profesional y prepárela para una presentación poderosa.
Descarga nuestro nuevo libro electrónico: La guía completa para hacer excelentes presentaciones. Está disponible GRATIS con una suscripción al boletín Tuts + Business.
Descubre más excelentes tutoriales de PowerPoint (en Envato Tuts +)
Para obtener más tutoriales para inspirar confianza en tus habilidades de PowerPoint, consulta estos enlaces de tutoriales:
¿Cómo utilizas las voces en off en tus presentaciones? Déjame saber abajo en los comentarios.
Want a weekly email summary?
Subscribe below and we'll send you a weekly email summary of all new Business tutorials. Never miss out on learning about the next big thing.
Sign up
I believe that life is too short to do just one thing. In college, I studied Accounting and Finance but continue to scratch my creative itch with my work for Envato Tuts+ and other clients. By day, I enjoy my career in corporate finance, using data and analysis to make decisions. I cover a variety of topics for Tuts+, including photo editing software like Adobe Lightroom, PowerPoint, Keynote, and more. What I enjoy most is teaching people to use software to solve everyday problems, excel in their career, and complete work efficiently. Feel free to reach out to me on my website.
One subscription. Unlimited Downloads.