Andrew Childress
You might think of PowerPoint as the app you use when you're speaking to an audience. But what if that audience can't be in the same room as you? 
This is why adding narrations in PowerPoint is so useful. You can record audio right inside of PowerPoint, and have it playing while your viewer is watching the slideshow. Best of all, the audio stays synced to the slide timings you set while recording the audio.
If you send a presentation on its own, your audience may flip through the slides and miss the point. But if you can add narration to your presentation, you have the chance to reinforce your key points.
In this tutorial, you'll learn how to record narration in PowerPoint. With an affordable microphone (or your computer's built-in option), you can add the commentary your audience should hear and include it with the final PowerPoint presentation file.
Need Help? Download Our New eBook on Making Great Presentations (Free)
We also have a useful compliment to this tutorial. Download our FREE eBook: The Complete Guide to Making Great Presentations, which will help you write, design, and deliver the perfect presentation. Quickly grab it before you read on.
Note: You may also want to use a professional PowerPoint templates to make your presentation design great. Here is our features selection of the best: 
Now let's learn all about how to record quality PowerPoint audio narration: 
How to Quickly Record Narration in PowerPoint (Watch & Learn)
Watch this quick, two minute screencast below for a guided tour on recording narrations in PowerPoint. In it, you'll learn how to add narration to your presentation or on selected slides: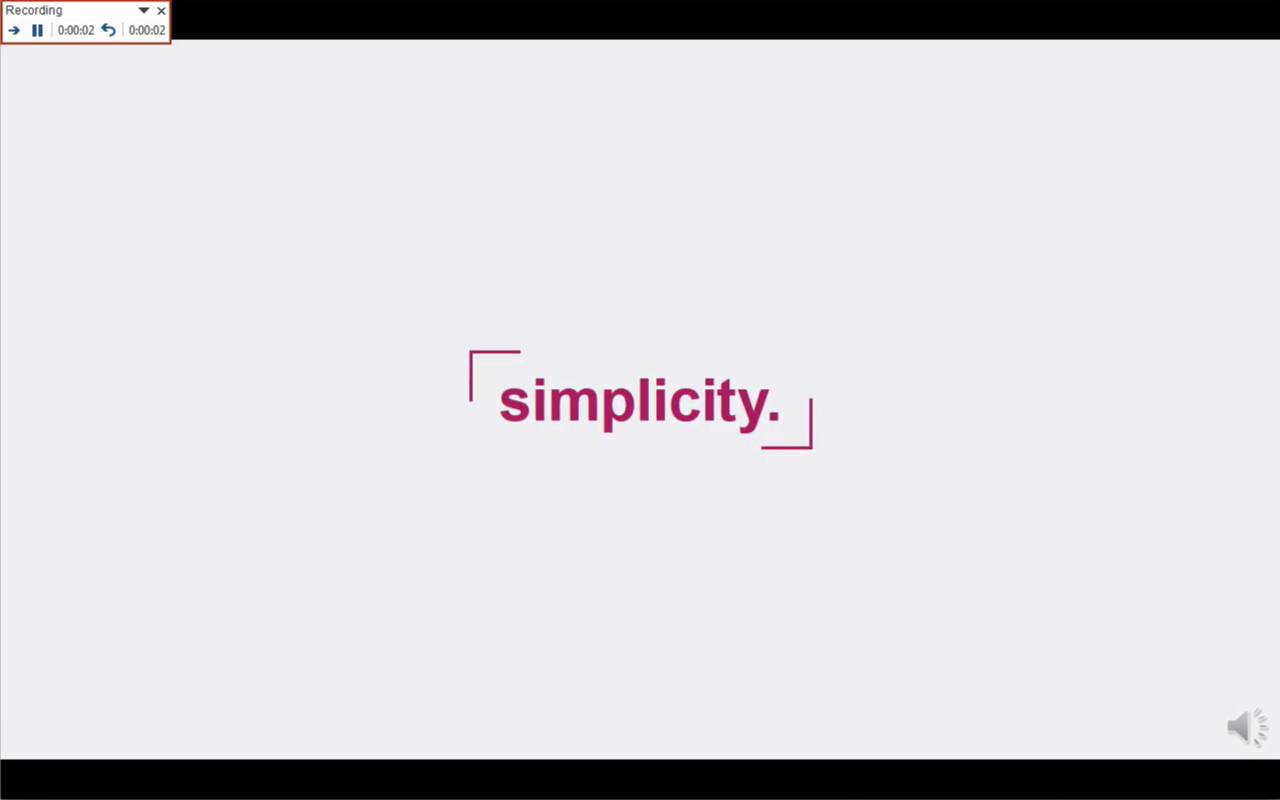 Prefer a written set of instructions? Keep reading to walk through the steps to add narration to your PowerPoint presentation.
3 Audio Recording Best Practices for Proper PowerPoint Narration
You may not have access to a professional recording studio, but that doesn't mean that you can't improve the audio quality of your voiceover.
There are quick wins to improve the quality of your presentation narration. Here are my favorite tips on how to narrate a PowerPoint presentation better:
As a presenter, I always like to write an outline or script for my recorded audio. Use the speaker notes section in PowerPoint or print your notes to keep your audio on track.
Purchase an inexpensive USB microphone as a major upgrade over your laptop's built-in microphone. I like this Samson Go Mic that clips to the top of my laptop.
As always, remove background noise when possible. Turn off fans, devices, and close the door to avoid distractions.
Record Narration for PowerPoint (Tutorial Steps)
Now let's walk (step-by-step) through how to set up for proper audio recording, professionally record your narration, and add it to your PowerPoint slides: 
Step 1. Setup Your Microphone
Before you start to record audio inside PowerPoint, start off by making sure that your microphone is plugged in and ready to record. Whether you're on Windows or macOS, you'll want to access the audio device settings and set your default microphone. 
You can't change which device to record from or set volume levels for the microphone inside of PowerPoint, so make sure that it's ready for recording before you dive into PowerPoint.
Step 2. Press Record in PowerPoint
To record narrations in PowerPoint, start off by finding the Slide Show tab on PowerPoint's ribbon. Click on the Slide Show tab to change the available options. 
Make sure that you start on the first slide in PowerPoint to record audio and timings for the entire presentation.
Now, find the Record Slide Show button and click on it. A new window will pop up with two options to set before you start recording:
Slide and animation timings. Leave this option checked if you want to setup the timings for your slides. Basically, this option allows you to sync up your narration with slides. I recommend leaving it on.
Narrations, ink, and laser pointer. Definitely leave this option checked to record audio narrations, even if you don't plant to use ink or the pointer to add illustrations.
Make sure you're ready before you press Start Recording. As soon as you click on it, PowerPoint will begin to record your screen and audio.
Step 3. Start Recording Your Narration
Once you Start Recording, PowerPoint will go into a full screen presentation view. It also begins recording audio from your microphone.
In the upper left corner of the window, you'll see a Recording window with a runtime counter and other buttons. Use this to keep track of the length of your presentation.
You can use the arrow keys on your keyboard to switch between slides while recording. Use the right arrow to jump to the next slide, or the left arrow to move to the previous PowerPoint slide.
Note: We're using the popular Simplicy PowerPoint template from GraphicRiver. Find more professional PowerPoint templates with great designs. 
Basically, PowerPoint is recording exactly what's on your screen along with the audio you speak into your microphone.
When you're finished, click on the X button in the upper right corner of the Recording window to complete the audio recording.
It's ideal if you have a dual monitor setup and you can use Presenter View, which puts a preview of your next slide with your speaking notes on a second screen. Turn on Presenter View on the Slideshow tab by checking Use Presenter View. 
Step 4. Use Annotations (Optional)
While you're recording your presentation, you can also add annotations to your PowerPoint. You can use a digital pen, highlighter or laser pointer to add markings. 
I love this feature when I'm gesturing toward something specific on the slide in my narration. 
To use annotations, hover in the lower left corner of your presentation while recording the presentation. There are extra tools that you can choose from. For an annotation, click on the third icon of the left to choose from one of the tools.
After you select a tool, you can draw on the slide to add the annotation. It doesn't change the original slide, but it does add it to the recorded version of your presentation. Viewers will see these annotations drawn in while watching the recorded version of your presentation.
Step 5. Reset Presentation Timings as Needed
Let's say that you had the perfect audio take, but the timings of your slide changes were off by a bit. That's no problem; we can readily restart the process of setting your slide timings.
To do that, make sure that you're on the Slide Show tab and click on Rehearse Timings. Your presentation will go into full screen mode and you can use the arrow keys to changes slides to set new timings.
Now that you're finished, you can send your presentation onto a viewer with your narration embedded. When they play the presentation, your record narration will play with it, on the timings you've setup while rehearsing.
Note: For more related instructions, learn more about How to Convert Your PowerPoint (PPT) Presentation Into Video in our helpful tutorial on the subject.
How to Add Audio (Narration) for Selected PowerPoint Slides
If you don't want to record audio with timings for an entire presentation, another option is to add audio to a selected slide. 
To do this, click on the Insert tab on the PowerPoint ribbon. On the right side of the ribbon, find the Audio button and click on it. Again, you'll want to make sure that your microphone is selected in your system settings before choosing this option.
On this dropdown menu, you can actually add audio clips that you've recorded in other apps using the Audio on My PC... option, or record audio right inside PowerPoint by clicking Record Audio.
If you choose to Record Audio, you'll see a new window where you can press the red record button to capture audio inside PowerPoint and place it on a slide directly.
Recap and Keep Learning More About Using PowerPoint
I love voiceovers as a way to share your commentary with viewers, even when you aren't in the same room. Add your audio while rehearsing the presentation to create professional, spoken versions of your presentation.
Download Our New eBook on Making Great Presentations (Free PDF)
We have the perfect compliment to this tutorial, which will walk you through the complete presentation process. Learn how to write your presentation, design it like a pro, and prepare it to present powerfully. 
Download our new eBook: The Complete Guide to Making Great Presentations. It's available for FREE with a subscription to the Tuts+ Business Newsletter. 
Discover More Great PowerPoint Tutorials (On Envato Tuts+)
For more tutorials to inspire confidence in your PowerPoint skills, check out these tutorial links:
How do you use voiceovers in your presentations? Let me know in the comments below.
I believe that life is too short to do just one thing. In college, I studied Accounting and Finance but continue to scratch my creative itch with my work for Envato Tuts+ and other clients. By day, I enjoy my career in corporate finance, using data and analysis to make decisions. I cover a variety of topics for Tuts+, including photo editing software like Adobe Lightroom, PowerPoint, Keynote, and more. What I enjoy most is teaching people to use software to solve everyday problems, excel in their career, and complete work efficiently. Feel free to reach out to me on my website.
Weekly email summary
Subscribe below and we'll send you a weekly email summary of all new Business tutorials. Never miss out on learning about the next big thing.
Update me weekly
Looking for something to help kick start your next project?
Envato Market
has a range of items for sale to help get you started.