Read Time:
9 mins
Languages:
As creative freelancers, it can be easy to forget that we're running a business. We can get so caught up in crafting the perfect video, photoshoot, or graphic design project that we forget about taking payment and making a living.
One of the details you might not think enough about is invoicing. An invoice is a document you send to your clients as a formal request for payment. It provides the proper documentation and paperwork to notify them that payment for your hard work is due.
A well-made invoice really adds a touch of professionalism for clients. You don't have to be a major company or agency to create a professional invoice, and I'll show you how in this tutorial.
Why Use Spreadsheets for Invoicing?
Even though spreadsheets are often used by financial professionals and accountants, they're useful to practically any audience. You can easily make calculations and prepare the invoice using an app like Microsoft Excel. 
The flexibility of spreadsheets makes them well-suited for a variety of uses. Here's how you could use the workbook as your all-in-one invoicing solution:
Capture project details for clients on the first tab of the workbook, with details like rates, delivery dates, and client contact information.
Use the second tab to track the payment status of invoices, ticking off invoices as they're paid.
Use all other sheets in the workbook for the actual invoices that you'll send to clients.
Over time, you'll build one comprehensive Excel workbook where you can monitor the billing status of your business. Spreadsheets like this are very handy when you're reviewing the performance of your business.
In this tutorial, I'm going to take you through using Excel for invoicing. We'll use a pre-built template for the fastest way to invoice a client professionally.
Watch & Learn
In the screencast below, I'm going to walk you through using an Excel template to create an attractive invoice quickly. We'll use a template from Envato Elements to create an invoice in Excel, and then save it as a PDF for delivery to clients.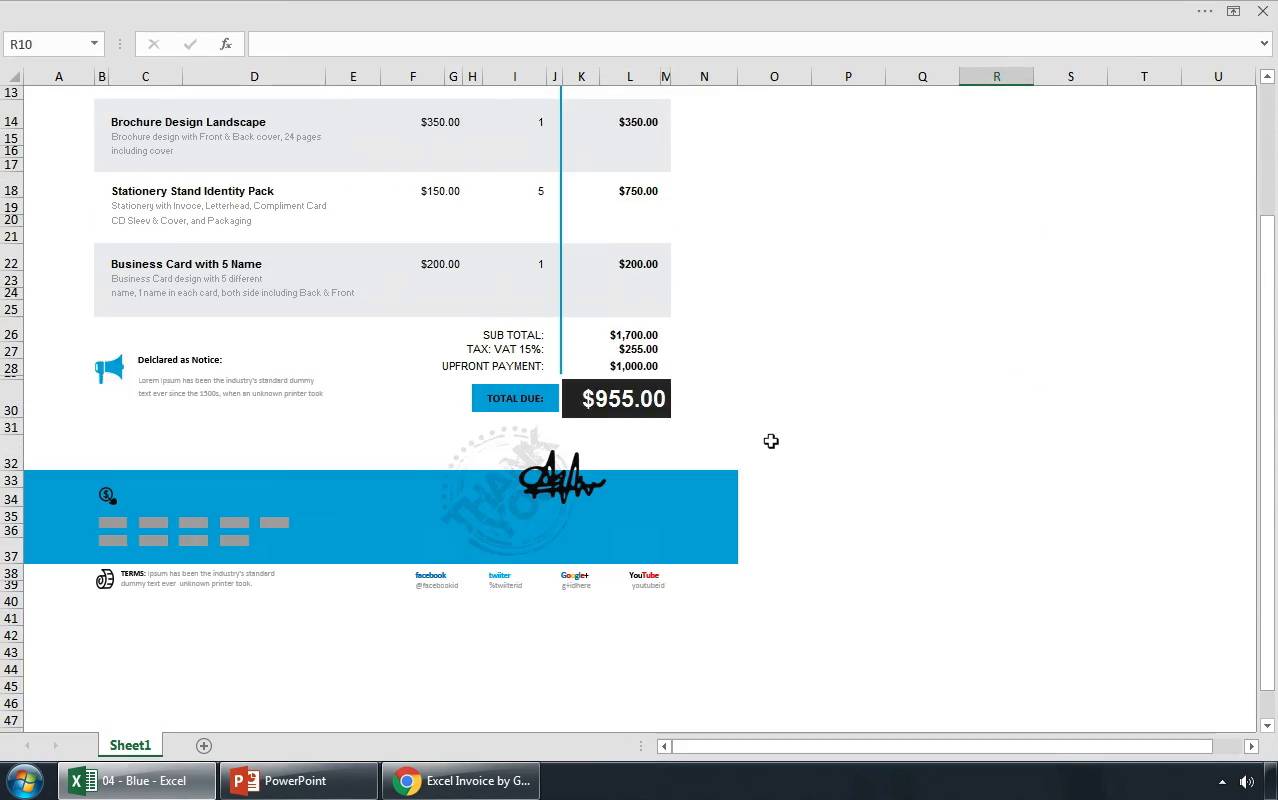 Read on to find out more about best practices for invoicing and the tools you can use to save time.
Using an Excel Invoice Template From Envato Elements
Earlier in 2017, Envato launched an all new service that quickly found its way into my creative toolbox. Envato Elements is an all-you-can-download service for one flat rate.
I frequently use Elements for graphics, stock photos, presentations, and more. But I'm always impressed when I find files from less categories like Excel project files. Elements has many types of invoice templates, including ones that work right inside of Microsoft Excel.

In this tutorial, we're going to walk through using the Excel Invoice project to create an invoice right inside of Microsoft Excel.
If you're running your own business, you've got no shortage of to-dos. An invoice should reflect your branding and business, but that doesn't mean that you've got time to design an invoice from scratch.
This is why using templates from Elements makes sense. You can free up more time to work on your business and with your clients by outsourcing design work for invoices. Instead of building an invoice from a blank slate, the best of both worlds is to start with an Envato Elements project and swap in your own logo and contact details. 
Let's learn how to customize this template for our own business. 
1.

How to Customize the Invoice

After you download the Excel Invoice project, go ahead and open up the zip file. You'll notice that it includes six different color schemes to get started. I'd recommend choosing the color scheme that's closest to your own brand colors as starting point.

Before we add content to the invoice, let's learn how to customize the pre-made invoice file.
1. Change the Logo
The Invoice project has a placeholder logo built-in, and it's easy to substitute your own into its place.
First, start off by simply clicking on the placeholder logo. Then, press the Delete key on your keyboard to remove it.
Let's now add our own logo. Go to the Insert tab and choose Pictures, then browse to your own logo file that's stored on your computer. It's ideal if your logo is a transparent PNG so that you don't see any borders or background as you add it.
2. Update Contact Details
Above all, it's crucial to update contact details for both you and your client. Start off by scrolling to the top of the Excel invoice template and adding your own contact details, including email, phone number, and address.
These details are important because your invoice could land on the desk of an accounts payable employee, or someone else who is unfamiliar with the work. Make it easy for them to contact you to avoid delays with receiving payment.
Make sure you also add the clients' details in the Invoice Issue to section. Add their logo for bonus points!
Finally, there are placeholders for social media sites at the bottom of the invoice. In my case, I'll just remove those links.
3. Miscellaneous Details
From here, continue to customize elements of the template. For me, I removed the social links, the signature image, and several other placeholder boxes for a cleaner look. Each of the objects can be edited normally like any other item in Excel.
At this point, I highly recommend doing the following:
Rename the current sheet with the invoice to Invoice Template by double clicking on the tab title and typing a new name.
Now, copy the design template we've been creating by right clicking on the tab and choosing Move or Copy.
Press OK to create a copy of the design we customize. Because you've got the template locked in, you can always create multiple copies and jump back to a clean starting point.
2.

How to Add Invoice Details

Now, we've mastered the look and feel of our invoice. It's time to add the line items with amounts that we're invoicing. This is easy to do, but I want to point out a few features that I love about this template.

First of all, each line on the invoice should describe the work that you're delivering. If you're selling objects that are priced based on quantity, you can simply put the number of the item and the unit price, and the sheet automatically calculates the Total.
Use each line for a different part of the deliverable. Keeping a number of line items will help your client understand the invoice and reduce any questions that may arise.
Finally, notice that the invoice can automatically add a tax rate as needed. Simply delete this cell and hide the row if you aren't applying tax.
Finally, there's a box called Upfront Payment. Use this cell if your client put a deposit down and is credited against the invoice.
As I mentioned earlier, one idea for setting up your workbook is to put all of the project details on one tab of the workbook and then link the invoice sheet to it. Check out the tutorial below for a guide on linking sheets up.
3.

How to Export the Invoice

After you finish adding all of your own details to the Excel invoice, you'll want to export it for your client. It's a good idea to "flatten" the Excel file and save it as a PDF instead. You don't want the client to see all of the underlying details, formulas, or edit the original workbook.

Start off by highlighting the part of the invoice that you want to print. In our case, that's simply the entire invoice.

Now, go to File > Export > Create PDF/XPS Document option to prepare to export the finished invoice. 

On the pop-up window, choose where you want to save the finished invoice and then click on Options. Change the option to Selection so that we only save the portion of the invoice that we highlighted. Press Ok, and then click Publish.
Now, you'll have a finished PDF of your invoice. It's ready to archive for your own records and share with your client.
4.

How to Deliver an Excel Invoice

Now that you've created a PDF of your invoice, it's time to send it to a client. What are the best practices when it comes to delivering an invoice?

Above all: it's important that you already discussed payment terms at the beginning of your client relationship. Most clients will be able to pay with a credit or debit card, but this can become complicated if you're working with clients outside of your own country, for example.

Services like PayPal or QuickBooks are built to issue invoices electronically and take payment for clients. You can attach the PDF invoice we created in this tutorial when you issue the invoice electronically. Make sure that you also retain copies of the PDF for your own needs, as it may be relevant during an audit or tax time.

In my own freelance business, I issue invoices that clients can pay with any credit or debit card. There's a small fee, but it pales in comparison to dealing with checks or other forms of payment.

To learn more about invoicing and the best practices for delivering them to clients, check out Andrew Blackman's comprehensive tutorial below.
Recap & Keep Learning
Just because an invoice is a financial document, it doesn't mean that we can't add a touch of design to it. Clients infer our professionalism each time they interact with us, and invoicing is no exception. A professional invoice incorporates best design practices and makes payment information clear to a client.
If you want to learn more about invoicing and how to get paid on time, check out the great articles below. You'll find out more about creating professional and defensible invoices that protect your business interests.
Do you use Excel for invoicing? Share your answers in the comments below. 
I believe that life is too short to do just one thing. In college, I studied Accounting and Finance but continue to scratch my creative itch with my work for Envato Tuts+ and other clients. By day, I enjoy my career in corporate finance, using data and analysis to make decisions. I cover a variety of topics for Tuts+, including photo editing software like Adobe Lightroom, PowerPoint, Keynote, and more. What I enjoy most is teaching people to use software to solve everyday problems, excel in their career, and complete work efficiently. Feel free to reach out to me on my website.
Weekly email summary
Subscribe below and we'll send you a weekly email summary of all new Business tutorials. Never miss out on learning about the next big thing.
Update me weekly
Looking for something to help kick start your next project?
Envato Market
has a range of items for sale to help get you started.