Read Time:
9 mins
Languages:
Excel and PowerPoint are better together. Excel is an amazing tool to create, organize and analyze data with. PowerPoint shines when it's time to present and share your hard work with an audience.
What happens when we want to combine each app's strengths? When you're ready to take your data and charts from Excel to PowerPoint, there are different ways to paste and link your data between these apps. 
You might want to keep your PowerPoint presentation connected to Excel so that if the data changes, your chart will update with the edited data inside of it. 
In this tutorial, you'll learn how to embed or link an Excel file in PowerPoint. You can use this tutorial to learn how to embed Excel graphs and charts inside of a PowerPoint presentation.
Need Help? Download Our eBook on Making Great Presentations (Free)
We also have a useful compliment to this tutorial. Quickly grab it before you read on. Download our FREE eBook: The Complete Guide to Making Great Presentations, which will help you write, design, and deliver the perfect presentation. 
How to Embed Excel Files & Link Data into PowerPoint (Quick Video)
In this quick three minute screencast below, I'll show you how to work back and forth between Excel and PowerPoint. You'll learn to embed Excel files in PowerPoint, link your data between the two apps, and can keep your data up to date.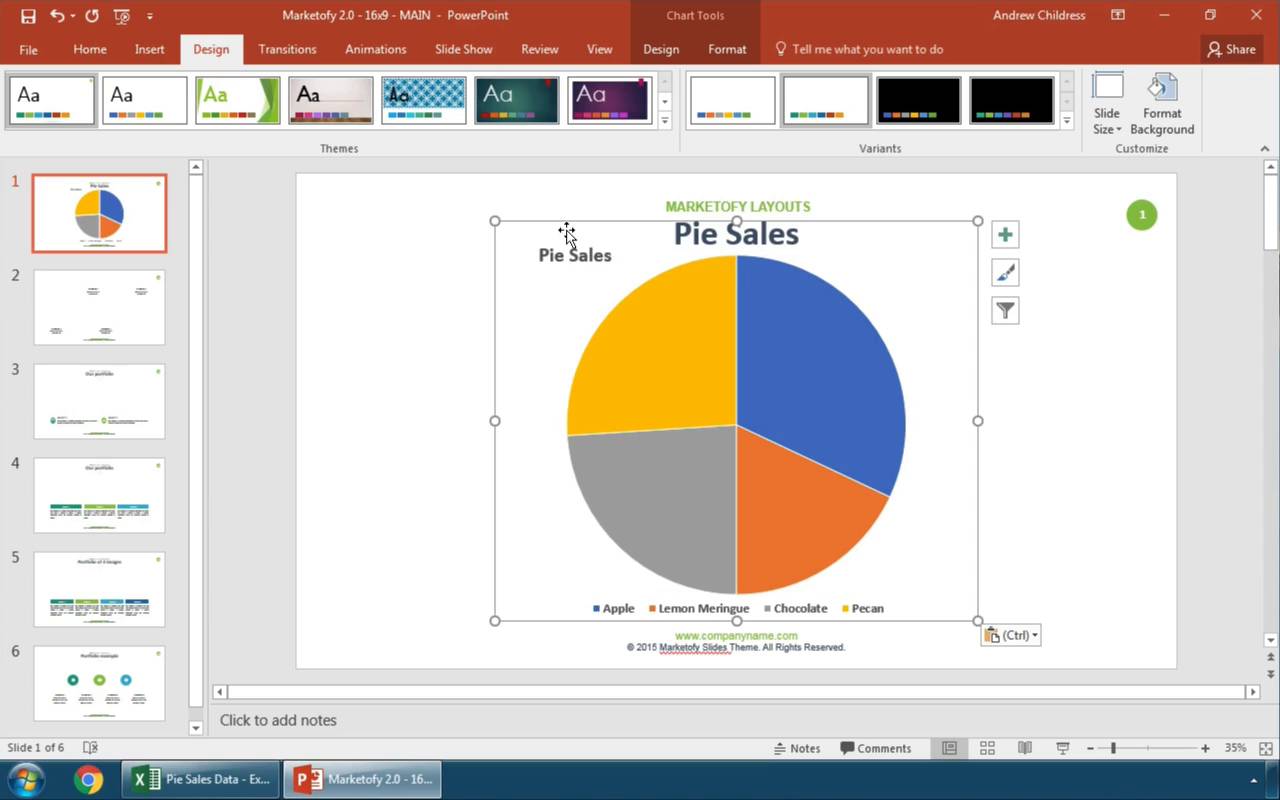 Read on to learn more about different methods for working with data between Excel and PowerPoint.
Note: In this tutorial we use the versatile Marketofy PowerPoint template (No longer availabe), which has great charts and infographic features. You can find more professional PPT presentation templates on GraphicRiver or in our Ultimate Guide to the Best Microsoft PowerPoint Templates.
How to Embed Excel Charts in PowerPoint
Let's say that we've built a great-looking chart inside of Excel and we're ready to take it over to PowerPoint for a presentation. We can finish styling the chart in PowerPoint, so no need to worry if you want to change the colors or labels.
The first step is to click on your chart inside of Excel and make sure it's selected. Then, you can press copy, either by pressing Ctrl + C on your keyboard or pressing the Copy button on Excel's ribbon.
Now, let's switch over to PowerPoint. Find some space on one of your slides, and press either Ctrl + V on your keyboard, or press the Paste button on PowerPoint's ribbon. In the screenshot below, you can see that the data and amounts are the same once pasted in PowerPoint.
Notice that it brought over the same data in the chart that was in our Excel workbook, but it automatically reformatted the style to match the PowerPoint presentation. These are the default options to take charts from Excel to PowerPoint.
This is the most basic way to place an Excel chart inside your PowerPoint file. But as always, there's more power hidden behind the scenes in PowerPoint.
Excel to PowerPoint Paste Options Explained
Maybe you want to paste your chart as a picture that the viewer can't edit. Or, maybe you want to link your Excel chart to PowerPoint so that they update data and stay synced.
When you're taking charts from Excel to PowerPoint, you really have two choices to make:
How do you want to handle the data - should it be linked to an Excel workbook, or embedded right inside the PowerPoint file?
Should the style of the chart stay the same, or should it match the rest of your presentation?
These options are all available when you Right-click inside PowerPoint with a chart on your clipboard. 
There are actually five ways that you can take data from Excel to PowerPoint, and each of them handles your data a bit differently. For your reference, here are the descriptions of each of the paste options in PowerPoint:
Use Destination Theme and Embed Workbook
Keep Source Formatting and Embed Workbook 
Use Destination Theme and Link Data
Keep Source Formatting and Link Data
Paste as picture
I think of the major categories as embedding, linking, and pasting as a picture. Let's learn about each of those categories.
1. Embed Excel Workbook in PowerPoint
The first two icons (1 and 2) allow you to embed data inside the PowerPoint file. This means that PowerPoint stores the data behind the scenes inside the PowerPoint file. 
Once you paste the file in and embed the workbook, the data is separated from the Excel file and stored inside the PowerPoint file. Note that if Excel's data updates, the PowerPoint chart won't update automatically.
To update the data inside of an embedded Excel file, you can right-click the chart and choose Edit Data from the menu. This will open an embedded Excel spreadsheet inside the PowerPoint file where you can edit the data in the chart.
Embedding data has many advantages; the charts in your presentation will work whether you have access to the original Excel file. Embedding does increase the size of your PowerPoint file, however.
The major downside to embedding data is that it doesn't stay synced to the Excel file that you're doing analysis and data review inside of. If you're going back and forth between the two apps, linking might be a better choice.
2. How to Link Excel Data to PowerPoint
Linking data (icons 3 and 4) keeps your PowerPoint and Excel file in sync. If you change the data for the chart in Excel, you can update the pasted chart in PowerPoint to use the latest data.
When PowerPoint and Excel are both open at the same time, this will happen automatically for linked data. Make a change in Excel, and the linked PowerPoint chart updates in real time. 
If you're working in Excel and PowerPoint at different times, make sure to hit Refresh Data on the Chart Tools > Design tab on PowerPoint's ribbon.
Linking is great to keep the data connected so that you don't have to keep rebuilding your charts as you move from Excel to PowerPoint. 
However, linking your data directly to Excel isn't always the right choice. The downside to using the linked option is two-fold:
If you send your PowerPoint file to someone and they don't have access to the Excel file, refreshing data won't work.
If others are changing the linked Excel file behind the scenes without your knowledge, you run the risk of updating your presentation with incorrect data.
If you're still a bit fuzzy about choosing between embedding and linking data from Excel to PowerPoint, check out the official Microsoft help page to see a comparison of the two.
3. Paste Excel Chart as Picture in PowerPoint
The final option to place a chart in PowerPoint is to simply paste the chart you built in Excel as a flattened, non-editable picture. When you paste a chart as a picture, the styles will appear the same as the Excel version of the chart and no longer be editable within PowerPoint.
This feature is handy when you want to ensure that the data isn't changed or altered by the recipient. However, pasting as a picture causes you to lose any ability to edit or change the chart.
Excel to PowerPoint Paste Formatting Options
Whether you choose to embed or link your data, you can choose how to handle the style of your charts when you move from Excel to PowerPoint. Both "embed" and "link" options have two choices for how to handle styling.
Let's look at the difference between "Use Destination Theme" and "Keep Source Formatting." These options don't change the way we work with data—both options embed your data in the PowerPoint file—but they do change the appearance of the charts.
Keep Source Formatting - Uses the same chart style used in Excel.
Use Destination Theme - Matches the style of your chart to the PowerPoint theme.
In the screenshot below, you can see examples of each option. Using Keep Source Formatting kept the chart exactly the same as it appeared in Excel. Use Destination Theme helps your charts blend in with the rest of the presentation.
Once a chart is placed in the PowerPoint file, you can edit and restyle the presentation. Think of this paste option as the starting point.
Recap and Keep Learning More About Excel and PowerPoint
Keeping your PowerPoint graphs linked to Excel data is handy. With linked data, you don't have to recreate and reformat your charts each time the original data changes. Embedded data gives you the flexibility to edit your data right inside the presentation.
Dig into more helpful Excel and PowerPoint tutorials on Envato Tuts+: 
Keep in mind that there are different ways to manage your data based upon the paste option you use. It comes down to how you want (or don't want) to keep your data synced between Excel and PowerPoint.
How do you manage data between Excel and PowerPoint? Let me know in the comments section how you use the tools in conjunction.
Make Great Presentations (Free eBook Download)
We have the perfect compliment to this tutorial, which will walk you through the complete presentation process. Learn how to write your presentation, design it like a pro, and prepare it to present powerfully. 
Download our new eBook: The Complete Guide to Making Great Presentations. It's available for free with a subscription to the Tuts+ Business Newsletter. 
I believe that life is too short to do just one thing. In college, I studied Accounting and Finance but continue to scratch my creative itch with my work for Envato Tuts+ and other clients. By day, I enjoy my career in corporate finance, using data and analysis to make decisions. I cover a variety of topics for Tuts+, including photo editing software like Adobe Lightroom, PowerPoint, Keynote, and more. What I enjoy most is teaching people to use software to solve everyday problems, excel in their career, and complete work efficiently. Feel free to reach out to me on my website.
Weekly email summary
Subscribe below and we'll send you a weekly email summary of all new Business tutorials. Never miss out on learning about the next big thing.
Update me weekly
Looking for something to help kick start your next project?
Envato Market
has a range of items for sale to help get you started.