Laura Spencer
Your Google Gmail contacts are important. As a small business owner, you know that your business is all about people. Keeping in touch with the people you do business with is one of the keys to business success. By organizing and managing your Gmail contacts, you can build and strengthen your business relationships.

If you're like many Gmail users, you haven't given much thought to your contacts in Gmail. What you need to know is that Gmail includes contact management tools that will allow you to make use of your Gmail contacts in many of Google's other G Suite productivity tools, including Calendar.
In this tutorial, you will learn everything you need to know about Gmail contacts. You'll learn how to find contacts on Gmail, add new Gmail contacts, and practical ways to use your Gmail contact groups.
Before you dig into this tutorial, download our new eBook (for FREE): The Ultimate Guide to Inbox Zero Mastery. It's packed with a number of professional email organization strategies you can put to use quickly.

Note: This tutorial works with the new Google Contact features. If you use the classic Gmail contacts list, switch to the new Gmail contacts list before continuing.

1.

Why Your Google Contacts List Is Important

You might wonder why organizing your contact list is important. After all, Gmail automatically stores contacts that you send emails to. Why bother to organize them better?

The answer is simple. Organizing your contacts saves you time and helps you to make better use of Google's features. Remember, over time, you may get hundreds of names in your contact list—some of whom you have no reason to ever contact again. Isn't it better to organize your contact names into groups that make sense and help you to find and reach those contacts you really need quickly?

Your Gmail contact list is part of your Google account. That means that the Gmail contact list that you set up is the same as the Google contact list that you use with G-Suite tools.

Google has some limits on how many contacts you can have. Currently, the limit for total number of Google contacts is 25,000 or a storage limit of 20 MB (not counting photo images). If you send and receive a lot of emails, you may exceed that number before you realize it.

Also, once your Google contact groups are set up properly you can use those groups to:
Share calendar items
Send group emails
Conduct Google hangouts
Let's start with a quick video overview of working with Google Gmail contacts.
How to Manage Your Google Gmail Contacts (Quick Start Video)
Watch this quick screencast to learn the basics of how to add, organize, and manage your Google Gmail contacts: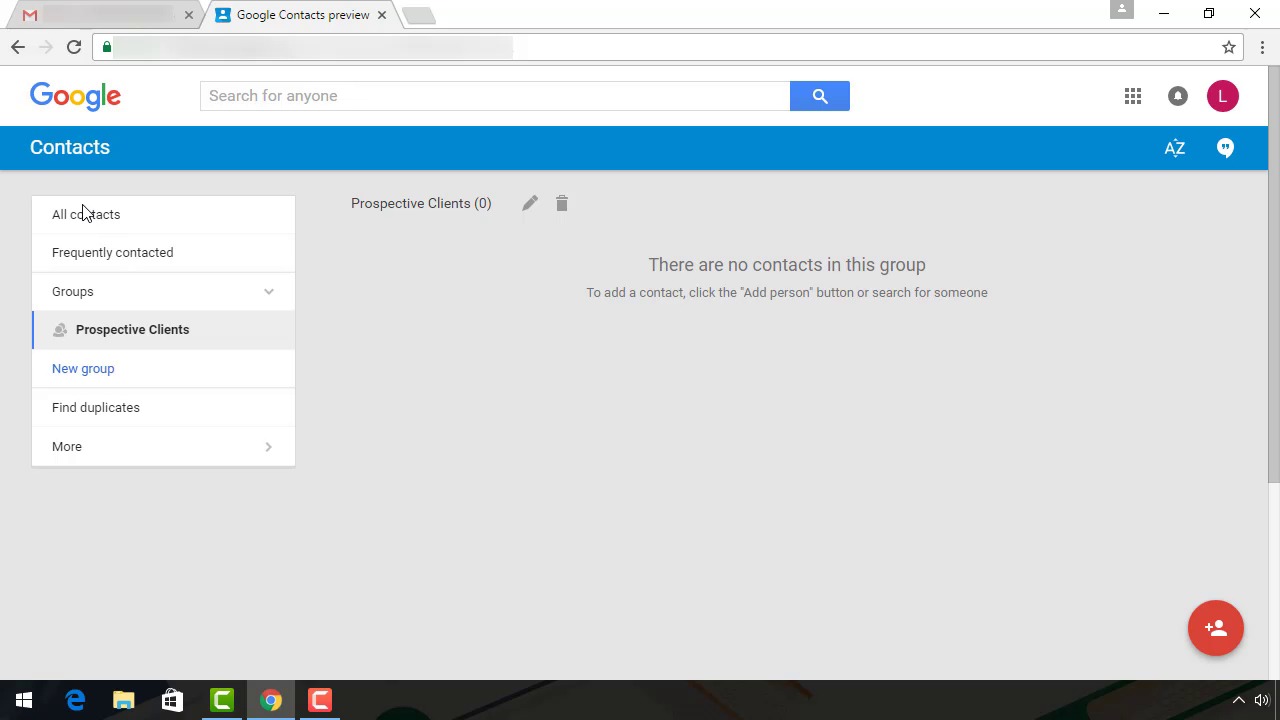 Or walk-through the detailed written steps below for more information, starting with details on how contacts get into your gmail list.
2.

How to Find and Add Contacts to Gmail

The first step to organizing your Gmail contacts is finding and adding the contacts you need. Even if you've never added a Gmail contact, Gmail keeps track of who you've been sending email messages to in a Frequently contacted list it generates.

Google also automatically generates an All contacts list that contains all contacts that you add or import. To keep your All contacts list manageable, think of it as a temporary holding space for contacts until you move them to a contact group.

Start from the main Gmail window. To open the Frequently contacted list, select Gmail > Contacts. Your current Google Contacts window displays.

This is a relatively new Gmail account that I created for these tutorials. Despite that, notice that I already have three names on the automatically generated Frequently contacted list.
Also, I do not have a Google+ social media account associated with this Gmail account, so Circles does not appear in the sidebar. If I did have a Google+ account, Circles would appear beneath Groups in the sidebar.
Note: Contact names used in this tutorial are not intended to represent real people.
Let's learn how to get some more contacts on my list.
Step 1. Import Contacts From Email
The first method of getting names on your Gmail contact list is to import them. Start by selecting More > Import in the left panel of your Google Contacts window. The Import contacts from other accounts box displays.
For the purposes of this tutorial, let's say you want to import contacts from your Outlook email account. Click the Outlook.com option.
You'll be asked to agree to the Terms of Use and Privacy Policy. You'll also be prompted to enter your password. Continue to follow the prompts until your Outlook contacts have been imported. Google displays a list of imported contacts.
The new contacts are placed in a Google contact group called Imported Outlook.com [Date]. Don't worry though, you can change the name of this group later.
If you have contacts you would like to import from any of the other options, select that option at this time. Follow the prompts to import your contacts.
Note: You can only import 3,000 contacts at a time. If you need to import more than 3,000 contacts, put the contact list in CSV format and break it into separate lists of less than 3,000 names.
Step 2. Import Your Contacts From Social Media
If you're active on social media, you understand how important social media networking can be for your small business. You can add professional contacts you develop through social media to your Gmail profile. For more information on how to build a professional Google+ profile, review this tutorial:
Gmail makes it easy to incorporate your Google+ connections into your Gmail contacts since your Google+ Circles appear in your Contacts sidebar.

Let's look at Circles on the Gmail Account that I have associated with my Google+ profile. I click my Writing Colleagues circle to look at those contacts in the Google Contacts window. (The names of your Google+ circles will be different as will your connections.)

I decide that I want to add Andrew from my Writing Colleagues circle to my contacts list. I select Andrew from the list. A contact card appears with the information from Andrew's Google+ profile.

To add Andrew to my Gmail contacts list, I click the Add to contacts icon (it looks like a person) above the photo. He is now in my Gmail contacts list.
For contacts from other social media platforms, export them to CSV format first. There are also some plug-ins that can import contacts from social media.
Step 3. Create a New Gmail Contact
Occasionally, you may want to add a contact that you've just met. Perhaps, someone handed you their business card at a trade show. You can add a new contact in Gmail.
Use the search bar at the top of the window to look for a contact to add or use the icon on the lower right of the window.
To use the Add new contacts icon, click it. At the prompt, type the name of the contact you want to add. The system may suggest contacts from existing Google+ profiles based on the name you type.
Click the Create button. A blank contact card displays.
Type as much information as you can about your new contact. Add an image if you have one. Click the Save button to save the new contact card.

Step 4. Remove a Gmail Contact
An important part of organizing your Gmail contacts is removing contacts that you no longer need. Perhaps someone has left an organization or changed careers. Here's how to remove contacts from your Google contacts list.
Start with the Contacts window open. Click the name of the contact you want to remove. Their contact card opens. Click on the three dots above the photo to open a sub-menu.
Click the Delete option to remove the contact. The contact is deleted from your Gmail contacts and removed from any contact groups.
If you click the Remove from the "All contacts" list option, the contact is removed from the All contacts list, but remains in any contact groups where you placed them.
Step 5. Merge Duplicate Contacts
You may find that your contact list has duplicate entries. This sometimes happens when you manually add new contacts, forgetting that they are already on your list.
Fortunately, Google has a tool to help you find and eliminate duplicate contacts. From the sidebar, click the Find duplicates option. The systems displays possible duplicates. You have the option to Dismiss (ignore) or Merge the duplicates.
If you select the Merge option, the contact information for the duplicates will be combined onto a single contact card.
3.

Building Gmail Contact Groups

So far, we have gone over how to add Gmail contacts. Using the Groups feature, you can organize your contacts. This feature allows you to group contacts together.

You may wish to create a group for prospective clients, vendors, employees, colleagues, current clients, and more. The possibilities are endless.
Step 1. Create a Gmail Contact Group
Start from the Contacts window. Click the New group option in the side panel. The New Group popup displays.
Type the name of the group you wish to add. Click the Create group button to create the Gmail contact group.
Step 2. Add Contacts to a Group
You now have a group, but there are no contacts in it. Start with the group open that you want to add contacts to. Click the Add person icon in the lower right of the screen.
If you see the person's name, click on it to add them to the group.
To add a new contact, click the Create button. A blank contact card displays.
Type the person's contact information into the card. Insert an image for the person if you have one. Click the Save button to create the new contact and save it in your Gmail contact group.
Step 3. Rename a Contact Group
To rename a Google contact group, start with the group open. Click the Rename group icon (it looks like a pencil).  The Rename group popup appears.
Type the new name of the group in the Please enter a group name field. Click the OK button. The group name changes.
Step 4. Sort Google Contacts
Sort your contacts by first or list name. Start by opening a group or the main Contact List window. Click the Sort options icon in the upper right.
Click the alphabetical sort option you would like. Choose between sorting by the contact's first name or by their last name.
Here is what a last name sort looks like.
Step 5. Reassign Contacts to a Different Gmail Group
Reassign one or more contacts to a different Gmail group. Start with the group open. Place your mouse over the image next to the contact name to be reassigned. The image is replaced by a checkbox. Click the checkbox to select it. A menu bar appears across the top of the Contacts window. Checkboxes also appear by all the names in the group.
If you need to, select more names. Click the Change groups icon (it looks like people) in the menu bar. A drop-down menu with current group names displays.

In this case, I wish to move Joe Test Person from the group Test Group to the group New Test Group. I click New Test Group to place a check by that group name. I click Test Group to remove the check by that group name.
Click in the white space. You will receive a prompt that your [Contact Name] has been moved from one group to another.
Step 6. Delete a Google Gmail Contact Group
From time to time, you may need to remove entire groups. It's easy to do so.
Start with the group you want to delete open. Click the Delete group icon (it looks like a trash can).
A pop-up appears.
Choose one of the following:
To save the contacts in the group and delete the group, select the first option and click the Delete button.
To delete the contacts in the group and the group, select the second option and click the Delete button.
To keep the group and its contacts intact, click the Cancel button.
4.

Practical Ways to Use Your Google Contacts List

Once you've set up your Google contacts list and groups in Gmail, there are many practical ways to use them. Here are just a few.
1. Share Calendar Items
Share a Google Calendar event with an individual contact or an entire group. Start with your Google Calendar open. Go to https://calendar.google.com to find your Google Calendar. Add the Gmail contact group to the event as you would an individual. If the person you invite also uses Google Calendar, the event will be added to their calendar within a half hour.
Note: Event invitations with more than 200 guests are subject to special restrictions.
2. Send Group Emails
Use Google contact groups to send group emails. This is especially helpful if you work with a team and you need to keep team members informed. Send group emails from your Gmail inbox, or by using the menu bar at the top of your contact group listing. There are two methods to send group emails.
Method 1
From your Gmail inbox click the Compose button. In the To field, type the name of the contact group. You will see the individual email addresses in the To field when you press the Enter key. Finish typing your message and send as usual.
Method 2
With your contact group open, place your mouse over the image on the left of a contact name. The image is replaced by a checkbox. Click the checkboxes next to the names of all contacts you want to send a group email to. A menu bar appears across the top of the Contacts window.
Next, click the More Actions icon (it looks like three vertical dots) on the right of the menu bar.
Click the Email option on the drop-down menu. A new email opens. Type and send the message as usual.
3. Use Google Hangout
Start a Google Hangout with one or more of your contacts.
Start with a group or the All contacts list open. Place your mouse over the image next to a contact name. The image is replaced by a checkbox. Click a checkbox to select the contact name. A menu bar appears across the top of the Contacts window.
Next, click the More Actions icon (it looks like three vertical dots) on the right of the menu bar. From the More Actions drop-down menu, click the Hangout option. A popup appears asking you to send an invite to your hangout.
Click the Send Invite button. When your invitees respond you can begin chatting.
Note: If the Hangout option is greyed out, the contact may have Hangouts disabled. Or, there may not be enough information on the contact card to send a Hangout invitation.
To learn more about how to use Google Hangouts for your small business, review this tutorial:
Grab the Free Email Inbox Mastery eBook
Keep in mind that organizing your contacts is important, but so to is organizing your email inbox. Don't let your inbox become a disorganized mess. 
Learn how to manage your emails right. Spend less time in your inbox, while processing your messages more effectively. 
We have a special offer for you. Sign up for the Tuts+ Business Newsletter and get the Inbox Zero Mastery eBook for FREE. Discover how to apply the best email management techniques now.

Conclusion
Learning how to find and organize your Gmail contacts is a big timesaver. You'll also develop stronger relationships for your small business as you make better use of your Gmail contacts.

Learn more about how to work with Gmail in our multi-part Ultimate Beginner Guide to Using Gmail. It covers setting up your account, inbox organization tips, quick email shortcuts, and more.
Envato Tuts+ Senior Associate Editor Business, North Texas, USA
Laura Spencer is our Senior Associate Business Editor here on Tuts+. She uses her business knowledge to help a wide variety of audiences. By sharing her knowledge in well-researched articles, she hopes to help others do well. Laura graduated with a degree in business. Besides Tuts+, Laura's work has been published on many sites including Vandelay Design Blog, FreelanceM.ag, Freelance Folder, Lubbock Avalanche Journal, Woman's Day, LifeHacker, and more. She's also written over 40 business study guides for continuing education companies. Laura has also managed her own writing business since 2002. Before that, she worked in corporate America as a technical writer and also as a marketing writer. As a lifelong learner, Laura continues to seek out better information to help her readers. Check out her latest ideas on her blog.
Weekly email summary
Subscribe below and we'll send you a weekly email summary of all new Business tutorials. Never miss out on learning about the next big thing.
Update me weekly
Looking for something to help kick start your next project?
Envato Market
has a range of items for sale to help get you started.