Read Time:
8 mins
Languages:
Picture this: you're working to wrap up a presentation for a class project or work group. You're passing the file back and forth using email or file-sharing and it's hard to stay in sync on the project. Pretty soon, you have multiple copies of the same file floating around with inconsistent changes.
The solution is to use collaboration in PowerPoint to stay in sync and work together. Microsoft has added these features to PowerPoint to help solve just this problem. Multiple users can work in the same presentation at the same time.
Microsoft PowerPoint has added many collaborative, online features in its recent versions. Collaboration means that you can invite and work with others inside the PowerPoint app instead of passing files around. In this tutorial, I'll teach you how to use the PowerPoint sharing features to work together on a single PPT file online.
Guide to Making Great Presentations (Free eBook Download)
Before you read on, be sure to grab our free eBook: The Complete Guide to Making Great Presentations. It will help you master the presentation process, from: initial idea, through to writing, design, and delivering with impact.
Now, let's dive into learning all about team collaboration with Microsoft PowerPoint files: 
How to Quickly Collaborate on PowerPoint Presentations (Watch & Learn)
In this video, I'll show you how to get started with saving a file to the cloud, as well as working with others on editing the same presentation. You'll learn to invite other users to collaborate and what to expect when working together in PowerPoint.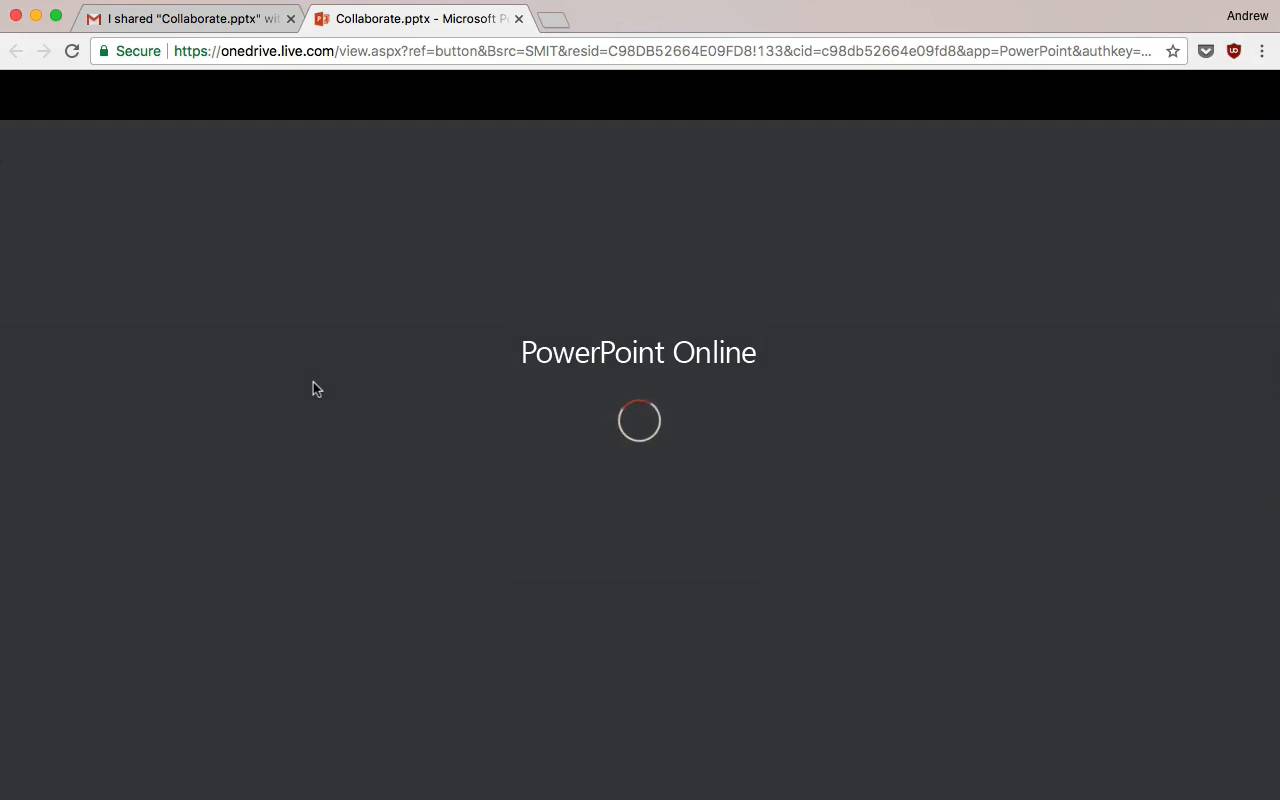 Keep reading to find out more about how to get started with PowerPoint collaboration, including a totally free option to use Microsoft Office Online.
Microsoft Office, Explained
You might be wondering what's possible when it comes to collaboration. To understand that, let's talk a bit about the various versions of Microsoft Office.
Back in the day, Microsoft Office was easy to understand. Every few years, Microsoft would release a new version of Office and labeled it according to the year of release, such as "Excel 2013" or "PowerPoint 2010."
Times are different now though. The apps are updated frequently, and Microsoft is essentially responding to competitors like Google Drive and Dropbox Paper. Here are the various current versions of Office that are available to use:
Microsoft Office Online - These are the web-browser based versions of the Microsoft Office apps, including PowerPoint. They are free to use, and you can think of them as Microsoft's answer to Google Drive.
Microsoft Office 365 - Much like Adobe's Creative Cloud, Microsoft now offers a subscription-based model to use the Office suite. Pay a monthly fee, and you'll get access to all of the Office apps and consistent updates.
Microsoft Office Home & Student - This is most like the traditional model, where you pay a one time fee for the app and have it to use.
All of these are capable of working with Office collaboration, but it helps to consider that your collaborators may be using a different version. 
The best news is that Microsoft Office Online is available to everyone, for free. This means that anyone can create a Microsoft account and use it to collaborate with other Office users.
In addition, you might have heard of Microsoft OneDrive. This is Microsoft's cloud storage service (think Dropbox.) You'll need OneDrive to save your PowerPoint file for collaboration. You can get 5 gigabytes of OneDrive storage for free with a Microsoft account.
Prepare to Share
Let's dive into collaboration in PowerPoint. The first thing that you'll want to do is save your your PowerPoint presentation to OneDrive so that it's stored in the cloud for collaboration. 
To save your file to OneDrive to share, go to the Save As option and choose the OneDrive option. This will save your presentation to the cloud so that others can collaborate with you.
Then, you'll need to invite some other users to collaborate with you on the presentation. Find the Share button near the upper right corner and click on it to invite others to your presentation.
Now, you'll see a new window where you can add others to your PowerPoint presentation. Enter an email address to invite anyone to collaborate on your presentation.
Also, choose how you want to let them work with the presentation by choosing between "Can Edit" and "Can View" to control the changes they can make to the file.
Remember: Office Online is free to use. You can invite someone who doesn't subscribe to Office 365; by creating a Microsoft account, anyone can join in and collaborate on your PPT presentation with you.
Once you press Share, the recipient will get an email with a link to collaborate on the presentation. Keep adding more users to create a truly collaborative presentation. You're ready to start collaborating with others in the same presentation file.
PowerPoint Team Collaboration Options
How you collaborate with your team in PowerPoint is up to you. This could be as simple as asking someone to visit the link and review it, but there are plenty of options to work inside of the file at the same time.
Once someone receives the link and clicks on it, it will open up in Office Online, the browser based version of PowerPoint. You can click the Edit Presentation dropdown and choose to Edit in PowerPoint (desktop app) or Edit in Browser to open the Office Online app. 
If you have a desktop installation of PowerPoint, then it's good to edit your PowerPoint presentations using the desktop app. The full set of features and tools will be available to work with presentations.
When it comes to collaboration in PowerPoint, the features that will be available to you will vary by the versions of Office that you're using. For my example, I'm using two computers that have the desktop version of Microsoft PowerPoint installed.
In Office 365, PowerPoint will highlight changes and assign them to the user that made the changes. You can read more about that in the official Microsoft support article. Basically, changes will be highlighted with the name of the user that changed the content. Changes are pushed through in real-time to the file.
For Office desktop users, you'll need to be on the lookout for a message at the bottom of the screen that says Updates Available. Click on this message to sync your document back up with the changes others have made to the document.
The experience is definitely more robust for Office 365 users, but it's still worthwhile to collaborate regardless of the Office version you're using. Ultimately, it's about avoiding the confusion of passing files back and forth via email.
View PowerPoint Collaborators
It's helpful to know who is working in a presentation file and when they're making changes. When you open a PowerPoint file that others are inside of, you'll see a message in the corner of the document to alert you.
For Office 365 users, there are additional options such as chatting with users from the sidebar. You can always click on the Share button to manage who is able to work on the file and change their editing permissions.
No matter which version of PowerPoint you use and the features that are available, collaboration works well when your file is saved inside of OneDrive. Inviting collaborators within the PowerPoint interface makes it much easier to share regardless of the PowerPoint version each of your team members is using.
Recap & Learn More About Making PowerPoint Presentations
How do you collaborate when working with others? Do you like to use PowerPoint's built-in features to share and collaborate, or do you prefer using apps like Dropbox to pass files back and forth?
Outside of collaboration, there are plenty of other great PowerPoint tutorials on Envato Tuts+ that can help you build your presentation skills. Check out these PPT tutorials to learn more:
Or, browse through our best PowerPoint template designs on Envato Elements and GraphicRiver. They give you plenty of creative slide designs to build a great presentation with quickly. 
Need Help? Grab Our Making Great Presentations eBook (Free)
You can find more information in our new eBook on making great presentations. Download this PDF eBook now for FREE with your subscription to the Tuts+ Business Newsletter. 
It will help you master the presentation process, from: initial creative ideas, through to writing, design, and delivering with impact.
Also, let me know in the comments below if you have any questions.
Weekly email summary
Subscribe below and we'll send you a weekly email summary of all new Business tutorials. Never miss out on learning about the next big thing.
Update me weekly
Translations
Envato Tuts+ tutorials are translated into other languages by our community members—you can be involved too!
Translate this post
Powered by
Looking for something to help kick start your next project?
Envato Market
has a range of items for sale to help get you started.