Andrew Childress
What is a multimedia presentation? You've probably heard the term multimedia, but what does it actually mean in PowerPoint? 
In short, it's combining many types of media in your presentation. You can use combinations of images, audio, and video to make your point.
Every PowerPoint slide is a blank canvas. It's just waiting for your content to reinforce your speaking points or guide the presentation. Multimedia brings variety to your slides and helps visual learners understand your content better.
You probably already know how to work with text. So, I'll show you how to combine multiple types of media into the same PowerPoint presentation. You'll learn how to insert multimedia and edit it inside PowerPoint. Multimedia presentations hold more interest and engage your audience better when done well. 
Need Help? Grab Our New eBook on Making Great Presentations (Free)
We a great compliment to this tutorial. Quickly download this FREE eBook before you read on: The Complete Guide to Making Great Presentations. It'll help you write, design, and deliver the perfect presentation. 
Why Use Multimedia in Your Presentation?
If we were bound to using only text and shapes, it would be much harder to hold an audience's attention during a presentation.
You can define a multimedia presentation as a presentation that uses more than one type of media to reach the audience. 
Multimedia exists to help reinforce our key speaking points. Here are a few ideas for working with images, audio, and video to make your presentation more interesting:
Images. These could be used for everything from simple stock photos that add slide variety, to logos and icons that showcase your brand.
Audio. Audio is a great way to add narrations to your slides if you can't present directly to your audience or to add music and sound effects.
Video. You can add video clips from your computer or sites like YouTube. Videos could be used for showing instructional walkthroughs from YouTube, TED talks, or a recorded screencast of your own.
Discover high-quality PowerPoint presentation templates on Envato Elements like the popular Snow template we use in the slide above.
Before we dive in, always remember: less is more. It's great to incorporate multimedia in PowerPoint. But don't clutter slides with too many distractions for your audience.
How to Use Multimedia in PowerPoint Presentations (Watch & Learn)
Let's walk through multimedia together in this quick screencast. In it, I'll teach you how to insert each type of multimedia and make basic edits to them.
PowerPoint also has tools inside the app to add basic edits to your multimedia. You can crop images, trim video clips, and adjust audio levels. I'll show you how to use each of these tools, so that you don't have to open other apps to work with multimedia quickly.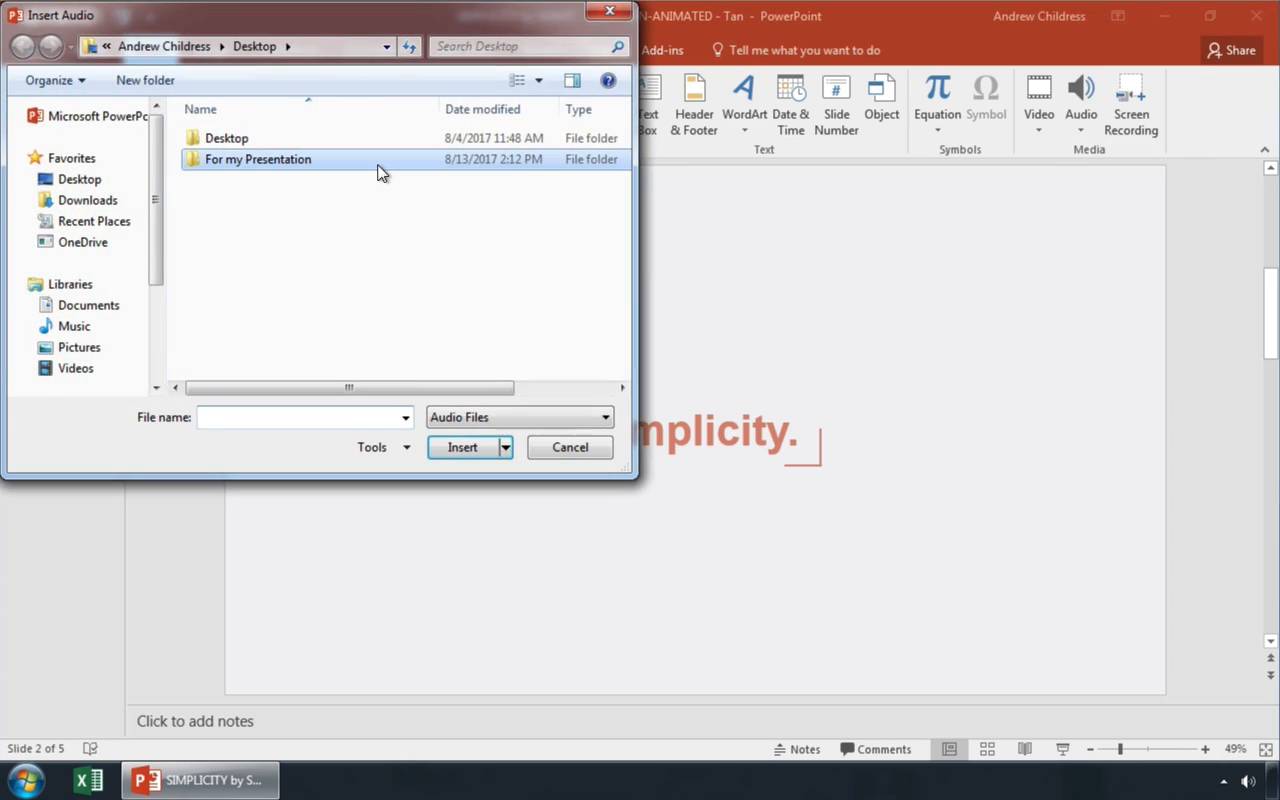 If you want more detail on how to work with each of those types of multimedia, check out the step-by-step tutorial below on how to add multimedia to your presentations.
How to Use Multimedia in PowerPoint PPT Presentations
Multimedia is helpful in presentations to keep your audience's attention. Here's how to add multimedia to your presentation:
For this tutorial, I'll be using PowerPoint version 16.63.1 on macOS. If you've got a different operating system or a different version of the software, your results may be different. The template featured is the Snow PowerPoint template. 
Let's get started with a multimedia presentation example:
1. Images in PowerPoint: Stills & Animated
The first thing we want to do is add images to the PowerPoint template. This section explains how to add still and animated images:
How to Insert Images into PowerPoint
The simplest way to add an image to PowerPoint is to simply copy and paste. You can copy an image to your clipboard in practically any app like a web browser or image editor, and then right-click to paste it into PowerPoint.
A better way to insert images is to save them to your computer, then insert them using the Insert menu. Go to the Insert > Pictures menu to browse to an image to insert.
On the pop-up menu, browse to where your images are stored and click on them to add them to the presentation. 
The reason that I prefer using the Insert menu is that you can add more than one image at the same time.
Hold the Control button on your keyboard and click on multiple images before you press Insert to add them all to a slide.
Resize and Reposition Images
Once an image is on the slide, you can click and drag it to move it around on the slide. If the image is larger or smaller than you want, you can click and drag on the corner to resize it. 
PowerPoint Picture Tools
PowerPoint also includes a set of tools to edit images from within the app. You don't always have to open up Photoshop or another editor to make basic changes to your images. 
When you select an image, you'll see a new option on the PowerPoint ribbon. Click on the Picture Tools > Format to open up image editing tools.
Here are the key Picture Tools to try out:
Cropping. Select the part of the image that you want to keep (and remove) to trim an image inside PowerPoint
Remove background. If you've got a logo with a white or black background, use this wizard to isolate the logo.
Check out this tutorial for a deep dive on working with images inside PowerPoint:
2. Audio in PowerPoint
Once you've added your images to PowerPoint, it's time to add sound. This section explains how to use audio files in your multimedia presentation:
Add an Audio File to PowerPoint
Audio is another multimedia type you can work with in PowerPoint. 
If you've got an audio track on your computer like an MP3 or WAV file, you can easily add them to your presentation. Choose the Insert > Audio > Audio on My PC option to browse for and choose an audio file.
After you choose the audio file, you'll see a small speaker icon on your PowerPoint slide. You can hover over it and press the play button to play it while presenting.
Record Audio Inside PowerPoint
If you don't already have your audio recorded in a file, you can actually capture it right inside of PowerPoint.
To record audio for the presentation, go to the Insert > Audio > Record Audio option.
Now, you'll see the Record Sound option pop up. Press the red Record button, and PowerPoint will start grabbing audio. When you're finished press the Stop button (black square) to add your audio to PowerPoint.
Working With PowerPoint's Audio Tools
PowerPoint lets you make minor edits and adjustments to audio files without having to open another app. With the audio file selected, the most useful options are found on the Audio Tools > Playback menu.
Here are some of the most useful options:
Trim Audio. Open this option to reduce your audio file to play only a selection of the original file.
Start. Change from On Click to Automatically to play the audio without clicking the speaker icon.
3. Video in PowerPoint
Video is a powerful multimedia type you can use. PowerPoint supports adding video from your computer or online. Let's look at how to insert and change them: 
Add a Clip From Your Computer
If you've got a video clip on your computer, you can quickly drop it into your presentation by using the Insert menu. Go to Insert > Video > This Device to browse to your video file.
Once the video is on your slide, you can drag the corners to resize it and control how much of the slide it covers.
PowerPoint has good support for most of the major video file types, like MP4, QuickTime, and Windows Media files. 
Learn more about how to add video into PowerPoint: 
Add a Video Clip from Online
Finding an inspiring or insightful YouTube video can help make drive your point to reach an audience. Instead of finding a workaround to download and convert a YouTube video, PowerPoint can link to and insert them directly.
To add a YouTube (or other online) video, go to Insert > Video > Online Video to launch the menu.
Now, PowerPoint shows a new window to search for or add an online video. If you want to add a YouTube video, you can drop in the URL for a video, or search directly inside this box for a relevant clip.
Other sites might give you embed codes on their site. On sites like Vimeo or TED, try out the Embed code and dropping the HTML into the bottom box.
Before inserting a video you find online, check the copyright restrictions to make sure that it's available to use. 
Adding a YouTube video is a great way to include a video without increasing your PowerPoint file size. Instead of embedding the video inside the file, the link plays a YouTube video, right inside the presentation. For more detail, read through this quick tutorial: 
PowerPoint Video Playback Options
Just as PowerPoint has built-in tools to adjust images, the Playback Options are great to adjust how a video plays inside the presentation.
With the video selected, click on the Video Format tab.
Here are several key options to try out to change how the video plays:
Start. Change this option from On Click to Automatically to start playing the video as soon as the slide appears.
Play Full Screen. With this option turned on, playing the video will cut to a full-screen mode with the rest of the slide hidden.
Trim Video. Open this option to select which parts of the video to reduce the video to the parts you want to show.
Recap and Keep Learning More About PowerPoint
In this tutorial, you learned how to mix multimedia types to create an interesting presentation. PowerPoint makes it easy to add and edit images, video, and audio. 
We've just scratched the surface on what's possible with PowerPoint presentations. Here are a few more tutorials that'll help you build great-looking slides from scratch:
Five Top Multimedia Presentation Templates from in Envato Elements for 2022
If you're looking for a template, it's helpful to see the top premium templates. Here are five top multimedia PowerPoint presentation template examples:
PLAST is a modern multimedia presentation template that comes with 30 unique slides. Plus, this template comes with Icons, infographics, mobile mockups, charts, and graphs. The PLAST template has a colorful and fun design that'll work for any topic you want.
Terrenifa Multipurpose PowerPoint has 100 unique and editable slides. It also comes with two theme variations with 50 slides with each theme. This template comes with infographics, charts, graphs, and maps. You can quickly turn the Terrenifa template into a multimedia PowerPoint presentation.
Roara PowerPoint Template can be used as a multimedia presentation with minimal and modern design. Since this template comes with picture placeholders, you can easily add an image of your choice to the slide. It also comes with two theme variations, allowing you to choose the design you want.
This is a great option if you're looking for a multimedia presentation with many infographics, charts, and graphs. The Maximus presentation also comes with ten color scheme options. Also included in this presentation template are animated slides and transitions.
Danastri template is a great option if you're looking for a template with a pop of color. It comes with 40 slides that can be edited. It also comes with graphs, icons, mockup devices, and picture placeholders. Easily add an image by dragging and dropping an image into a picture placeholder.
Make Great Presentations (Free eBook Download)
We've got the perfect complement to this tutorial, which will walk you through the complete presentation process. Multimedia helps your presentation stand out, but there's a whole lot more to master. Learn how to write your presentation, design it like a pro, and prepare it to present powerfully. 
Download our new eBook: The Complete Guide to Making Great Presentations. It's available for free with a subscription to the Tuts+ Business Newsletter. 
Download a Template and Start Your Multimedia Presentation Today
You've just learned the answer to "what is a multimedia presentation." Plus, we've shown you some multimedia PowerPoint presentation examples to help you get started on your own presentation.
So, don't wait any longer. Download your favorite multimedia PowerPoint template from Envato Elements and start building your presentation today.
Editorial Note: This tutorial was originally published in September of 2017. It's been updated to include new information and to make sure that it's relevant and up to date—with special help from Sarah Joy.
Want a weekly email summary?
Subscribe below and we'll send you a weekly email summary of all new Business tutorials. Never miss out on learning about the next big thing.
Sign up
I believe that life is too short to do just one thing. In college, I studied Accounting and Finance but continue to scratch my creative itch with my work for Envato Tuts+ and other clients. By day, I enjoy my career in corporate finance, using data and analysis to make decisions. I cover a variety of topics for Tuts+, including photo editing software like Adobe Lightroom, PowerPoint, Keynote, and more. What I enjoy most is teaching people to use software to solve everyday problems, excel in their career, and complete work efficiently. Feel free to reach out to me on my website.
Start your 7-day free trial*
*All Individual plans include a 7-day free trial for new customers; then chosen plan price applies. Cancel any time.