Laura Spencer
Whether you're a student, a business professional, or a member of an organization—the odds are good that at some point you'll be asked to make digital presentations. You may even need to create a presentation for online viewing. 
Whatever the need...when the time comes for you to make a presentation, you'll want to use the best presentation software that fits your needs and your budget. 
Microsoft's PowerPoint is one of the most popular presentation software packages available. And it does do a very good job.
However, PowerPoint isn't the only professional presentation tool out there in 2021. There are many PowerPoint alternatives available if you need to make a presentation. 
 If you do use PowerPoint to create your presentation, our Envato Tuts+ presentation tutorials can help. Study the following quick video series, How to Use PowerPoint in 60 Seconds. Also, don't miss our professional PowerPoint templates.
Most people who create presentations aren't aware of the other options. It's worth taking a careful look at various presentation programs available. Some are even free.
Here's a carefully curated collection of the best PowerPoint alternatives to help you decide what you need. Let's start by looking at some of the features to look for in a good presentation software package in 2021.
Guide to Making Great Presentations (Free eBook Download)
But first, get killer presentation tips and professional strategies in our free eBook: The Complete Guide to Making Great Presentations. Download it now, before diving into this article. 
10 Top Features to Look for in a Presentation Software Package in 2021
Presentation software allows you to share information visually, usually through a slideshow. Presentations used to be shared primarily in person. Today they're often published online and shared through the Internet. The scope of presentation software has expanded.
Individual needs vary when it comes to choosing the right presentation software package. Choose between a wide variety of options to find the package that's right for you. Here are some features that to look for when deciding the best presentation software program to use in 2021, including:
1. Real-Time Collaboration
In today's teamwork-oriented environment, real-time coordination is an important consideration for presentation software. Real-time collaboration allows team members to work together on the same document at the same time.
The best presentation software packages incorporate tools for online sharing and collaboration.
2. Creative Design Tools
Make sure your presentation software has a set of creative design tools. Use those tools to design a visually attractive creative presentation that'll stand out and capture your audience's attention and interest.
This includes the ability to add shapes as well as control the colors used in your presentation. Illustrate your point and present your information in a more visual way, which will help your audience have a better understanding of your presentation.
3. Mobile Editing
According to recent figures from Pew Research Center, over 80% of Americans own a smartphone. Likewise, figures from We Are Social put the usage of mobile devices worldwide at 67%.
Clearly, mobile devices are important in today's culture. To be most useful to today's user, a presentation software package should include mobile editing and sharing capabilities.
4. Audio
Sound makes a difference. A good audio track can help users retain information and make your presentation more professional.
The top presentation software packages allow users to incorporate sound into their presentation. Some packages even include a library of sound effects to add to your presentation.
5. Mac vs PC
Presentation software users want options. Teams today may not all be working on the same equipment. Yet, they need to be able to work together on the same presentation using the same presentation software package with flexibility.
If you frequently work on your presentations with a team, you need presentation software that accommodates a Mac or PC.
6. Animation
Animation effects are a good way to spice up your presentation. Use animation presentation software to add interest to the transitions between slides or to add details to a slide as you discuss it.
Effective use of animation during a presentation can:
help the points of your presentation stand out 
pace your delivery
make a lasting impression on your audience
7. Import/Export Abilities
There are a wide variety of presentation software program packages available. If you work with presentations, chances are that you'll need to import a presentation from another package. Also, you may need to export a presentation for another user.
The ability to import or export your presentation is an important consideration for choosing the best tool to create your software presentation with.
8. Online Sharing
The ability to share a presentation online is important in two regards:
Online editing tools allow for collaboration.
Online publishing tools allow you to share your presentation on the Web.
If you'll be collaborating online or publishing your presentation to the Internet, choose a presentation software program that allows online sharing.
9. Technical Support
Strong technical support is important for nearly all software packages. Presentation software packages are no different. If you're new to creating presentations or if you work with a team that's got varying levels of expertise, be sure to select a presentation software option that offers strong technical support.
10. Template Availability
Using a professional template for your presentation can save you hours of time. It can also help to create a more effective presentation.
Fortunately, many presentation software tools include templates and many templates are available through third parties. At Envato, we offer professional templates for these presentation software packages. Here are the best-selling presentation templates that are trending in 2021:
For a more in-depth look at a few of the top presentation software alternatives, study: 
20+ Best Presentation Software Alternatives to PowerPoint (2021)
When it comes to choosing presentation software in 2021, you've got many options besides PowerPoint. Here's a list of some of the best PowerPoint alternatives with a few highlights of each package:
Note: Some of these presentation software packages offer a free version and a premium version. Features that are found in the premium version may not be available in the free version.
Google Slides is one of the most popular presentation software alternatives to PowerPoint in 2021. 
Currently, it's available when you sign up for a Google Account as part of Google Drive. The sheer number of potential Google Slides users is enormous—anyone with a Google account can access basic Google Slides features at no cost.
Online sharing is one of the strengths of Google Slides since it's a cloud-based tool. You can easily use it for real-time collaboration or to publish a slideshow on the Internet. It also works on a PC, a Mac, or even a mobile device as long as an Internet connection is available.
Google Slides also offers a wide variety of formatting tools and special effects. To get started with Google Slides, study this quick start guide, and consider working with a professional, time-saving template that's made with a modern style for 2021:
3 Top Digital Presentations for Google Slides (For 2021)
Ready to start working with Google Slides? Envato Elements makes it easy. Elements is an all-you-can-download creative marketplace. For a flat rate, try as many Google Slides digital presentations as you want. Let's look at three top options:
Crystal Agency is a stylish, stunning Google Slides presentation deck. With over 30 custom slides, it's easy to find layouts that work well for your needs. This one is versatile enough to fit almost any topic. Drag and drop content onto the slides, and you're all set.
Presentation-making software like Google Slides helps you make beautiful photo slides. The Nevasca template is the ideal template choice. Placeholders make it easy to add your own photos, along with other content. When you use the best PowerPoint alternatives, you don't give up any creative control. Put this template to work today.
Collaborate with your global team and create infographic presentations fast, thanks to Markethink. With sleek graphics and bright colors, this one is sure to wow any audience. It includes 20 slides. You're able to choose between widescreen and standard layouts to fit any screen.
Apple's Keynote is another very popular presentation package designed to work with a Mac, iPad, or iPhone. It's part of Apple's iWork productivity suite. It can also be used on a PC through iWork for iCloud. It includes real-time collaboration capabilities to make teamwork easier.
One interesting feature is Magic Move transitions. The Magic Move transitions feature lets you visually move featured images. This is just one of the many Keynote effects you can apply:
To learn even more about Keynote, review these beginner tutorials, and find great presentation templates that'll save you time and give you a great design to work with:
3 Top Digital Presentations for Apple Keynote (For 2021)
As you can see, Keynote is a compelling choice of presentation software. If you start using Keynote, why not revisit Envato Elements? That's right: Elements has thousands of stunning Apple Keynote templates too. Once again, you'll have unlimited downloads as an Elements subscriber.
Guava has a cool and modern look throughout. You'll have plenty of options for style, thanks to over four dozen included slides. All graphics are easy to resize. The master slide layouts assist with consistent, fast bulk edits.
Toetiec is a bright and colorful Keynote design for 2021. With 90 slides, you definitely have all the options you could imagine. There are unique layouts included, like maps and vector icons. All parts of the slides are editable, keeping creative control in your hands.
HD graphics help this template look great on any display. It also comes pre-animated, which saves you valuable time. The free custom fonts help even the text contribute to your stylish slides. Be sure to consult the handy documentation file if you need any help.
Another brand-new alternative to PowerPoint is OnlyOffice Online Presentation Editor. This presentation tool is part of the OnlyOffice productivity suite from Ascensio System. It's a full-featured office suite comparable to Microsoft's productivity suite that includes tools for writing and editing documents, creating spreadsheets, and making presentations.
The cloud-based tool is recommended for small and medium companies that may be looking for a less expensive alternative to the pricier office productivity suites. Because your presentations exist in the cloud, it's easy to collaborate. Sharing presentations is also easy.
One nice feature of OnlyOffice Presentation Editor is that Office 365 templates are compatible. This means that you can benefit from the vast libraries of proven Envato Elements and GraphicRiver PowerPoint templates—a definite plus that'll help your business presentation stand out from competitors.
In fact, we've got a comprehensive course that'll teach you everything you need to know about using templates in OnlyOffice. Here's a free lesson to show you what to expect from the course (Note: this course is included with an Envato Elements subscription):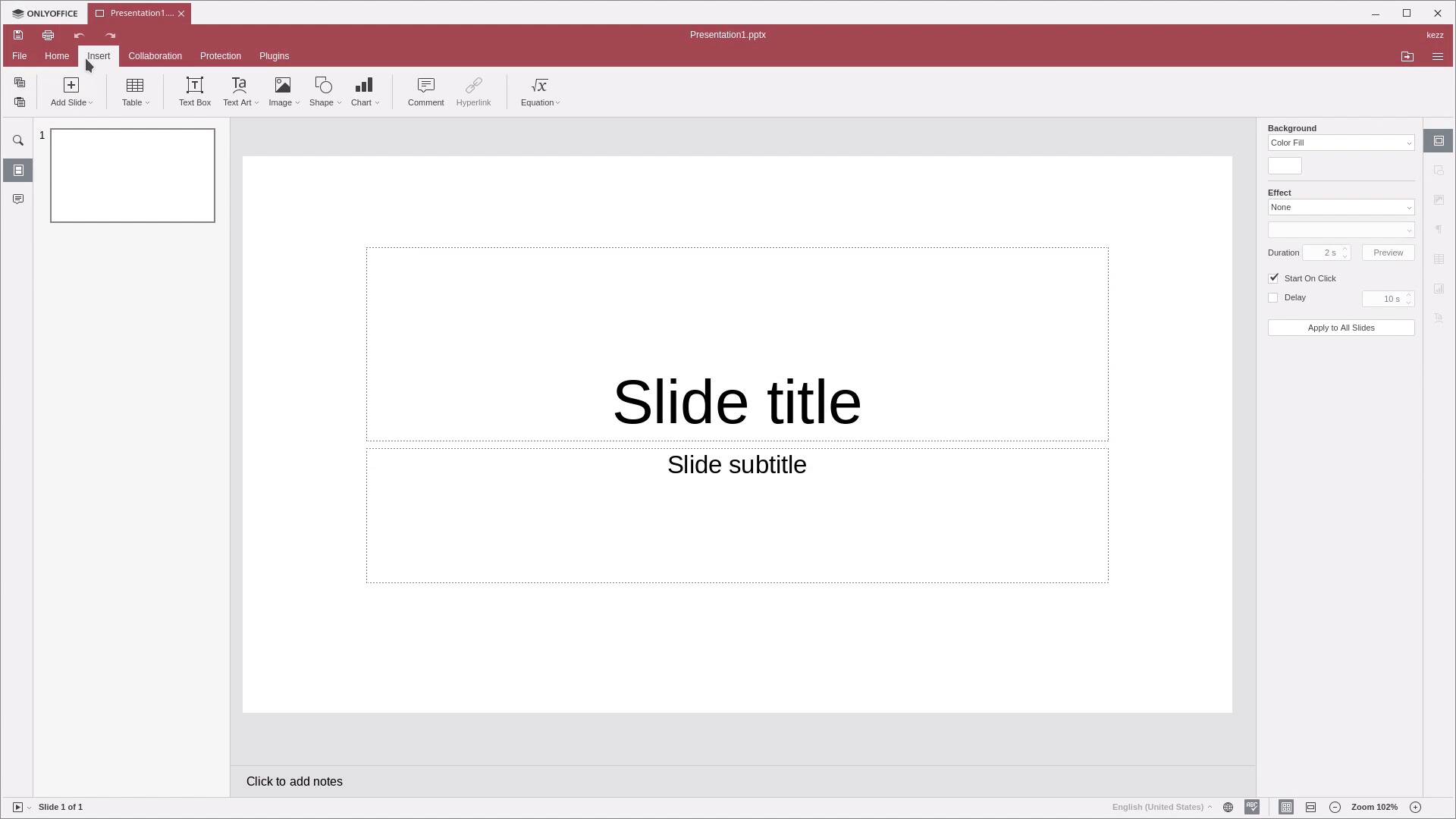 Prezi, a popular PowerPoint alternative for 2021, views themselves as a presentation resource. Instead of using slides, you use a canvas to create your presentation. It helps speed up the process of building decks.
It's non-linear, so you can see the entire presentation at once or zoom into specific parts. The non-linear approach makes it ideal for less formal, conversational presentations.
Like many other presentation software packages, you can use Prezi on any platform. You can also collaborate online and publish to the web.
Zoho Show is part of the Zoho Workplace. That suite also includes: Mail, Chat, Spreadsheet, Online Meeting, and other apps.
Use Zoho Show online for creating, editing, or sharing a professional presentation. Zoho Show supports real-time collaboration. You can also publish to the web. It also has mobile capabilities built in. These work when you're offline, and sync to your Zoho cloud when you go online again.
Get started with Zoho show using this Envato Tuts+ tutorial: 
PowToon specializes in creating animated presentations and short videos. Collaborate with others to create your own animated presentation. You can also use the tool to create animated charts and graphs.
Take advantage of their library of royalty free music and royalty free styles. Their templates are "drag and drop" for ease of use. Special pricing is available for students and for classroom use.
CustomShow is designed for B2B sales and marketing presentations. It's a cloud-based app that lets you create and deliver presentations online using a wide variety of platforms using real-time collaboration. It allows you to build a slide library that your sales team can customize as needed. A feature that marketing professionals will appreciate is the integration with Salesforce.
Slidebean is another marketing presentation tool. One extra that this presentation software offers in 2021 is the opportunity to work with expert slide designers. Premium users can create their own decks, or lean on Slidebean consultants for help. Slidebean also has tools to let you track who is viewing your presentations and determine how engaged they are.
Haiku Deck was created to make it easy to create an online presentation in 2021. They've got thousands of templates. It makes use of images licensed under Creative Commons and automatically provides attribution. Use it with an iPad or iPad mini. 
The web app is compatible with current versions of Chrome, Safari, and Firefox. Users can also upload PowerPoint or Keynote presentation files. Currently, a discount is available for educators and students.
Not only can you use Visme to create presentations, but you can also use it to create other types of visual content as well—including infographics, reports, wireframes, and more.
Share your presentations online or download to present offline. The tool includes the ability to animate objects, add links, pop-ups, and transitions. Discounts are available for students and teachers as well as for non-profits.
This presentation tool allows you to combine a variety of media types into a presentation. SlideDog supports a wide variety of file types, including PowerPoint, PDF files, Prezi, Video (including YouTube), image files, web pages, Microsoft Word files, and Excel files.
SlideDog is a good option if your presentations draw upon materials from many sources. This tool supports live sharing and interactive audience polls.
Genially is a helpful tool for creating visual media, such as presentations, infographics, mind maps, and more. The focus with Genially is interactivity, and nearly everything created with this tool can include interactivity. It also includes real-time collaboration and animation. In addition, statistics help you measure whether your presentation is effective.
Another good cloud-based presentation software app for the mobile world is FlowVella. It works for the iPhone, iPad, or Mac. You can also use it offline. It includes analytic tools that let you know the details about how your presentation was seen. Use it in Kiosk mode for secure digital displays. There are also special teacher rates.
LibreOffice Impress is part of the LibreOffice software suite. It's open-source software, developed and maintained by users as a project of the not-for-profit group, The Document Foundation. 
Impress features feel familiar to users who work with popular presentation software tools. It's a more basic option for 2021, but is useful for creating simple slides. There are also templates to help you get started.
PowerPoint alternative Emaze is easy to learn to use. It's an online browser-based presentation building app that lets you use a variety of tools to create professional presentations. It runs on a wide variety of browsers on a Mac or PC.
It can also operate with smartphones. Special effects include 3D Zoom and video backgrounds. Discount rates are available for students, educators, and non-profits.
WPS Presentation is part of the WPS office suite, which also includes Writer and Spreadsheets. It's compatible with PowerPoint and has similar tools. It does include some good animation presentation software features as well as font resources. When collaborating, leave comments for other users to review later. Current 2021 versions are available for iOS, Android, Windows, and Linux.
Beautiful.ai is a presentation software that relies on artificial intelligence to help you achieve beautiful designs for your slide decks. The way this presentation software works is by suggesting ways to visualize your ideas and then automatically update your slide design as you add new content.
Beautiful.AI offers a number of premade templates that you can use as a starting point as well as an image library with millions of photos that you can use in your presentations at no extra charge. Beautiful.AI is available for Mac and Windows and as an online app.
Ludus is web application that allows you to create presentations without having to download and install any software on your computer. The app sets itself apart by letting you integrate and embed various types of content into your presentation to make it more engaging. This includes 3D models, videos, VR experiments, Dropbox files, designs from Figma, prototypes from Framer, InVision or Marvel. You can also insert GIFs, icons, custom fonts, and more.
Another browser-based tool, Slides is a suite of modern presentation tools with features such as drag and drop editor, media library, integration with online services like Unsplash and Giphy, Vimeo, and more. Embed your presentations on your own custom domain or subdomain as well as export them as PDF. On top of that, each presentation you create will automatically sync to your linked Dropbox account.
If you're already using Adobe programs, why not use Adobe InDesign instead of PowerPoint to create your presentation? Because InDesign is the industry-leading software in page layout design, it makes sense to use it for presentations.
Since it's got plenty of tools for adding text and shapes, as well as interactive tools, you'll be able to create stunning presentations for your business or brand.
Focusky is a desktop app for creating HTML5 presentations and animated videos. It's available for Windows and Mac and includes tons of built-in templates as well as custom animations and transition effects. Export your presentations as HTML5 and embed them onto your website or as animated videos.
What Are the Important Types of Presentation Skills to Learn?
Once you know which presentation software you want to use, you're almost ready to start working on your presentation. Before you dive headfirst into the design, there are five key types of presentation skills you need to learn.
1. Create Variety
One of the most important skills you need to master is the ability to create variety in your presentation so you can ensure your audience remains engaged throughout the presentation. Variety can be achieved through the use of different mediums such as text, images, charts, infographics, and similar.
2. Practice Maintaining Eye Contact
You'll also want to make sure you maintain eye contact with your audience. This will help you establish a personal connection with them and keep them engaged with the presentation.
Here's a tip to consider: it helps to ask a test audience if they felt connected. Specifically ask if they felt you engaged them through eye contact, then incorporate the feedback. Use our tutorial to take constructive criticism into account:
3. Maintain an Audible Tone
Another important skill to master is maintaining an audible tone throughout the presentation. This helps ensure that all members of your audience will be able to hear you clearly no matter how far they are from the stage.
4. Work on Your Confidence
It's not unusual to get nervous right before your presentation. Working on your confidence will help eliminate stress and allow you to be more persuasive while on stage. Knowing your topic like the back of your hand and practicing your speech goes a long way towards helping you believe in yourself and your abilities.
Learn more about how to come across confident while presenting with the help of this tutorial:
5. Communicate Complex Information in a Simple Way
Lastly, you need to be able to communicate complex information in such a way that'll keep your audience interested. A good way to do this is to simplify information and use everyday language to explain various concepts from your presentation. Adding accompanying visuals such as charts and images can also help simplify the topic for your audience.
Here are a few tutorials that'll help you master presentation skills:
The Best Source For Templates For Presentation Software in 2021
If you're searching for the best creative presentation apps, here's what you might be thinking: how do you create slideshows with the best presentation software?
Our recommendation is simple: subscribe to Envato Elements. With the help of this all-you-can-download subscription service, you've got all the best templates to help you create designs in the best presentation software apps.
Templates are magic. They help you create a professional presentation without learning an app from the ground up. Elements includes unlimited downloads for all of the top presentation apps.
On Envato Elements, you've got the best of both worlds: at a single flat rate cost, you get everything. At a low cost, you've got starter designs with all the placeholders that simply require a few customizations. Start with designs, add your details, and you're done!
Templates are the key to making the most of your presentation software. It helps you create digital presentations without learning an app from the ground up. Make sure to choose one of the templates from Envato Elements so that you build confidence while working with creative presentation apps.
Get a Free Presentation eBook
Also, be sure to download our eBook on Making Great Presentations. It'll help you with the complete presentation process. Learn how to write your presentation, design it like a pro, and prepare it to present powerfully.
Choose the Best Presentation Software for Your Needs (In 2021)
At one point or another, most of us will wind up using professional presentation software. For many, that means relying on PowerPoint. While PowerPoint may be a good choice, if you need a program for making presentations you should be aware that there are other good options available in 2021.
To learn even more about PowerPoint alternatives you could use to create presentations, review:
The best presentation software for your needs varies, depending on how you intend to use it. We've just identified 10 key features to consider when you choose your professional presentation software. We've also explored over 20 of the best presentation programs, two of them being Google Slides and Apple Keynote. If you've decided to use one of these two presentation software pages, check out our premade Google Slide templates and Keynote presentation templates over on Envato Elements.
We also have plenty of other presentation templates on GraphicRiver, which you can purchase and use immediately. If you create presentations regularly, consider signing up for Envato Elements. The low monthly plan gives you access to thousands of presentation templates for Google Slides, Keynote, and PowerPoint as well as other design assets that'll complement your presentation design.
Do you think there's a better alternative than PowerPoint? What professional presentation software do you use? Leave a comment with your thoughts below.
Editorial Note: This post was originally published in April of 2017. It's been comprehensively revised to make current, accurate, and up to date by our staff—with special assistance from Brenda Barron and Andrew Childress. 
Want a weekly email summary?
Subscribe below and we'll send you a weekly email summary of all new Business tutorials. Never miss out on learning about the next big thing.
Sign up
Envato Tuts+ Business Editor, North Texas, USA
Laura Spencer is our Business Editor here on Tuts+. She uses her business knowledge to help a wide variety of audiences. By sharing her knowledge in well-researched articles, she hopes to help others do well. Laura graduated with a degree in business. Besides Tuts+, Laura's work has been published on many sites including Vandelay Design Blog, FreelanceM.ag, Freelance Folder, Lubbock Avalanche Journal, Woman's Day, LifeHacker, and more. She's also written over 40 business study guides for continuing education companies. Laura has also managed her own writing business since 2002. Before that, she worked in corporate America as a technical writer and also as a marketing writer. As a lifelong learner, Laura continues to seek out better information to help her readers. Check out her latest ideas on her blog.
One subscription. Unlimited Downloads.