Brenda Barron
By now, you've probably heard the saying that facts tell, but stories sell. Storytelling is a powerful marketing technique that can be very helpful when it comes to writing a pitch deck. According to research, 92% of consumers want brands to make ads that feel like a story. Furthermore, the same infographic shows that messages delivered as stories are up to 22x times more memorable than just facts.
Your pitch deck needs to be well written. When you incorporate storytelling into your pitch deck, you'll be able to connect with your audience and create interest in your company or startup. It'll help you establish an emotional connection, which increases the likelihood of getting a positive response to your pitch.
In this post, we'll explain why you should use storytelling to write your pitch deck, how to use storytelling in your pitch deck, and share pitch deck templates that'll help you learn more about writing an awesome pitch deck.
Why You Should Use Storytelling to Write Your Pitch Deck
Storytelling matters. Storytelling can help you not only in your content marketing and creating a story around your brand, but it can also help you write a pitch deck that wins the investment. Here are a few reasons why you should use storytelling when writing your pitch deck:
It's a well-known fact that we've used stories since the dawn of time to help explain the world around us.
Stories pull your audience in and allow you to create an emotional connection.
Stories take your investors on a journey and make them feel connected to your character which makes them more likely to be invested in the character's success.
As the above-mentioned statistics show, more people remember stories than cold, hard facts.
When you take the above into consideration, it's no wonder that many famous brands have adopted storytelling and used it in their pitch decks. Those pitch decks helped them win the necessary investments for their business. Here are some story pitch examples from well-known companies:
For example, an Atlanta startup, Kabbage, used storytelling in their pitch deck to win more than $1.3 billion dollars.
Another example comes from Airbnb whose first pitch deck helped them secure well over 100 million dollars.
Then there's the pitch deck used by Facebook that helped them get major brands such as The North Face, MasterCard, Paramount, and Apple onto their advertising platform.
As you can see from the example above, all of the pitch decks have a few things in common:
They highlight the problem that their target audience is facing. Facebook uses a compelling quote to open up their deck, Airbnb uses a straightforward language, and Kabbage uses a language that's a combination of showing a deep understanding of their customers backed with statistics.
They share why the problem matters. Their decks paint a clear picture of what happens if a solution isn't found which is the perfect way to segue into the next part of the presentation.
Lastly, they present their product or service as the perfect solution to the problem. Then, they back the story with data and facts which helps them establish their expertise and authority.
How to Use Storytelling to Write Your Pitch Deck
Now that we've seen examples of brands using storytelling in their pitch decks, let's take a look at how you can use storytelling to write a winning pitch deck for your company.
1. Create a Relatable Character
The first tip is to create a relatable character that'll make it easy for potential investors to get emotionally invested in your pitch. Investors are more likely to relate to Jack, a self-employed illustrator looking for the perfect accounting software than to a nameless business owner.
The character can be real or a hypothetical, but it needs to be relatable and likeable. That's why it's important to spend a little time and flesh out the character's name and background information.
2. Take Your Investors on a Journey
As mentioned earlier, the great storytelling pitch deck presents the problem, creates tension, and then shows the solution. In other words, your pitch deck needs to have a beginning, the middle, and the end; as all great stories do.
A few tips for structuring your story and creating the journey include:
Start with how you discovered the problem. Introduce your character and paint a picture of how their usual day looks like. What does the character do? What problems does he face?
Paint a vivid picture of how the characters' life looks like if they don't take action. Use sensory words to help you describe why the problem needs to be addressed now. Then, transition into the solution by sharing the after picture and how the character will feel once the problem is solved.
Share the solution and explain why your solution works. This is where you can incorporate statistics and facts to back your story as well as share real-life stories from your existing users and customers.
Lastly, be sure to present your company or team members and share the qualifications and expertise as well as how long you've worked together so investors can get a feel for your team's know-how and connection.
3. Get Inside Investor's Minds
Once you've narrowed down your character and got clear on the story, it's time to think like an investor. By getting inside their minds and thinking like an investor, you'll be able to write your story in a way that addresses their immediate concerns and overcomes potential objections. A few questions to keep in mind include:
What's the problem you're trying to solve and who will benefit from the solution?
What's your growth rate and can your product or service scale with the demand?
What's your business model and do you have any expansion plans?
How do you acquire customers and how do you plan to market your product or service?
How much are trying to raise and how will you spend the investment?
4. Create an Outline and Structure
When you're done with the initial research and planning, it's time to create the outline and the structure for your deck. Most pitch decks are between 10-15 slides long, so you've got to be mindful of how you present the information.
Slides that you've got to include in your pitch deck include:
cover slide
problem
tension
solution
business model
competition
competitive advantage
market size and scalability
marketing and expansion plans
team
investment
summary
5. Write and Format The Deck
With your outline and structure out of the way, it's time to write and format your deck. Keep in mind that long paragraphs and walls of text are more likely to bore the investors and result in losing their attention and interest.
As such, you need to make sure your copy is concise and to the point. Follow the guidelines below to write your pitch deck:
Stick to short sentences and use lists to introduce key concepts.
Use a larger font size to make sure everyone can read the text.
Stick to one or two fonts and make sure they're legible.
Make sure you only present one idea per slide to avoid overwhelm and confusion.
6. Use Visual Elements to Enhance Your Story and Facts
Aside from using storytelling techniques, it's important to use the right visual elements to enhance your story and help you present your facts. Elements such as charts and graphs, are a great way to showcase statistics and can be used in later slides where you share information about your product, team, and company.
Icons can be used to differentiate between different sections of the pitch deck or to introduce individual topics.
Finally, you can use images to create an emotional connection with your character, to present your team members, and to share testimonials or case studies from current customers and clients.
Pair Storytelling With Great Design
We've already mentioned that storytelling matters. While storytelling can greatly improve your pitch deck, it's not enough. The design of your pitch deck is just as important which is why you need to pair storytelling with a great pitch deck design.
A great pitch deck design and the right visuals can be used to tell your story better and back up with you're telling. They can establish brand consistency and make your pitch more memorable. Below, you'll find a few pitch deck design tips that'll help you improve your deck.
1. Use a Template to Save Time
Crafting a great pitch deck from scratch is time-consuming. With the right PowerPoint template, you can not only save time, but also get a professionally designed deck that already has all the necessary slides in place. All you've got to do is customize the design and add your own copy.
2. Incorporate Your Brand Fonts and Colors
Once you've found the perfect PowerPoint template, you need to incorporate your brand fonts and colors. This will make help you build brand awareness as well as maintain brand consistency.
You can also choose a template like the one above that comes with several premade color schemes, especially if one of the colors matches your brand colors.
However, be sure to use colors sparingly so you don't overwhelm your audience. Using them in headings or in a call to action is a great way to add a pop of color to your pitch deck without going overboard.
3. Use Plenty of White Space
White space refers to the negative space around objects on the canvas. It helps your message stand out more and it helps your audience focus on what's on each individual slide. Keep in mind that the white space doesn't necessarily have to be white, it's simply the "empty" space around each object so if you're using a solid color background, be sure to give your text, images, and other elements plenty of breathing room.
4. Make Sure The Images Match Your Industry
Images help you tell your story better. That's why you need to make sure they match your industry, otherwise, your pitch deck will look amateurish. For example, if your product revolves around ecology or nature, your images should reflect that.
Consider the template below which is geared for eco-friendly and nature-oriented businesses and pitch decks. Notice how accompanying visuals match the theme of the deck.
Learn More About Making Great Pitch Decks
Now that we've covered the importance of storytelling and showed you how to pair storytelling with great design, here are a few more resources that'll help you make a great pitch deck.
The tutorials below are completely free and will help you understand the essential slides you've got to include in your pitch deck, how to make a great pitch deck in PowerPoint, and teach you the basic design principles you need to incorporate into your pitch decks.
Learn even more about creating pitch decks in this course on writing pitch decks, How to Make a Winning Pitch Deck With Microsoft PowerPoint. Here's a peek at the first lesson: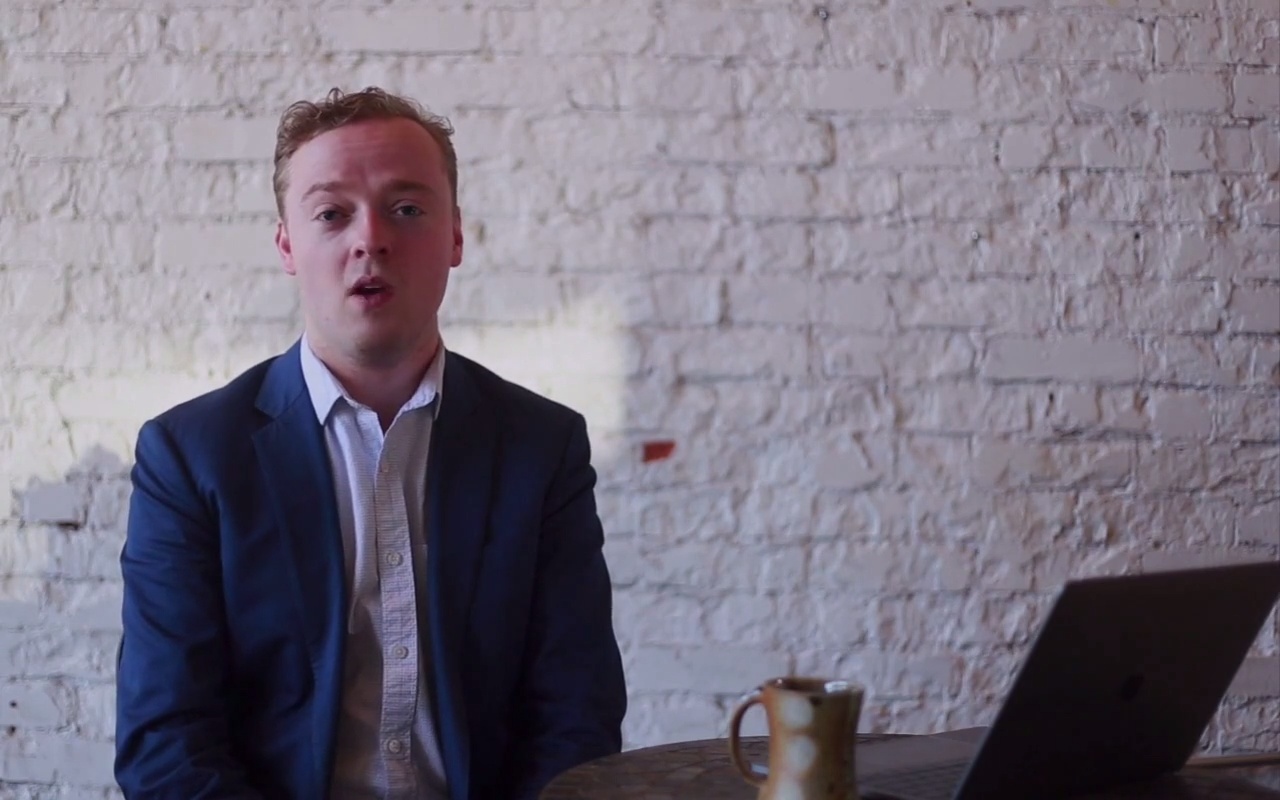 Get Started on Your Winning Pitch Deck
Writing a winning pitch deck might seem daunting, but once you understand how to use storytelling and great design, you'll be well on your way towards getting that investment. Save time designing your pitch deck with one of our awesome templates from Envato Elements and get access to dozens of other design assets that'll improve the design of your presentation. Or, if you prefer to make a one-time purchase, stop by GraphicRiver and browse our selection of the best PowerPoint templates.
Want a weekly email summary?
Subscribe below and we'll send you a weekly email summary of all new Business tutorials. Never miss out on learning about the next big thing.
Sign up
Freelance Writer
Brenda Barron is an instructor for Tuts+ specializing in business and web design topics. She also writes and edits for a variety of other businesses across many subjects including small business, WordPress, and marketing. She holds a BA in English and has over a decade of experience crafting blog posts, articles, white papers, and more for clients across many industries. When not writing, you can find her spending time with family, singing, playing piano, and painting. You can learn more about her at
The Digital Inkwell
.
One subscription. Unlimited Downloads.