Read Time:
9 mins
Languages:
You've got a Google Slides presentation you need to create or update soon. But you know that you'll be traveling and you're not sure whether you'll have Internet access. Fortunately, if you've got Chrome you can use Google Slides offline, even without an Internet connection. You can also use Google Slides offline when working in a cafe that doesn't offer free WiFi.
Or, using Google Slides offline could be useful if you know that your power company has scheduled a brownout. Simply use the instructions in this tutorial to prepare to work offline during the length of the brownout.
In fact, many Google tools are available for use offline. To learn how to use several other Google tools offline, review these Envato Tuts+ tutorials: 
In this tutorial, however, our focus is on Google Slides. You'll learn how to use Google Slides offline.  We'll also give you some tips on how to avoid potential problems that may occur when you work on your presentation offline.
Guide to Making Great Presentations (Free eBook Download)
Before going further, be sure to grab our Free eBook: The Complete Guide to Making Great Presentations. It will help you master the entire presentation process, from: initial idea, through to writing, design, and delivering with impact.
How to Quickly Use Google Slides Offline (Video)
In this 2 minute screencast, learn how to set up Google Slides for offline use.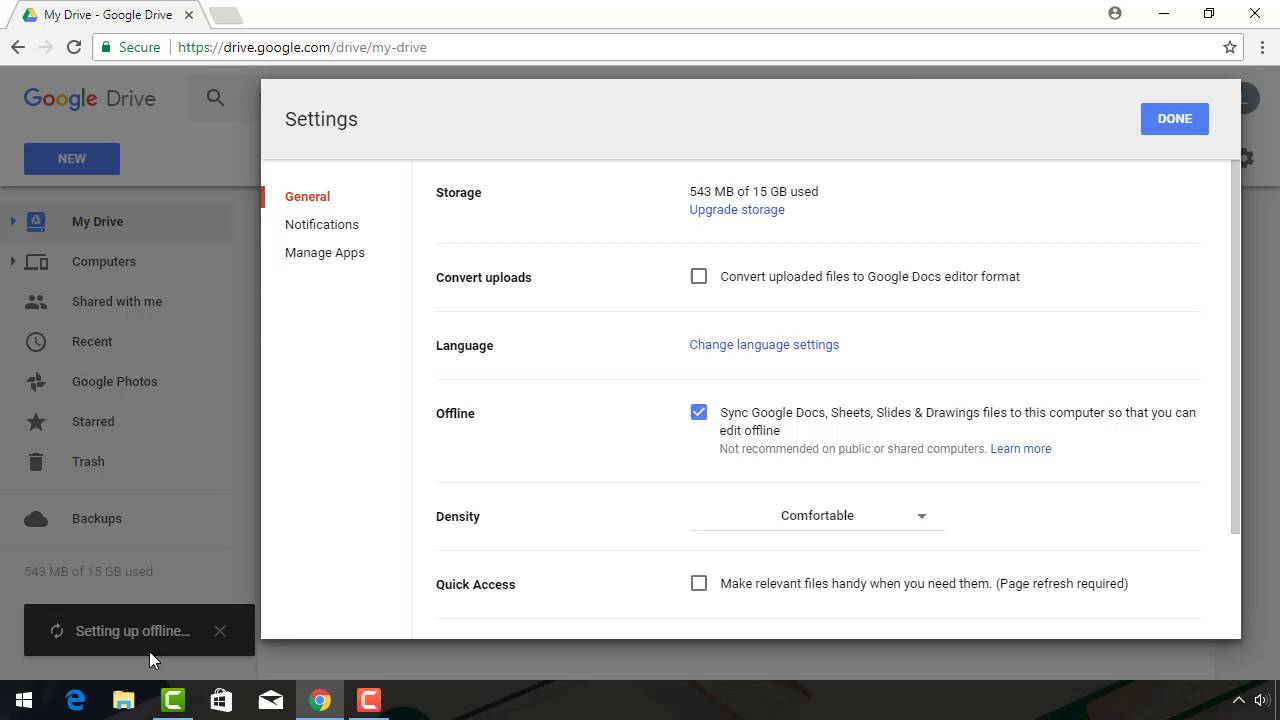 Continue reading for a written tutorial walkthrough, as well as ways to prevent potential offline issues before they occur:
1.

Set Your Google Slides Up for Going Offline

It's easy to get Google Slides ready for using offline. Here are three simple steps to get you started:
Step 1. Make Sure Chrome is Up-to-date
Before you go offline, make sure that you're working with an updated version of Chrome.
Open your Chrome browser. If you're not logged in, sign into your Google account. The browser looks like this:
Click the menu icon (it looks like three vertical dots) in the upper right corner and select Help > About Google Chrome. The About Chrome screen displays:
This screen shows you which version of Google Chrome you're using. It also tells you whether your version is up to date.
Note: You can also view this screen by selecting the About Chrome option on the Settings drop-down menu.
If your version of Chrome is current, you don't need to do anything else. If it needs to be updated, do so now. Relaunch your Chrome browser when the update is complete. This should happen automatically.
Step 2. Turn on Offline Sync in Settings
Open Google Drive by typing: https://drive.google.com/ in the browser Address field. Your Google Drive appears:
Click the Settings icon (it looks like a gear) in the upper right of the screen. From the drop-down menu, select the Settings option. The Settings screen appears:
Next to the Offline field, click the check box. Then, click the Done button in the upper right corner.
Step 3. Activate Google Slides Offline
From Google Drive, double-click the Google Slides presentation you want to work with to open it:
Note: For this tutorial, we're using the popular Marketofy Google Slides template from Envato's GraphicRiver to give our presentation a professional look and feel (sorry, but it is no longer available). Discover more great Google Slide templates: 
Click the Slides home icon in the upper left corner. The Google Slides home screen opens:
Click the Main menu icon (it looks like three horizontal lines) in the upper left corner. Then click the Settings menu option. The Settings dialog box appears:
You're now ready to take your computer offline.
Once your computer is offline, access Google Drive again by typing https://drive.google.com/ in the browser Address field. Even though your computer is offline, Google Drive still appears:
Double-click on the file you want to work on from within Google Slides to open it. You're now ready to work in your file even though your computer is offline.
Notice that there is a little lightning symbol next to the title of your presentation. That symbol indicates that you're offline.
Note: If you've shared the file, others who have access to it won't see your changes until you go back online.
Step 2. Create or Edit Google Slides
Let's make some changes to the file while we're offline and see what happens. First, I'm going to add a new slide after the slide with the timeline. To do this I click on the + symbol in the upper left corner and select the type of slide I want to add:
The new slide is added:
The new slide is added:
Continue to make changes to the slide presentation while you're offline. For example, let's change the title of the presentation:
Note: You won't be able to make changes that require an Internet connection. For example, you won't be able to insert video or images from the Internet.
3.

Going Back Online

When you're done working offline, you'll want to make sure your presentation is updated on your Google Drive.

Open your Google Drive and double-click on the presentation you updated while offline. The changes you made offline are automatically applied when you open the presentation.
4.

Avoid Google Slides Offline Problems

These are some problems you could run into if you're working offline. Here's a description of each potential problem and what to do if you run into it:
Problem 1. Working Offline With More Than One Google Account
You can't set up more than one Google account associated with Gmail to work offline. If you try to do so, you'll get an error message:
To get around this limitation, use the Google People feature. Create a new user and associate the new user with a non-Gmail email account. For detailed instructions on how to do this, refer to the tutorial How to Use Google Docs When You're Offline.
Problem 2. Another Person Updates the Presentation While You're Offline
The synch feature works well. But if the Google Slides presentation has more than one author, someone else could edit the presentation while you're offline.
When you come back online and synch your presentation, the changes you made while offline are merged with the changes that the other author made. The version you created while offline can't be separated from the version  that has the other author's changes.
If this happens you've got several options.
Use the revision history to revert to an older version of the Google Slides presentation before you went offline. However, you'll lose your offline edits if you restore an older version.
Rename the presentation before you go offline. (The Rename option isn't available while you're offline.) However, the renamed version won't synch with the original presentation. You'll have to transfer the edits you made while you were offline manually.
Tell the other authors that you'll be working on the presentation offline. Ask them to refrain from making changes. Be sure to notify them when you're back online.
Problem 3. What You Can't Do Offline
As I mention earlier, you can't use any functions that require the Internet while you're offline. That includes:
Using the spell check feature
Printing the presentation
Publishing to the web feature
Downloading the file
Adding someone to the file
Inserting material such as online images or videos
Using many add-ons
You can easily tell when a function is unavailable, because it'll be greyed out on the menu.
While there's really no way to make the unavailable features available while you're offline, you can work around this limitation with careful planning. For example, if you need to use the spell check feature make a note to yourself to run it as soon as the Google Slides presentation is back online.
5.

Export Your Google Slides Presentation and Go Offline

There's another way to go offline with your Google Slides presentation. Export your presentation to another presentation tool. Work on your presentation offline in a tool that allows you to work offline.  For example, many versions of Microsoft PowerPoint allow you to work offline.

To use this method of working offline, you'll need to know how to export presentation files from Google Slides. Then, when you've got Internet access again, you import the slides presentation back into Google Slides.

Learn how to export your Google Slides presentation to PowerPoint in this tutorial:

Learn how to convert a PowerPoint file back to Google Slides format in this tutorial:

Caution: I don't recommend importing/exporting your presentation file to another format to work offline because you may lose access to some features of your presentation. For example, animations and transitions are often lost during import and export because they work differently in different packages. And the process for inserting an audio file is different between PowerPoint and Google Slides. Plus, there could be font and formatting differences. And these are just a few of the issues you may face.
Conclusion + More Helpful Presentation Resources
If you'll be traveling or even if you think you might lose your Internet connectivity, it's a good idea to be prepared. Being offline doesn't need to mean that can't work on your Google Slides presentation. You can learn how to use Google Slides offline.
In this tutorial, we've shown you what you need to know so that you can work in Google Slides offline. Learn more about how to make presentations in Google Slides in our comprehensive series or grab our Free eBook.
Learn All About How to Make Great Presentations (Free PDF eBook)
Take the knowledge you gained in this tutorial further with our new eBook: The Complete Guide to Making Great Presentations. Grab this PDF Download now for Free with your subscription to the Tuts+ Business Newsletter.
It will help walk you through the complete presentation process. Learn how to write your presentation, design it like a pro, and prepare it to present powerfully.
Envato Tuts+ Senior Associate Editor Business, North Texas, USA
Laura Spencer is our Senior Associate Business Editor here on Tuts+. She uses her business knowledge to help a wide variety of audiences. By sharing her knowledge in well-researched articles, she hopes to help others do well. Laura graduated with a degree in business. Besides Tuts+, Laura's work has been published on many sites including Vandelay Design Blog, FreelanceM.ag, Freelance Folder, Lubbock Avalanche Journal, Woman's Day, LifeHacker, and more. She's also written over 40 business study guides for continuing education companies. Laura has also managed her own writing business since 2002. Before that, she worked in corporate America as a technical writer and also as a marketing writer. As a lifelong learner, Laura continues to seek out better information to help her readers. Check out her latest ideas on her blog.
Weekly email summary
Subscribe below and we'll send you a weekly email summary of all new Business tutorials. Never miss out on learning about the next big thing.
Update me weekly
Looking for something to help kick start your next project?
Envato Market
has a range of items for sale to help get you started.