Read Time:
8 mins
Languages:
Giving a presentation can be intimidating, even to seasoned speakers. You can use Microsoft PowerPoint to supplement your slideshow and help you stay on pace with your presentation. In this tutorial, I'm going to focus on an underused feature of PowerPoint: Presenter View. 
This is a view that you'll see on your own screen while giving a presentation using PowerPoint. While the audience will see the presentation on the projector or big screen, you'll have your own private view on a second monitor.
This feature is like a cockpit for giving presentations. You'll keep all of the most important controls front and center while presenting.
PowerPoint Presenter View gives you at least four essential tools that make presenting your slideshow more comfortable:
In Presenter View, this display keeps your speaker notes in view to reference while speaking.
You'll see a thumbnail for the next slide to begin preparing for your next key point, and you can jump to other slides quickly.
A timekeeping tool helps you monitor how long you've been speaking to ensure you don't overrun any time limits.
Drawing tools allow you to add illustrations on screen while presenting to draw attention to specific parts of your slides.
You need every advantage you can get when it's time to give a presentation. In this tutorial, you'll learn how to make the most out of Presenter View in PowerPoint.
Need Help? Get the Guide to Making Great Presentations (Free eBook Download)
Before you read on, be sure to grab our FREE eBook: The Complete Guide to Making Great Presentations. It will help you master the presentation process, from: initial idea, through to writing, design, and delivering with impact.
How to Use Presenter View in PowerPoint (Watch & Learn)
In this quick, two minute screencast, I'll teach you how to get started with Presenter View in PowerPoint. You'll learn how to enable Presenter View and then use the tools inside of it. I'll teach you to use the special Presenter View features to keep your notes and tools close, that way you can present more confidently.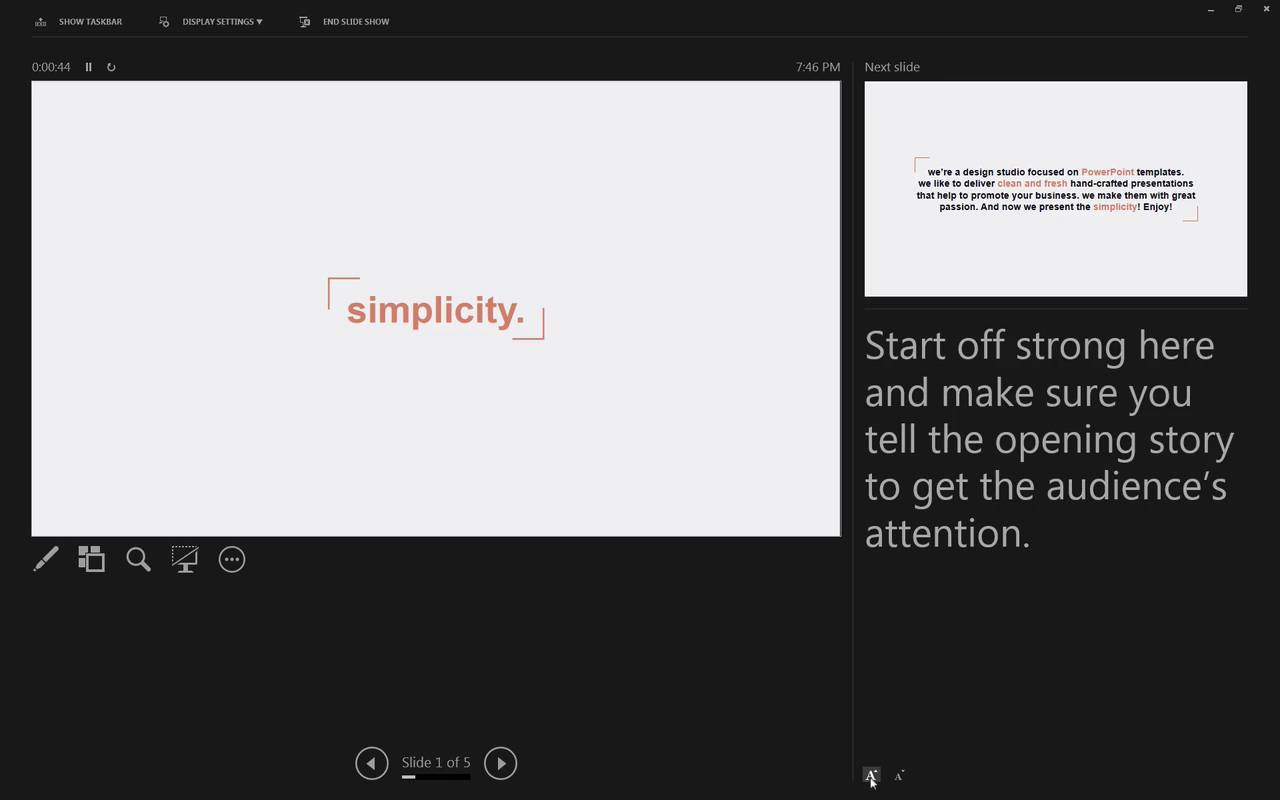 Note: In this tutorial we use the Simplicity PowerPoint Template. You can get great PPT presentation templates on GraphicRiver, Envato Elements, or in our Ultimate Guide to the Best Microsoft PowerPoint Templates. You can also discover the top PPT presentation designs in our curated selection of the best: 

Keep reading to find out more about using Presenter View in PowerPoint and the best features to try out.

Turn On PowerPoint Presenter View
Ultimately, Presenter View keeps the most important slideshow information in front of you while you're presenting. It's easy to turn on from the Slide Show menu on PowerPoint's ribbon. On that menu, simply check the box for Use Presenter View to turn the option on.
Remember: Presenter View is for multiple screen setups. Put presenter view on your laptop or tablet while presenting on a projector or wall-mounted display. The idea is to keep those presentation tools visible to you while the audience sees the actual presentation on the external display.
How to Make the Most of Presenter View

Let's dive into some of my favorite features that Presenter View brings to the table. Using each of these features is reason enough to try out Presenter View in PowerPoint, but the combination of applying them makes it a no-brainer.
To enter Presenter View, simply start the slideshow. You'll see the interface below on one screen, while the other display will show the "audience version" of the presentation.
1. Speaker Notes
Another underused feature in PowerPoint is the Speaker Notes feature. Many presenters will spend time filling out note cards or scribbling ideas onto paper, but it's much easier to add them directly inside of your PowerPoint file.
To add Speaker Notes to a presentation, start off by working in a presentation in Normal View, the standard, default view that you typically build presentations in. At the bottom of this view, you can click on Notes to open up the Speaker Notes section and add your own text.
Speaker Notes and Presenter View go hand in hand. When you're in Presenter View, your speaker notes will show up on the right side of your screen. You can adjust the text size with the icons near the lower right corner.
Speaker Notes are front and center in the Presenter View, which makes it one of the best reasons to use both features. Keeping those in your private view on your own screen will help keep you on cue as you present.
2. Slide Previews
It also helps to keep your upcoming slides in view in PowerPoint. In the upper right corner, you'll see the very next slide showing as a thumbnail. This is a great way to remind yourself of how to transition between slides and jump between them smoothly in your slideshow.
On the right side of Presenter View, you'll see the thumbnail that says Next slide that indicates the next sequential slide.
There's an even better tool to preview your slides hiding in a menu. Another option for viewing and changing slides can be found by clicking on the second from left icon below the current slide preview (see the screenshot below.)

With this option, you can simply click to jump to a different slide. If you're fielding questions or want to create a custom slideshow based upon your audience, use this feature to jump between slides.
Keep in Mind: your audience will never see what you do when you're working in Presenter View. The slide thumbnails will only be visible on the screen that you can see, and clicking to jump on a slide will be as seamless as any transition.
3. Drawing Tools
Just like sports commentators do during a broadcast, you can use drawing tools to draw on top of your slides. This is perfect if you have a tablet for example, but the feature works well for computer users with a mouse too.
To enter the drawing tools, you can click on the icon shown in the PowerPoint screenshot below. This turns on the tools you need to add highlights and annotations to the selected slide.
Imagine using annotations particularly when you're showing charts and graphs in PowerPoint. If you want to draw attention to a certain data point or trend in your slideshow, the drawing tools are the perfect feature.
Choose from tools like the Laser Pointer, Pen, and Highlighter to add annotations to a slide. A laser pointer is the digital version of the popular tool used to draw attention to parts of a slide, except it doesn't leave any marks on the slide itself. 
The Pen and Highlighter tools will actually add new marks on top of the slide that your audience will see.
4. Timekeeping
This feature is straightforward to use, but I can't stress enough how helpful it is. There's nothing worse than giving a presentation and realizing that you used only half the time, or went twice over the time limit.
In Presenter View, you'll see a stopwatch feature that keeps time above the current slide thumbnail in hours, minutes and seconds. You can pause this feature with the pause button, or reset the counter with the icon on the far right.
I can think of many times when this feature would have been a big help during presentations in college. When you're being graded or judged based upon your runtime, it's a great idea to keep that time total in view.
Download Our New eBook on Making Great Presentations (Free PDF)
We have the perfect compliment to this tutorial, which will walk you through the complete presentation process. Learn how to write your presentation, design it like a pro, and prepare it to present powerfully. 
Download our new eBook: The Complete Guide to Making Great Presentations. It's available for FREE with a subscription to the Tuts+ Business Newsletter. 
Recap and Learn More Powerful PowerPoint Tools
We can use tools like Presenter View to reduce the anxiety that comes along with giving presentations. It may still take time to prepare and feel confident about your presentation, but Presenter View keeps those key features in easy view so that you aren't scrambling for written notes.
Check out these tutorials to learn more about confidently giving presentations using Microsoft PowerPoint:
Are you using Presenter view in PowerPoint? Let me know in the comments below if you have any questions about how to use this feature.
Weekly email summary
Subscribe below and we'll send you a weekly email summary of all new Business tutorials. Never miss out on learning about the next big thing.
Update me weekly
Translations
Envato Tuts+ tutorials are translated into other languages by our community members—you can be involved too!
Translate this post
Powered by
Looking for something to help kick start your next project?
Envato Market
has a range of items for sale to help get you started.