Andrew Childress
Flowcharts are visualizations that help you see the parts of a sequence or process. They illustrate the way that individual parts "flow" together to create a finished product.
Instead of a technical document or detailed description, a flowchart summarizes a process visually. You can easily see steps or parts of a process and quickly gain an understanding.
Because flowcharts are so useful during presentations, it should come as no surprise that you can build these visualizations in Microsoft PowerPoint. Using a feature called SmartArt, we'll walk through making a flowchart without any additional apps.
Here are a few ideas for how you can use a PowerPoint flowchart in your presentation or for your own purposes:
Create a flowchart for a new teammate at work to show the steps of how to complete a new task, like how to order software.
Flowcharts can help you visualize how you interact with your customers to encourage them to work with you again.
Map out something new you're learning to cement your understanding.
No matter which purpose you'll use a flowchart for, you can build one right inside of PowerPoint. In this tutorial, I'll teach you how to make a flowchart in PowerPoint.
Guide to Making Great Presentations (Free eBook Download)
Before you read on, be sure to grab our free eBook: The Complete Guide to Making Great Presentations. It will help you master the presentation process, from: initial idea, through to writing, design, and delivering with impact.
Now, let's learn all about making great flowcharts in PowerPoint, starting with this quick video tutorial: 
How to Quickly Make a Flowchart in PowerPoint (Watch & Learn)
Watch this two-minute screencast, where I walk you through creating a flowchart using PowerPoint's built-in features. Then, we'll move on to using a premium PowerPoint theme with custom flowchart designs.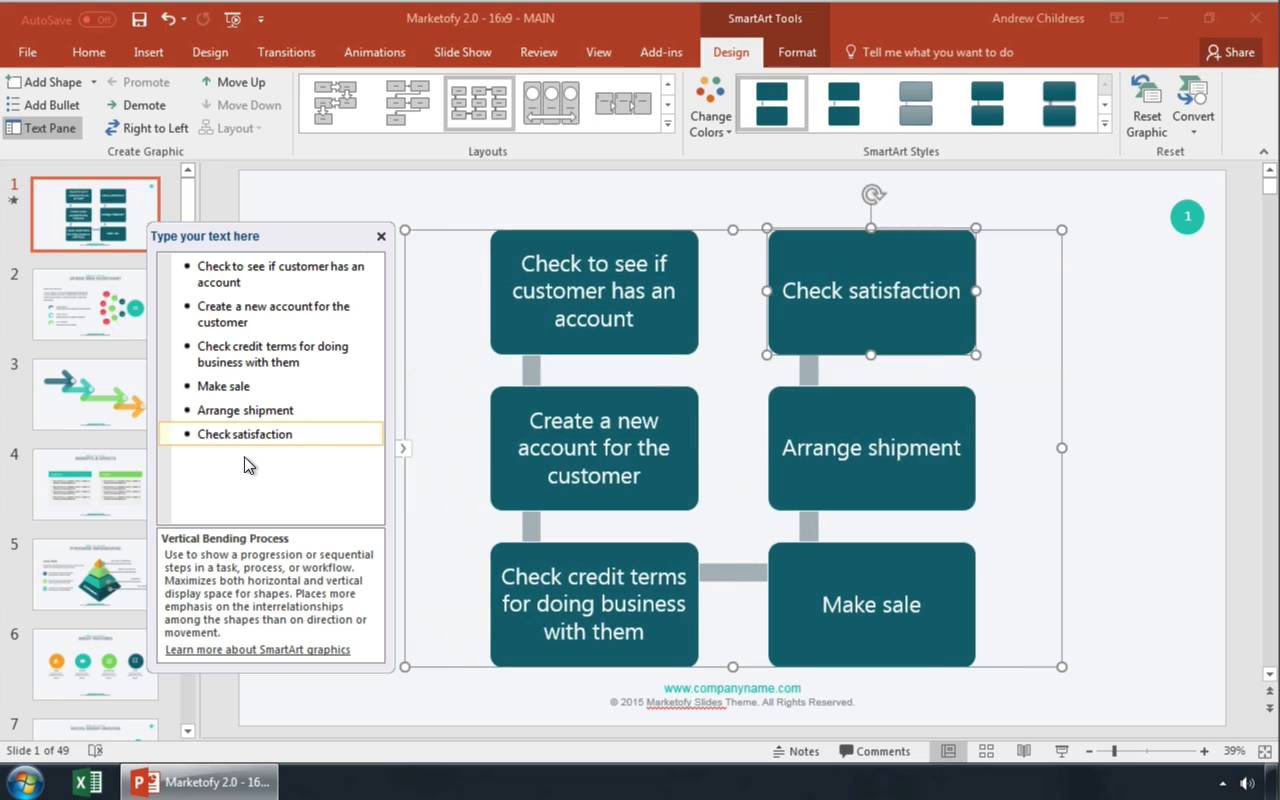 Check out the written step-by-step guide below to learn more. I'll show you how to use the premium Marketofy PowerPoint template (no longer available) to create a stylish flowchart to easily map out your processes.
Best Premium PowerPoint Flowchart + Infographic Templates 
Discover great flowchart PowerPoint template designs with powerful features on Envato Elements or GraphicRiver. The right infographic PPT template will help you make a great presentation quickly. 
Browse through these top flowchart infographic presentation designs that you can use today:  
34 Top PowerPoint Flowchart Templates (Infographic Slide Designs for 2022)

Laura Spencer

13 Mar 2022
Intro to PowerPoint SmartArt
I've always admired graphic designers—mostly because I know I could never be a great one. It takes a special touch to create awesome looking graphics and professional design apps like Adobe Illustrator or Sketch to build them in.
That's why SmartArt in Microsoft PowerPoint is one of my favorite features. Instead of hiring another designer or spending your time learning to build unique graphics, you can use SmartArt to create customizable graphics quickly—without leaving PowerPoint.
My favorite part about SmartArt is that it's adaptable. Instead of developing charts and constantly reworking them in another app, they automatically update and adapt in PowerPoint.
Make a SmartArt Flowchart in PowerPoint
SmartArt has a variety of designs. You can illustrate ideas like org charts, pyramids, and lists visually with SmartArt. In this tutorial, learn how to daw a flowchart in PowerPoint with SmartArt:
To build a SmartArt chart, start off by going to the Insert tab on Excel's ribbon. Click on the SmartArt button to get started.
Now, you'll see a variety of styles to choose from for creating SmartArt. For a simple flowchart, let's get started with the Vertical Bending Process.
Once you've inserted the SmartArt, you'll see a box open on the left side next to the SmartArt to change the text in the art. This box allows you to type over the placeholders to update the graphic.
On the left side, try replacing the [Text] placeholders with the steps in the process to create a flowchart. Use each of these boxes to describe a step in your process.
If you have more boxes than you need, simply delete a bullet point by pressing backspace. Doing so will remove a step from the flowchart.
If you need to update the steps in the process later on, that's no problem. Simply click on the flowchart again to reopen the text box, or type directly on the SmartArt chart itself.
Create Branching Flowcharts in PowerPoint
A flowchart can also have branches, or options for how to proceed. Maybe your process is based upon a decision. If you're managing a sales process, you might branch depending on if you're selling to a new customer or a past customer.
To create a branching flowchart, try out the SmartArt style Horizontal Organization Chart. This might typically be used for showing the employees in a company, but it's a great way to show a branching flowchart.
After you insert the Horizontal Organization Chart, you can add your content that branches into multiple options.
Just as we did with the first flowchart, you'll see a box on the left side where you can add content for your flowchart.
To create multiple branches in the flowchart, you can press return in the outline box, and press tab to indent. In the example below, I've created "yes" and "no" branches that each have one indent. Then, I add more indents to the points under it to keep the decision on its own branch.
Flowcharts don't always describe simple processes. That's why branches, indents that help us choose different paths, are so useful in SmartArt.
How to Use a Pro PowerPoint Flowchart Template
SmartArt is a great way to get started with flowcharts, but it's not the only option. If the styles I showed you above aren't up your alley, it might be time to think about downloading a premium PowerPoint presentation template. Discover great PPT template designs with pre-built infographic slides and more modern features includes: 
35 Best Infographic PowerPoint Presentation Templates: With Great PPT Data Slides 2022

34 Top PowerPoint Flowchart Templates (Infographic Slide Designs for 2022)

Laura Spencer

13 Mar 2022
You probably already know that PowerPoint has built-in themes that you can choose from. I think of those as "styles", because they don't come with ideas or designs inside of them. Sure, you can choose from one of these to change the fonts and colors of the slide, but you're still left to design the slides yourself from scratch.
In this tutorial, you'll see me work with Marketofy PowerPoint template. This is a premium PowerPoint theme that you can download and use for your next presentation. It has 390 different slide designs. Use any of these designs and drop in your own content to skip the work of building charts from scratch.
Using Marketofy Slides for Your Flowcharts
This theme includes a custom flowchart design that you can add your own steps to. In fact, there are at least four slide designs in Marketofy that you can use for a creative flowchart style. 
Let's take a look at those designs and when you might want to use them:
1. Arrow Flow Chart
The first of these (slide #145 in Marketofy) is what's called an Arrow Flow Chart, a simple stacked arrow chart. If you have a sequential set of steps you want to show, this is a great choice.
This chart is ideal when each step has to be completed to advance in the process.
If you wanted to add more arrows, you could always copy and paste any of these to add another step.
2. Spider Web Flowchart 
Another choice for building a flowchart with Marketofy is the Spider Web Flowchart style that is pre-built on slide 119. The spider web style flowchart design could be used if you have many small steps of a process that lead to a key result.
In this example, you could use each of the smaller circles to show each of the employees involved with creating a finished product.
3. Multimatch Flowchart
Another option is what I call the "multimatch" flowchart, which is on slide 139. Items on the left have multiple matches to the items on the right.
A slide design like this is ideal when you're comparing two groups of objects. On the left side, maybe you have your raw materials. The right side could show which products those raw materials go into. In any case, this is a non-traditional flowchart that shows how items can move between groups.
4. Benchmarking Flowchart
Slide 142, the Benchmarking Flowchart is my last pick for charts in Marketofy. This is a grid of linked boxes that are sectioned by color.
This chart would work great if you have tasks that move between different departments. You could use the dark blue boxes for the steps in finding a new supplier, the teal boxes for reviewing the vendor, and the green boxes for the steps to arrange shipment.
No matter which PowerPoint flowchart template you use, think of these as a starter kit to drop your own content into quickly. SmartArt isn't the only choice for making attractive flowcharts; don't forget about using a template like Marketofy instead.
Recap and Keep Learning More PowerPoint Techniques
In this tutorial, you tried out SmartArt as a technique for building flowcharts. Think about this tool when you need to show how several steps fit together.
These tutorials will give you more ideas about how to build great presentations. While we usually know what we want to say to an audience, it's challenging to build the slides that support it. 
Need Help? Grab Our Making Great Presentations eBook (Free)
You can find more information in our new eBook on making great presentations. Download this PDF eBook now for FREE with your subscription to the Tuts+ Business Newsletter. 
It will help you master the presentation process, from: initial creative ideas, through to writing, design, and delivering with impact.
Do you use flowcharts in your presentations? Let me know in the comments below.
Want a weekly email summary?
Subscribe below and we'll send you a weekly email summary of all new Business tutorials. Never miss out on learning about the next big thing.
Sign up
I believe that life is too short to do just one thing. In college, I studied Accounting and Finance but continue to scratch my creative itch with my work for Envato Tuts+ and other clients. By day, I enjoy my career in corporate finance, using data and analysis to make decisions. I cover a variety of topics for Tuts+, including photo editing software like Adobe Lightroom, PowerPoint, Keynote, and more. What I enjoy most is teaching people to use software to solve everyday problems, excel in their career, and complete work efficiently. Feel free to reach out to me on my website.
Start your 7-day free trial*
*All Individual plans include a 7-day free trial for new customers; then chosen plan price applies. Cancel any time.